Abstract
Purpose
The aim of this study is to analyze clinical pregnancy rates (CPR) and ongoing pregnancy rates (OPR) for frozen embryo transfers (FET) performed with blastocysts in the cycle immediately after GnRH agonist (GnRHa) versus human chorionic gonadotropin (hCG) triggers, with outcomes of delayed FET for comparison.
Methods
Retrospective cohort study at a university-affiliated in vitro fertilization (IVF) clinic, including patients undergoing IVF between 2013-16 with a blastocyst FET performed within two menstrual cycles of a previous stimulation cycle and vaginal oocyte retrieval (VOR). FETs included programmed and natural endometrial preparation. Outcome measures were clinical and ongoing pregnancy rates.
Results
CPR and OPR for 344 FET cycles were similar when comparing immediate and delayed transfer overall (crude CPR 67.5 versus 76.5%, p = 0.11; OPR 57.5 versus 66.7%, p = 0.13), and after stratifying by cycles following hCG trigger (OPR 62.5 versus 66.3%, p = 0.61) and GnRHa trigger (OPR 55.6 versus 64.5%, p = 0.17). When considering a number of predictors for OPR, an adjusted odds ratio (OR) of 1.74 [95% CI 1.00–3.03] approached significance in favor of delayed FET.
Conclusions
Regardless of trigger modality, patients can be reassured that pregnancy rates with FET are high in immediate and delayed cycles. However, our study suggests a potential benefit in delaying a cycle before proceeding with FET.
This is a preview of subscription content, log in to check access.
Access options
Buy single article
Instant unlimited access to the full article PDF.
US$ 39.95
Price includes VAT for USA
Subscribe to journal
Immediate online access to all issues from 2019. Subscription will auto renew annually.
US$ 199
This is the net price. Taxes to be calculated in checkout.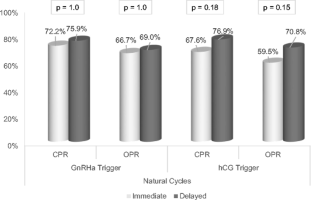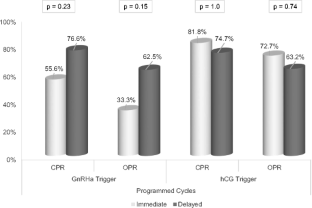 References
1.

Nakano R, Mizuno T, Kotsuji F, Katayama K, Wshio M, Tojo S. "Triggering" of ovulation after infusion of synthetic luteinizing hormone releasing factor (LRF). Acta Obstet Gynecol Scand. 1973;52(3):269–72.

2.

Wong KM, Mastenbroek S, Repping S. Cryopreservation of human embryos and its contribution to in vitro fertilization success rates. Fertil Steril. 2014;102(1):19–26.

3.

Devroey P, Polyzos NP, Blockeel C. An OHSS-Free Clinic by segmentation of IVF treatment. Hum Reprod. 2011;26(10):2593–7.

4.

Shapiro BS, Daneshmand ST, Garner FC, Aguirre M, Hudson C. Clinical rationale for cryopreservation of entire embryo cohorts in lieu of fresh transfer. Fertil Steril. 2014;102(1):3–9.

5.

Roque M, Lattes K, Serra S, Solà I, Geber S, Carreras R, et al. Fresh embryo transfer versus frozen embryo transfer in in vitro fertilization cycles: a systematic review and meta-analysis. Fertil Steril. 2013;99(1):156–62.

6.

Maheshwari A, Pandey S, Shetty A, Hamilton M, Bhattacharya S. Obstetric and perinatal outcomes in singleton pregnancies resulting from the transfer of frozen thawed versus fresh embryos generated through in vitro fertilization treatment: a systematic review and meta-analysis. Fertil Steril. 2012;98(2):368–377-9.

7.

Weinerman R, Mainigi M. Why we should transfer frozen instead of fresh embryos: the translational rationale. Fertil Steril. 2014;102(1):10–8.

8.

Santos-Ribeiro S, Siffain J, Polyzos NP, Van De Vijver A, Van Landuyt L, Stoop D, et al. To delay or not to delay a frozen embryo transfer after a failed fresh embryo transfer attempt? Fertil Steril. 2016;105(5):1202–1207e1.

9.

Maas KH, Baker VL, Westphal LM, Lathi RB. Optimal timing of frozen embryo transfer after failed IVF attempt. Fertil Steril. 2008;90:S285.

10.

Volodarsky-Perel A, Eldar-Geva T, Holzer HEG, Schonberger O, Reichman O, Gal M. Cryopreserved embryo transfer: adjacent or non-adjacent to failed fresh long GnRH-agonist protocol IVF cycle. Reprod BioMed Online. 2017;34(3):267–73.

11.

Santos-Ribeiro S, Polyzos NP, Lan VTN, Siffain J, Mackens S, Van Landuyt L, et al. The effect of an immediate frozen embryo transfer following a freeze-all protocol: a retrospective analysis from two centres. Hum Reprod. 2016;31(11):2541–8.

12.

Lattes K, Checa MA, Vassena R, Brassesco M, Vernaeve V. There is no evidence that the time from egg retrieval to embryo transfer affects live birth rates in a freeze-all strategy. Hum Reprod. 2017;32(2):368–74.

13.

Ozgur K, Bulut H, Berkkanoglu M, Humaidan P, Coetzee K. Frozen embryo transfer can be performed in the cycle immediately following the freeze-all cycle. J Assist Reprod Genet. 2017;22:1–8.

14.

Kaye L, Will EA, Bartolucci A, Nulsen J, Benadiva C, Engmann L. Pregnancy rates for single embryo transfer (SET) of day 5 and day 6 blastocysts after cryopreservation by vitrification and slow freeze. J Assist Reprod Genet. 2017;12:1–7.

15.

Shapiro BS, Daneshmand ST, Garner FC, Aguirre M, Thomas S. Gonadotropin-releasing hormone agonist combined with a reduced dose of human chorionic gonadotropin for final oocyte maturation in fresh autologous cycles of in vitro fertilization. Fertil Steril. 2008;90(1):231–3.

16.

Gardner DK, Schoolcraft WB. Culture and transfer of human blastocysts. Curr Opin Obs Gynecol. 1999;11(3):307–11.

17.

Reichman DE, Chung P, Meyer L, Greenwood E, Davis O, Rosenwaks Z. Consecutive gonadotropin-releasing hormone-antagonist in vitro fertilization cycles: does the elapsed time interval between successive treatments affect outcomes? Fertil Steril. 2013;99(5):1277–82.

18.

Silverberg KM, Klein NA, Burns WN, Schenken RS, Olive DL. Consecutive versus alternating cycles of ovarian stimulation using human menopausal gonadotrophin*. Hum Reprod. 1992;7(7):940–4.

19.

Rodriguez-Purata J, Lee J, Whitehouse M, Duke M, Grunfeld L, Sandler B, et al. Reproductive outcome is optimized by genomic embryo screening, vitrification, and subsequent transfer into a prepared synchronous endometrium. J Assist Reprod Genet. 2016;33(3):401–12.
Acknowledgements
We would like to thank Dr. James Grady for his consultation on the statistical analysis.
Funding
This research did not receive any specific grant from funding agencies in the public, commercial, or not-for-profit sectors.
Ethics declarations
Ethical approval
All procedures performed in studies involving human participants were in accordance with the ethical standards of the institutional and/or national research committee and with the 1964 Helsinki declaration and its later amendments or comparable ethical standards. For this type of study formal consent is not required.
Conflicts of interest
The authors declare that they have no conflict of interest.
About this article
Cite this article
Kaye, L., Marsidi, A., Rai, P. et al. Frozen blastocyst transfer outcomes in immediate versus delayed subsequent cycles following GnRH agonist or hCG triggers. J Assist Reprod Genet 35, 669–675 (2018). https://doi.org/10.1007/s10815-017-1111-3
Received:

Accepted:

Published:

Issue Date:
Keywords
Frozen embryo transfer

Ovulation induction

Gonadotropin-releasing hormone/agonists