Abstract
Products that are manufactured for use in a clinical trial, with the intent of gaining US Food and Drug Administration (FDA) approval for clinical use, must be produced under an FDA approved investigational new drug (IND) application. We describe work done toward generating reliable methodology and materials for preserving ovarian cortical tissue through a vitrification kit and reviving this tissue through a warming and recovery kit. We have described the critical steps, procedures, and environments for manufacturing products with the intent of submitting an IND. The main objective was to establish an easy-to-use kit that would ensure standardized procedures for quality tissue preservation and recovery across the 117 Oncofertility Consortium sites around the globe. These kits were developed by breaking down the components and steps of a research protocol and recombining them in a way that considers component stability and use in a clinical setting. The kits were manufactured utilizing current good manufacturing practice (cGMP) requirements and environment, along with current good laboratory practices (cGLP) techniques. Components of the kit were tested for sterility and endotoxicity, and morphological endpoint release criteria were established. We worked with the intended down-stream users of these kits for development of the kit instructions. Our intention is to test these initial kits, developed and manufactured here, for submission of an IND and to begin clinical testing for preserving the ovarian tissue that may be used for future restoration of fertility and/or hormone function in women who have gonadal dysgenesis from gonadotoxic treatment regimens or disease.
This is a preview of subscription content, log in to check access.
Access options
Buy single article
Instant unlimited access to the full article PDF.
US$ 39.95
Price includes VAT for USA
Subscribe to journal
Immediate online access to all issues from 2019. Subscription will auto renew annually.
US$ 199
This is the net price. Taxes to be calculated in checkout.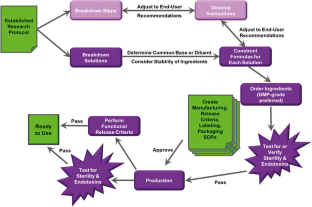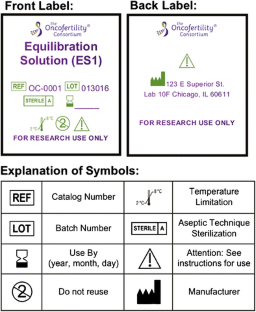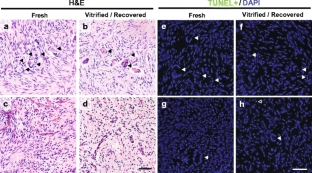 References
1.

Food and Drug Administration. Current Good Manufacturing Practice in Manufacturing Processing, packing, or Holding of Drugs. [Internet]. 21; Apr 6, 2016. Available from: http://www.ecfr.gov/cgi-bin/text-idx?SID=1970e7dcc6a6fb934d0fb596aad264f9&mc=true&tpl=/ecfrbrowse/Title21/21cfr211_main_02.tpl

2.

FDA US. Guidance for Industry CGMP for Phase 1 Investigational Drugs. Rockville; 2008.

3.

Donnez J, Dolmans M-M. Ovarian cortex transplantation: 60 reported live births brings the success and worldwide expansion of the technique towards routine clinical practice. J Assist Reprod Genet. 2015;32:1167–70. Springer US.

4.

Wowk B, Leitl E, Rasch CM, Mesbah-Karimi N, Harris SB, Fahy GM. Vitrification enhancement by synthetic ice blocking agents. Cryobiology. 2000;40:228–36.

5.

Badrzadeh H, Najmabadi S, Paymani R, Macaso T, Azadbadi Z, Ahmady A. Super cool X-1000 and Super cool Z-1000, two ice blockers, and their effect on vitrification/warming of mouse embryos. Eur J Obstet Gynecol. 2010;151:70–1. Elsevier Ireland Ltd.

6.

Fahy GM, Wowk B, Wu J, Phan J, Rasch C, Chang A, et al. Cryopreservation of organs by vitrification: perspectives and recent advances. Cryobiology. 2004;48:157–78.

7.

Ting AY, Yeoman RR, Lawson MS, Zelinski MB. Synthetic polymers improve vitrification outcomes of macaque ovarian tissue as assessed by histological integrity and the in vitro development of secondary follicles. Cryobiology. 2012;65:1–11.

8.

Ting AY, Yeoman RR, Campos JR, Lawson MS, Mullen SF, Fahy GM, et al. Morphological and functional preservation of pre-antral follicles after vitrification of macaque ovarian tissue in a closed system. Hum Reprod. 2013;28:1267–79. Oxford University Press.

9.

Ting AY, Yeoman RR, Lawson MS, Zelinski MB. In vitro development of secondary follicles from cryopreserved rhesus macaque ovarian tissue after slow-rate freeze or vitrification. Hum Reprod. 2011;26:2461–72. Oxford University Press.

10.

Cobo A, Diaz C. Clinical application of oocyte vitrification: a systematic review and meta-analysis of randomized controlled trials. Fertil Steril. 2011;96:277–85. Elsevier Ltd.

11.

Keros V, Xella S, Hultenby K, Pettersson K, Sheikhi M, Volpe A, et al. Vitrification versus controlled-rate freezing in cryopreservation of human ovarian tissue. Hum Reprod. 2009;24:1670–83.

12.

Sheikhi M, Hultenby K, Niklasson B, Lundqvist M, Hovatta O. Clinical grade vitrification of human ovarian tissue: an ultrastructural analysis of follicles and stroma in vitrified tissue. Hum Reprod. 2011;26:594–603.

13.

Food and Drug Administration. General Labeling Provisions. Code of Federal Regulations Title 21; Apr 1, 2015 pp. 1–17.

14.

National Institutes of Health. RFA-RM-10-001: Institutional Clinical and Translational Science Award (U54) [Internet]. 2016 [cited 2016 May 11]. pp. 1–40. Available from: http://grants.nih.gov/grants/guide/rfa-files/RFA-RM-10-001.html#SectionI

15.

Huang L, Mo Y, Wang W, Li Y, Zhang Q, Yang D. Cryopreservation of human ovarian tissue by solid-surface vitrification. Eur J Obstet Gynecol Reprod Biol. 2008;139:193–8.

16.

Kagawa N, Silber S, Kuwayama M. Successful vitrification of bovine and human ovarian tissue. Reprod BioMed Online. 2009;18:568–77. Reproductive Healthcare Ltd, Duck End Farm, Dry Drayton, Cambridge CB23 8DB UK.

17.

Bao RM, Yamasaka E, Moniruzzaman M, Hamawaki A, Yoshikawa M, Miyano T. Development of vitrified bovine secondary and primordial follicles in xenografts. Theriogenology. 2010;74:817–27. Elsevier Inc.

18.

Hashimoto S, Suzuki N, Yamanaka M, Hosoi Y, Ishizuka B, Morimoto Y. Effects of vitrification solutions and equilibration times on the morphology of cynomolgus ovarian tissues. Reprod BioMed Online. 2010;21:501–9. Reproductive Healthcare Ltd.

19.

Suzuki N, Hashimoto S, Igarashi S, Takae S, Yamanaka M, Yamochi T, et al. Assessment of long-term function of heterotopic transplants of vitrified ovarian tissue in cynomolgus monkeys. Hum Reprod. 2012;27:2420–9.

20.

Suzuki N, Yoshioka N, Takae S, Sugishita Y, Tamura M, Hashimoto S, et al. Successful fertility preservation following ovarian tissue vitrification in patients with primary ovarian insufficiency. Hum Reprod. 2015;30:608–15.

21.

Amorim CA, Dolmans M-M, David A, Jaeger J, Vanacker J, Camboni A, et al. Vitrification and xenografting of human ovarian tissue. Fertil Steril. 2012;98:1291–2. Elsevier Inc.

22.

Amorim CA, Jacobs S, Devireddy RV, Van Langendonckt A, Vanacker J, Jaeger J, et al. Successful vitrification and autografting of baboon (Papio anubis) ovarian tissue. Hum Reprod. 2013;28:2146–56.

23.

Dolmans M-M, Binda MM, Jacobs S, Dehoux JP, Squifflet JL, Ambroise J, et al. Impact of the cryopreservation technique and vascular bed on ovarian tissue transplantation in cynomolgus monkeys. J Assist Reprod Genet. 2015;32:1251–62.
Acknowledgments
This work is supported by the Watkins Chair of Obstetrics and Gynecology (TKW), the UH3TR001207 (NCATS, NICHD, NIEHS, OWHR, NIH Common Fund), and the Eunice Kennedy Shriver National Institute of Child Health and Human Development U54HD076188 grant. The Oncofertility Consortium ® is funded by the National Institutes of Health through the NIH Roadmap for Medical Research, Grant UL1DE19587 and PL1CA133835, and the Center for Reproductive Health After Disease P50HD076188 grant from the National Institutes of Health National Center for Translational Research in Reproduction and Infertility (NCTRI). MML acknowledges support from The Burroughs Wellcome Fund Career Award at the Scientific Interface and the John and Lillian Mathews Regenerative Medicine Endowment. This work was supported by the Northwestern University Mouse Histology and Phenotyping Laboratory and a Cancer Center Support Grant (NCI CA060553). The authors thank Greg Fahy, from 21st Century Medicine, for gifting the Super Cool polymers used in this study; Clarisa Gracia and Jessica Brown, from the University of Pennsylvania, for giving us feedback on the operational procedures as performed in a fertility clinic; Cheryl Hanson, from the Mathews Center, for Good Manufacturing Practice training and feedback on procedures; and Steven Mullen, from Cook Regentec, for his role in developing the initial vitrification media recipes. We also thank Keisha Barreto from the Ovarian Histology Core at Northwestern University for her technical expertise.
Additional information
Capsule The main objective of this study was to establish an easy-to-use kit for standardized ovarian tissue vitrification and recovery. We have described the critical steps, procedures, and environments for manufacturing media kits intended for an Investigational New Drug (IND) application for future clinical trials.
Electronic supplementary material
Below is the link to the electronic supplementary material.
Standard Operating Procedure for Preparing Ovarian Tissue for Vitrification Using the Stadie-Riggs Tissue Slicer. Fresh bovine ovaries were prepared using the Stadie-Riggs tissue slicer to achieve 0.5 mm thick pieces of cortex. (MOV 292 mb)
Vitrification Kit and Warming and Recovery Kit Instructions. Product insert kit information and instructions. (PDF 14.3 mb)
Oncofertility Consortium Vitrification Kit Use. Images of manufacturing media and vitrification of tissue. a Image of manufactured media bottles within GMP facility. b Image of bovine ovarian cortical tissue pieces within VS+PXZ—filled straw (black circles around pieces of tissue). c Image of sealed straws filled with tissue wedged within a liquid nitrogen Dewar in liquid nitrogen vapor (black arrow pointing to a straw containing bovine ovarian cortical pieces). The adjacent straws contain pieces of bovine placentomes (orange tissue). (PDF 39 kb)
Ovarian Tissue TUNEL Controls. Fresh bovine ovarian tissue that was digested with DNase I as a positive controls is shown with TUNEL-positive (green) cells alone or photo-merged with DAPI (blue) staining. (PDF 106 kb)
Standard Operating Procedure for Preparing Ovarian Tissue for Vitrification Using the Stadie-Riggs Tissue Slicer. Fresh bovine ovaries were prepared using the Stadie-Riggs tissue slicer to achieve 0.5 mm thick pieces of cortex. (MOV 292 mb)
About this article
Cite this article
Laronda, M.M., McKinnon, K.E., Ting, A.Y. et al. Good manufacturing practice requirements for the production of tissue vitrification and warming and recovery kits for clinical research. J Assist Reprod Genet 34, 291–300 (2017). https://doi.org/10.1007/s10815-016-0846-6
Received:

Accepted:

Published:

Issue Date:
Keywords
Good manufacturing practice

Vitrification

Ovary

Oncofertility