Abstract
Purpose
Crotamine is capable of penetrating cells and embryos and transfecting cells with exogenous DNA. However, no studies are available regarding its uptake by parthenogenetic (PA) embryos or its use for transfection in in vitro fertilized (IVF) embryos. This study aimed to determine the translocation kinetics of crotamine into PA and IVF bovine embryos and assess its effect over in vitro development of PA embryos. Moreover, crotamine-DNA complexes were used to test the transfection ability of crotamine in bovine IVF zygotes.
Methods
PA and IVF embryos were exposed to labeled crotamine for four interval times. Embryo toxicity was assayed over PA embryos after 24 h of exposure to crotamine. Additionally, IVF embryos were exposed to or injected with a complex formed by crotamine and pCX-EGFP plasmid.
Results
Confocal images revealed that crotamine was uptaken by PA and IVF embryos as soon as 1 h after exposure. Crotamine exposure did not affect two to eight cells and blastocyst rates or blastocyst cell number (p > 0.05) of PA embryos. Regarding transfection, exposure or injection into the perivitelline space with crotamine-DNA complex did not result in transgene-expressing embryos. Nevertheless, intracytoplasmic injection of plasmid alone showed higher expression rates than did injection with crotamine-DNA complex at days 4 and 7 (p < 0.05).
Conclusions
Crotamine is able to translocate through zona pellucida (ZP) of PA and IVF embryos within 1 h of exposure without impairing in vitro development. However, the use of crotamine does not improve exogenous DNA expression in cattle embryos, probably due to the tight complexation of DNA with crotamine.
This is a preview of subscription content, log in to check access.
Access options
Buy single article
Instant unlimited access to the full article PDF.
US$ 39.95
Price includes VAT for USA
Subscribe to journal
Immediate online access to all issues from 2019. Subscription will auto renew annually.
US$ 199
This is the net price. Taxes to be calculated in checkout.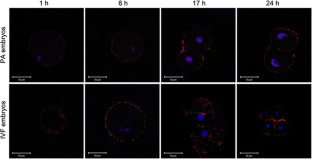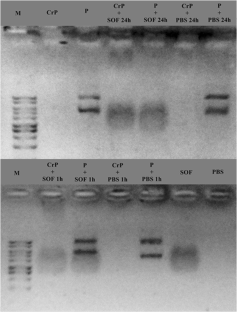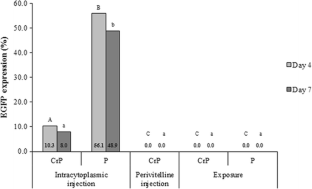 References
1.

Rádis-Baptista G, Kerkis I. Crotamine, a small basic polypeptide myotoxin from rattlesnake venom with cell-penetrating properties. Curr Pharm Des. 2011;17:4351–61.

2.

Kerkis A, Kerkis I, Rádis-Baptista G, Oliveira EB, Vianna-Morgante AM, Pereira LV, et al. Crotamine is a novel cell-penetrating protein from the venom of rattlesnake Crotalus durissus terrificus. Faseb J. 2004;18:1407–09.

3.

Hayashi MA, Nascimento FD, Kerkis A, Oliveira V, Oliveira EB, Pereira A, et al. Cytotoxic effects of crotamine are mediated through lysosomal membrane permeabilization. Toxicon. 2008;52:508–17.

4.

Campelo IS, Pereira AF, Alcântara-Neto AS, Canel NG, Souza-Fabjan JMG, Teixeira DIA, et al. Effect of crotamine, a cell-penetrating peptide, on blastocyst production and gene expression of in vitro fertilized bovine embryos. Zygote. 2014. doi:10.1017/S0967199414000707.

5.

Surani MA, Barton SC, Norris ML. Development of reconstituted mouse eggs suggests imprinting of the genome during gametogenesis. Nature. 1984;308:548–50.

6.

Varmuza S, Mann M, Rogers I. Site of action of imprinted genes revealed by phenotypic analysis of parthenogenetic embryos. Dev Genet. 1993;14:239–48.

7.

Cibelli JB, Stice SL, Golueke PJ, Kane JJ, Jerry J, Blackwell C, et al. Cloned transgenic calves produced from nonquiescent fetal fibroblasts. Science. 1998;280:1256–58.

8.

Perry AC, Wakayama T, Kishikawa H, Kasai T, Okabe M, Toyoda Y, et al. Mammalian transgenesis by intracytoplasmic sperm injection. Science. 1999;284:1180–83.

9.

Nascimento FD, Hayashi MA, Kerkis A, Oliveira V, Oliveira EB, Rádis-Baptista G, et al. Crotamine mediates gene delivery into cells through the binding to heparan sulfate proteoglycans. J Biol Chem. 2007;282:21349–60.

10.

Murray JD, Nancarrow CD, Marshall JT, Hazelton IG, Ward KA. Production of transgenic merino sheep by microinjection of ovine metallothionein-ovine growth hormone fusion genes. Reprod Fertil Dev. 1989;1:147–55.

11.

Sperandio S, Lulli V, Bacci ML, Forni M, Maidone B, Spadafora C, et al. Sperm-mediated DNA transfer in bovine and swine species. Anim Biotechnol. 1996;7:59–77.

12.

Gagné MB, Pothier F, Sirard MA. Electroporation of bovine spermatozoa to carry foreign DNA in oocytes. Mol Reprod Dev. 1991;29:6–15.

13.

Maurisse R, Semir D, Emamekhoo H, Bedayat B, Abdolmohammadi A, Parsi H, et al. Comparative transfection of DNA into primary and transformed mammalian cells from different lineages. BMC Biotechnol. 2010;10:1–9.

14.

Salamone D, Barañao L, Santos C, Bussmann L, Artuso J, Werning C, et al. High level expression of bioactive recombinant human growth hormone in the milk of a cloned transgenic cow. J Biotechnol. 2006;124:469–72.

15.

Chan AW, Homan EJ, Ballou LU, Burns JC, Bremel RD. Transgenic cattle produced by reverse-transcribed gene transfer in oocytes. Proc Natl Acad Sci USA. 1998;95:14028–33.

16.

Poon GM, Gariépy J. Cell-surface proteoglycans as molecular portals for cationic peptide and polymer entry into cells. Biochem Soc. 2007;35:788–93.

17.

Alessio AP, Fili AE, Garrels W, Forcato DO, Olmos Nicotra MF, Liaudat AC, et al. Establishment of cell-based transposon-mediated transgenesis in cattle. Theriogenology. 2016;85:1297–311.

18.

Jeong YH, Kim YJ, Kim EY, Kim SE, Kim J, Park MJ, et al. Knock-in fibroblasts and transgenic blastocysts for expression of human FGF2 in the bovine β-casein gene locus using CRISPR/Cas9 nuclease-mediated homologous recombination. Zygote. 2015. doi:10.1017/S0967199415000374.

19.

Wasungu L, Hoekstra D. Cationic lipids, lipoplexes and intracellular delivery of genes. J Control Release. 2006;116:255–64.

20.

Sarko D, Beijer B, Boy RG, Nothelfer E, Leotta K, Eisenhut M, et al. The pharmacokinetics of cell-penetrating peptides. Mol Pharmaceut. 2010;7:2224–31.

21.

Lönn P, Dowdy SF. Cationic PTD/CPP-mediated macromolecular delivery: charging into the cell. Expert Opin Drug Deliv. 2015;12:1627–36.

22.

Rodrigues M, Santos A, Torre BG, Rádis-Baptista G, Andreu D, Santos NC. Molecular characterization of the interaction of crotamine-derived nucleolar targeting peptides with lipid membranes. Biochim Biophys Acta. 1818;2012:2707–17.

23.

Rádis-Baptista G, de la Torre BG, Andreu D. A novel cell-penetrating peptide sequence derived by structural minimization of a snake toxin exhibits preferential nucleolar localization. J Med Chem. 2008;51:7041–4.

24.

Ikawa M, Kominami K, Yoshimura Y, Tanaka K, Nishimune Y, Okabe M. A rapid and non-invasive selection of transgenic embryos before implantation using green fluorescent protein (GFP). FEBS Lett. 1995;375:125–8.

25.

Brackett BG, Oliphant G. Capacitation of rabbit spermatozoa in vitro. Biol Reprod. 1975;12:260–74.

26.

Tervit H, Whittingham D, Rowson L. Successful culture in vitro of sheep and cattle ova. J Reprod Fertil. 1972;30:493–7.

27.

Holm P, Booth PJ, Schmidt MH, Greve T, Callesen H. High bovine blastocyst development in a static in vitro production system using SOFaa medium supplemented with sodium citrate and myo-inositol with or without serum-proteins. Theriogenology. 1999;52:683–700.

28.

Powell DJ, Galli C, Moor RM. The fate of DNA injected into mammalian oocytes and zygotes at different stages of the cell cycle. J Reprod Fertil. 1992;95:211–20.

29.

Freitas VJF, Alcântara-Neto AS, Pereira AF, Campelo IS, Melo LM, Rádis-Baptista G. Assessing the complex formation between crotamine, a natural cell-penetrating peptide, and DNA using high sensitive fluorescence exclusion assay. Clon Transgen. 2014;3:1–5.

30.

Peng H, Wu Y, Zhang Y. Efficient delivery of DNA and morpholinos into mouse preimplantation embryos by electroporation. Plos One. 2012;7:1–13.

31.

Kaneko T, Sakuma T, Yamamoto T, Mashimo T. Simple knockout by electroporation of engineered endonucleases into intact rat embryos. Sci Rep. 2014;6382:1–5.

32.

McKenzie DL, Collard WT, Rice KG. Comparative gene transfer efficiency of low molecular weight polylysine DNA-condensing peptides. J Pept Res. 1999;54:311–8.

33.

Park CW, Kren BT, Largaespada DA, Steer CJ. DNA methylation of Sleeping Beauty with transposition into the mouse genome. Genes Cells. 2005;10:763–76.

34.

Bevacqua RJ, Pereyra-Bonnet F, Olivera R, Hiriart MI, Sipowicz P, Fernandez-Martín R, et al. Production of IVF transgene-expressing bovine embryos using a novel strategy based on cell cycle inhibitors. Theriogenology. 2012;78:57–68.

35.

Bevacqua RJ, Canel NG, Hiriart MI, Sipowicz P, Rozenblum GT, Vitullo A, et al. Simple gene transfer technique based on I-SceI meganuclease and cytoplasmic injection in IVF bovine embryos. Theriogenology. 2013;80:104–13.

36.

Vichera G, Moro L, Salamone D. Efficient transgene expression in IVF and parthenogenetic bovine embryos by intracytoplasmic injection of DNA–liposome complexes. Reprod Dom Anim. 2011;46:214–20.

37.

Vichera G, Moro L, Buemo C, Salamone D. DNA fragmentation, transgene expression and embryo development after intracytoplasmic injection of DNA–liposome complexes in IVF bovine zygotes. Zygote. 2014;22:195–203.

38.

Pereyra-Bonnet F, Bevacqua R, La Rosa I, Sipowicz P, Radrizzani M, Fernandez-Martin R, et al. Novel methods to induce exogenous gene expression in SCNT, parthenogenic and IVF preimplantation bovine embryos. Transgenic Res. 2011;20:1379–88.
Acknowledgments
The authors are grateful to CIALE for donating the semen and Frigorífico I.F.F.S.A for providing the biological material. The authors are also thankful to Conselho Nacional de Desenvolvimento Científico e Tecnológico (CNPq) and Consejo Nacional de Investigaciones Científicas y Técnicas (CONICET) for providing the scholarship support.
Ethics declarations
Conflict of Interest
The authors declare that they have no conflict of interest.
Additional information
Capsule
Crotamine is able to translocate through zona pellucida of PA and IVF embryos, but did not improve the efficiency of transgene expression in cattle embryo.
Electronic supplementary material
Below is the link to the electronic supplementary material.
Confocal imaging projections of PA embryos exposed to RhoB-crotamine for 17 h time interval (MP4 1087 kb)
Confocal imaging projections of IVF embryos exposed to RhoB-crotamine for 17 h time interval (MP4 980 kb)
Confocal imaging projections of PA embryos exposed to RhoB-crotamine for 17 h time interval (MP4 1087 kb)
Confocal imaging projections of IVF embryos exposed to RhoB-crotamine for 17 h time interval (MP4 980 kb)
About this article
Cite this article
Campelo, I.S., Canel, N.G., Bevacqua, R.J. et al. Crotamine, a cell-penetrating peptide, is able to translocate parthenogenetic and in vitro fertilized bovine embryos but does not improve exogenous DNA expression. J Assist Reprod Genet 33, 1405–1413 (2016) doi:10.1007/s10815-016-0772-7
Received:

Accepted:

Published:

Issue Date:
Keywords
Cattle

Peptide uptake

Gene delivery

Preimplantation embryo

Transgene expression