Abstract
Purpose: To assess the effects of sperm DNA damage, as determined by the TUNEL assay and the SCSA respectively, on the outcomes of IVF/ICSI treatment.
Methods: A Medline search (from Jan 1978 to Apr 2006) was performed, together with a manual search of the bibliographies of retrieved original papers and review articles. 8 articles met all inclusion/exclusion criteria, of which, 5 used the TUNEL assay and the other 3 used the SCSA. All these articles were included in separate meta-analysis. The meta-analysis was conducted using the RevMan software with fixed-effect model or random-effects model.
Results: As for articles using the TUNEL assay, the pooled results of IVF outcomes indicated that the clinical pregnancy rate (RR 0.68, 95% CI 0.54 to 0.85, P=0.006), but not the fertilization rate (RR 0.79, 95% CI 0.54 to 1.16, P=0.23) decreased significantly for patients with high degree of sperm DNA damage compared with those with low degree of sperm DNA damage. RRs of the ICSI outcomes indicated that there was no significant difference in either fertilization rate (RR 1.03, 95% CI 0.89 to1.18, P=0.70) or clinical pregnancy rate (RR 0.76, 95% CI 0.55 to 1.04, P=0.09) between these two groups. As for the SCSA papers, the pooled results showed no significant effects of sperm DNA damage on the clinical pregnancy rate after IVF (RR 0.58, 95% CI 0.25 to 1.31, P=0.19) or ICSI (RR 1.18, 95% CI 0.81 to 1.74, P=0.38).
Conclusion(s): Our meta-analysis indicates that sperm DNA damage, as assessed by the TUNEL assay, significantly decreases only the chance of IVF clinical pregnancy, but not that of either IVF fertilization or ICSI fertilization or ICSI clinical pregnancy. Besides, our results also reveal that sperm DNA damage, when assessed by the SCSA, has no significant effect on the chance of clinical pregnancy after IVF or ICSI treatment.
This is a preview of subscription content, log in to check access.
Access options
Buy single article
Instant unlimited access to the full article PDF.
US$ 39.95
Price includes VAT for USA
Subscribe to journal
Immediate online access to all issues from 2019. Subscription will auto renew annually.
US$ 199
This is the net price. Taxes to be calculated in checkout.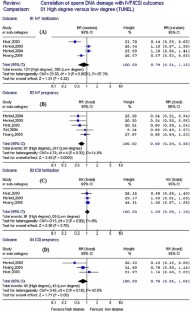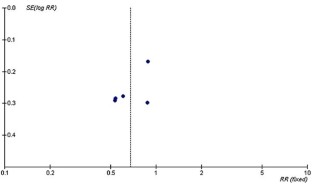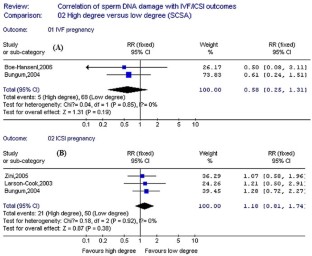 Reference
1.

Agarwal A, Said TM: Role of sperm chromatin abnormalities and DNA damage in male infertility. Hum Reprod Update 2003;9:331–45.

2.

De Jonge C: The clinical value of sperm nuclear DNA assessment. Hum Fertil 2002;5:51–3

3.

Twigg JP, Irvine DS, Aitken RJ: Oxidative damage to DNA in human spermatozoa does not preclude pronucleus formation at intracytoplasmic sperm injection. Hum Reprod 1998;13:1864–71

4.

Bungum M, Humaidan P, Spano M, Jepson K, Bungum L, Giwercman A: The predictive value of sperm chromatin structure assay (SCSA) parameters for the outcome of intrauterine insemination, IVF and ICSI. Hum Reprod 2004;19:1401–8.

5.

Perreault SD, Aitken RJ, Baker HW, Evenson DP, Huszar G, Irvine DS, Morris ID, Morris RA, Robbins WA, Sakkas D, SpanoÁ M and Wyrobek AJ: Integrating new tests of sperm genetic integrity into semen analysis: breakout group discussion. Adv Exp Med Biol 2003;518:253–68.

6.

Ahmadi A, Ng SC: Developmental capacity of damaged spermatozoa. Hum Reprod 1999;14:2279–85.

7.

Agarwal A, Allamaneni SSR: Sperm DNA damage assessment: A test whose time has come. Fertil Steril 2005;84:850–3.

8.

Virant-Klun I, Tomazevic T, Meden-Vrtovec H: Sperm single-stranded DNA, detected by acridine orange staining, reduces fertilization and quality of ICSI derived embryos. J Assist Reprod Genet 2002;19:319–28.

9.

Bordignon V, Smith LC. Ultraviolet-irradiated spermatozoa activate oocytes but arrest preimplantation development after fertilization and nuclear transplantation in cattle. Biol Reprod 1999;61:1513–20.

10.

Evenson DP: Loss of livestock breeding efficiency due to uncompensable sperm nuclear defects. Reprod Fertil Dev 1999;11:1–15.

11.

Brinkworth MH: Paternal transmission of genetic damage: findings in animals and humans. Int J Androl 2000;23:123–35.

12.

Evenson DP, Jost LK, Marshall D, Zinaman MJ, Clegg E, Purvis K: Utility of the sperm chromatin assay as a diagnostic and prognostic tool in the human fertility clinic. Hum Reprod 1999;14:1039–49.

13.

Kodama H, Yamaguchi R, Fukuda J, Kasai H, Tanaka T: Increased oxidative deoxyribonucleic acid damage in the spermatozoa of infertile male patients. Fertil Steril 1997;68:519–24.

14.

Spano M, Bonde JP, Hjollund HI, Kolstad HA, Cordelli E, Leter G: Sperm chromatin damage impairs human fertility. Fertil Steril 2000;73:43–50.

15.

Zini A, Bielecki R, Phang D, Leibo SP: Correlations between two markers of sperm DNA integrity, DNA denaturation and DNA fragmentation, in fertile and infertile men. Fertil Steril 2001;75:674–77.

16.

Sergerie M, Laforest G, Bujan L, Bissonnette F, Bleaul G: Sperm DNA fragmentation: threshold value in male fertility. Hum Reprod 2005;12:3446–51.

17.

Morris ID, Ilott S, Dixon L, Brison DR: The spectrum of DNA damage in human sperm assessed by single cell electrophoresis (COMET assay) and its relationship to fertilization and embryo development. Hum Reprod 2002;17:990–8.

18.

Tomlinson MJ, Moffatt O, Manicardi GC, Bizzaro D, Afnan M, Sakkas D: Interrelationships between seminal parameters and sperm nuclear DNA damage before and after density gradient centrifugation: implications for assisted conception. Hum Reprod 2001;16:2160–5.

19.

Henkel R, Kierspel E, Hajimohammad M, Stalf T, Hoogendijk C, Mehnert C, Menkveld R, Schill WB, Kruger TF: DNA fragmentation of spermatozoa and assisted reproduction technology. Reprod Biomed Online 2003;7(4):477–84.

20.

Tesarik J, Mendoza C, Greco E: Paternal effects acting during the first cell cycle of human preimplantation development after ICSI. Hum Reprod 2002;17:184–9.

21.

Henkel R, Hajimohammad M, Stalf T, Hoogendijk C, Mehnert C, Menkveld R, Gips H, Schill WB, Kruger TF: Influence of deoxyribonucleic acid damage on fertilization and pregnancy. Fertil Steril 2004;81:965–72.

22.

Sun JG, Jurisicova A, Casper RF: Detection of deoxyribonucleic acid fragmentation in human sperm: correlation with fertilization in vitro. Biol Reprod 1997;56:602–27.

23.

Lopes S, Sun JG, Jurisicova A, Meriano J, Casper RF: Sperm deoxyribonucleic acid fragmentation is increased in poor-quality semen samples and correlates with failed fertilization in intracytoplasmic sperm injection. Fertil Steril 1998;69:528–32.

24.

Lopes S, Jurisicova A, Casper RF: Gamete-specific DNA fragmentation in unfertilized human oocytes after intracytoplasmic sperm injection. Hum Reprod 1998;13:703–8.

25.

Host ES, Lindenberg S, Smidt-Jensen S: The role of DNA strand breaks in human spermatozoa used for IVF and ICSI. Acta Obstet Gynecol Scand 2000;79:559–63.

26.

Huang CH, Lin DP, Tsao HM, Cheng TC, Liu CH, Lee MS: Sperm DNA fragmentation negatively correlates with velocity and fertilization rates but might not affect pregnancy rates. Fertil Steril 2005;84:130–40.

27.

Gandini L, Lombardo F, Paoli D, Caruso F, Eleuteri P, Leter G: Full-term pregnancies achieved with ICSI despite high levels of sperm chromatin damage. Hum Reprod 2004;19(6):1409–17.

28.

Seli E, Gardner DK, Schoolcraft WB, Moffatt O, Sakkas D: Extent of nuclear DNA damage in ejaculated spermatozoa impacts on blastocyst development after in vitro fertilization. Fertil Steril 2004;82:378–83.

29.

Benchaib M, Braun V, Lornage J, Hadj S, Salle B, Lejeune H: Sperm DNA fragmentation decreases the pregnancy rate in an assisted reproductive technique. Hum Reprod 2003;18:1023–8.

30.

Larson KL, DeJonge CJ, Barnes AM, Jost LK, Evenson DP: Sperm chromatin structure assay parameters as predictors of failed pregnancy following assisted reproductive techniques. Hum Reprod 2000;15:1717–22.

31.

Larson-Cook KL, Brannian JD, Hansen KA, Kasperson KM, Aamold ET, Evenson DP: Relationship between the outcomes of assisted reproductive techniques and sperm DNA fragmentation as measured by the sperm chromatin structure assay. Fertil Steril 2003;80:895–902.

32.

Erenpreiss J, Spano M, Erenpreisa J, Bungum M, Giwercman1 A: Sperm chromatin structure and male fertility: biological and clinical aspects. Asian J Androl 2006;8(1):11–29.

33.

Spanoa M, Selib E, Bizzaroc D, Manicardid GC, Sakkas D: The significance of sperm nuclear DNA strand breaks on reproductive outcome. Curr Opin Obstet Gynecol 2005;17:255–60.

34.

Seli E, Sakkas D: Spermatozoal nuclear determinants of reproductive outcome: implications for ART. Hum Reprod Update 2005;11:337–49.

35.

O'brien J, Zini A: Sperm DNA integrity and male infertility. Urology 2005;65:16–22.

36.

Sergerie M, Laforest G, Boulanger K, Bissonnette F, Bleau G: Longitudinal study of sperm DNA fragmentation as measured by terminal uridine nick end-labelling assay. Hum Reprod 2005;7:1921–7.

37.

Evenson DP, Jost LK, Baer RK, Turner TW, Schrader SM: Individuality of DNA denaturation patterns in human sperm as measured by the sperm chromatin structure assay. Reprod Toxicol 1991;5:115–25.

38.

Sailer BL, Jost LK, Evenson DP: Mammalian sperm DNA susceptibility to in situ denaturation associated with the presence of DNA strand breaks as measured by the terminal deoxynucleotidyl transferase assay. J Androl 1995;16:80–87.

39.

Stroup DF, Berlin JA, Morton SC, Olkin I, Williamson GD, Rennie D: Meta-analysis of observational studies in epidemiology: a proposal for reporting. JAMA 2000;283:2008–12.

40.

Downs SH, Black N: The feasibility of creating a checklist for the assessment of the methodological quality both of randomised and non-randomised studies of health care interventions. J Epidemiol Community Health 1998;52:377–84.

41.

DerSimonian R, Laird N: Meta-analysis in clinical trials. Control Clin Trials 1986;7:177–88.

42.

Egger M, Smith GD, Altman DG: Systematic reviews in health care: meta-analysis in context. London, BMJ Books, 2001

43.

Greenland S: Quantitative methods in the review of epidemiologic literature. Epidemiol Rev 1987;9:1–30

44.

Higgins JP, Thompson SG, Deeks JJ, Altman DG: Measuring inconsistency in meta-analyses. BMJ 2003;327:557–60

45.

Petitti DB: Approaches to heterogeneity in meta-analysis. Stat Med 2001;20:3625–33.

46.

Zini1 A, Meriano J, Kader K, Jarvi K, Laskin CA, Cadesky K: Potential adverse effect of sperm DNA damage on embryo quality after ICSI. Hum Reprod 2005;20:3476–80.

47.

Boe-Hansen GB, Fedder J, Ersbø AK, Christensen P: The sperm chromatin structure assay as a diagnostic tool in the human fertility clinic. Hum Reprod Advance Access published March 16, 2006

48.

Tomsu M: Sharma V, Miller D: Embryo quality and IVF treatment outcomes may correlate with different sperm comet assay parameters. Hum Reprod 2002;17:1856–62.

49.

Tesarik J, Greco E, Mendoza C: Late, but not early, paternal effect on human embryo development is related to sperm DNA fragmentation. Hum Reprod 2004;19:611–15.

50.

Braude P, Bolton V, Moore S: Human gene expression first occurs between the four-and eight-cell stages of pre-implantation development. Nature 1988;332:459–61.

51.

Lewis SEM, Connell M.O', Stevenson M, Thompson-Cree L, McClure N: An algorithm to predict pregnancy in assisted reproduction. Hum Reprod 2004;19:1385–94.

52.

Donnelly ET, Steele EK, McClure N, Lewis SE: Assessment of DNA integrity and morphology of ejaculated spermatozoa from fertile and infertile men before and after cryopreservation. Hum Reprod 2001;16:1191–9.

53.

Irvine DS, Twigg JP, Gordon EL, Fulton N, Milne PA, Aitken RJ: Integrity in human spermatozoa: relationships with semen quality. J Androl 2000;21:33–44.
Additional information
Zhongxiang Li is Postdoctoral fellow supervised by Hefeng Huang
About this article
Cite this article
Li, Z., Wang, L., Cai, J. et al. Correlation of sperm DNA damage with IVF and ICSI outcomes: A systematic review and meta-analysis. J Assist Reprod Genet 23, 367–376 (2006). https://doi.org/10.1007/s10815-006-9066-9
Received:

Accepted:

Published:

Issue Date:
Keywords
Spermatozoa

DNA damage

In vitro fertilization

Intracytoplasmic sperm injection

Fertilization

Clinical pregnancy

Meta-analysis