This is a preview of subscription content, log in to check access.
Access options
Buy single article
Instant unlimited access to the full article PDF.
US$ 39.95
Price includes VAT for USA
Subscribe to journal
Immediate online access to all issues from 2019. Subscription will auto renew annually.
US$ 199
This is the net price. Taxes to be calculated in checkout.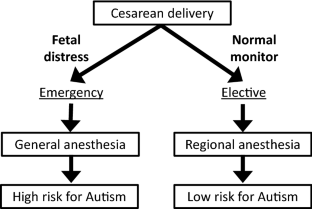 References
Abe, H., Sumitani, M., Uchida, K., Ikeda, T., Matsui, H., Fushimi, K., et al. (2018). Association between mode of anaesthesia and severe maternal morbidity during admission for scheduled Caesarean delivery: A nationwide population-based study in Japan, 2010–2013. British Journal of Anaesthesia,120(4), 779–789. https://doi.org/10.1016/j.bja.2017.11.101.

Algert, C. S., Bowen, J. R., Giles, W. B., Knoblanche, G. E., Lain, S. J., & Roberts, C. L. (2009). Regional block versus general anaesthesia for caesarean section and neonatal outcomes: A population-based study. BMC Medicine,7, 20. https://doi.org/10.1186/1741-7015-7-20.

FDA. (2016). FDA review results in a new warning about using general anesthetics and sedation drugs in young children and pregnant women. Silver Spring: U.S. Department of Health and Human Services, US Food and Drug Administration.

Hawkins, J. L., Chang, J., Palmer, S. K., Gibbs, C. P., & Callaghan, W. M. (2011). Anesthesia-related maternal mortality in the United States: 1979–2002. Obstetrics & Gynecology,117(1), 69–74. https://doi.org/10.1097/AOG.0b013e31820093a9.

Huberman, S. M., Meiri, G., Dinstein, I., Flusser, H., Michaelovski, A., Bashiri, A., et al. (2019). Exposure to general anesthesia may contribute to the association between cesarean delivery and autism spectrum disorder. The Journal of Autism and Developmental Disorders. https://doi.org/10.1007/s10803-019-04034-9.

Suzuki, E., Tsuda, T., Mitsuhashi, T., Mansournia, M. A., & Yamamoto, E. (2016). Errors in causal inference: An organizational schema for systematic error and random error. Annals of Epidemiology,26(11), 788–793.e781. https://doi.org/10.1016/j.annepidem.2016.09.008.

Vinson, A. E., & Houck, C. S. (2018). Neurotoxicity of anesthesia in children: Prevention and treatment. Current Treatment Options in Neurology,20(12), 51. https://doi.org/10.1007/s11940-018-0536-z.

Vutskits, L., & Culley, D. J. (2019). GAS, PANDA, and MASK: No evidence of clinical anesthetic neurotoxicity! Anesthesiology. https://doi.org/10.1097/aln.0000000000002863.

Vutskits, L., & Davidson, A. (2017). Update on developmental anesthesia neurotoxicity. Current Opinion in Anaesthesiology,30(3), 337–342. https://doi.org/10.1097/aco.0000000000000461.
Additional information
Publisher's Note
Springer Nature remains neutral with regard to jurisdictional claims in published maps and institutional affiliations.
About this article
Cite this article
Raz, A., Lehavi, A. & Fein, S. Cesarean Delivery Under General Anesthesia Causing Autistic Spectrum Disorders: Not Very Likely. J Autism Dev Disord (2020). https://doi.org/10.1007/s10803-020-04365-y