Abstract
Inclusion of stakeholder voices in the allocation of research funding can increase the relevance of results and improve community engagement in research. We describe the results of an online survey that gathered input from community stakeholders regarding autism research priorities. A demographically diverse sample of respondents (N = 6004; 79.1% female; 72.5% ages 30–59; 86.4% USA) completed the survey. Results indicated a preference for applied relative to basic science topics, though both basic and applied science areas were rated as important. Respondents gave their highest ratings to research focused on co-occurring conditions, health and well-being, adult transition, and lifespan issues. These results can guide decision-making by public and private funders when developing science funding priorities and engaging in science dissemination activities.
This is a preview of subscription content, log in to check access.
Access options
Buy single article
Instant access to the full article PDF.
US$ 39.95
Price includes VAT for USA
Subscribe to journal
Immediate online access to all issues from 2019. Subscription will auto renew annually.
US$ 199
This is the net price. Taxes to be calculated in checkout.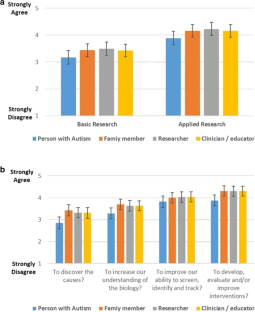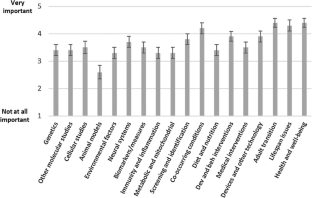 References
AppFT: Patent Application and Full-Text Image Database (2017). http://appft.uspto.gov/netahtml/PTO/search-adv.html. Accessed 28 Dec 2017.

Baron-Cohen, S. (2017). Editorial perspective: Neurodiversity—A revolutionary concept for autism and psychiatry. Journal of Child Psychology and Psychiatry and Allied Disciplines, 58(6), 744–747. https://doi.org/10.1111/jcpp.12703.

de la Torre-Ubieta, L., Won, H., Stein, J. L., & Geschwind, D. H. (2016). Advancing the understanding of autism disease mechanisms through genetics. Nature Medicine, 22(4), 345–361. https://doi.org/10.1038/nm.4071.

Fletcher-Watson, S., Apicella, F., Auyeung, B., Beranova, S., Bonnet-Brilhault, F., Canal-Bedia, R., et al. (2017a). Attitudes of the autism community to early autism research. Autism, 21(1), 61–74. https://doi.org/10.1177/1362361315626577.

Fletcher-Watson, S., Larsen, K., & Salomone, E. & Members of the, C. E. W. G. (2017b). What do parents of children with autism expect from participation in research? A community survey about early autism studies. Autism. https://doi.org/10.1177/1362361317728436.

Georgiades, S., Boyle, M., Szatmari, P., Hanna, S., Duku, E., Zwaigenbaum, L., et al. (2014). Modeling the phenotypic architecture of autism symptoms from time of diagnosis to age 6. Journal of Autism and Developmental Disorders, 44(12), 3045–3055. https://doi.org/10.1007/s10803-014-2167-x.

Interagency Autism Coordinating Committee (IACC). (2017). 2016–2017 Interagency Autism Coordinating Committee Strategic Plan For Autism Spectrum Disorder. Retreived from the U.S. Department of Health and Human Services Interagency Autism Coordinating Committee website https://iacc.hhs.gov/publications/strategic-plan/2017/.

Jivraj, J., Sacrey, L. A., Newton, A., Nicholas, D., & Zwaigenbaum, L. (2014). Assessing the influence of researcher-partner involvement on the process and outcomes of participatory research in autism spectrum disorder and neurodevelopmental disorders: A scoping review. Autism, 18(7), 782–793. https://doi.org/10.1177/1362361314539858.

National Institutes of Health. (2017). Research portfolio online reporting tools (RePORT): RePORTER manual. (12/19/2017 ed., Vol. 7.24.0).

Ncbi Resource Coordinators. (2017). Database Resources of the National Center for Biotechnology Information. Nucleic Acids Research, 45(D1), D12–D17, https://doi.org/10.1093/nar/gkw1071.

Pellicano, E., Dinsmore, A., & Charman, T. (2014a). Views on researcher-community engagement in autism research in the United Kingdom: a mixed-methods study. PLoS ONE, 9(10), e109946. https://doi.org/10.1371/journal.pone.0109946.

Pellicano, E., Dinsmore, A., & Charman, T. (2014b). What should autism research focus upon? Community views and priorities from the United Kingdom. Autism, 18(7), 756–770. https://doi.org/10.1177/1362361314529627.

Smith, T., Iadarola, S., Mandell, D. S., Harwood, R., & Kasari, C. (2017). Community-partnered research with urban school districts that serve children with autism spectrum disorder. Academic Pediatrics, 17(6), 614–619. https://doi.org/10.1016/j.acap.2017.04.017.

Yusuf, A., & Elsabbagh, M. (2015). At the cross-roads of participatory research and biomarker discovery in autism: the need for empirical data. BMC Medical Ethics, 16(1), 88. https://doi.org/10.1186/s12910-015-0082-0.
Acknowledgments
The authors wish to acknowledge all the stakeholders who participated in this survey.
Electronic supplementary material
Below is the link to the electronic supplementary material.
About this article
Cite this article
Frazier, T.W., Dawson, G., Murray, D. et al. Brief Report: A Survey of Autism Research Priorities Across a Diverse Community of Stakeholders. J Autism Dev Disord 48, 3965–3971 (2018). https://doi.org/10.1007/s10803-018-3642-6
Keywords
Autism

Research priorities

Caregivers

Funding

Stakeholders

Adult transition