One-pot synthesis of a CoS-AC electrode in a redox electrolyte for high-performance supercapacitors
Part of the following topical collections:
Abstract
Due to their unique physical and chemical properties, nanostructured metal sulfide materials have shown excellent electrochemical performance. Among them, the natural semiconductor cobalt disulfide (CoS) is a promising electrode material for supercapacitors owing to its two-dimensional layered structure and fast carrier transmission. However, the curling of the CoS layers and the structural stability of CoS materials should be improved. In this context, we developed a facile solvothermal method to fabricate CoS-AC composite to solve the inherent defects of individual materials. The AC both increased the electrical conductivity of the electrode and supported the active species, thus improving the stability of the composite during the charge–discharge processes. Furthermore, the addition of K3Fe(CN)6 to the electrolyte to form a redox electrolyte largely enhanced the pseudocapacitance. The CoS-AC composite exhibited a high specific capacitance of 797.79 F g−1 at a high current density of 10 A g−1. The as-prepared CoS-AC//AC asymmetric supercapacitor device showed a superior cycling stability (77.53% maintained after 2000 cycles). The synergy between the electrode and the redox electrolyte was crucial for improving the supercapacitor performance.
Graphic abstract
The CoS-AC composites were simply synthesized using solvothermal approach with enhanced electrochemical properties.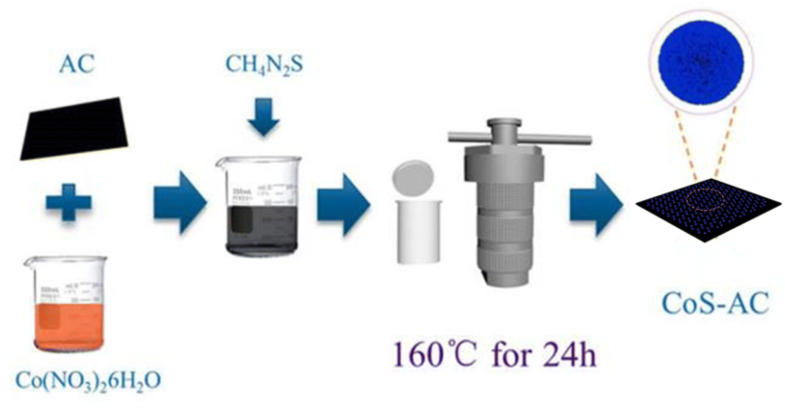 Keywords
CoS-AC composite 
Solvothermal method 
Redox electrolyte 
Asymmetric supercapacitor 
Notes
Acknowledgements
This research was funded by the National Natural Science Foundation of China (Grant Nos. 21606033, 21376034, and 21506086) and the Natural Science Foundation of Liaoning Province (Grant No. 20170520427).
Copyright information
© Springer Nature B.V. 2019