Electroreduction and solubility of CO2 in methoxy- and nitrile-functionalized imidazolium (FAP) ionic liquids
Part of the following topical collections:
Abstract
Ionic liquids with cyano (–CN)- and methoxy (–OCH3)-functionalized imidazolium cations paired with a fluorine-containing common anion Tris(pentafluoroethyl)trifluorophosphate or [FAP] were evaluated as solvent and electrolyte in the electroreduction of carbon dioxide. The measured reduction potentials of CO2 in both ionic liquids were observed to occur at ca.−1.1 V versus Cc+/Cc internal reference standard, which are significantly lower when compared to that of the non-functionalized analog [pmim][FAP], with an observed reduction potential of ca. −1.6 V versus Cc+/Cc. This decrease in the potential required for CO2 reduction in the cation-functionalized [FAP] ionic liquids suggests that the presence of functional groups methoxy and cyano effectively decreased the free energy of formation of the radical anion CO 2 ·− . Results using pressure drop measurement and IR spectroscopy verify the ability of the ILs to dissolve carbon dioxide. Such solvents may be used as carbon capture agents and organocatalysts in the reduction of carbon dioxide.
Graphical Abstract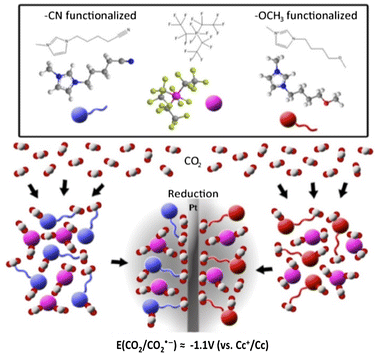 Keywords
Chronoamperometry 
CO2 reduction 
Methoxy-functionalized ionic liquid 
Nitrile-functionalized ionic liquid 
Pressure drop method 
IR spectroscopy 
Notes
Acknowledgements
The financial assistance is gratefully acknowledged from the Natural Sciences Research Institute (CHE-13-2-01), and the project VISSER, funded by the Emerging Interdisciplinary Research Grant by the Office of the Vice President for Academic Affairs of the University of the Philippines (OVPAA-EIDR C2-B-02-612-07), and the Philippine Council for Industry, Energy, and Emerging Technology Research and Development of the Department of Science and Technology Republic of the Philippines. Gratitude is also extended to Dr. Allan Yago and Dr. Ricky Nellas of the Institute of Chemistry, University of the Philippines Diliman, for their valuable advices in relation to this work.
Copyright information
© Springer Science+Business Media B.V. 2017