Abstract
Purpose
This study aimed to compare the choroidal vascularity index (CVI) of eyes having Fuchs' uveitis syndrome (FUS) with healthy fellow eyes (N).
Methods
This prospective, cross-sectional study included unilateral FUS cases and an age- and gender-matched healthy control group. Thirty-nine participants were included in the FUS group, and 24 age- and gender-matched individuals were randomly selected for the control group. Endothelial cell density (ECD) was measured using Tomey specular microscopy. Spectral-domain optical coherence tomography was used to acquire the choroidal images, and binarization was applied to the images. Two blinded investigators analyzed the CVI in both eyes of the FUS cases and the right eyes of the healthy control group.
Results
CVI was found to be significantly decreased in FUS (p < 0.001). Additionally, ECD had a strong positive correlation with CVI (r = 0.383, p = 0.008).
Conclusion
CVI may provide information about the chronicity of the disease.
This is a preview of subscription content, log in to check access.
Access options
Buy single article
Instant access to the full article PDF.
US$ 39.95
Price includes VAT for USA
Subscribe to journal
Immediate online access to all issues from 2019. Subscription will auto renew annually.
US$ 99
This is the net price. Taxes to be calculated in checkout.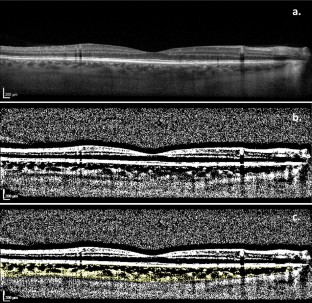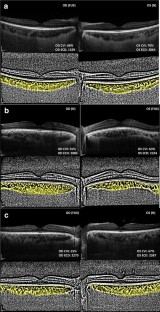 Availability of data and materials
The data supporting our findings can be found at Van Yuzuncu Yil University, Dursun Odabas Faculty of Medicine, Ophthalmology Department, Uveitis section secretary.
References
1.

Kazokoglu H, Onal S, Tugal-Tutkun I, Mirza E, Akova Y, Ozyazgan Y et al (2008) Demographic and clinical features of uveitis in tertiary centers in Turkey. Ophthalmic Epidemiol 15:285–293

2.

Rathinam SR, Namperumalsamy P (2007) Global variation and pattern changes in epidemiology of uveitis. Indian J Ophthalmol 55:173–183

3.

Basarir B, Altan C, Pinarci EY, Celik U, Satana B, Demirok A (2013) Analysis of iris structure and iridocorneal angle parameters with anterior segment optical coherence tomography in Fuchs' uveitis syndrome. Int Ophthalmol 33:245–250

4.

Kimura SJ, Hogan MJ, Thygeson P (2005) Fuchs' syndrome of heterochromic cyclitis. Arch Ophthalmol 54(2):179–186

5.

Bonfioli AA, Curi AL, Orefice F (2005) Fuchs' heterochromic cyclitis. Semin Ophthalmol. 20(3):143–146

6.

Mohamed Q, Zamir E (2005) Update on Fuchs' uveitis syndrome. Curr Opin Ophthalmol 16:356–363

7.

Kardes E, Sezgin Akcay BI, Unlu C, Ergin A (2017) Choroidal thickness in eyes with Fuchs Uveitis Syndrome. Ocul Immunol Inflamm. 25(2):259–266

8.

Agrawal A, Agarwal R, Khandelwal N, Invernizzi A, Aggarwal K, Sharma A et al (2018) Choroidal structural changes in tubercular multifocal serpiginoid choroiditis. Ocul Immunol Inflamm 26(6):838–844

9.

Agrawal R, Chhablani J, Tan KA, Shah S, Sarvaiya C, Banker A (2016) Choroidal vascularity index in central serous chorioretinopathy. Retina. 36:1646–1651

10.

Agrawal R, Li LKH, Nakhate V, Khandelwal N, Mahendradas P (2016) Choroidal vascularity index in Vogt-Koyanagi–Harada disease: an EDI-OCT derived tool for monitoring disease progression. Transl Vis Sci Technol 5(4):7

11.

Agrawal R, Salman M, Tan KA, Karampelas M, Sim DA, Keane PA et al (2016) Choroidal vascularity index (CVI)-a novel optical coherence tomography parameter for monitoring patients with panuveitis? PLoS One 11(1):e0146344

12.

Ratra D, Tan R, Jaishankar D, Khandelwal N, Gupta A, Chhablani J et al (2018) Choroıdal structural changes and vascularıty ındex ın stargardt dısease on swept source optıcal coherence tomography. Retina 38(12):2395–2400

13.

Tan KA, Laude A, Yip V, Loo E, Wong EP, Agrawal R (2016) Choroidal vascularity index–a novel optical coherence tomography parameter for disease monitoring in diabetes mellitus? Acta Ophthalmol 94(7):e612–e616

14.

Tan R, Agrawal R, Taduru S, Gupta A, Vupparaboina K, Chhablani J (2018) Choroidal vascularity index in retinitis pigmentosa: an OCT study. Ophthalmic Surg Lasers Imaging Retina. 49(3):191–197

15.

Wei X, Ting DSW, Ng WY, Khandelwal N, Agrawal R, Cheung CMG (2017) Choroidal vascularity index: a novel optical coherence tomography based parameter in patients with exudative age-related macular degeneration. Retina 37(6):1120–1125

16.

Ağın A, Kadayıfçılar S, Sönmez HE, Baytaroglu A, Demir S, Sag E et al (2019) Evaluation of choroidal thickness, choroidal vascularity index and peripapillary retinal nerve fiber layer in patients with juvenile systemic lupus erythematosus. Lupus 28(1):44–50

17.

Kurt A, Kurt EE, Kilic R, Oktem C, Tuncay F, Erdem HR (2017) Is choroidal thickness related with disease activity and joint damage in patient with rheumatoid arthritis. Bratisl Lek Listy 118(1):23–27

18.

Balci O, Ozsutcu M (2016) Evaluation of retinal and choroidal thickness in Fuchs' uveitis syndrome. J Ophthalmol. 2016:1657078

19.

Invernizzi A, Cigada M, Savoldi L, Cavuto S, Fontana L, Cimino L (2014) In vivo analysis of the iris thickness by spectral domain optical coherence tomography. Br J Ophthalmol 98(9):1245–1249

20.

Alfawaz AM, Holland GN, Yu F, Margolis MS, Giaconi JA, Aldave AJ (2016) Corneal endothelium in patients with anterior uveitis. Ophthalmology 123(8):1637–1645

21.

Jabs DA, Nussenblatt RB, Rosenbaum JT (2005) Standardization of Uveitis Nomenclature (SUN) Working Group. Standardization of uveitis nomenclature for reporting clinical data. Results of the First International Workshop. Am J Ophthalmol 140:509–516

22.

Nussenblatt RB, Palestine AG, Chan CC, Roberge F (1985) Standardization of vitreal inflammatory activity in intermediate and posterior uveitis. Ophthalmology 92:467–471

23.

Cerquaglia A, Iaccheri B, Fiore T, Lupidi M, Torroni G, Fruttini D et al (2016) Full-thickness choroidal thinning as a feature of Fuchs Uveitis Syndrome: quantitative evaluation of choroid by enhanced depth imaging optical coherence tomography in a cohort of consecutive patients. Graefes Arch Clin Exp Ophthalmol 254(10):2025–2031

24.

Tugal-Tutkun I, Guney-Tefekli E, Kamaci-Duman F, Corum I (2009) A cross-sectional and longitudinal study of Fuchs uveitis syndrome in Turkish patients. Am J Ophthalmol 148(4):510–515

25.

Koh LHL, Agrawal R, Khandelwal N, Sai Charan L, Chhablani J (2017) Choroidal vascular changes in age-related macular degeneration. Acta Ophthalmol 95:e597–e601

26.

Szepessy Z, Toth G, Barsi A, Kranitz K, Nagy ZZ (2016) Anterior segment characteristics of Fuchs Uveitis Syndrome. Ocul Immunol Inflamm. 24(5):594–598

27.

Huang Z, Wang XY, Liu L, Han W (2014) Corneal decompensation in bilateral Fuchs heterochromic uveitis. Can J Ophthalmol 49(1):e11–e14
Funding
No commercial relationship exists for any of this article's authors in the form of financial support or personal financial interest.
Ethics declarations
Conflict of interest
All the authors declare that they have no conflict of interest.
Ethical approval and consent to participate
All procedures performed in studies involving human participants were in accordance with the ethical standards of the institutional and/or national research committee and with the 1964 Helsinki Declaration and its later amendments or comparable ethical standards. The study was approved by Van Yuzuncu Yil University, Dursun Odabas Faculty of Medicine, Surgical and Pharmaceutical Research Ethics Board.
Informed consent
Written informed consent for publication was obtained from all participants.
Additional information
Publisher's Note
Springer Nature remains neutral with regard to jurisdictional claims in published maps and institutional affiliations.
About this article
Cite this article
Ozer, M.D., Batur, M., Tekin, S. et al. Choroid vascularity index as a parameter for chronicity of Fuchs' uveitis syndrome. Int Ophthalmol (2020). https://doi.org/10.1007/s10792-020-01309-4
Received:

Accepted:

Published:
Keywords
Fuchs' uveitis syndrome

Endothelial cell density

Choroidal vascularity index

Spectral-domain optical coherence tomography