Abstract
Purpose
To evaluate the role of adjuvant micropulse laser with aflibercept injections in the management of treatment naive center involving DME, looking at decreased treatment burden and increased efficacy as outcomes after 1 year.
Methods
This was a prospective, single center, randomized trial that included 40 eyes (40 patients) with previously untreated center involved DME. Patients were randomly assigned to receive either aflibercept plus micropulse laser (group A) or aflibercept monotherapy (group B).
Results
Overall, 40 patients were included in the study; they were randomized into either group A (aflibercept + micropulse; 20 patients) or group B (aflibercept monotherapy; 20 patients). The mean number of injections after the loading dose was 4.5 ± 1.4 in group A and was 5.4 ± 1.7 in group B, and the difference between both groups was statistically significant (P = 0.029).
Conclusion
Adding 577-nm micropulse laser to aflibercept is effective for treatment naïve DME and is associated with decreased number of injections.
This is a preview of subscription content, log in to check access.
Access options
Buy single article
Instant unlimited access to the full article PDF.
US$ 39.95
Price includes VAT for USA
Subscribe to journal
Immediate online access to all issues from 2019. Subscription will auto renew annually.
US$ 99
This is the net price. Taxes to be calculated in checkout.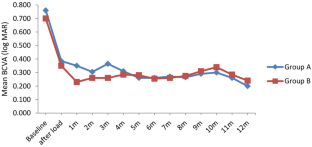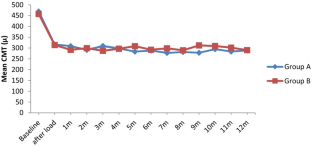 References
1.

Klein R, Klein BE, Moss SE, Cruickshanks KJ (1995) The Wisconsin Epidemiologic Study of Diabetic Retinopathy. XV The long-term incidence of macular edema. Ophthalmology 102:7–16

2.

Early Treatment Diabetic Retinopathy Study Research Group (1985) Photocoagulation for diabetic macular edema. Early Treatment Diabetic Retinopathy Study report number 1. Early Treatment Diabetic Retinopathy Study research group. Arch Ophthalmol 103(12):1796–1806

3.

Nguyen QD, Brown DM, Marcus DM, Boyer DS, Patel S, Feiner L et al (2012) RISE and RIDE Research Group. Ranibizumab for diabetic macular edema: results from 2 phase III randomized trials: RISE and RIDE. Ophthalmology 119:789–801

4.

Michaelides M, Kaines A, Hamilton RD et al (2010) A prospective randomized trial of intravitreal bevacizumab or laser therapy in the management of diabetic macular edema (BOLT study) 12-month data: report 2. Ophthalmology 117(6):1078.e2–1086.e2

5.

Brown DM, Schmidt-Erfurth U, Do DV et al (2015) Intravitreal aflibercept for diabetic macular edema: 100-week results from the VISTA and VIVID studies. Ophthalmology 122(10):2044–2052

6.

Wells JA, Glassman AR, Ayala AR et al (2016) Diabetic retinopathy clinical research Network. Aflibercept, bevacizumab, or ranibizumab for diabetic macular edema: two-year results from a comparative effectiveness randomized clinical trial. Ophthalmology 123(6):1351–1359

7.

Elman MJ, Ayala A, Bressler NM et al (2015) Diabetic retinopathy clinical research network. Intravitreal ranibizumab for diabetic macular edema with prompt versus deferred laser treatment: 5-year randomized trial results. Ophthalmology 122(2):375–381

8.

Guyer DR, D'Amico DJ, Smith CW (1992) Subretinal fibrosis after laser photocoagulation for diabetic macular edema. Am J Ophthalmol 113:652–656

9.

Hudson C, Flanagan JG, Turner GS, Chen HC, Young LB, McLeod D (1998) Influence of laser photocoagulation for clinically significant diabetic macular oedema (DMO) on short-wavelength and conventional automated perimetry. Diabetologia 41:1283–1292

10.

Schatz H, Madeira D, McDonald HR, Johnson RN (1991) Progressive enlargement of laser scars following grid laser photocoagulation for diffuse diabetic macular edema. Arch Ophthalmol 109:1549–1551

11.

Lewis H, Schachat AP, Haimann MH et al (1990) Choroidal neovascularization after laser photocoagulation for diabetic macular edema. Ophthalmology 97:503–510 (discussion 510–1)

12.

Mainster MA (1999) Decreasing retinal photocoagulation damage: principles and techniques. Semin Ophthalmol 14:200–209

13.

Figueira J, Khan J, Nunes S et al (2009) Prospective randomized controlled trial comparing sub-threshold micropulse diode laser photocoagulation and conventional green laser for clinically significant diabetic macular oedema. Br J Ophthalmol 93:1341–1344

14.

Vujosevic S, Bottega E, Casciano M, Pilotto E, Convento E, Midena E (2010) Microperimetry and fundus autofluorescence in diabetic macular edema: subthreshold micropulse diode laser versus modified early treatment diabetic retinopathy study laser photocoagulation. Retina 30:908–916

15.

Lavinsky D, Cardillo JA, Melo LA Jr, Dare A, Farah ME, Belfort R Jr (2011) Randomized clinical trial evaluating mETDRS versus normal or high-density micropulse photocoagulation for diabetic macular edema. Invest Ophthalmol Vis Sci 52:4314–4323

16.

Vujosevic S, Martini F, Convento E et al (2013) Subthreshold laser therapy for diabetic macular edema: metabolic and safety issues. Curr Med Chem 20:3267–3271

17.

Vujosevic S, Martini F, Longhin E et al (2015) Subthreshold micropulse yellow laser versus subthreshold micropulse infrared laser in center-involving diabetic macular edema: morphologic and functional safety. Retina 35:1594–1603

18.

Abouhussein MA (2016) Micropulse laser for diabetic macular edema. Delta J Ophthalmol 17:167–171

19.

Friberg TR, Karatza EC (1997) The treatment of macular disease using a micropulsed and continuous wave 810-nm diode laser. Ophthalmology 104:2030–2038

20.

Luttrull JK, Musch DC, Mainster MA (2005) Subthreshold diode micropulse photocoagulation for the treatment of clinically significant diabetic macular oedema. Br J Ophthalmol 89:74–80

21.

Roider J (1999) Laser treatment of retinal diseases by subthreshold laser effects. Semin Ophthalmol 14:19–26

22.

Dorin G (2004) Evolution of retinal laser therapy: minimum intensity photocoagulation (MIP). Can the laser heal the retina without harming it? Semin Ophthalmol 19:62–68

23.

Pollack JS, Kim JE, Pulido JS, Burke JM (1998) Tissue effects of subclinical diode laser treatment of the retina. Arch Ophthalmol 116:1633–1639

24.

Luttrull JK, Dorin G (2012) Subthreshold diode micropulse laser photocoagulation (SDM) as invisible retinal phototherapy for diabetic macular edema: a review. Curr Diabetes Rev 8:274–284

25.

Mainster MA (1986) Wavelength selection in macular photocoagulation. Tissue optics, thermal effects, and laser systems. Ophthalmology 93:952–958

26.

Chen G, Tzekov R, Li W, Jiang F, Mao S, Tong Y (2016) Subthreshold micropulse diode laser versus conventional laser photocoagulation for diabetic macular edema: a meta-analysis of randomized controlled trials. Retina 36(11):2059–2065

27.

Mansouri A, Sampat KM, Malik KJ, Steiner JN, Glaser BM (2014) Medscape. Efficacy of subthreshold micropulse laser in the treatment of diabetic macular edema is influenced by pre-treatment central foveal thickness. Eye (Lond) 28(12):1418–1424

28.

Terashima H, Hasebe H, Okamoto F et al (2018) Combination therapy of intravitreal ranibizumab and subthreshold micropulse photocoagulation for macular edema secondary to branch retinal vein occlusion: 6-month result. Retina 2018. Epub ahead of print

29.

Moisseiev E, Abbassi S, Thinda S et al (2018) Subthreshold micropulse laser reduces anti-VEGF injection burden in patients with diabetic macular edema. Eur J Ophthalmol 28(1):68–73
Ethics declarations
Conflict of interest
All authors declare no conflicts of interest.
Ethical approval
All procedures performed were in accordance with the ethical standards of the institutional committee and with the 1964 Helsinki declaration and its later amendments or comparable ethical standards.
Informed consent
Informed consent was obtained from all individual participants included in the study.
Additional information
Publisher's Note
Springer Nature remains neutral with regard to jurisdictional claims in published maps and institutional affiliations.
About this article
Cite this article
Abouhussein, M.A., Gomaa, A.R. Aflibercept plus micropulse laser versus aflibercept monotherapy for diabetic macular edema: 1-year results of a randomized clinical trial. Int Ophthalmol (2020) doi:10.1007/s10792-019-01280-9
Received:

Accepted:

Published:
Keywords
Afibercept

Diabetic macular edema

Micropulse laser