Abstract
Purpose
To introduce novel and easy techniques for 27-gauge silicone oil (SO) infusion and removal.
Methods
Consecutive patients treated with 27-gauge pars plana vitrectomy (PPV) plus SO infusion (Infusion Group) and scheduled to have SO removal (Removal Group) were prospectively included, respectively. Patients in Infusion Group underwent 27-gauge PPV plus SO infusion. SO infusion was performed with a 24-gauge intravenous catheter connected with the SO syringe. Patients in Removal Group underwent machine-independent SO removal using a short section of infusion tube connected with a 10-mL syringe. Main outcomes were best-corrected visual acuity, intraocular pressure, surgical time and intra- and postoperative complications.
Results
There were thirty-five eyes (35 patients) and forty eyes (40 patients) included in Infusion and Removal Groups, respectively. Mean surgical time of complete SO infusion and removal was 5.5 ± 0.9 and 9.6 ± 2.1 min, respectively. In both groups, no patient experienced postoperative vision deterioration or hypotony. No obvious intra- and postoperative complications were observed.
Conclusions
We recommend the use of the 24-gauge catheter method for 27-gauge silicone oil infusion when commercial infusion cannula is unavailable. The machine-independent method using easily available plastic infusion tube and syringe would be an ideal option when 27-gauge surgery is anticipated.
This is a preview of subscription content, log in to check access.
Access options
Buy single article
Instant unlimited access to the full article PDF.
US$ 39.95
Price includes VAT for USA
Subscribe to journal
Immediate online access to all issues from 2019. Subscription will auto renew annually.
US$ 99
This is the net price. Taxes to be calculated in checkout.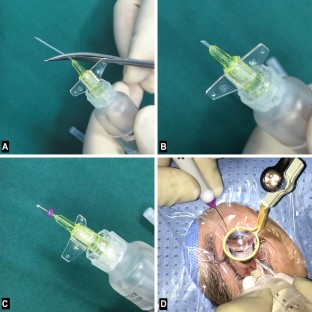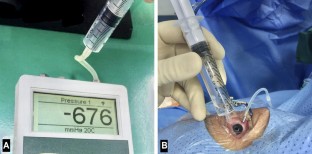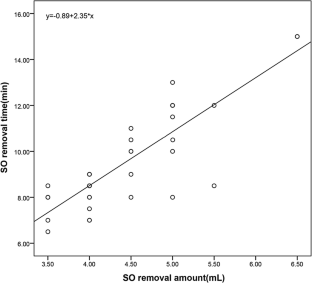 Acknowledgements
None of the authors have any proprietary interest in the study. The present manuscript has been read and approved by all the authors. We would like to express our great gratitude to Prof. Wenjun Guo, for his kind assistance in the design of the surgical techniques.
Ethics declarations
Conflict of interest
All the authors declare there are no competing financial interests in relation to the current study.
Ethical approval
All procedures performed in the studies involving human participants were in accordance with the ethical standards of the institutional and/or national research committee and with the 1964 Helsinki declaration and its later amendments or comparable ethical standards.
Informed consent
Informed consent was obtained from all individual participants included in the study.
Electronic supplementary material
Below is the link to the electronic supplementary material.
27-gauge silicone oil infusion: The tip of the catheter was cutoff to be about 2–3 mm with a 45° bevel at the end. Connect the silicone oil syringe with the catheter. Dock the beveled catheter into the 27-gauge cannula. Silicone oil infusion at 80 psi. Silicone oil is infused with one-handed manner. Withdraw all the cannulas at the conclusion of surgery. 27-gauge silicone oil removal: Connect the plastic tube with 10-mL syringe. Transversely cut he tube with a tip about 3 mm. Insert 27-gauge trocar-cannulas at the superotemporal and inferotemporal quadrants 3.0–4.0 to the limbus. Remove valve of the superotemporal cannula. Connect fluid infusion tube with the inferotemporal cannula to generate an infusion pressure about 30 mmHg. The core plunger is lifted manually fixed up by a vessel clamp snapping the handle's inferior part. Indent the sclera with a squint hook to drive oil bubble to the superotemporal cannula once the oil/fluid surface is visible. Use a flute needle to capture small oil bubbles in the vitreous cavity. Withdraw 27-gauge cannulas. Press with cotton swab to seal sclerotomies (MP4 35305 kb)
About this article
Cite this article
Zhang, Z., Zhang, S. Novel and easy techniques for 27-gauge silicone oil infusion and removal. Int Ophthalmol 39, 1543–1551 (2019). https://doi.org/10.1007/s10792-018-0976-1
Received:

Accepted:

Published:

Issue Date:
Keywords
Infusion

Pars plana vitrectomy

Removal

Silicone oil

27-Gauge