Abstract
Purpose
We describe cases of dislocation or subluxation of the WIOL-CF® polyfocal full-optics intraocular lens (IOL) and suggest a consistent pattern and possible mechanism for the IOL instability.
Methods
This is a retrospective case series of five consecutive eyes in three patients with WIOL-CF® IOL instability at Keimyung University Dongsan Medical Center and Kimkisan Eye Center from 2012 to 2014. The medical records and ocular exam data for these patients were analyzed.
Results
A 50-year-old male had uneventful phacoemulsification in both eyes with WIOL-CF® IOL implantation. At 27 months after surgery, the patient was referred to our clinic with a dislocated IOL in the left eye. The IOL in the right eye was dislocated in the same pattern 38 months after cataract surgery. Another 50-year-old male, who had phacoemulsification and WIOL-CF® IOL implantation in both eyes, was referred to our clinic following diagnosis of a subluxated IOL. Both IOLs were well centered; however, the infranasal aspect of the IOLs tilted posteriorly, and the supratemporal portion the IOLs tilted anteriorly, with overlying iris atrophy in a symmetric pattern. The inferonasal continuous curvilinear capsulorrhexis (CCC) edge was dragged superotemporally, and the supratemporal CCC edge was identified on the posterior surface of the IOL. A 16-year-old female had uneventful phacoemulsification and WIOL-CF® IOL implantation to treat a cataract in the right eye, and 3 years later, the IOL tilted with the same pattern as the previous case.
Conclusions
Years after uncomplicated phacoemulsification, an implanted WIOL-CF® IOL may tilt and dislocate in the absence of trauma, in a consistent and characteristic pattern.
This is a preview of subscription content, log in to check access.
Access options
Buy single article
Instant unlimited access to the full article PDF.
US$ 39.95
Price includes VAT for USA
Subscribe to journal
Immediate online access to all issues from 2019. Subscription will auto renew annually.
US$ 99
This is the net price. Taxes to be calculated in checkout.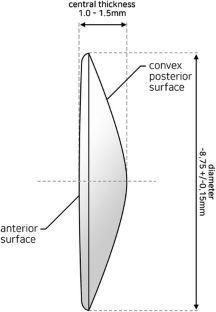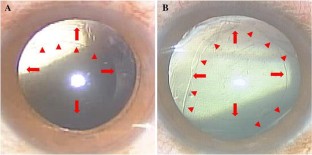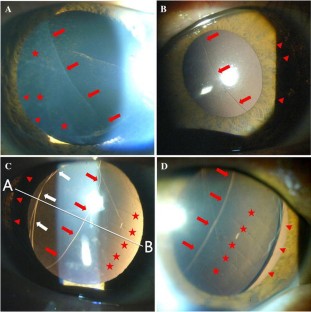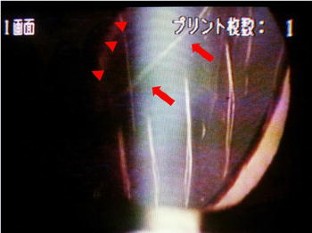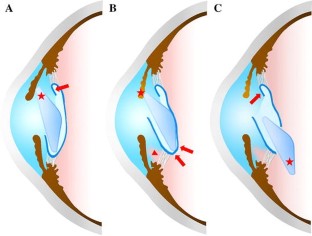 References
1.

Vanderschueren I, Zeyen T, D'Heer B (1991) Multifocal IOL implantation: 16 cases. Br J Ophthalmol 75(2):88–91

2.

Sen HN, Sarikkola AU, Uusitalo RJ, Laatikainen L (2004) Quality of vision after AMO Array multifocal intraocular lens implantation. J Cataract Refract Surg 30(12):2483–2493. doi:10.1016/j.jcrs.2004.04.049

3.

Kim HJ, Seo JW, Shin SJ, Chung SK (2011) Visual outcome and stability of hydrogel full-optics accommodative intraocular lens. J Korean Ophthalmol Soc 52(12):1448–1454. doi:10.3341/jkos.2011.52.12.1448

4.

Kang KT, Kim YC (2013) Dislocation of polyfocal full-optics accommodative intraocular lens after neodymium-doped yttrium aluminum garnet capsulotomy in vitrectomized eye. Indian J Ophthalmol 61(11):678–680. doi:10.4103/0301-4738.119335

5.

Liu CS, Wormstone IM, Duncan G, Marcantonio JM, Webb SF, Davies PD (1996) A study of human lens cell growth in vitro. A model for posterior capsule opacification. Invest Ophthalmol Vis Sci 37(5):906–914

6.

Ishibashi T, Hatae T, Inomata H (1994) Collagen types in human posterior capsule opacification. J Cataract Refract Surg 20(6):643–646

7.

Nagamoto T, Tanaka N, Fujiwara T (2009) Inhibition of posterior capsule opacification by a capsular adhesion-preventing ring. Arch Ophthalmol 127(4):471–474. doi:10.1001/archophthalmol.2009.63

8.

Ridley H (1957) Intra-ocular acrylic lens. Trans Ophthalmol Soc UK 71:617–621

9.

Williams HP (2001) Sir Harold Ridley's vision. Br J Ophthalmol 85(9):1022–1023

10.

Shearing S (1979) Mechanism of fixation of the Shearing posterior chamber intra-ocular lens. Contact Intraocul Lens Med J 5:74–77
Funding
There was no financial support for this study.
Ethics declarations
Conflict of Interest
All authors certify that they have NO affiliations with or involvement in any organization or entity with any financial interest (such as honoraria; educational grants; participation in speakers' bureaus; membership, employment, consultancies, stock ownership, or other equity interest; and expert testimony or patent-licensing arrangements) or non-financial interest (such as personal or professional relationships, affiliations, knowledge, or beliefs) in the subject matter or materials discussed in this manuscript.
Electronic supplementary material
Below is the link to the electronic supplementary material.
Supplementary material 1 (MP4 86136 kb)
Supplementary material 2 (MP4 116694 kb)
Supplementary material 3 (MP4 73275 kb)
About this article
Cite this article
Kim, Y.C., Kang, K.T., Yeo, Y. et al. Consistent pattern in positional instability of polyfocal full-optics accommodative IOL. Int Ophthalmol 37, 1299–1304 (2017). https://doi.org/10.1007/s10792-016-0398-x
Received:

Accepted:

Published:

Issue Date:
Keywords
Dislocation

Instability

Intraocular lens

Subluxation