A clinical and safety review of paracetamol and ibuprofen in children
Abstract
The antipyretic analgesics, paracetamol, and non-steroidal anti-inflammatory agents NSAIDs are one of the most widely used classes of medications in children. The aim of this review is to determine if there are any clinically relevant differences in safety between ibuprofen and paracetamol that may recommend one agent over the other in the management of fever and discomfort in children older than 3 months of age.
Keywords
Ibuprofen 
Paracetamol 
Acetaminophen 
Safety 
Children 
Methods: a review of the current literature
Pre-school children suffer frequent episodes of illness leading to more primary care consultations than any other age group (McCormick et al. 1991). The most common reasons are coughs, colds, earaches and fevers (Hay and Heron 2005), with fever as the primary presentation for these illnesses.
The underlying cause of childhood fever is generally benign, and fever has a beneficial effect in terms of fighting infection (Sullivan and Farrar 2011). However, fever can cause distress and discomfort in children, leading to a high degree of parental concern. For febrile children without any indication of a serious underlying condition ('low-risk' fever), and key among the updated recommendations, is the need to treat symptoms of the fever with a focus on comforting the child, rather than on achieving normothermia.
National guidelines recommend home management (NICE 2013; Sullivan and Farrar 2011; Chiappini et al. 2012; Oteman et al. 2008) and childhood fever associated with discomfort or pain can be easily treated with over-the-counter (OTC) antipyretic (and analgesic) agents such as paracetamol (acetaminophen) and ibuprofen. Both agents are generally well tolerated and given equal status in both national and international guidelines. Current advice in the UK also states that paracetamol should be used to treat post-immunization fever in babies after their meningococcal B injections at age 2 and 4 months; in this instance, ibuprofen is not currently recommended.
In light of some of the above recommendations, parents of young children and health-care professionals may perceive paracetamol as being safer than ibuprofen. For pharmacists, who are likely to be safety driven, this perception may be fuelled by a lack of differentiation between the gastrointestinal (GI) safety profile of OTC and prescription (Rx) doses of NSAIDs. Most pharmacists also consider NSAIDs as a class, rather than isolating individual analgesics and assessing their GI safety profiles. Combined, this behaviour encourages the perception of ibuprofen having a poorer GI safety profile than paracetamol rather than being on a sliding scale of risk.
For paediatrics, first-line treatment for mild-to-moderate pain is either ibuprofen or paracetamol. Aspirin should not be given to children under 16 years unless on the advice of a doctor, because there is a very small risk that children can develop a condition called Reye's syndrome if they are given aspirin when they have a viral illness. If pain relief is inadequate, second-line treatment is switching from one agent to the other, and third-line is treatment is to alternate between the two. Preliminary results of ongoing research into the prescribing habits of doctors and recommendations made by pharmacists have identified the following trends:
Ibuprofen and paracetamol are the commonly prescribed analgesics.

For fever, paracetamol is the most commonly prescribed for both paediatric and adult patients.

For pain, ibuprofen is the most commonly prescribed for paediatrics (followed by paracetamol); however they share the top spot for adult patients.

For inflammation, ibuprofen is the most commonly prescribed for both paediatric and adult patients.
When ibuprofen is administered at therapeutic doses in children of up to 10 mg/kg body weight every 6–8 h the possible adverse events are, as for other NSAIDs related to inhibition of cyclo-oxygenase (COX-1 and COX-2) and prostaglandin (PG) pathways, gastrointestinal bleeding, renal impairment, asthma and hepatic toxicity. Rainsford et al. (1997) have reviewed the safety of paracetamol and ibuprofen administered in adults at therapeutic dosages. The authors concluded that both agents were safe as used in clinical trials, and that there are no statistically significant differences between paracetamol and ibuprofen in reports of adverse events in any organ system, irrespective of the type or frequency of event. Across a range of clinical studies in which either ibuprofen or paracetamol were treatments of primary interest, the overall percentage of patients having a minor adverse event was about 10% with paracetamol compared with 8% with ibuprofen, for drug exposure up to 30 days, which is not unexpected for events that are monitored prospectively. However, with such ubiquitous usage of both agents, the increased reporting of rare or idiosyncratic side effects and consequences of unintentional (or intentional) overdosing is a likely occurrence.
Safety
Safety is clearly a primary consideration in the choice of antipyretic, and both ibuprofen and paracetamol have been associated with safety issues, not all of which appear to be evidence based. Overall, ibuprofen and paracetamol are considered to have similar safety and tolerability profiles in paediatric fever, and this has been confirmed in meta-analyses (Southey et al.
2009
; Pierce and Voss
2010
). For example, a recent meta-analysis including 19 evaluable studies found no significant difference between the two agents in the incidence of adverse events in paediatric patients (0.82; 95% CI 0.60–1.12) (Pierce and Voss
2010
) (Fig. 
1
).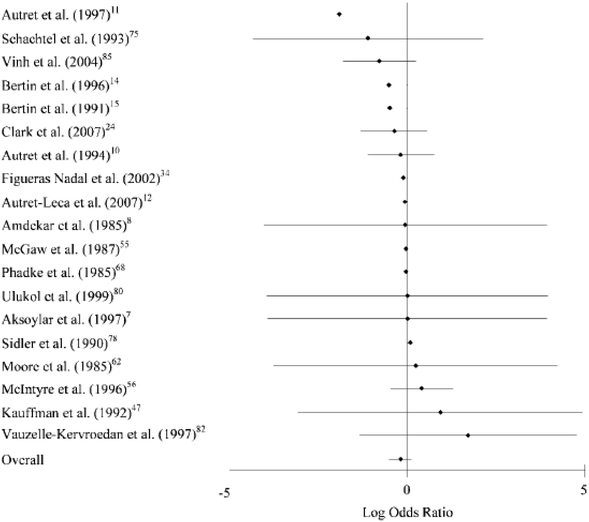 However, a number of specific safety issues are often raised for both agents, which may impact on recommendations and prescribing practice. The question arises as to whether these concerns are evidence based, or have arisen due to medical 'myths' or 'dogma.'
Conclusions
Despite the widespread use of ibuprofen and paracetamol, thankfully the rate of severe toxicity in children remains rare. Meta-analyses confirm that the safety and tolerability profiles of paracetamol and ibuprofen in managing children's pain and fever are similar, and that both drugs are associated with specific rare adverse events, which are difficult to detect and quantify in all but the largest clinical trials.
However, despite published evidence to the contrary, globally paracetamol is perceived as having better GI, renal and respiratory safety and overall better tolerability than ibuprofen. In turn, ibuprofen is perceived as having better GI safety than aspirin and its safety profile, particularly for short-term use is poorly understood among health-care practitioners and the public. This is likely due to the following factors:
1.

A lack of distinction from other NSAID's, resulting in a "class effect" bias.

 

2.

Ingrained negative perceptions from the time of undergraduate or postgraduate training.

 

3.

Lack of awareness of the impact of the dose (Rx versus OTC).

 

4.

A misconception that ibuprofen needs to be taken with food and a perceived gastro protective effect of food—whereas the opposite is true, in that administration with food slows the speed of absorption and may interfere with its efficacy.

 

5.

It is also possible that newly qualified HCPs may be aware of the current state of knowledge with regard to ibuprofen safety and tolerability, but may lack the confidence to put this knowledge into practice—and this needs further exploration.

 

6.

Finally, patients (and parents of young children) tend to display medication-sparing behaviour and have little understanding of the impact of delayed treatment with suboptimal doses on analgesic efficacy.

 
The aim of this review has been to assess the evidence with respect to clinical and safety factors which would aid HCPs in recommending one agent over another when advising parents of children with pain and/or fever, and the author's conclusion is that for short-term usage (i.e. for less than 7 days), both paracetamol and ibuprofen have equally good safety and tolerability profiles, and when efficacy data is considered alongside safety, ibuprofen may be more preferable in providing relief from discomfort, fever and pain.
Copyright information
© The Author(s) 2017
Open AccessThis article is distributed under the terms of the Creative Commons Attribution 4.0 International License (http://creativecommons.org/licenses/by/4.0/), which permits unrestricted use, distribution, and reproduction in any medium, provided you give appropriate credit to the original author(s) and the source, provide a link to the Creative Commons license, and indicate if changes were made.