Governing by targets: reductio ad unum and evolution of the two-degree climate target
Open Access
Original Paper
Abstract
Targets are widely employed in environmental governance. In this paper, we investigate the construction of the 2 °C climate target, one of the best known targets in global environmental governance. Our paper examines this target through a historical reconstruction that identifies four different phases: framing, consolidation and diffusion, adoption, and disembeddedness. Our analysis shows that, initially, the target was science-driven and predominantly EU-based; it then became progressively accepted at the international level, despite a lack of broader debate among governments on the policy implications and required measures for implementation. Once the 2 °C target was endorsed at the level of the United Nations, the nature of the target changed from being policy-prescriptive to being largely symbolic. In this phase, the target became a disembedded object in global governance not linked to a shared agenda nor to coordinated and mutually binding mitigation efforts. The 2015 Paris Agreement marks the last stage in this development and may have further solidified the target as a disembedded object. In the final part of the paper, we suggest ways to overcome the current situation and to develop the 2 °C target into a fully fledged global environmental governance target.
Keywords
2 °C target 
Global environmental governance 
Climate governance 
International relations and politics 
Governing by targets 
1

Introduction

Targets have become an increasingly important tool of environmental governance, from national environmental targets to targets within broader global goals such as the Sustainable Development Goals (Kanie and Biermann 2017; Bergh and Couturier 2013). In governing by targets, we refer to the tendency to rely on these instruments for framing responses to environmental problems. Such a theoretical perspective suggests the importance of investigating how targets are formed, stipulated and employed. This paper analyses the 2 °C target—the envisaged maximum mean temperature increase above pre-industrial levels—that governments agreed upon to be the target of the UN Framework Convention on Climate Change. The 2 °C target aims at pulling together countries' efforts to avoid the dangerous impacts of climate change. As such, it arguably is one of the most prominent targets in global environmental governance. However, the choice of a single figure represents a reductio ad unum, that is, bringing multiple issues down to a single element. Our analysis investigates the process that led to the 2 °C figure and addresses three main research questions: (1) What factors shaped the emergence and development of the 2 °C target over time? (2) What functions does the target perform in the political arena? (3) In how far does the target fulfil the scope for which it was created?

To answer these questions, we identify and examine different phases in the evolution of the target. This includes considering the actors, approaches and institutional contexts that marked the progression of the target. Moreover, the phase-approach makes it easier to confront the target with key concepts from the fields of environmental governance as well as science and technology studies (notably on the interplay between scientists and policymakers, the interests of political actors and on strategic approaches in negotiations).

In the scholarly literature, environmental governance targets have been addressed by a variety of disciplinary approaches in the context of regime theory (Young and Levy 1999; Mitchell et al. 2006; Haas et al. 1993), scientific assessments (Cash 2000; Watson 2005), environmental diplomacy (Barrett 2003; Grubb 1990) and international policy-making (Dietrich 1995). These studies suggest that governing by targets is a key element of the structure and dynamics of environmental governance. Our paper contributes further to the understanding of the role and construction of environmental targets by offering a detailed historical reconstruction of the emergence of the 2 °C target from a governance perspective. Our work draws on extensive document analysis of reports, scientific literature, official documents, as well as on a series of in-depth interviews1 with individuals who were involved with the formulation of the 2 °C target at various decision-making levels and in different roles.2

The paper is organised as follows. Section 2 introduces the concept of (environmental) targets, while Sect. 3 examines the evolution of the 2 °C target over different periods. Subsequently, we discuss the implications of the 2015 Paris Agreement (Sect. 4) and suggest ways to further operationalise the target and make it a fully fledged global environmental governance target (Sect. 5). The final section summarises the key findings.
2

Targets, their mechanics and boundary objects

Before we engage in a reconstruction of the 2 °C target in climate policy, we first discuss in more detail the general concept of targets. Targets can be defined as a meaningful reference value that expresses a desired operational policy outcome in a synthetic (often numerical) manner. Targets differ from goals and indicators. Goals are non-operational overarching objectives that usually require targets in order to achieve them. Indicators are parameters signalling a state or a condition and they are generally used to measure targets. Measurability is indeed a powerful and attractive attribute of targets: it increases the sense of governability, allows monitoring of advancements or deviations and favours the application of economic tools and techniques (Asdal 2008; Miller 2005).

Setting targets entails several steps: identification, discussion, negotiation, agreement, implementation, evaluation and—if required—modification or revision. This process can involve numerous stakeholders at multiple levels of governance, from local to international (Mitchell 2003; Jänicke and Jörgens 2006; Hák et al. 2007; Lester and Neuhoff 2009). Targets rely mainly on scientific knowledge, but science and policy interact in their construction and stipulation, illustrating the dynamic interactions among knowledge-producers, knowledge-users and intermediaries in decision-making (Sarewitz and Pielke 2007; Pierson 2000).

In the definition of targets, different interpretations can arise regarding the metrics to choose, the data classification and standardisation procedures or the quantitative/qualitative value of a target (Bowker and Star 1996, 1999; Turnhout et al. 2007; Davis et al. 2012). Discussions also occur on the suitability and feasibility of a target, as well as on the ways to produce substantive policy responses to reach the desired outcomes. The reference value that emerges is a synthesis of scientific contents, strategic views and problem-solving attitudes and it is proportional to the level of ambition. Moreover, selected targets tend to be simple, because simplification may facilitate managing complex systems (Turnhout et al. 2007). Moreover, simpler targets are easier to use, understand and communicate.

A target is therefore a hybrid. It is neither purely scientific nor political; rather, it is a nested concept that helps to make things work together (Bowker and Star 1996). This includes conflicting interests, worldviews, expectations, commitments, societal needs, scientific understandings, political intentions or organisational programmes. Accordingly, a target is a unifying element, which works as boundary object, i.e. a set of arrangements that allow different actors to cooperate on a basic common understanding while keeping the diversity of their views (Star 2010; Star and Griesemer 1989). Still, a target is usually presented as cohesive, objective and scientifically proven (Porter 1995; Asdal 2008). These aspects strengthen its normative façade: a target affirms what is legitimate to reach, indicates the direction to be taken and provides the common language to translate priorities and programmes into a policy outcome.

The concept of a boundary object is then useful to navigate the construction and evolution of a target. It offers an analytical angle to look at all the elements coalescing into a target: concerns and hopes, problems and solutions, scientific knowledge and political views, promises and results.
3

Climate change and the 2 °C target

The origins of the 2 °C target in climate governance go back almost half a century. This target was first mentioned, to our knowledge, in a paper by Manabe and Wetherald (1967), who estimated a temperature response to doubling carbon dioxide concentrations by approximately 2 °C (Randalls 2010). Since then, the 2 °C figure has been discussed in various studies, including in relation to climate governance (Bodansky 2010, 2011; Dimitrov 2010), the science–policy nexus and the diffusion mechanism in climate diplomacy (Gippner 2014), its implications and policy options (Geden 2010; van Vliet et al. 2012; Höhne and den Elzen 2013) and conceptual or critical aspects of the target (Tol 2007; Shaw 2010; Boykoff 2011; Lenton 2011b; Jordan et al. 2013). Other authors followed the chronology of events for investigating the multifaceted characteristics of the 2 °C target: to consider different interpretations of the target (Jaeger and Jaeger 2010; Knopf et al. 2012), to explore its strengths and weaknesses (Randalls 2010) and to examine its role as an intertwined element of science and policy (Oppenheimer and Petsonk 2005; Cointe et al. 2011). In the following sections, we discuss the development of the 2 °C climate target over four distinct phases: framing, consolidation and diffusion, adoption and disembeddedness.
4

The Paris agreement

A major development—the impact of which is still difficult to evaluate—is the Paris Agreement reached in December 2015 by the conference of the parties to the climate convention. This Agreement stipulates to keep global temperature levels "well below 2 °C", along with the further intention of "pursuing efforts to limit the temperature increase to 1.5 °C" (UNFCCC 2015: 2). The additional line referring to the 1.5 °C does not fundamentally change the overall target from 2 °C, however. The notion of "well below 2 °C" does not indicate a precise level but reflects a further aspiration that emphasises the urgency of even stronger efforts in the coming years. As indicated in the Paris Agreement, in 2018 the Intergovernmental Panel on Climate Change will produce a special report on the 1.5 °C, but the current gap between aggregated countries pledges and the objective to stay within the 2 °C limit is significant, as also recognised in Paris. The 2 °C target thus continues to be the reference value in climate governance for the time being.

However, the Intended Nationally Determined Contributions will continue guiding country efforts on a self-determined basis. No coordinating mechanism or burden-sharing agreement is envisaged. There is also no binding requirement to implement existing pledges, nor to review or upgrade them, respectively, before 2020 and 2025. Starting in 2023, countries will re-evaluate their commitments every 5 years, with the option to strengthen their ambition level.

Furthermore, the 2015 Agreement notes the link between the temperature target and the global peaking of greenhouse gas emissions. This has to be reached "as soon as possible", with the aim of achieving "a balance between anthropogenic emissions by sources and removals by sinks of greenhouse gases in the second half of this century" (UNFCCC 2015: 21). This represents a step forward, even though the text does not specify a precise date for peaking and does not employ terms like climate or emissions neutrality for which some environmentalists had pushed. Overall, the Paris Agreement spells out robust global ambitions and proposes a mobilising vision for the future. Nonetheless, strict deadlines and commitments are absent from the agreement.

In terms of the 2 °C target, besides the major advancements in negotiations, the target remains a disembedded object in global environmental governance, as the main reasons for this condition endure. These are the lack of interlinkages with other relevant targets in the environmental and human domains; the lack of fine-tuning of the 2 °C target at different scales of governance and with the enlargement of the stakeholders involved; and the lack of adjustments in the institutional architecture combined with a robust monitoring and reporting system on the achievements. Even so, after Paris, many changes seem to be possible and achievable. Countries, together with the newly established Ad Hoc Working Group on the Paris Agreement and the Paris Committee on capacity-building, as well as with the two permanent subsidiary bodies7 established by the climate convention, have great potential to write a new phase of the 2 °C target.
5

The way forward

In the vein of the renewed interest on the 2 °C target and of the clear signal sent by the Paris Agreement to the international community, we discuss the way forward with regard to overcoming the weaknesses of the target that we summarised with the term disembeddedness. In order to address this challenge, we consider the approach proposed by Young et al. (2014) for the sustainable development goals. We believe this approach is equally suitable for the 2 °C target and useful for creating a consistent and effective framework to implement the target within an earth system governance perspective.

Young et al. (2014) envisage a multi-layered approach to achieve the sustainable development goals encompassing four tiers: (1) global goals that safeguard the human needs and earth life support systems; (2) individual goals and targets framed in such a way that they can serve as focal points for a wide range of stakeholders; (3) targets framed in global terms but—where possible and relevant—tailored at regional, national, local or corporate/organisational levels; (4) to define indicators and promote monitoring capabilities with the capacity to track change and report on progress.

This scheme, if applied to the 2 °C target, would have several implications. First, it would frame the temperature target within a wide system of other global goals for the sustainability of socio-ecological systems, such as the SDGs. This would better relate the target to anthropogenic drivers, earth transformation indicators, as well as environmental and human development targets, which all affect and are affected by temperature increases. In fact, "in the interlinked social and ecological systems of planet earth, nothing remains independent, and complexities and interconnections abound" (Biermann 2012: 7). Policymakers need access to a wider range of planetary indications to understand the full range of consequences of climate change (Briggs et al. 2015). Therefore, a systemic and comprehensive framework of interlinked targets and indicators, such as the SDGs, if shared and applied universally, would make the 2 °C target more meaningful and coherent with the operational context in which it should be accomplished. The approach by Young and colleagues could for instance favour iterative sets of science–policy dialogues within and between countries, as also proposed by Gupta and van Asselt (2006). This work suggests focusing on indicators of dangerous climate impacts, short-listing and grouping these indicators in a way to identify threshold levels of unacceptable impacts. As a consequence, the 2 °C target could be linked to these indicators and help define suitable countermeasures.

Second, the multi-layered approach would allow considering horizontal and vertical interactions while bridging levels of governance from global to local (Biermann and Pattberg 2012; Gupta et al. 2007). The explicit entrenchment of global commitments with national or sub-national priorities and actions would also foster knowledge production and transfer, while easing the identification of new policy options. This can define a strategy that integrates best available science, policy needs and "policy goals that reflect what policymakers actually control—and thus what they can manage" (Briggs et al. 2015: 969). In this way, coordination and convergence of measures might increase. The more coherent governance system that might derive from better coordination should facilitate achieving the 2 °C more efficiently on the basis of the capabilities of each country. At the same time, this approach would foster participation and support as the target becomes a focal point for multiple and interacting actors, network and institutions. Governments, international organisations, civil society, the private sector and individuals would be collectively involved in actions for staying within the 2 °C boundary.

Third, the approach can be employed to consistently adjust and enforce the global governance architecture in a way that defines comprehensive international programmes, institutional arrangements and practical commitments to comply with the 2 °C target. This requires the clarification of roles and mandates of international institutions. In these terms, the scheme would bridge the gap among sectoral silos by formulating the temperature target within crosscutting programmes and promoting a better articulation and integration in global governance. To complement and enforce these achievements, it is necessary to devise effective and universally applied procedures to track progress and provide indications for corrections or prescriptions to act in accordance with the 2 °C target.

The approach by Young and colleagues (2014) is inherently political as it requires the approval by policymakers. However, in such a scheme, the contentious issue of uncertainty does not disappear. Uncertainties are integral to human knowledge (Gramelsberger and Feichter 2011) and inextricable to complex systems. Staying within the 2 °C target asks for an unprecedented common vision combined with a proactive attitude to overcome contingency and vested interests. If so, a scheme like the one described can help frame the 2 °C target in how it becomes an earth system governance target. This would be a critical node to address multiple issues and an operational element to steer institutions at local and global levels towards mitigating and adapting to earth system transformations. A target so conceived can become a linchpin in global environmental governance, which coherently connects significant targets, fosters incisive measures and promotes coordination among different actors.
6

Conclusions

The reconstructed history of the 2 °C target presented in this paper has highlighted key features characterising its political dynamic (summarised in Fig. 

1

).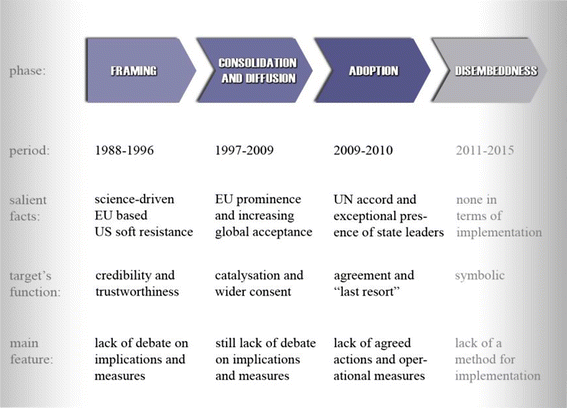 In the early phase, the target was science-driven and EU-based, that is, promoted by a group of European countries with soft resistance by the USA. The prominence of Europe persisted in the following phase, gaining, since 2005, the support of a larger number of countries, through a path-dependency of events that consolidated the target in the international arena. The adoption at the highest international level occurred at the Copenhagen Conference of the parties in 2009.
During the various phases the target confirmed the complex dynamics that characterised the target construction and stipulation with the involvement of several actors and institutions (Mitchell 2003; Turnhout et al. 2007; Lester and Neuhoff 2009; Sarewitz and Pielke 2007). The boundary object concept (Star 2010; Star and Griesemer 1989) helped to explore the different functions and contexts in which the target served policy. In the first phase, the target was a credible element in the science–policy interface, then turned to be a catalytic factor around which to build consent, to finally become a last resort element in the Copenhagen accord to ensure an outcome from the conference. Among governments and international decision-makers, a thorough political debate on engaging effectively with the target was absent during the first two phases; when this debate finally emerged in Copenhagen, it became evident that it was impossible to agree on the far-reaching commitments to stay within the limit. The new agreement in Paris 2015 might represent a watershed in climate negotiations, but perhaps now it is too soon to tell.
The reductio ad unum, reducing a complex issue to a single element—specifically, having a single-figure target for climate—was produced by events and circumstances. As every simplification, it brought ease in acceptance and difficulties in fulfilment. The selection of an absolute target with no articulation of its concrete implementation and a lack of shared global and local actions attached to it has transformed the 2 °C target from a boundary object to a disembedded object. Yet, this condition can be changed opting for a more complex, adaptive approach as the one by Young and colleagues (2014). For this, a true engagement by states, international organisations, civil society and the business community is needed to make the 2 °C more tangible and practical, possibly within a conceptual framework that facilitates real and global commitments. If this happens, the 2 °C target can become a fully fledged global environmental governance target and a powerful example of governing by targets.
Notes
Acknowledgement
We are grateful to the three anonymous reviewers whose contribution highly improved the content of our manuscript. In this regard, we would also like to thank Jon Marco Church, Courtney Vegelin and Salvatore Aricò. Furthermore, we are grateful to Michael Oppenheimer and the many interviewees for their kindness and availability. A special thank you goes to Pier Vellinga for his help and support. Besides our gratitude to all these scholars, all opinions and errors are ours alone. Finally, we wish to thank Eleftheria Vasileiadou and Arthur Petersen for their collaboration in the earlier stages of this research. Eleftheria prematurely died this year. With this paper, we would like to remember her dedication and generosity.
Copyright information
© The Author(s) 2016
Open AccessThis article is distributed under the terms of the Creative Commons Attribution 4.0 International License (http://creativecommons.org/licenses/by/4.0/), which permits unrestricted use, distribution, and reproduction in any medium, provided you give appropriate credit to the original author(s) and the source, provide a link to the Creative Commons license, and indicate if changes were made.