Abstract
Ancient documents are of historical interest because they contain valuable information for future generations. One of the most common causes of documents damage and degradation is due to the presence of fungi. Therefore, it is very important to protect them from these microorganisms. In this work, TiO2 nanoparticles (TiO2NPs) were synthesized and used along with UV treatment for application as a potential antifungal against paper damage. Transmission electron microscopy (TEM) showed an average size of 70 nm for the nanoparticles. From scanning electron microscopy (SEM) micrographs, different structures of fungi in damaged cellulose fibers were observed. Energy dispersive X-ray spectrometry (EDS) detected the presence of elements related to organic and inorganic materials. Photoacoustic spectroscopy (PAS) as a non-invasive and versatile technique was used to study ancient documents deterioration presented in this manuscript. Through this technique, pigments produced by fungi in the wavelength between 277 nm and 700 nm were detected, being PAS an important characterization tool to study biodeterioration caused by fungi.
This is a preview of subscription content, log in to check access.
Access options
Buy single article
Instant access to the full article PDF.
US$ 39.95
Price includes VAT for USA
Subscribe to journal
Immediate online access to all issues from 2019. Subscription will auto renew annually.
US$ 199
This is the net price. Taxes to be calculated in checkout.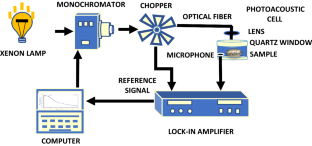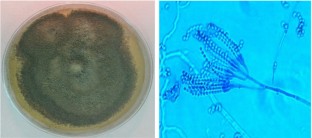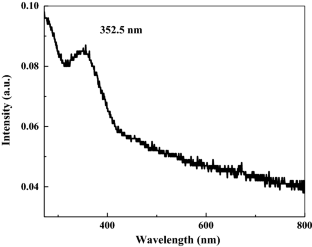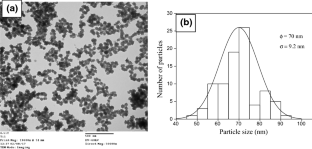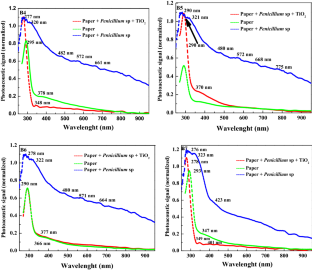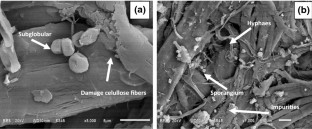 References
1.

S. Sequeira, E. Cabrita, M. Macedo, Int. Biodeterior. Biodegrad. 74, 67 (2012)

2.

E. Neves, S. Schafer, A. Phillips, J. Canejo, M. Macedo, Int. Biodeterior. Biodegrad. 63, 267 (2009)

3.

A. Michaelsen, G. Piñar, M. Montanari, F. Pinzari, Int. Biodeterior. Biodegrad. 63, 161 (2009)

4.

S. Manente, A. Micheluz, R. Ganzerla, G. Ravagnan, A. Gambaro, Int. Biodeterior. Biodegrad. 74, 99 (2012)

5.

K. Karakasidou, K. Nikolouli, G.D. Amoutzias, A. Pournou, C. Manassis, G. Tsiamis, D. Mossialos, MicrobiologyOpen 7, e596 (2018)

6.

B. Gutarowska, J. Skora, K. Zduniak, D. Rembisz, Int. Biodeterior. Biodegrad. 68, 7 (2012)

7.

A. Michaelsen, F. Pinzari, N. Barbabietola, G. Piñar, Int. Biodeterior. Biodegrad. 84, 333 (2013)

8.

L. Lang-Dong, H. Ching Min, C. Been-Huang, T. Ming-Jer, Jpn. Wood Res. Soc. 53, 121 (2007)

9.

M. Manso, A. Cardeira, M. Silva, A. Le Gac, S. Penssanha, M. Guerra, A. Calderia, A. Candeira, M. Carvalho, Appl. Phys. 118, 1107 (2015)

10.

D. Melo, S. Sequeira, J. Lopes, M. Macedo, J. Cult. Herit. 35, 161 (2018)

11.

J. Reis Celestino, L. Ennes De Carvalho, M. Da Paz Lima, A. Moura Lima, M. Morishi Ogusku, J. Braga De Souza, Process Biochem. 49, 569 (2014)

12.

N. Suwannarach, J. Kumla, Y. Nishizaki, N. Sugimoto, J. Meerak, K. Matsui, S. Lumyong, Appl. Microbiol. Biotechnol. 103, 1 (2019)

13.

M. Fouillaud, M. Venkatachalam, M. Llorente, H. Magalon, P. Cuet, L. Dufossé, Mycol. J. 3, 36 (2017)

14.

J.L. Jiménez-Pérez, J. Jiménez-Pérez, A. Bracamontes-Cruz, A. Cruz-Orea, J.G. Mendoza-Alvarez, A. Gordilllo-Sol, H. Yee-Madeira, Int. J. Thermophys. 27, 1898 (2006)

15.

J.L. Jiménez Pérez, J. Jiménez Pérez, A. Bracamontes Cruz, A. Cruz Orea, J.G. Mendoza Alvarez, Int. J. Thermophys. 25, 503 (2004)

16.

R. López Martínez, L. Méndez Tovar, F. Hernández Hernández, R. Castañón Olivares, Micología médica Procedimientos para el diagnóstico de laboratorio (Trillas, Mexico, 2012)

17.

H. Arai, Int. Biodeterior. Biodegrad. 46, 181 (2000)

18.

S. Londhe, S. Patil, K. Krishnadas, A. Sawant, R. Yelchuri, V. Chada, Int. Biodeterior. Biodegrad. 108, 57 (2019)

19.

M. Florian, L. Manning, Int. Biodeterior. Biodegrad. 46, 205 (2000)

20.

R. Vijayalakshmi, V. Rajendran, Res. L. Arch. Appl. Sci. Res. 4, 1183 (2012)

21.

C. Hernández-Aguilar, A. Domínguez-Pacheco, A. Cruz-Orea, R. Ivanov, J. Spectrosc. 5920948, 1 (2019)

22.

J. Gould, Plant Physiol. 70, 1521 (1982)

23.

J.A. Bonifaz, Micología médica básica (Mc Graw Hill Interamericana, Mexico, 2015)

24.

S. Stange, S. Steudler, H. Delenk, A. Werner, T. Walther, A. Wagenführ, J. Fungi 40, 5 (2019)

25.

G. Weber, A. Boonloed, K. Naas, M. Koesdjojo, V. Remcho, S. Robinson, Curr. Res. Environ. Appl. Mycol. 6, 218 (2016)

26.

B. Narendrababu, S. Shishupala, J. Appl. Biol. Biotechnol. 5, 53 (2017)

27.

F. Stodola, K. Raper, D. Fennell, Nature 17, 773 (1951)

28.

V. Švedas, A.S. Dementév, E. Murauskas, N. Slavinskis, Lith. J. Phys. 47, 221 (2007)

29.

D. Nikitichev, W. Xia, E. Hill, C. Mosse, T. Perkins, K. Konyn, S. Ourselin, A. Desjardins, T. Vercauteren, Phys. Educ. 51, 045015 (2016)

30.

G. Bonifazi, G. Capobianco, C. Pelosi, S. Serranti, J. Imaging 5, 8 (2019)

31.

M. Mahajan, S. Kamalapur, Asian J. Comput. Sci. Eng. 2, 6 (2016)
Additional information
Publisher's Note
Springer Nature remains neutral with regard to jurisdictional claims in published maps and institutional affiliations.
About this article
Cite this article
Castillo-Hernández, D., Sánchez-Ramírez, F., Jiménez-Pérez, J.L. et al. Study of Ancient Paper and Detection of Microbiological Contamination Using Photoacoustic Technique. Int J Thermophys 41, 36 (2020). https://doi.org/10.1007/s10765-020-2612-3
Received:

Accepted:

Published:
Keywords
Ancient documents

Antibacterial

Contamination

Fungi

Photoacoustic spectroscopy

TiO2 nanoparticles