Abstract
According to social dilemma theory, students may be characterized as being indifferent to reciprocal behavior and disengaged from interacting with the board gaming process. Given a common goal, students' prosociality can affect the collective efficacy and goal achievement motivation that reflects their flow experience in a cooperative-competitive computer-based digital board game, called Strike-Up. The players were randomly provided with five numbers, addition, subtraction, multiplication, and division signs, and parentheses, and needed to complete the arithmetic calculation to find the best approaches to achieve the goal of reaching the end of the game. In addition to the cognitive strategies, the game allowed players to help each other to win. To explore the correlation, 240 students were randomly grouped into three-player teams to play Strike-Up against other teams. Data of 180 players were effectively returned and subjected to confirmatory analysis with structural equation modeling. The results revealed that prosociality can positively predict players' flow experience mediated positively by collective efficacy and performance-approach goal motivation. The results also implied that the higher level of prosociality students had, the higher level of flow state they experienced in the game which involved a social dilemma.
This is a preview of subscription content, log in to check access.
Access options
Buy single article
Instant unlimited access to the full article PDF.
US$ 39.95
Price includes VAT for USA
Subscribe to journal
Immediate online access to all issues from 2019. Subscription will auto renew annually.
US$ 99
This is the net price. Taxes to be calculated in checkout.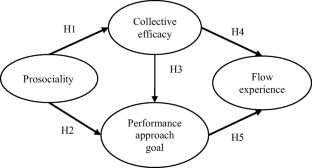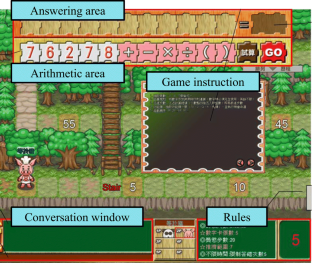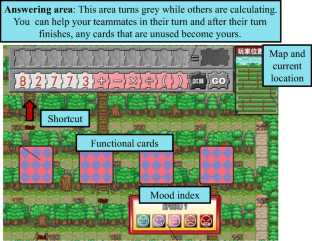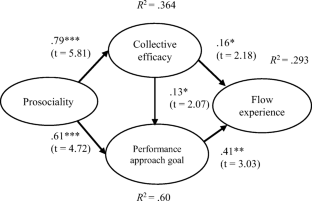 References
Admiraal, W., Huizenga, J., Akkerman, S., & Dam, G. (2011). The concept of flow in collaborative game-based learning. Computers in Human Behavior, 27(3), 1185–1194.

Anderson, J. C., & Gerbing, D. W. (1988). Structural equation modeling in practice: A review and recommended two-step approach. Psychological Bulletin, 103(3), 411–423.

Andre's Guzmán, R., Rodríguez-Sickert, C., & Rowthorn, R. (2007). When in Rome, do as the Romans do: The coevolution of altruistic punishment, conformist learning, and cooperation. Evolution and Human Behavior, 28(2), 112–117.

Argenton, L., Triberti, S., Serino, S., Muzio, M., & Riva, G. (2014). Serious games as positive technologies for individual and group flourishing. In A. L. Brooks, S. Brahnam, & L. C. Jain (Eds.), Technologies of inclusive wellbeing (pp. 221–244). New York: Springer.

Aubé, C., Brunelle, E., & Rousseau, V. (2014). Flow experience and team performance: The role of team goal commitment and information exchange. Motivation and Emotion, 38(1), 120–130.

Axelrod, R., & Hamilton, W. D. (1981). The evolution of cooperation. Science, 211(4489), 1390–1396.

Bandura, A. (1997). Self-efficacy: The exercise of control. New York, NY: Freeman.

Bandura, A. (2001). Exercise of human agency through collective efficacy. Current Directions in Psychological Science, 9, 75–78.

Bandura, A. (2006). Guide for constructing self-efficacy scales. In F. Pajares & T. Urdan (Eds.), Self-efficacy beliefs of adolescents (pp. 307–337). Greenwich, CT: Information Age.

Baranik, L. E., Stanley, L. J., Bynum, B. H., & Lance, C. E. (2010). Examining the construct validity of masteryavoidance achievement goals: A meta-analysis. Human Performance, 23(3), 265–282.

Batson, C. D. (1991). The altruism question: Toward a social-psychological answer. Hillsdale, NJ: Erlbaum.

Bekker, M., Beusmans, J., Keyson, D., & Lloyd, P. (2003). Kid reporter: A user requirements gathering technique for designing with children. Interacting with Computers, 15(2), 187–202.

Benenson, J. F., Apostoleris, N. H., & Parnass, J. (1997). Age and sex differences in dyadic and group interaction. Developmental Psychology, 33(3), 538–543.

Benkler, Y. (2004). Sharing nicely: On shareable goods and the emergence of sharing as a modality of economic production. The Yale Law Journal, 114(2), 273–358.

Ben-Ner, A., & Kramer, A. (2011). Personality and altruism in the dictator game: Relationship to giving to kin, collaborators, competitors, and neutrals. Personality and Individual Differences, 51(3), 216–221.

Blakemore, S. J., & Choudhury, S. (2006). Development of the adolescent brain: Implications for executive function and social cognition. Journal of Child Psychology and Psychiatry, 47, 296–312.

Bogaert, S., Boone, C., & Declerck, C. H. (2008). Social value orientation and cooperation in social dilemmas: A review and conceptual model. British Journal of Social Psychology, 47, 453–480.

Boyd, R., & Richerson, P. J. (2002). Group beneficial norms can spread rapidly in a structured population. Journal of Theoretical Biology, 215(3), 287–296.

Buchinger, D., & da Silva Hounsell, M. (2018). Guidelines for designing and using collaborative-competitive serious games. Computers & Education, 118, 133–149.

Byrne, B. M. (2010). Structural equation modeling with AMOS: Basic concepts, applications, and programming (2nd ed.). New York, NY: Routledge Taylor & Francis Group.

Callow, N., Smith, M. J., Hardy, L., Arthur, C. A., & Hardy, J. (2009). Measurement of transformational leadership and its relationship with team cohesion and performance level. Journal of Applied Sport Psychology, 22, 395–412.

Carlo, G., & Randall, B. A. (2002). The development of a measure of prosocial behaviors for late adolescents. Journal of Youth and Adolescence, 31(1), 31–44.

Chen, G., & Kanfer, R. (2006). Toward a systems theory of motivated behavior in work teams. Research in Organizational Behavior, 27, 223–267.

Cheng, R. W. Y., & Lam, S. F. (2013). The interaction between social goals and self-construal on achievement motivation. Contemporary Educational Psychology, 38(2), 136–148.

Csikszentmihalyi, M. (1990). Flow: The psychology of optimal experience. NY: Harper & Row.

Csikszentmihalyi, M. (1997). Finding flow: The psychology of engagement with everyday life. The masterminds series. New York, NY: Basic Books.

Csikszentmihalyi, M., Abuhamdeh, S., & Nakamura, J. (2005). Flow. In A. J. Elliot & C. S. Dweck (Eds.), Handbook of competence and motivation (pp. 598–608). New York, NY: Guilford Publications.

Decety, J., Jackson, P. L., Sommerville, J. A., Chaminade, T., & Meltzoff, A. N. (2004). The neural bases of cooperation and competition: An fMRI investigation. NeuroImage, 23(2), 744–751.

Declerck, C. H., Boone, C., & Emonds, G. (2013). When do people cooperate? The neuro-economics of prosocial decision making. Brain and Cognition, 81(1), 95–117.

Ding, L., Velicer, W. F., & Harlow, L. L. (1995). Effects of estimation methods, number of indicators per factor, and improper solutions on structural equation modeling fit indices. Structural Equation Modeling: A Multidisciplinary Journal, 2(2), 119–143.

Dinger, F. C., Dickhäuser, O., Hilbig, B. E., Müller, E., Steinmayr, R., & Wirthwein, L. (2015). From basic personality to motivation: Relating the HEXACO factors to achievement goals. Learning and Individual Differences, 40, 1–8.

Eden, D., Ganzach, Y., Flumin-Granat, R., & Zigman, T. (2010). Augmenting means efficacy to boost performance: Two field experiments. Journal of Management, 36(3), 687–713.

Elliot, A. J., & McGregor, H. A. (2001). A 2× 2 achievement goal framework. Journal of Personality and Social Psychology, 80(3), 501–519.

Elliot, A. J., & Moller, A. C. (2003). Performance-approach goals: good or bad forms of regulation? International Journal of Educational Research, 39(4-5), 339–356.

Epley, N., & Caruso, E. M. (2004). Egocentric ethics. Social Justice Research, 17(2), 171–187.

Falk, R. F., & Miller, N. B. (1992). A primer for soft modelling. Akron, OH: University of Akron Press.

Fan, X., Thompson, B., & Wang, L. (1999). Effects of sample size, estimation methods, and model specification on structural equation. Structural Equation Modeling, 6(1), 56–83.

Fehr, E., & Camerer, C. F. (2007). Social neuro-economics: The neural circuitry of social preferences. Trends in Cognitive Sciences, 11, 419–427.

Fehr, E., & Rockenbach, B. (2004). Human altruism: Economic, neural, and evolutionary perspectives. Current Opinion in Neurobiology, 14, 784–790.

Feiler, D. C., Tost, L. P., & Grant, A. M. (2012). Mixed reasons, missed giving: The costs of blending egoistic and altruistic reasons in donation requests. Journal of Experimental Social Psychology, 48(6), 1322–1328.

Fetchenhauer, D., Groothuis, T., & Pradel, J. (2010). Not only states but traits: Humans can identify permanent altruistic dispositions in 20s. Evolution and Human Behavior, 31(2), 80–86.

Fritzsche, B. A., Finkelstein, M. A., & Penner, L. A. (2000). To help or not to help: Capturing individuals' decision policies. Social Behavior and Personality, 28(6), 561–578.

Fryer, J. W., & Elliot, A. J. (2008). Self-regulation of achievement goal pursuit. In D. H. Schunk & B. J. Zimmerman (Eds.), Motivation and self-regulated learning: Theory, research, and applications (pp. 53–75). New York, NY: Taylor & Francis.

Fuster-Parra, P., García-Mas, A., Ponseti, F. J., & Leo, F. M. (2015). Team performance and collective efficacy in the dynamic psychology of competitive team: A Bayesian network analysis. Human Movement Science, 40, 98–118.

Gajadhar, B. J., De Kort, Y. A. W., & IJsselsteijn, W. A. (2009). Rules of engagement: Influence of co-player presence on player involvement in digital games. International Journal of Gaming and Computer-Mediated Simulations, 1(3), 14–27.

Geary, D. C., Byrd-Craven, J., Hoard, M. K., Vigil, J., & Numtee, C. (2003). Evolution and development of boys' social behavior. Developmental Review, 23(4), 444–470.

Grant, A. M. (2008). Does intrinsic motivation fuel the prosocial fire? Motivational synergy in predicting persistence, performance, and productivity. Journal of Applied Psychology, 93, 48–58.

Green, S. B., & Salkind, N. (2004). Using SPSS for Windows and Macintosh: Analyzing and understanding data (4th ed.). Englewood Cliffs, NJ: Prentice-Hall.

Gully, S. M., Incalcaterra, K. A., Joshi, A., & Beaubien, J. M. (2002). A meta-analysis of team-efficacy, potency, and performance: Interdependence and level of analysis as moderators of observed relationships. Journal of Applied Psychology, 87(5), 819–832.

Hair, J. F., Black, W. C., Babin, B. J., & Anderson, R. E. (2009). Multivariate data analysis (7th ed.). Upper Saddle River, NJ: Prentice Hall.

Hair, J. F., Jr., Black, W. C., Babin, B. J., & Anderson, R. E. (2010). Multivariate data analysis: A global perspective (7th ed.). Upper Saddle River, NJ: Pearson Prentice Hall.

Hancock, G. R., & Mueller, R. O. (2013). Structural equation modeling: A second course (2nd Eds.). Charlotte, NC: Information Age Publishing, Inc..

Hardy, C. L., & Van Vugt, M. (2006). Nice guys finish first: The competitive altruism hypothesis. Personality and Social Psychology Bulletin, 32, 1402–1413.

Heuzé, J. P., Raimbault, N., & Fontayne, P. (2006). Relationships between cohesion, collective efficacy and performance in professional basketball teams: An examination of mediating effects. Journal Sports Sciences, 24, 59–68.

Hong, J. C., Hwang, M. Y., Lu, C. H., Cheng, C. L., Lee, Y. C., & Lin, C. L. (2009). Playfulness-based design in educational games: A perspective on an evolutionary contest game. Interactive Learning Environments, 17(1), 15–35.

Hong, J. C., Hwang, M. Y., Liao, S., Lin, C. S., Pan, Y. C., & Chen, Y. L. (2014). Scientific reasoning correlated to altruistic tendency in an inquiry learning platform: Autistic vs. realistic reasoning in science problem solving practice. Thinking Skills and Creativity, 12, 26–36.

Hu, L., & Bentler, P. M. (1999). Cutoff criteria for fit indexes in covariance structure analysis: Conventional criteria versus new alternatives. Structural Equation Modeling, 6(1), 1–55.

Hulleman, C. S., Schrager, S. M., Bodmann, S. M., & Harackiewicz, J. M. (2010). A meta-analytic review of achievement goal measures: Different labels for the same constructs or different constructs with similar labels? Psychological bulletin, 136(3), 422–449.

Isotani, S., Mizoguchi, R., Isotani, S., Capeli, O. M., Isotani, N., De Albuquerque, A. R., , et al. (2013). A semantic web-based authoring tool to facilitate the planning of collaborative learning scenarios compliant with learning theories. Computers & Education, 63, 267-284.

Johnson, D. W., & Johnson, R. T. (2009). An educational psychology success story: Social interdependence theory and cooperative learning. Educational Researcher, 38(5), 365–379.

Kaye, L. K. (2016). Exploring flow experiences in cooperative digital gaming contexts. Computers in Human Behavior, 55, 286–291.

Kaye, L. K., & Bryce, J. (2014). Go with the flow: The experience and affective outcomes of solo versus social gameplay. Journal of Gaming & Virtual Worlds, 6(1), 49–60.

Keller, J. M. (2008). First principles of motivation to learn and e3-learning. Distance Education, 29(2), 175–185.

Keysers, C., Meffert, H., & Gazzola, V. (2014). Reply: Spontaneous versus deliberate vicarious representations: Different routes to empathy in psychopathy and autism. Brain, 137(Pt 4), 273. https://doi.org/10.1093/brain/awt376.

Khang, H., Kim, J. K., & Kim, Y. (2013). Self-traits and motivations as antecedents of digital media flow and addiction: The Internet, mobile phones, and video games. Computers in Human Behavior, 29, 2416–2424.

Kiili, K., Lainema, T., de Freitas, S., & Arnab, S. (2014). Flow framework for analyzing the quality of educational games. Entertainment Computing, 5, 367–377.

Klassen, R. M., & Krawchuk, L. L. (2009). Collective motivation beliefs of early adolescents working in small groups. Journal of School Psychology, 47(2), 101–120.

Kline, R. B. (2010). Principles and practice of structural equation modeling (3rd ed.). New York, NY: The Guilford Press.

Kozlowski, S. W. J., & Ilgen, D. R. (2006). Enhancing the effectiveness of work groups and teams. Psychological Science in the Public Interest, 7, 77–124.

Lamb, R. L., Annetta, L., Firestone, J., & Etopio, E. (2018). A meta-analysis with examination of moderators of student cognition, affect, and learning outcomes while using serious educational games, serious games, and simulations. Computers in Human Behavior, 80, 158–167.

Lee, C., & Farh, J. L. (2004). Joint effects of group efficacy and gender diversity on group cohesion and performance. Applied Psychology:An International Review, 53, 136–154.

Li, J. (2003). U. S and Chinese cultural beliefs about learning. Journal of Educational Psychology, 95(2), 258–267.

Linnenbrink, E. A. (2005). The Dilemma of performance-approach goals: The use of multiple goal contexts to promote students' motivation and learning. Journal of Educational Psychology, 97(2), 197–213.

MacCallum, R. C., & Hong, S. (1997). Power analysis in covariance structure modeling using GFI and AGFI. Multivariate Behavioral Research, 32(2), 193–210.

Midgley, C., Maehr, M. L., Hruda, L. Z., Anderman, E., Anderman, L., Freeman, K. E., et al. (2000). Manual for the Patterns of Adaptive Learning Scales (PALS). Ann Arbor, MI7: University of Michigan.

Mulaik, S. A., James, L. R., Van Alstine, J., Bennet, N., Lind, S., & Stilwell, C. D. (1989). Evaluation of goodness-of-fit indices for structural equation models. Psychological Bulletin, 105(3), 430–445.

Nakamura, J., & Csikszentmihalyi, M. (2002). The concept of flow. In C. R. Snyder & S. J. Lopez (Eds.), Handbook of positive psychology (pp. 89–105). Oxford: Oxford University Press.

Northrup, C. (2001). The wisdom of menopause: Creating physical and emotional health and healing during the change. New York: Bantum Books.

Padilla Zea, N., Sánchez, J. L. G., Gutiérrez, F. L., Cabrera, M., & Paderewski, J. P. (2009). Design of educational multiplayer videogames: A vision from collaborative learning. Advances in Engineering Software, 40, 1251–1260.

Pahljina-Reinić, R., & Kolić-Vehovec, S. (2017). Average personal goal pursuit profile and contextual achievement goals: Effects on students' motivation, achievement emotions, and achievement. Learning and Individual Differences, 56, 167–174.

Patrick, H., Anderman, L. H., & Ryan, A. M. (2002). Social motivation and the classroom social environment. In C. Midgley (Ed.), Goals, goal structures, and patterns of adaptive learning (pp. 85–108). Mahwah, NJ: Lawrence Erlbaum Associates.

Piliavin, J. A., & Charng, H. W. (1990). Altruism: A review of recent theory and research. Annual Review of Sociology, 16, 27–65.

Reis, R. C. D., Isotani, S., Rodriguez, C. L., Lyra, K. T., Jaques, P. A., & Bittencourt, I. I. (2018). Affective states in computer-supported collaborative learning: Studying the past to drive the future. Computers & Education, 120, 29–50.

Resick, C. J., Murase, T., Randall, K. R., & DeChurch, L. A. (2014). Information elaboration and team performance: Examining the psychological origins and environmental contingencies. Organizational Behavior and Human Decision Processes, 124(2), 165–176.

Rufi, S., Wlodarczyk, A., Páez, D., & Javaloy, F. (2016). Flow and emotional experience in spirituality: Differences in interactive and coactive collective rituals. Journal of Humanistic Psychology, 56(4), 373–393.

Salanova, M., Rodríguez-Sánchez, A. M., Schaufeli, W. B., & Cifre, E. (2014). Flowing together: A longitudinal study of collective efficacy and collective flow among workgroups. The Journal of Psychology, 148(4), 435–455.

Sampson, R. J., Raudenbush, S. W., & Earls, F. (1997). Neighborhoods and violent crime: A multilevel study of collective efficacy. Science, 277(5328), 918–924.

Stajkovic, A. D., Lee, D., & Nyberg, A. J. (2009). Collective efficacy, group potency, and group performance: Meta-analyses of their relationships, and test of a mediation model. Journal of Applied Psychology, 94(3), 814–828.

Tao, V., & Hong, Y. Y. (2000). A meaning system approach to Chinese students' achievement goals. Journal of Psychology in Chinese Societies, 1(2), 13–38.

Tasa, K., Seijts, G. H., & Taggar, S. (2007). The development of collective efficacy in teams: A multilevel and longitudinal perspective. Journal of Applied Psychology, 92, 17–27.

Tinsley, H. E., & Tinsley, D. J. (1987). Uses of factor analysis in counseling psychology research. Journal of Counseling Psychology, 34, 414–424.

Tversky, A., & Kahneman, D. (1971). Belief in the law of small numbers. Psychological Bulletin, 76(2), 105–110.

Van Lange, P. A., Joireman, J., Parks, C. D., & Van Dijk, E. (2013). The psychology of social dilemmas: A review. Organizational Behavior and Human Decision Processes, 120(2), 125–141.

Vera, M., Le Blanc, P. M., Taris, T. W., & Salanova, M. (2014). Patterns of engagement: The relationship between efficacy beliefs and task engagement at the individual versus collective level. Journal of Applied Social Psychology, 44(2), 133–144.

Verschaffel, L., & Greer, B. (2014). Mathematics Education. In J. Spector, M. Merrill, J. Elen, & M. Bishop (Eds.), Handbook of research on educational communications and technology. New York, NY: Springer.

Vygotsky, L. S. (1978). Mind in society. In B. S. M. Cole, V. John-Steiner, S. Scribner, & E. Souberman (Eds.), The development of higher psychological processes. Cambridge, MA: Harvard University Press.

Whiteoak, J. (2014). The dynamic relationship among group efficacy perceptions, attributions and task performance. e-Journal of Social & Behavioural Research in Business, 5(2), 7–22.

Williams, J. P. (2009). Community, frame of reference and boundary: Three sociological concepts and their relevance for virtual world research. Qualitative Sociology Review, 5(2), 3–16.

Wilson, D. S., Ostrom, E., & Cox, M. E. (2013). Generalizing the core design principles for the efficacy of groups. Journal of Economic Behavior & Organization, 90S, S21–S32.

Zaki, J., & Ochsner, K. N. (2012). The neuroscience of empathy: Progress, pitfalls and promise. Nature Neuroscience, 15(5), 675–680.
About this article
Cite this article
Hong, J., Hwang, M., Tsai, C. et al. The Effect of Social Dilemma on Flow Experience: Prosociality Relevant to Collective Efficacy and Goal Achievement Motivation. Int J of Sci and Math Educ 18, 239–258 (2020). https://doi.org/10.1007/s10763-019-09958-3
Received:

Accepted:

Published:

Issue Date:
Keywords
Prosociality

Collective efficacy

Goal achievement motivation

Flow experience