Abstract
This paper presents a review of the experimental achievements related to the development of high-power gyrotron oscillators for long-pulse or CW operation and pulsed gyrotrons for many applications. In addition, this work gives a short overview on the present development status of frequency step-tunable and multi-frequency gyrotrons, coaxial-cavity multi-megawatt gyrotrons, gyrotrons for technological and spectroscopy applications, relativistic gyrotrons, large orbit gyrotrons (LOGs), quasi-optical gyrotrons, fast- and slow-wave cyclotron autoresonance masers (CARMs), gyroklystrons, gyro-TWT amplifiers, gyrotwystron amplifiers, gyro-BWOs, gyro-harmonic converters, gyro-peniotrons, magnicons, free electron masers (FEMs), and dielectric vacuum windows for such high-power mm-wave sources. Gyrotron oscillators (gyromonotrons) are mainly used as high-power millimeter wave sources for electron cyclotron resonance heating (ECRH), electron cyclotron current drive (ECCD), stability control, and diagnostics of magnetically confined plasmas for clean generation of energy by controlled thermonuclear fusion. The maximum pulse length of commercially available 140 GHz, megawatt-class gyrotrons employing synthetic diamond output windows is 30 min (CPI and European KIT-SPC-THALES collaboration). The world record parameters of the European tube are as follows: 0.92 MW output power at 30-min pulse duration, 97.5% Gaussian mode purity, and 44% efficiency, employing a single-stage depressed collector (SDC) for energy recovery. A maximum output power of 1.5 MW in 4.0-s pulses at 45% efficiency was generated with the QST-TOSHIBA (now CANON) 110-GHz gyrotron. The Japan 170-GHz ITER gyrotron achieved 1 MW, 800 s at 55% efficiency and holds the energy world record of 2.88 GJ (0.8 MW, 60 min) and the efficiency record of 57% for tubes with an output power of more than 0.5 MW. The Russian 170-GHz ITER gyrotron obtained 0.99 (1.2) MW with a pulse duration of 1000 (100) s and 53% efficiency. The prototype tube of the European 2-MW, 170-GHz coaxial-cavity gyrotron achieved in short pulses the record power of 2.2 MW at 48% efficiency and 96% Gaussian mode purity. Gyrotrons with pulsed magnet for various short-pulse applications deliver Pout = 210 kW with τ = 20 μs at frequencies up to 670 GHz (η ≅ 20%), Pout = 5.3 kW at 1 THz (η = 6.1%), and Pout = 0.5 kW at 1.3 THz (η = 0.6%). Gyrotron oscillators have also been successfully used in materials processing. Such technological applications require tubes with the following parameters: f > 24 GHz, Pout = 4–50 kW, CW, η > 30%. The CW powers produced by gyroklystrons and FEMs are 10 kW (94 GHz) and 36 W (15 GHz), respectively. The IR FEL at the Thomas Jefferson National Accelerator Facility in the USA obtained a record average power of 14.2 kW at a wavelength of 1.6 μm. The THz FEL (NOVEL) at the Budker Institute of Nuclear Physics in Russia achieved a maximum average power of 0.5 kW at wavelengths 50–240 μm (6.00–1.25 THz).
This is a preview of subscription content, log in to check access.
Access options
Buy single article
Instant access to the full article PDF.
US$ 39.95
Price includes VAT for USA
Subscribe to journal
Immediate online access to all issues from 2019. Subscription will auto renew annually.
US$ 99
This is the net price. Taxes to be calculated in checkout.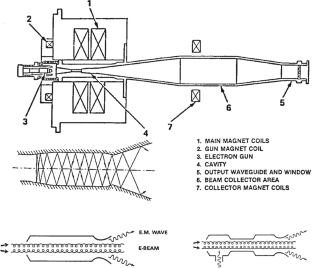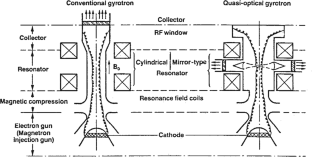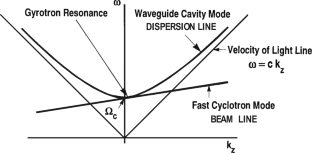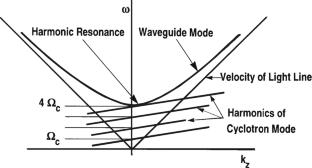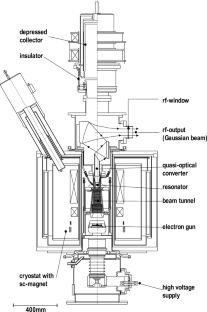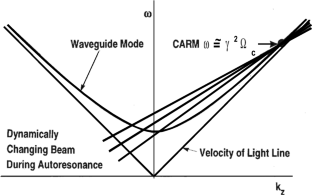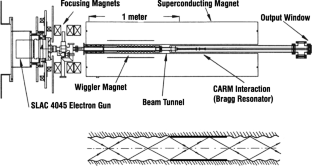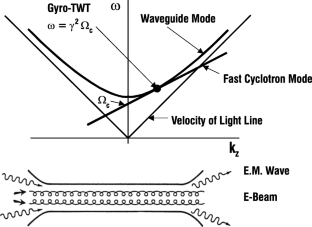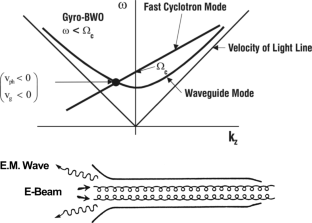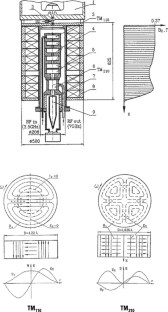 References
1.

Gaponov-Grekhov, A.V., Granatstein, V.L., 1994, Application of high-power microwaves. Artech House, Boston, London.

2.

Thumm, M., 1997, Applications of high-power microwave devices, in "Generation and Application of High Power Microwaves". R.A. Cairns and A.D.R. Phelps, eds., Institute of Physics Publishing, Bristol and Philadelphia, 305-323.

3.

Thumm, M., 2001, Novel applications of millimeter and submillimeter wave gyro-devices. Int. J. Infrared and Millimeter Waves, 22, 377-386.

4.

Thumm, M., 2002, Free-electron masers vs. gyrotrons: prospects for high-power sources at millimetre and submillimeter wavelengths. Nuclear Instruments & Methods in Physics Research, A483, 196-194.

5.

Thumm, M., 2005, High power gyro-devices for plasma heating and other applications. Int. J. Int. J. Infrared and Millimeter Waves, 26, 483-503.

6.

Thumm, M.K.A., 2011, Recent developments on high-power gyrotrons – introduction to this special issue. J. of Infrared, Millimeter, and Terahertz Waves, 32, 241-252.

7.

Thumm, M., 2011, Gyro-devices and their applications, Proc. 12th IEEE Int. Vacuum Electronics Conference (IVEC 2011), Bangalore, India, PL-7, Plenary Talk. pp. 521-524.

8.

Hirshfield, J.L., Granatstein, V.L., 1977, The electron cyclotron maser – an historical survey. IEEE Trans. on Microwave Theory and Techniques, 25, 522-527.

9.

Flyagin, V.A., Gaponov, A.V., Petelin, M.I., Yulpatov, V.K., 1977, The gyrotron. IEEE Trans. Microwave Theory and Techniques, 25, 514-521.

10.

Andronov, A.A., Flyagin, V.A., Gaponov, A.V., Goldenberg, A.L., Petelin, M.I., Usov, V.G., Yulpatov, V.K., 1978, The gyrotron: high power sources of millimetre and submillimetre waves. Infrared Physics, 18, 385-393.

11.

Petelin, M.I., 1993, Physics of advanced gyrotrons. Plasma Phys. and Contr. Nucl. Fusion, 35, Supplement B, 343-351.

12.

Flyagin, V.A., Goldenberg, A.L., Nusinovich, G.S., 1984, Powerful gyrotrons, in Infrared and Millimeter Waves, Vol. 11, ed. K.J. Button, Academic Press, New York, 179-226.

13.

Flyagin, V.A., Nusinovich, G.S., 1988, Gyrotron oscillators. Proceedings of the Institute of Electrical and Electronics Engineers, 76, 644-656 and, 1985, Powerful gyrotrons for thermonuclear research, in Infrared and Millimeter Waves, Vol. 13, ed. K.J. Button, Academic Press, New York, 1-17.

14.

Felch, K., Huey, H., Jory, H., 1990, Gyrotrons for ECH application. J. Fusion Energy, 9, 59-75.

15.

Goldenberg, A.L., Denisov, G.G., Zapevalov, V.E., Litvak, A.G., Flyagin, V.A., 1996, Cyclotron resonance masers: state of the art. Radiophys and Quantum Electronics, 39, 423-446.

16.

Gold, S.H., Nusinovich, G.S., 1997, Review of high-power microwave source research. Rev. Scient. Instruments, 68, 3945-3974.

17.

Granatstein, V.L., Levush, B., Danly, B.G., Parker, R.K., 1997, A quarter century of gyrotron research and development. IEEE Trans. on Plasma Science, 25, 1322-1335.

18.

Petelin, M.I., 1999, One century of cyclotron radiation. IEEE Trans. on Plasma Science, 27, 294-302 and private communications, Institute of Applied Physics, Russia.

19.

Felch, K.L., Danly, B.G., Jory, H.R., Kreischer, K.E., Lawson, W., Levush, B., Temkin, R.J., 1999, Characteristics and applications of fast-wave gyrodevices. Proc. of the IEEE, 87, 752-781.

20.

Thumm, M., 2002, Progress in gyrotron development. Fusion Engineering and Design, 66-68, 69-90.

21.

Chu, K.R., 2004, The electron cyclotron maser. Rev. Mod. Phys., 76, 489-540.

22.

Sakamoto, K., 2007, Progress of high-power-gyrotron development for fusion research. Fusion Science and Technology, 52, 145-153.

23.

Faillon, G., Kornfeld, G., Bosch, E., Thumm, M.K., 2008, Microwave Tubes, in "Vacuum Electronics – Components and Devices", J.A. Eichmeier, M.K. Thumm, eds., Springer, Berlin, Heidelberg, Germany, 1-84.

24.

Thumm, M., 2009, History, present status and future of gyrotrons, Proc. 10th IEEE Int. Vacuum Electronics Conference (IVEC 2009), Rome, Italy, pp. 37-40.

25.

Thumm, M., 2011, Progress on gyrotrons for ITER and future thermonuclear fusion reactors. IEEE Trans. on Plasma Science, 39, 971-979.

26.

Litvak, A., Sakamoto, K., Thumm, M., 2011, Innovation on high-power long-pulse gyrotrons. Plasma Physics and Controlled Fusion, 53, 12402 (14 pp).

27.

Nusinovich, G.S., Thumm, M.K.A., Petelin, M., 2014, The gyrotron at 50: Historical overview. J. Infrared, Millimeter, and Terahertz Waves, 35, No. 4, 325-381.

28.

Thumm, M., 2014, Recent advances in the worldwide fusion gyrotron development. IEEE Trans. on Plasma Science, 42, No. 3, 590-599.

29.

Petelin, M.I., 2015, The gyrotron: physical genealogy. Terahertz Science and Technology, 8, No. 4, 157-166.

30.

Luce, T.C., 2002, Applications of high-power millimeter waves in fusion energy research. IEEE Trans. on Plasma Science, 30, 734-754.

31.

Imai, T., Kobayashi, N., Temkin, R., Thumm, M., Tran, M.Q., Alikaev, V., 2001, ITER R&D: auxiliary systems: electron cyclotron heating and current drive system. Fusion Engineering and Design, 55, 281-289.

32.

Zohm, H., Gantenbein, G., Giruzzi, G., Günter, S., Leuterer, F., Maraschek, M., Meskat, J., Peeters, A.G., Suttrop, W., Wagner, D., Zabiégo, M., ASDEX Upgrade Team, ECRH Group, 1999, Experiments on neoclassical tearing mode stabilization by ECCD in ASDEX Upgrade. Nuclear Fusion, 39, 577-580.

33.

Gantenbein, G., Zohm, H., Giruzzi, G., Günter, S., Leuterer, F., Maraschek, M., Meskat, J., Yu, Q., ASDEX Upgrade Team, ECRH-Group (AUG), 2000, Complete suppression of neoclassical tearing modes with current drive at the electron-cyclotron-resonance frequency in ASDEX Upgrade tokamak. Phys. Rev. Lett., 85, 1242-1245.

34.

Zohm, H., Gantenbein, G., Gude, A., Günter, S., Leuterer, F., Maraschek, M., Meskat, J.P., Suttrop, W., Yu, Q., ASDEX Upgrade Team, ECRH Group (AUG), 2001, The physics of neoclassical tearing modes and their stabilization by ECCD in ASDEX Upgrade. Nuclear Fusion, 41, 197-202.

35.

Zohm, H., Gantenbein, G., Gude, A., Günter, S., Leuterer, F., Maraschek, M., Meskat, J., Suttrop, W., Yu, Q., ASDEX Upgrade Team, ECRH-Group (AUG), 2001, Neoclassical tearing modes and their stabilization by electron cyclotron current drive in ASDEX Upgrade. Physics of Plasmas, 8, 2009-2016.

36.

Prater, R., 2005, Application of electron cyclotron current drive on ITER. Journal of Physics: Conference Series, 25, 257-265.

37.

Zohm, H., Thumm, M., 2005, On the use of step-tuneable gyrotrons in ITER. Journal of Physics: Conference Series, 25, 274-282.

38.

Wagner, D., Leuterer, F., Manini, A., Monaco, F., Münich, M., Ryter, R., Schutz, H., Zohm, H., Franke, T., Heidinger, R., Thumm, M., Kasparek, W., Gantenbein, G., Litvak, A.G., Popov, L.G., Nichiporenko, V.O., Myasnikov, V.E., Denisov, G.G., Tai, E.M., Solyanova, E.A., Malygin, S.A., 2006, New frequency step-tunable ECRH system for ASDEX Upgrade, Int. J. of Infrared and Millimeter Waves, 27, 173-182.

39.

Wagner, D., Leuterer, F., Manini, A., Monaco, F., Münich, M., Ryter, R., Schütz, H., Stober, J., Zohm, H., Franke, T., Danilov, I., Heidinger, R., Thumm, M., Gantenbein, G., Kasparek, W., Lechte, C., Litvak, A., Denisov, G., Tai, E., Popov, L., Nichiporenko, V., Myasnikov, V., Solyanova, E., Malygin, S., Meo, F., Woskov, P., 2007, The new multi-frequency electron cyclotron resonance heating system for ASDEX Upgrade, Fusion Science and Technology, 52, 313-320.

40.

Zohm, H., 2007, Recent experimental progress in electron cyclotron resonance heating and electron cyclotron current drive in magnetically confined fusion plasmas. Fusion Science and Technology, 52, 134-144.

41.

Zohm, H., Gantenbein, G., Leuterer, F., Manini, A., Maraschek, M., Yu, Q., and the ASDEX Upgrade Team, 2007, Control of MHD instabilities by ECCD: ASDEX Upgrade results and implications for ITER. Nuclear Fusion, 47, 228-232.

42.

Wagner, D.H., Grünwald, G., Leuterer, F., Manini, A., Monaco, F., Münich, M.J., Schütz, H., Stober, J., Zohm, H., Franke, T., Thumm, M., Heidinger, R., Gantenbein, G., Meier, A., Kasparek, W., Lechte, C., Litvak, A.G., Denisov, G.G., Chirkov, A.V., Tai, E.M., Popov, L.G., Nichiporenko, V.O., Myasnikov, V.E., Solyanova, E.A., Malygin, S.A., Meo, F., Woskow, P.O., 2008, Present status of the new multifrequency ECRH system for ASDEX Upgrade, IEEE Trans. on Plasma Science, 36, 324-331.

43.

Wagner, D., Stober, J., Leuterer, F., Sips, G., Grünwald, G., Monaco, F., Münich, M., Poli, E., Schütz, H., Volpe, F., Treutterer, W., Zohm, H., Franke, T., Thumm, M., Heidinger, R., Gantenbein, G., Meier, A., Kasparek, W., Lechte, C., Litvak, A., Denisov, G., Chirkov, A., Tai, E., Popov, L., Nichiporenko, V., Myasnikov, V., Solyanova, E., Malygin, S., 2008, Multi-frequency ECRH at ASDEX Upgrade, Proc. 7th Int. Workshop on Strong Microwaves: Sources and Applications, Nizhny Novgorod, ed. A.G. Litvak, Inst. of Applied Physics, Russian Academy of Sciences, Nizhny Novgorod, 2009, Vol. 2, pp. 304-311. Wagner, D., Stober, J., Bäumel, S., Franke, T., Leuterer, F., Poli, E., Monaco, F., Münich, M., Schütz, H., Zohm, H., Thumm, M., Scherer, T., Meier, A., Gantenbein, G., Flamm, J., Kasparek, W., Lechte, C., Höhnle, H., Litvak, A.G., Denisov, G.G., Cirkov, A., Popov, L.G., Nichiporenko, V.O., Myasnikov, V.E., Tai, E.M., Solyanova, E.A., Malygin, S.A., 2009, Multi-frequency ECRH system at ASDEX Upgrade, Proc. 34th Int. Conf. on Infrared, Millimeter and Terahertz Waves, Busan, Korea, R4D06.0016.

44.

Wagner, D.H., Stober, J.K., Leuterer, F., Sips, G., Grünwald, G., Monaco, F., Münich, M.J., Poli, E., Schütz, H., Volpe, F., Treutterer, W., Zohm, H., Franke, T., Thumm, M., Heidinger, R., Gantenbein, G., Meier, A., Kasparek, W., Lechte, C., Litvak, A.G., Denisov, G.G., Chirkov, A., Tai, E., Popov, L., Nichiporenko, V., Myasnikov, V., Solyanova, E., Malygin, S., 2009, Progress and first results with the new multifrequency ECRH system for ASDEX Upgrade, IEEE Transactions on Plasma Science, 37, 395-402. Wagner, D., Stober, J., Leuterer, F., Monaco, F., Münich, M., Schmid-Lorch, D., Schütz, H., Zohm, H., Thumm, M., Scherer, T., Meier, A., Gantenbein, G., Flamm, J., Kasparek, W., Höhnle, H., Lechte, C., Litvak, A.G., Denisov, G.G., Chirkov, A., Popov, L.G., Nichiporenko, V.O., Myasnikov, V.E., Tai, E.M., Solyanova, E.A., Malygin, S.A., 2010, Multi-frequency ECRH at ASDEX Upgrade, status and plans, Proc. 35th Int. Conf. on Infrared, Millimeter and Terahertz Waves, Rome, Italy, Tu-E1.4.

45.

Wagner, D., Stober, J., Leuterer, F., Monaco, F., Münich, M., Schmid-Lorch, D., Schütz, H., Zohm, H., Thumm, M., Scherer, T., Meier, A., Gantenbein, G., Flamm, J., Kasparek, W., Höhnle, H., Lechte, C., Litvak, A.G., Denisov, G.G., Chirkov, A., Popov, L.G., Nichiporenko, V.O., Myasnikov, V.E., Tai, E.M., Solyanova, E.A., Malygin, S.A., 2011, Recent upgrades and extensions of the ASDEX Upgrade ECRH system. J. of Infrared, Millimeter, and Terahertz Waves, 32, 274-282.

46.

Stober, J., Bock, A., Höhnle, H., Reich, M., Sommer, F., Treutterer, W., Wagner, D., Giannone, L., Herrmann, A., Leuterer, F., Monaco, F., Maraschek, M., Mlynek, A., Müller, S., Münich, M., Poli, E., Schubert, M., Schütz, H., Zohm, H., Kasparek, W., Stroth, U., Meier, A., Scherer, T., Strauß, D., Vaccaro, A., Flamm, J., Thumm, M., Litvak, A., Denisov, G.G., Chirkov, A.V., Tai, E.M., Popov, L.G., Nichiporenko, V.O., Myasnikov, V.E., Soluyanova, A., Malygin, S.A., ASDEX Upgrade Team, 2012, ECRH on ASDEX Upgrade. System status, feed-back control, plasma physics results. EPJ Web of Conferences, 32, 02011/1-8.

47.

Wagner, D., Stober, J., Leuterer, F., Monaco, F., Müller, S., Münich, M., Rapson, C., Reich, M., Ryter, F., Schubert, M., Schütz, H., Treutterer, W., Zohm, H., Thumm, M., Scherer, T., Meier, A., Gantenbein, G., Jelonnek, J., Kasparek, W., Lechte, C., Plaum, B., Litvak, A.G., Denisov, G.G., Chirkov, A., Popov, L.G., Nichiporenko, V.O., Myasnikov, V.E., Tai, E.M., Solyanov, E.A., Malygin, S.A., ASDEX Upgrade Team, 2014, ECRH at ASDEX Upgrade - Development of a flexible high-power millimeter wave system driven by plasma physics needs and machine safety. Proc. 9th Int. Workshop "Strong Microwaves and Terahertz Waves: Sources and Applications", Nizhny Novgorod, Russia, pp. 11-12.

48.

Stober, J., Sommer, F., Anigioni, C., Bock, A., Fable, E., Leuterer, F., Monaco, F., Müller, S., Münich, M., Pertzold, B., Poli, E., Schubert, M., Schütz, H., Wagner, D., Zohm, H., the ASDEX Upgrade Team, Kasparek, W., Plaum, B., Meier, A., Scherer, Th., Strauß, D., Jelonnek, J., Thumm, M., Litvak, A., Denisov, G.G., Chirkov, A.V., Tai, E.M., Popov, L.G., Nichiporenko, V.O., Myasnikov, V.E., Soluyanova, E.A., Malygin, V., 2015, High power ECRH and ECCD in moderately collisional ASDEX Upgrade H-modes and status of EC system upgrade. EPJ Web of Conferences, 87, 02004 (6 pp).

49.

Darbos, C., Henderson, M., Albajar, F., Bigelow, T., Bonicelli, T., Chavan, R., Denisov, G.G., Fasel, D., Heidinger, R., Hogge, J.P., Kobayashi, N., Piosczyk, B., Rao, S.L., Rasmussen, D., Saibene, G., Sakamoto, K., Takahashi, K., Thumm, M., 2009, Progress in design and integration of the ITER electron cyclotron H&CD system. Fusion Engineering and Design, 84, 651-655.

50.

Henderson, M., Albajar, F., Alberti, S., Baruah, U., Bigelow, T., Becker, B., Bertizzolo, R., Bonicelli, T., Bruschi, A., Caughman, J., Chavan, R., Cirant, S., Collazos, A., Darbos, C., deBaar, M., Denisov, G., Farina, D., Gandini, F., Gassmann, T., Goodman, T.P., Heidinger, R., Hogge, J.P., Jean, O., Kajiwara, K., Kasparek, W., Kasugai, A., Kern, S., Kobayashi, N., Landis, J.D., Moro, A., Nazare, C., Oda, J., Paganakis, I., Platania, P., Plaum, B., Poli, E., Porte, L., Piosczyk, B., Ramponi, G., Rao, S.L., Rasmussen, D., Rouden, D., Saibene, G., Sakamoto, K., Sanchez, F., Scherer, T., Shapiro, M., Sozzi, C., P. Spaeh, Strauss, D., Sauter, O., Takahashi, K., Tanga, A., Temkin, R., Thumm, M., Tran, M.Q., Zohm, H., Zucca, C., 2009, An overview of the ITER electron cyclotron H&CD system, Proc. 34th Int. Conf. on Infrared, Millimeter and Terahertz Waves, Busan, Korea, F2P101.0554.

51.

Henderson, M., Albajar, F., Alberti, S., Baruah, U., Bigelow, T., Becket, B., Bertizzolo, R., Bonicelli, T., Bruschi, A., Caughman, J., Chavan, R., Cirant, S., Darbos, C., de Baar, M., Denisov, G., Farina, D., Gandini, F., Gassmann, T., Goodman, T.P., Heidinger, R., Hogge, J.P., Kajiwara, K., Kasparek, W., Kasugai, A., Kern, S., Kobayashi, N., Landis, J.D., Li, F., Litvak, A., Moro, A., Myasnikov, V., Nazare, C., Oda, J., Omori, T., Pagonakis, I., Parmer, D., Peters, B., Platania, P., Plaum, B., Poli, E., Porte, I., Piosczyk, B., Purohit, D., Ramponi, G., Rao, S.L., Rasmussen, D., Ronden, D., Saibene, G., Sakamoto, K., Sanchez, F., Scherer, T., Schreck, S., Singh, N.P., Shapiro, M., Sozzi, C., Spaeh, P., Straus, D., Sauter, O., Tai, E., Takahasi, T., Temkin, R., Thomas, P., Thumm, M., Zohm, H., 2011, Present status of the 24 MW 170 GHz ITER EC H&CD system, Proc. 8th Int. Workshop Strong Microwaves and Terahertz Waves: Sources and Applications, Nizhny Novgorod – St. Petersburg, Russia, July 9-16, 2011, pp. 21-22.

52.

Omori, T., Henderson, M.A., Albajar, F., Alberti, S., Baruah, U., Bigelow, T., Beckett, B., Bertizzolo, R., Bonicelli, T., Bruschi, A., Caughman, J., Chavan, R., Cirant, S., Collazos, A., Cox, D., Darbos, C., de Baar, M.R., Denisov, G., Farina, D., Gandini, F., Gassmann, T., Goodman, T.P., Heidinger, R., Hogge, J.P., Kobayashi, N., Kumric, H., Landis, J.D., Moro, A., Nazare, C., Oda, Y., Pagonakis, I., Piosczyk, B., Platania, P., Plaum, B., Poli, E., Porte, L., Purohit, D., Ramponi, G., Rao, S.L., Rasmussen, D.A., Ronden, D.M.S., Rzesnicki, T., Saibene, G., Sakamoto, K., Sanchez, F., Scherer, T., Shapiro, M., Sozzi, C., Spaeh, P., Strauss, D., Suter, O., Takahashi, K., Temkin, R., Thumm, M., Tran, M.Q., Udintsev, V., Zohm, H., 2011, Overview of the ITER EC H&CD system and its capabilities. Fusion Engineering and Design, 86, 951-954.

53.

Cengher, M., Lohr, J., Gorelov, Y., Torrezan, A., Ponce, D., Chen, X., Moeller, C., 2016, DIII-D electron cyclotron heating system status and upgrades, IEEE Trans. on Plasma Science, 44, No. 12, 3465-3470.

54.

Granucci, G., Aiello, G., Avramidis, K.A., Bruschi, A., Gantenbein, G., Garavaglia, S., Grossetti, G., Jelonnek, J., Moro, A., Poli, E., Rispoli, N., Strauss, D., Thumm, M., Tigelis, I., Tsironis, C., Franke, T., Tran, M.Q., 2017, The EC-system of EU DEMO: concepts for a reactor heating system. EPJ Web of Conferences, 149, 03003 (2 pp).

55.

Wagner, D., Stober, J., Kircher, M., Leuterer, F., Monaco, F., Münich, M., Schubert, M., Zohm, H., Gantenbein, G., Jelonnek, J., Thumm, M., Meier, A., Scherer, T., Strauss, D., Kasparek, W., Lechte, C., Plaum, B., Zach, A., Litvak, A.G., Denisov, G.G., Chirkov, A., Malygin, V., Popov, L.G., Nichiporenko, V.O., Myasnikov, V.E., Tai, E.M., Solyanova, E.A., Malygin, S.A., ASDEX Upgrade Team, 2017, Extension of the multi-frequency ECRH system at ASDEX Upgrade. EPJ Web of Conferences, 149, 03004 (2 pp).

56.

Takahashi, K., Oda, Y., Ikeda, R., Kobayashi, T., Moriyama, S., Sakamoto, K., Terakado, M., Abe, G., Isozaki, M., 2017, Development of MW gyrotron and equatorial launcher for ITER. Proc. 42nd Int. Conf. on Infrared, Millimeter, and Terahertz Waves (IRMMW-THz 2017), 2017, Cancun, Mexico, WC2.2.

57.

Wagner, D., Stober, J., Kircher, M., Leuterer, F., Monaco, F., Münich, M., Schubert, M., Zohm, H., Gantenbein, G., Jelonnek, J., Thumm, M., Meier, A., Scherer, T., Strauss, D., Kasparek, W., Lechte, C., Plaum, B., Zach, A., Litvak, A., Denisov, G., Chirkov, A., Malygin, V., Popov, L.G., Myasnikov, V.E., Tai, E.M., Solyanova, E.A., ASDEX Upgrade Team, 2018, Status of the 8 MW multi-frequency ECRH system at ASDEX. Proc. 19th Int. Vacuum Electronics Conference (IVEC 2018), Monterey, CA, USA, 13.1.

58.

Garavaglia, S., Aiello, G., Alberti, S., Avramidis, K., Bruschi, A., Chelis, I., Franck, J., Gantenbein, G., Granucci, G., Grossetti, G., Hizanidis, K., Illy, S., Jelonnek, J., Kalaria, P., Latsas, G., Moro, A., Pagonakis, I., Peponis, D., Poli, E., Rispoli, N., Ruess, S., Rzesnicki, T., Scherer, T., Strauss, D., Thumm, M., Tigelis, I., Tsironis, C., Wu, C., Franke, T., Tran, M.Q., 2018, EU DEMO EC system preliminary conceptual design. Fusion Engineering and Design, 136, Part B, 1173-1177.

59.

Prater, R., 2004, Heating and current drive by electron cyclotron waves. Physics of Plasmas, 11, 2349-2376.

60.

Erckmann, V., Kasparek, W., Plaum, B., Lechte, C., Petelin, M.I., Braune, H., Gantenbein, G., Laqua, H.P., Lubiako, L., Marushchenko, N.B., Michel, G., Turkin, Y., Weissgerber, M., and the W7-X ECRH-teams at IPP Greifswald, IPF Stuttgart, and KIT, 2012, Large scale CW ECRH systems: some considerations. EPJ Web of Conferences, 32, 04009/1-6.

61.

Erckmann, V., WVII-AS Team, Kasparek, W., Müller, G.A., Schüller, P.G., and Thumm, M., 1990, Electron cyclotron resonance heating transmission line and launching system for the Wendelstein VII-AS stellarator. Fusion Technology, 17, 76-85.

62.

Erckmann, V., Dammertz, G., Dorst, D., Empacher, L., Förster, W., Gantenbein, G., Geist, T., Kasparek, W., Laqua, H.P., Müller, G.A., Thumm, M., Weissgerber, H., Wobig, H., W7-X and W7-AS Teams at IPP Garching, W7-X Team at FZK Karlsruhe, W7-X Team at IPF Stuttgart, 1999, ECRH and ECCD with high power gyrotrons at the stellarators W7-AS and W7-X. IEEE Trans. on Plasma Science, 27, 538-546.

63.

Kasparek, W., Erckmann, V., Laqua, H.P., Borie, E., Dammertz, G., Empacher, L., Förster, W., Gantenbein, G., Illy, S., Michel, G., Müller, G., Piosczyk, B., Thumm, M., Wagner, D., Weißgerber, M., Zohm, H., W7-X and W7-AS Teams at IPP Garching, W7-X Team at IPF Stuttgart, W7-X Team at FZK Karlsruhe, 1999, ECRH and ECCD for the stellarator W7-X. Proc. 4th Int. Workshop on Strong Microwaves in Plasmas, Nizhny Novgorod, ed. A.G. Litvak, Inst. of Applied Physics, Russian Academy of Sciences, Nizhny Novgorod, 2000, Vol. 1, 185-204.

64.

Erckmann, V., Laqua, H.P., Maassberg, H., Geiger, J., Dammertz, G., Kasparek, W., Thumm, M., W7-X and W7-AS teams IPP, W7-X team FZK, W7-X team IPF, 2001, Electron cyclotron resonance heating and EC-current drive experiments at W7-AS, status at W7-X. Fusion Engineering and Design, 53, 365-375.

65.

Wanner, M., Erckmann, V., Feist, J.-H., Gardebrecht, W., Hartmann, D., Krampitz, R., Niedermeyer, H., Renner, H., Rummel, Th., Schauer, F., Wegener, L., Wesner, F., Müller, G.A., Kasparek, W., Thumm, M., Dammertz, G., 2003, Status of WENDELSTEIN 7-X construction, Nucl. Fusion, 43, 416-424.

66.

Dammertz, G., Braune, H., Erckmann, V., Gantenbein, G., Kasparek, W., Laqua, H.P., Leonhardt, W., Michel, G., Müller, G., Neffe, G., Piosczyk, B., Schmid, M., Thumm, M.K., 2004, Progress in the 10-MW ECRH system for the stellarator W7-X. IEEE Trans. on Plasma Science, 32, 144-151.

67.

Erckmann, V., Brand, P., Braune, H., Dammertz, G., Gantenbein, G., Kasparek, W., Laqua, H.P., Maassberg, H., Marushchenko, N.B., Michel, G., Thumm, M., Turkin, Y., Weissgerber, M., Weller, A., W7-X ECRH Team at IPP Greifswald, W7-X ECRH Team at FZK Karlsruhe and W7-X ECRH Team at IPF Stuttgart, 2007, Electron cyclotron heating for W7-X: physics and technology, Fusion Science and Technology, 52, 291-312.

68.

Erckmann, V., W7-X ECRH teams at IPP, IPF and FZK, 2007, The W7-X ECRH plant: status and recent achievements, Proc. 17th Topical Conf. on Radio Frequency Power in Plasmas, Clearwater, Florida, USA, AIP Conf. Proc., Vol. 933, 421-424.

69.

Erckmann, V., Brand, P., Braune, H., Gantenbein, G., Kasparek, W., Laqua, H.P., Lechte, C., Marushchenko, N.B., Michel, G., Thumm, M., Turkin, Y., Weissgerber, M., and the W7-X ECRH-teams at IPP Greifswald, IPF Stuttgart and FZK Karlsruhe, 2008, The 10 MW, CW, ECRH-plant for W7-X: status and high power performance, Proc. 7th Int. Workshop on Strong Microwaves: Sources and Applications, Nizhny Novgorod, ed. A.G. Litvak, Inst. of Applied Physics, Russian Academy of Sciences, Nizhny Novgorod, 2009, Vol. 1, pp. 60-69.

70.

Thumm, M., Brand, P., Braune, H., Dammertz, G., Erckmann, V., Gantenbein, G., Illy, S., Kasparek, W., Kern, S., Laqua, H.P., Lechte, C., Leonhardt, W., Marushchenko, N.B., Michel, G., Piosczyk, B., Schmid, M., Turkin, Y., Weisgerber, W., 2010, Status and high power performance of the 10-MW 140-GHz ECH system for the stellarator Wendelstein 7-X. Plasma and Fusion Research, 5, 1006/1-8.

71.

Geiger, J., Wolf, R.C., Beidler, C., Cardella, A., Chlechowitz, E., Erckmann, V., Gantenbein, G., Hathiramani, D., Hirsch, M., Kasparek, W., Kißlinger, J., König, R., Kornejew, P., Laqua, H.P., Lechte, C., Lore, J., Lumsdaine, A., Maaßberg, H., Marushchenko, N.B., Michel, G., Otte, M., Peacock, A., Sunn Pedersen, T., Thumm, M., Turkin, Y., Werner, A., Zhang, D., W7-X Team, 2013, Aspects of steady-state operation of the Wendelstein 7-X stellarator. Plasma Phys. Control. Fusion, 55, 014006.

72.

Thumm, M., 2014, The 1st decade of ECRH on Wendelstein Stellarators – A humorous retrospect. Proc. 9th Int. Workshop "Strong Microwaves and Terahertz Waves: Sources and Applications", July 24-30, 2014, Nizhny Novgorod, Russia, pp. 26-27.

73.

Braune, H., Laqua, H.P., Marsen, S., Moseev, D., Noke, F., Purps, F., Schneider, N., Schulz, T., Stange, T., Uhren, P., W7-X ECRH Teams at IPP, IGVP Stuttgart and KIT Karlsruhe, 2016, Gyrotron operation during the first W7-X campaign – handling and reliability. Proc. 41st Int. Conf. on Infrared, Millimeter and Terahertz Waves (IRMMW-THz 2016), September 25-30, 2016, Copenhagen, Denmark, H4B.2.

74.

Wolf, R.C., et al., 2016, Wendelstein 7-X program – Demonstration of a stellerator option for fusion energy. IEEE Trans. on Plasma Science, 44, 1466-1471.

75.

Wolf, R.C. et al., 2017, Major results from the first plasma campaign of the Wendelstein 7-X stellarator. Nuclear Fusion, 57, 102020 (13 pp).

76.

Wolf, R.C. et al., 2019, Electron-cyclotron-resonance heating in Wendelstein 7-X: A versatile heating and current-drive method and a tool for in-depth physics studies. Plasma Physics and Controlled Fusion, 61, 014037.

77.

Braune, H., Brunner, K.J., Laqua, H.P., Marsen, S., Moseev, D., Noke, Purps, F., Schneider, N., Schulz, T., Stange, T., Uhren, P., Wilde, F., W7-X Team at IPP, IGVP Stuttgart, KIT Karlsruhe, 2018, Concurrent operation of 10 gyrotrons at W7-X – experience and improvement opportunities. EPJ Web of Conferences, 187, 01003 (2 pp).

78.

Braune, H., Brunner, K.J., Laqua, H.P., Marsen, S., Moseev, D., Noke, F., Purps, F., Schneider, N., Schulz, T., Stange, T., Uhren, P., Wilde, W7-X Team at IPP, IGVP Stuttgart and KIT Karlsruhe, 2018, ECRH at W7-X - Concurrent operation of 10 gyrotrons. Proc. 43rd Int. Conf. on Infrared, Millimeter, and Terahertz Waves (IRMMW-THz 2018), Nagoya, Japan, We-A2-4-5.

79.

Ohkubo, K., Kubo, S., Shimozuma, T., Idei, H., Sato, M., Yoshimura, Y., Mizuno, Y., Ito, S., Kobayashi, S., Takita, Y., Kaneko, O., Kawahata, K., Komori, A., Ohyabu, N., Yamada, H., Ikeda, K., Oka, Y., Osakabe, M., Takeiri, K., Tsumori, K., Kumazawa, R., Mutoh, T., Saito, K., M., Seki, T., Watari, T., Ashikawa, N., Emoto, M., de Vries, P.C., Funaba, H., Goto, M., Ida, K., Inagaki, S., Isobe, M., Kado, S., Kobuchi, T., Masuzaki, S., Minami, T., Miyazawa, J., Morisaki, T., Morita, S., Murakami, S., Mutoh, S., Nagayama, Y., Nakamura, Y., Nakanishi, H., Narihara, K., Nishimura, K., Noda, N., Ohdachi, S., Ozaki, T., Pavlichenko, R.O., Peterson, B.J., Sagara, A., Sakakibara, S., Sakamoto, R., Sasao, H., Sasao, M., Sato, K., Shoji, M., Sudo, S., Suzuki, H., Takechi, M., Tanaka, K., Toi, K., Tokuzawa, T., Yamada, I., Yamaguchi, S., Yamamoto, S., Yamazaki, K., Yokoyama, M., Watanabe, K.Y., Motojima, O., Fujiwara, M., 1999, Electron cyclotron plasma production and heating on LHD: system and its application. Proc. 4th Int. Workshop on Strong Microwaves in Plasmas, Nizhny Novgorod, ed. A.G. Litvak, Inst. of Applied Physics, Russian Academy of Sciences, Nizhny Novgorod, 2000, Vol. 1, 27-40.

80.

Idei, H., Kubo, S., Shimozuma, T., Sato, M., Ohkubo, K., Yoshimura, Y., Takita, Y., Kobayashi, S., Ito, S., Mizuno, Y., Tsumori, K., Ikeda, K., Notake, T., Watari, T., Kaneko, O., Komori, A., Yamada, H., de Vries, P.C., Goto, M., Ida, K., Inagaki, S., Kado, S., Kawahata, K., Kobuchi, T., Minami, T., Miyazawa, J., Morisaki, T., Morita, S., Murakami, S., Muto, S., Nagayama, Y., Nakanishi, H., Narihara, K., Peterson, B.J., Sakakibara, S., Sasao, H., Sato, K., Tanaka, K., Takeiri, Y., Watanabe, K.Y., Yamada, I., Motojima, O., Fujiwara, M., LHD Experimental Group, 2001, Electron cyclotron heating scenario and experimental results in LHD. Fusion Engineering and Design, 53, 329-336.

81.

Shimozuma, T., Kubo, S., Idei, H., Yoshimura, Y., Notake, T., Watari, T., Mizuno, Y., Ito, S., Kobayashi, S., Takita, Y., Sato, M., Ohkubo, K., Ida, K., Ohyabu, N., Yamada, I., Narihara, K., Inagaki, S., Nagayama, Y., Takeiri, Y., Funaba, H., Yokoyama, M., Murakami, S., and the LHD Experimental Group, 2002, Recent results of ECH experiment by an upgraded heating system in LHD. Proc. 5th Int. Workshop on Strong Microwaves in Plasmas, Nizhny Novgorod, ed. A.G. Litvak, Inst. of Applied Physics, Russian Academy of Sciences, Nizhny Novgorod, 2003, Vol. 1, 307-319.

82.

Igami, H., Notake, T., Yoshimura, Y., Shimozuma, T., Kubo, S., Ohkubo, K., Inagaki, S. and LHD Experimental Group, 2005, High power injection and steady state ECRH operation in LHD. Proc. 6th Int. Workshop on Strong Microwaves in Plasmas, Nizhny Novgorod, ed. A.G. Litvak, Inst. of Applied Physics, Russian Academy of Sciences, Nizhny Novgorod, 2006, Vol. 2, 398-408.

83.

Nishiura, M., Tanaka, K., Kubo, S., Saito, T., Tatematsu, Y., Notake, T., Kawahata, K., Shimozuma, T., Mutoh, T., 2008, Design of collective Thomson scattering system using 76th7 GHz gyrotron for bulk and tail ion diagnostics in the large helical device, Review of Scientific Instruments, 79, 10E731-1 – 10E731-3.

84.

Thumm, M., 1994, Progress in the development of high-power millimeter- and submillimeter wave gyrotrons and of free electron masers. Archiv für Elektrotechnik 77, 51-55.

85.

Thumm, M., 1995, Advanced electron cyclotron heating systems for next step fusion experiments. Fusion Engineering and Design, 30, 139-170.

86.

Thumm, M., 1997, Recent development of high power gyrotrons and windows for EC wave applications. Proc. 12th Topical Conf. on Radio Frequency Power in Plasmas, Savannah, Georgia, USA, AIP Conference Proceedings 403, 183-190.

87.

Thumm, M., 1997, Present developments and status of electron sources for high power gyrotron tubes and free electron masers. Applied Surface Science, 111, 106-120.

88.

Thumm, M., 1998, State-of-the-art and recent developments of high-power gyrotron oscillators. Proc. Radio Frequency Workshop (RF 98), High Energy Density Microwaves, Pajaro Dunes, California, USA, AIP Conference Proceedings 474, 146-162.

89.

Thumm, M., 2003, MW gyrotron development for fusion plasma applications. Plasma Phys. Control. Fusion, 45, A143-A161.

90.

Thumm, M., Alberti, S., Arnold, A., Bariou, D., Dammertz, G., Darbos, C., Dumbrajs, O., Gantenbein, G., Erckmann, V., Giguet, E., Heidinger, R., Hogge, J.-P., Illy, S., Jin, J., Kasparek, W., Liévin, C., Magne, R., Michel, G., Piosczyk, B., Prinz, O., Rzesnicki, T., Schwörer, K., Tran, M.Q., Yang, X., Yovchev, I., 2005, Gyrotron development in the EU for present fusion experiments and for ITER. Proc. 7th Workshop on High Energy Density and High Power RF, AIP Conference Proceedings 807, 2006, 167-179.

91.

Dammertz, G., Alberti, A., Arnold, A., Bariou, D., Brand, P., Braune, H., Erckmann, V., Dumbrajs, O., Gantenbein, G., Giguet, E., Heidinger, R., Hogge, J.-Ph., Illy, S., Jin, J., Kasparek, W., Koppenburg, K., Laqua, H.P., Legrand, F., Leonhardt, W., Liévin, Ch., Michel, G., Neffe, G., Piosczyk, B., Prinz, O., Rzesnicki, T., Schmid, M., Thumm, M., Tran, M.Q., Yang, X., Yovchev, I., 2006, High-power gyrotron development at Forschungszentrum Karlsruhe for fusion applications, IEEE Trans. on Plasma Science, 34, 173-186.

92.

Jelonnek, J., Alberti, S., Avramidis, K., Braune, H., Erckmann, V., Gantenbein, G., Hogge, J.P., Illy, S., Jin, J., Kern, S., Noke, F., Pagonakis, I., Piosczyk, B., Purps, F., Rzesnicki, T., Samartsev, A., Schlaich, A., Schmid, M., Thumm, M., 2012, High power gyrotron development at KIT for ECH&CD of fusion plasmas, Proc. 13th IEEE Int. Vacuum Electronics Conference and 9th IEEE Int. Vacuum Electron Sources Conference (IVEC-IVESC 2012), Monterey, CA, USA, pp. 111-112.

93.

Jelonnek, J., Alberti, S., Avramidis, K., Erckmann, V., Gantenbein, G., Hesch, K., Hogge, J.-P., Illy, S., Jin, J., Kern, S., Pagonakis, I., Piosczyk, B., Rzesnicki, T., Samartsev, A., Thumm, M., W7-X teams at KIT, IPF Stuttgart, IPP Greifswald, EGYC teams at KIT, EPFL-CRPP, HELLAS, IPF-CNR, 2013, Development of advanced gyrotrons in Europe. Fusion Science and Technology, 64, 505-512.

94.

Jelonnek, J., Avramidis, K., Franck, J., Gantenbein, G., Hesch, K., Illy, S., Jin, J., Malygin, A., Pagonakis, I., Rzesnicki, T., Samartsev, A., Scherer, T., Schlaich, A., Schmid, M., Strauss, D., Thumm, M., Zhang, J., 2013, KIT gyrotron development for future fusion applications. Proc. 38th Int. Conf. on Infrared, Millimeter and Terahertz Waves (IRMMW-THz 2013), Mainz, Germany, Mo10-3.

95.

Jelonnek, J., Albajar, F., Alberti, S., Avramidis, K., Benin, P., Bonicelli, T., Cismondi, F., Erckmann, V., Gantenbein, G., Hesch, K., Hogge, J.-P., Illy, S.,.Ioannidis, Z.C., Jin, J., Laqua, H., Latsas, G.P., Legrand, F., Michel, G., Pagonakis, I.Gr., Piosczyk, B., Rozier, Y., Rzesnicki, T., Tigelis, I.G., Thumm, M., Tran, M.Q., Vomvoridis, J.L., 2014, From series production of gyrotrons for W7-X toward EU-1 MW gyrotrons for ITER. IEEE Trans. on Plasma Science, 42, No. 5, 1135-1144.

96.

Jelonnek, J., Avramidis, K., Franck, J., Gantenbein, G., Hesch, K., Jin, J., Kalaria, P., Pagonakis, I.Gr., Rzesnicki, T., Schmid, M., Thumm, M., 2014, Development of advanced gyrotrons. 39th Int. Conf. on Infrared, Millimeter and Terahertz Waves (IRMMW-THz 2014), Tucson, AZ, USA, W3_D-25.1.

97.

Jelonnek, J., Aiello, G., Avramidis, K., Franck, J., Gantenbein, G., Grossetti, G., Hesch, K., Illy, S., Jin, J., Kalaria, P., Pagonakis, I.Gr., Rzesnicki, T., Ruess, S., Samartsev, A., Scherer, T., Strauss, D., Wu, C., Thumm, M., Alberti, S., Braunmueller, F., Genoud, J., Hogge, J.-P., Schlatter, C., Tran, T.-M., Tran, M.Q., Chelis, I., Vomvoridi, J.L., Ioannidis, Z.C., Latsas, G., Tigelis, I.G., Bruschi, A., Lontano, M., Hermann, V., Legrand, F., Rozier, Y., Albajar, F., Bonicelli, T., Cismondi, F., 2015, From W7-X towards ITER and beyond: Status and progress in EU fusion gyrotron developments. 16th IEEE International Vacuum Electronics Conference (IVEC 2015), Beijing, P.R. China, S23.2.

98.

Jelonnek, J., Aiello, G., Alberti, S., Avramidis, K., Bertinetti, A., I.G., Bruschi, A., Chelis, J., Franke, T., Gantenbein, G., Garavaglia, S., Granucci, G., Grossetti, Illy, S., Ioannidis, Z.C., Jin, J., Kalaria, P., Latsas, G.P., Laqua, H., Leggieri, A., Legrand, F., Marek, A., Pagonakis, I.Gr., Peponis, D., Savoldi, L., Rzesnicki, Ruess, S., Ruess, T., Scherer, T., Schmid, M., Strauss, D., Tigelis, I., Thumm, M., Tran, M.Q., Wilde, F., Wu, C., Zanino, R., Zein, A., 2017, European research activities towards a future DEMO gyrotron. EPJ Web of Conferences, 149, 04007 (2 pp).

99.

Jelonnek, J., Aiello, G., Avramidis, K., Gantenbein, G. Grossetti, G., Illy, S., Ioannidis, Z.C., Jin, J., Kalaria, P., Marek, A., Pagonakis, I.G., Rzesnicki, T., Ruess, S., Scherer, T., Schmid, M., Strauss, D., Thumm, M., Wilde, F., Wu, C., Zein, A., 2017, Developments of fusion gyrotrons for W7-X, ITER and EU DEMO: Ongoing activities and future plans of KIT. Proc. 42nd Int. Conf. on Infrared, Millimeter, and Terahertz Waves (IRMMW-THz 2017), Cancun, Mexico, WC2.1 (Invited).

100.

Dumbrajs, O., Nusinovich, G.S., 2004, Coaxial gyrotrons: past, present, and future (review). IEEE Trans. on Plasma Science, 32, 934-946.

101.

Thumm, M., Kasparek, W., 1995, Recent advanced technology in electron cyclotron heating systems. Fusion Engineering and Design, 26, 291-317.

102.

Thumm, M.K., Kasparek, W., 2002, Passive high-power microwave components. IEEE Trans. on Plasma Science, 30, 755-786.

103.

Henle, W., Jacobs, A., Kasparek, W., Kumric, H., Müller, G.A., Schüller, P.G., Thumm, M., Engelmann, F., Rebuffi, L., 1991, Conceptual study of multi-megawatt millimeter wave transmission and antenna systems for electron cyclotron wave applications in NET/ITER. Fusion Technology 1990, eds. B.E. Keen, M. Huguet, R. Hemsworth. Elsevier Science Publishers B.V., 238-242.

104.

Kasparek, W., Petelin, M., Erckmann, V., Shchegolkov, D., Bruschi, A., Cirant, S., Litvak, A., Thumm, M., Plaum, B., Grünert, M. Malthaner, M., ECRH Groups at IPP Greifswald, FZK Karlsruhe, IPF Stuttgart, 2007, Fast switching and power combination of high-power electron cyclotron wave beams: principles, numerical results, and experiments, Fusion Science and Technology, 52, 281-290.

105.

Alberti, S., Tran, M.Q., Hogge, J.P., Tran, T.M., Bondeson, A., Muggli, P., Perrenoud, A., Jödicke, B., Mathews, H.G., 1990, Experimental measurements on a 100 GHz frequency tunable quasi-optical gyrotron. Phys. Fluids, B2, 1654-1661.

106.

Hogge, J.P., Tran, T.M., Paris, P.J., Tran, M.Q., 1996, Operation of a quasi-optical gyrotron with a gaussian output coupler. Phys. Plasmas, 3, 3492-3500.

107.

Kreischer, K.E. Temkin, R.J., 1987, Single-mode operation of a high-power, step-tunable gyrotron. Phys. Rev. Lett., 59, 547-550.

108.

Kurbatov, V.I., Malygin, S.A., Vasilyev, E.G., 1990, Commercial gyrotrons for thermo-nuclear investigations. Proc. Int. Workshop on Strong Microwaves in Plasmas, Suzdal, Inst. of Applied Physics, Nizhny Novgorod, 1991, 765-772.

109.

Bogdanov, S.D., Kurbatov, V.I., Malygin, S.A., Orlov, V.B., Tai, E.M., 1993, Industrial gyrotrons development in Salut. Proc. 2nd Int. Workshop on Strong Microwaves in Plasmas, Moscow - Nizhny Novgorod - Moscow, ed. A.G. Litvak, Inst. of Applied Physics, Nizhny Novgorod, 1994, Vol. 2, 830-835. Zapevalov, V.E., Malygin, S.A., Pavelyev, V.G., Tsimring, Sh.E., 1984, Coupled resonator gyrotrons with mode conversion. Radiophys. Quantum Electron., 27, 846-852.

110.

Braz, O., Dammertz, G., Kuntze, M., Thumm, M., 1997, D-band frequency step-tuning of a 1 MW gyrotron using a Brewster output window. Int. J. Infrared and Millimeter Waves, 18, 1465-1477.

111.

Braz, O., Dammertz, G., Henry, S., Kuntze, M., Sato, M., Shimozuma, T., Thumm, M., 1998, Frequency step-tuned operation of a 1 MW, D-band gyrotron using a Brewster output window. Proc. 8th ITG-Conference on Displays and Vacuum Electronics, Garmisch-Partenkirchen, ITG-Fachbericht 150, 299-304.

112.

Thumm, M., Borie, E., Braz, O., Dammertz, G., Dumbrajs, O., Koppenburg, K., Kuntze, M., Piosczyk, B., 1999, 1.6 MW frequency step-tunable D-band gyrotron. Proc. 4th Int. Workshop on Strong Microwaves in Plasmas, Nizhny Novgorod, ed. A.G. Litvak, Inst. of Applied Physics, Russian Academy of Sciences, Nizhny Novgorod, 2000, Vol. 2, 591-609.

113.

Dammertz, G., Dumbrajs, O., Koppenburg, K., Piosczyk, B., Thumm, M., 2000, Frequency-step-tunable high-power gyrotrons for plasma physics applications. J. Comm. Tech. and Electronics, 45, S60-S64.

114.

Dumbrajs, O., Nusinovich, G.S., 1992, Theory of a frequency-step-tunable gyrotron for optimum plasma ECRH. IEEE Trans. Plasma Science, 20, 452-457.

115.

Thumm, M., Arnold, A., Borie, E., Braz, O., Dammertz, G., Dumbrajs, O., Koppenburg, K., Kuntze, M., Michel, G., Piosczyk, B., 2001, Frequency step-tunable (114-170 GHz) megawatt gyrotrons for plasma physics applications. Fusion Engineering and Design, 53, 407-421.

116.

Koppenburg, K., Dammertz, G., Kuntze, M., Piosczyk, B., Thumm, M., 2001, Fast frequency-step-tunable high-power gyrotron with hybrid-magnet-system. IEEE Trans. on Electron Devices, 48, 101-107.

117.

Samartsev, A., Gantenbein, G., Dammertz, G., Illy, S., Kern, S., Leonhardt, W., Schlaich, A., Schmid, M., Thumm, M., 2011, Development of frequency step tunable 1 MW gyrotron at 131 to 146.5 GHz, Proc. 12th IEEE Int. Vacuum Electronics Conference (IVEC 2011), Bangalore, India, P2.22., 269-270.

118.

Gantenbein, G., Dammertz, G., Jelonnek, J., Losert, M., Samartsev, A. Schlaich, A., Scherer, T., Strauss, D., Thumm, M., Wagner, D., 2013, Operation of a step-frequency tunable gyrotron with a diamond Brewster angle output window. Proc. 14th IEEE Int. Vacuum Electronics Conference (IVEC 2013), Paris, France, 7A-2.

119.

Samartsev, A., Dammertz, G., Gantenbein, G., Jelonnek, J., Schlaich, A., Thumm, M., 2013, First operation of a D-band megawatt gyrotron with elliptically brazed diamond window. Proc. 38th Int. Conf. on Infrared, Millimeter and Terahertz Waves (IRMMW-THz 2013), Mainz, Germany, Mo P1-61.

120.

Gantenbein, G., Samartsev, A., Aiello, G., Dammertz, G., Jelonnek, J., Losert, M., Schlaich, A., Scherer, T., Strauss, D., Thumm, M., Wagner, D., 2014, First operation of a step-frequency tunable 1 MW gyrotron with a diamond Brewster angle output window. IEEE Trans. on Electron Devices, 61, No. 6, 1806-1811.

121.

Samartsev, A., Avramidis, K.A., Gantenbein, G., Dammertz, G., Thumm, M., Jelonnek, J., 2015, Efficient frequency step-tunable megawatt-class D-band gyrotron. IEEE Trans. on Electron Devices, 62, No. 7, 2317-2332.

122.

Gantenbein, G., Samartsev, A., Avramidis, K.A., Dammertz, G., Thumm, M., Jelonnek, J., 2015, Efficient frequency step-tunable megawatt-class D-band gyrotron. 40th Int. Conf. on Infrared, Millimeter, and Terahertz Waves (IRMMW-THz 2015), Hong Kong, W2E-1.

123.

Kuftin, A.N., Bogdashov, A.A., Chirkov, A.V., Denisov, G.G., Lygin, V.K., Moiseev, M.A., Zapevalov, V.E., 2001, Development of frequency step tunable 105-170 GHz 1 MW gyrotron. Conf. Digest, 26th Int. Conf. on Infrared and Millimeter Waves, Toulouse, France, 5-230-5-233.

124.

Zapevalov, V.E., Bogdashov, A.A., Chirkov, A.V., Denisov, G.G., Kuftin, A.N., Lygin, M.A., Moiseev, M.A., 2002, Optimization of the frequency step tunable 105-170 GHz 1 MW gyrotron prototype. Proc. 27th Int. Conf. on Infrared and Millimeter Waves, San Diego, USA, 1-2.

125.

Zapevalov, V.E., Bogdashov, A.A., Denisov, G.G., Kuftin, A.N., Lygin, V.K., Moiseev, M.A., Chirkov, A.V., 2004, Development of a prototype of a 1-MW 105-156-GHz multi-frequency gyrotron. Radiophysics and Quantum Electronics, 47, 396-404.

126.

Popov, L.G., Agapova, M.V., Bogdashov, A.A., Denisov, G.G., Gnedenkov, A.Ph., Ilyin, V.I., Ilyin, V.N., Khmara, D.V., Kuftin, A.N., Litvak, A.G., Malygin, S.A., Malygin, V.I., Myasnikov, V.E., Nichiporenko, V.O., Pavelyev, A.B., Rischin, Yu.V., Shamanova, N.A., Solujanova, E.A., Tai, E.M., Usachev, S.V., Zapevalov, V.E., 2005, Status of multi-frequency 105-140 GHz/1 MW/10 s gyrotron and recent test results. Proc. 6th Int. Workshop on Strong Microwaves in Plasmas, Nizhny Novgorod, ed. A.G. Litvak, Inst. of Applied Physics, Russian Academy of Sciences, Nizhny Novgorod, 2006, Vol. 1, 119-124.

127.

Denisov, G.G., Litvak, A.G., Myasnikov, V.E., Tai, E.M., Zapevalov, V.E., Agapova, M.V., Chirkov, A.V., Kuftin, A.N., Malygin, S.A., Malygin, V.I., Nichiporenko, V.O., Pavel'ev, A.B., Parshin, V.V., Soluyanova, E.A., Ilin, V.I., Ilin, V.N., Vikharev, A.L., Usachev, S.V., Usov, V.G., 2008, Development in Russia of high power gyrotrons for plasma fusion installations, Proc. 9th IEEE Int. Vacuum Electronics Conference (IVEC 2008), Monterey, CA, USA, 26-27.

128.

Denisov, G.G., Litvak, A.G., Agapova, M.V., Myasnikov, V.E., Tai, E.M., Zapevalov, V.E., Chirkov, A.V., Kuftin, A.N., Malygin, S.A., Malygin, V.I., Nicniporenko, V.O., Kazansky, I.V., Kruglov, A.V., Rukavishikova, V.G., Knedenkov, A.F., Pavel'ev, A.B., Parsin, V.V., Popov, L.G., Sokolov, E.V., Soluyanova, E.A., Ilin, V.I., Ilin, V.N., Vikharev, A.L., Shamanova, N.A., Usachev, S.V., 2008, Multi-frequency gyrotrons for plasma fusion installations, Proc. 33rd Int. Conf. on Infrared, Millimeter and Terahertz Waves, Pasadena, CA, USA, T2A1.1468.

129.

Litvak, A.G., 2008, High power gyrotrons: development and applications, Proc. 33rd Int. Conf. on Infrared, Millimeter and Terahertz Waves, Pasadena, CA, USA, R1P1.1734.

130.

Denisov, G.G., Litvak, A.G., Myasnikov, V.E., Tai, E.M., Zapevalov, V.E., 2008, Development in Russia of high-power gyrotrons for fusion. Nucl. Fusion, 48, 054007 (5 pp).

131.

Denisov, G.G., Litvak, A.G., Myasnikov, V.E., Tai, E.M., Ilin, V.I., Zapevalov, E.V., 2008, Gyrotrons for fusion research. State of the art and progress trends, Proc. 7th Int. Workshop on Strong Microwaves: Sources and Applications, Nizhny Novgorod, ed. A.G. Litvak, Inst. of Applied Physics, Russian Acad. of Sciences, Nizhny Novgorod, 2009, Vol. 1, pp. 15-26.

132.

Kazansky, I.V., Kruglov, A.V., Malygin, S.A., Orlov, V.B., Solujanova, E.A., Tai, E.M., Belousov, V.I., Chirkov, A.V., Denisov, G.G., Malygin, V.I., Pavelev, A.B., Sokolov, E.V., 2008, Step-tunable experimental gyrotrons at 75 GHz and 140 GHz ranges, Proc. 7th Int. Workshop on Strong Microwaves: Sources and Applications, Nizhny Novgorod, ed. A.G. Litvak, Inst. of Applied Physics, Russian Academy of Sciences, Nizhny Novgorod, 2009, Vol. 1, pp. 100-102.

133.

Litvak, A.G., Denisov, G.G., Myasnikov, V.E., Tai, E.M., Azizov, E.A., Ilin, V.I., 2011, Development in Russia of megawatt power gyrotrons for fusion, J. of Infrared Milli Terahz Waves, 32, 337-342.

134.

Litvak, A.G., Denisov, G.G., Myasnikov, V.E., Tai, E.M., Sokolov, E.V., Ilin, V.I., 2012, Recent development results in Russia of megawatt power gyrotrons for plasma fusion installations. EPJ Web of Conferences, 32, 04003/1-7.

135.

Khvostenko, A.P., Denisov, G.G., Ilin, V.I., Khvostenko, P.P., Kochin, V.A., Malygin, V.I., Myasnikov, V.E., Popov, L.G., Soluyanova, E.A., Tai, E.M., Usachev, S.V., 2012, Test bench for ITER gyrotrons. Measurements of the RF power value during tests of the ITER-prototype gyrotrons. EPJ Web of Conferences, 32, 04021/1-6.

136.

Denisov, G.G., Litvak, A.G., Zapevalov, V.E., Myasnikov, V.E., Tai, E.M., Popov, L.G., Nichiporenko, V.O., Usachev, S.V., Soluyanova, E.A., Kazansky, I.V., Kruglov, A.V., Sokolov, E.V., Ilin, V.I., 2013, Recent results in development in Russia of megawatt power gyrotrons for fusion. Proc. 14th IEEE Int. Vacuum Electronics Conference (IVEC 2013), Paris, France, 6A-1.

137.

Litvak, A.G., Denisov, G.G., Myasnikov, V.E., Tai, E.M., Sokolov, E.V., Ilin, V.I., 2013, New results of megawatt power gyrotrons development. Proc. 38th Int. Conf. on Infrared, Millim. and Terahertz Waves (IRMMW-THz 2013), Mainz, Germany, Tu1-4.

138.

Denisov, G.G., Litvak, A.G., Bakunin, V.L., Chirkov, A.V., Kuftin, A.N., Malygin, V.I., Novozhilova, Yu.V., Zapevalov, V.E., Tai, E.M., Myasnikov, V.E., Popov, L.G., Soluyanova, E.A., Agapova, M.V., Belov, Yu.N., Kazansky, I.V., Kruglov, A.V., Nichiporenko, V.O., Sokolov, E.V., Usachev, S.V., Roy, I.N., 2014, New results and new trends in development of gyrotrons for fusion. 39th Int. Conf. on Infrared, Millimeter and Terahertz Waves (IRMMW-THz 2014), Tucson, AZ, USA, W3_D-25.4.

139.

Denisov, G.G., 2014, Development of gyrotrons for fusion – New results and new trends. Proc. 9th Int. Workshop "Strong Microwaves and Terahertz Waves: Sources and Applications", Nizhny Novgorod, Russia, pp. 7-8.

140.

Denisov, G.G., 2017, Development of gyro-devices at IAP/GYCOM. Proc. 18th IEEE Int. Vacuum Electronics Conference (IVEC 2017), London, UK, GI-1.

141.

Popov, L.G., Chirkov, A.V., Denisov, G.G., Litvak, A.G., Malygin, V.I., Zapevalov, V.E., Agapova, M.V., Belov, Yu.N., Kazansky, I.V., Kuzmin, A.V., Myasnikov, V.E., Nichiporenko, V.O., Sokolov, E.V., Soluyanova, E.A., Tai, E.M., Usachev, S.V., 2017, Super-high power gyrotrons for electron cyclotron plasma heating. Proc. 18th IEEE Int. Vacuum Electronics Conference (IVEC 2017), London, UK, GI-2.

142.

Denisov, G.G., 2017, New trends in gyrotron development. EPJ Web of Conferences, 149, 01001 (2 pp).

143.

Golubev, S.V., Razin, S.V., Semenov, V.E., Smirnov, A.N., Vodopyanov, A.V., Zorin, V.G., 1999, Sources of soft X-rays and multicharged ions based on ECR discharge in heavy gases sustained by high-power gyrotron radiation. Proc. 4th Int. Workshop on Strong Microwaves in Plasmas, Nizhny Novgorod, ed. A.G. Litvak, Inst. of Applied Physics, Russian Academy of Sciences, Nizhny Novgorod, 2000, Vol. 1, 347-355.

144.

Golubev, S.V., Luchin, V.I., Razin, S.V., Salaschenko, N.N., Smirnov, A.N., Vodopyanov, A.V., Zorin, V.G., 1999, Mirror-trapped plasma heated by powerful millimeter wave radiation as an ECR source of soft X-rays. Proc. 4th Int. Workshop on Strong Microwaves in Plasmas, Nizhny Novgorod, ed. A.G. Litvak, Inst. of Applied Physics, Russian Academy of Sciences, Nizhny Novgorod, 2000, Vol. 1, 356-370.

145.

Bohanov, A.F., Golubev, S.V., Izotov, I.V., Razin, S.V., Sidorov, A.V., Skalyga, V.A., Vodopyanov, A.V., Zorin, V.G., 2005, ECR ion source with quasi-gasdynamic plasma confinement regime. Proc. 6th Int. Workshop on Strong Microwaves in Plasmas, Nizhny Novgorod, ed. A.G. Litvak, Inst. of Applied Physics, Russian Academy of Sciences, Nizhny Novgorod, 2006, Vol. 2, 657-665.

146.

Vodopyanov, A.V., Golubev, S.V., Mansfeld, D.A., Nikolaev, A.G., Oks, E.M., Khizhnyak, V.I., Yushkov, G.Yu., 2007, Multiple ionization of vacuum-arc-generated metal ions in a magnetic trap heated by high-power microwave radiation. Techn. Phys. Letters, 33, 44-49.

147.

Ciavola, G., Gammino, S., Celona, L., 2008, ECR multicharged ion sources of new generation, Proc. 7th Int. Workshop on Strong Microwaves: Sources and Applications, Nizhny Novgorod, ed. A.G. Litvak, Inst. of Applied Physics, Russian Academy of Sciences, Nizhny Novgorod, 2009, Vol. 2, pp. 442-453.

148.

Zorin, V.G., Bokhanov, A.F., Golubev, S.V., Izotov, I.V., Mansfeld, D.A., Razin, S.V., Sidorov, A.V., Skalyga, V.A., Vodopyanov, A.V., 2008, Gasdynamic ECR sources of multicharged ions, Proc. 7th Int. Workshop on Strong Microwaves: Sources and Applications, Nizhny Novgorod, ed. A.G. Litvak, Inst. of Applied Physics, Russian Academy of Sciences, Nizhny Novgorod, 2009, Vol. 2, pp. 587-591.

149.

Zorin, V.G., Skalyga, V.A., Izotov, I.V., Razin, S.V., Sidorov, A.V., Lamy, T., Thuillier, T., 2011, ECR breakdown of heavy gases in open mirror trap. Transactions of Fusion Science and Technology, 59, 140-143.

150.

Yushkov, G.Yu., Savkin, K. P , Nikolaev, A.G., Oks, E.M., Vodopyanov, A.V., Izotov, I.V., Mansfeld, D.A., 2011, Formation of multicharged metal ions in vacuum arc plasma heated by gyrotron radiation. Plasma Science and Technology, 13, No. 5, 596-599.

151.

Vodopyanov, A.V., Izotov, I.V., Mansfeld, D.A., Yushkov, G. Yu., 2012, Multicharged ion source based on Penning-type discharge with electron cyclotron resonance heating by millimeter waves. Review of Scientific Instruments, 83, 02A325 (3 pp).

152.

Higurashi, Y., Ohnishi, J., Nakagawa, T., Haba, H., Tamura, M., Aihara, T., Fujimaki, M., Komiyama, M., Uchiyama, A., Kamigaito, O., 2012, Production of a highly charged uranium ion beam with RIKEN superconducting electron cyclotron resonance ion source. Review of Scientific Instruments, 83, 02A333 (3 pp).

153.

Chkhalo, N.I., Golubev, S.V., Mansfeld, D., Salashchenko, N.N., Sjmaenok, L.A., Vodopyanov, A.V., 2012, Source for extreme ultraviolet lithography based on plasma sustained by millimeter-wave gyrotron radiation. J. Micro/Nanolith. MEMS MOEMS, 11, 021123 (7 pp).

154.

Yushkov, G.Yu., Vodopyanov, A.V., Nikolaev, A.G., Izotov, I.V., Savkin, K.P., Golubev, S.V., Oks, E.M., 2013, Gyrotron microwave heating of vacuum arc plasma for high-charge-state metal ion beam generation. IEEE Trans. on Plasma Science, 41, No. 8, 2081-2086.

155.

Glyavin, M.Yu., Golubev, S.V., Izotov, I.V., Litvak, A.G., Luchinin, A.G., Razin, S.V., Sidorov, A.V., Skalyga, V.A., Vodopyanov, A.V., 2014, A point-like source of extreme ultraviolet radiation based on a discharge in a non-uniform gas flow, sustained by powerful gyrotron radiation of terahertz frequency band. Applied Physics Letters, 105, 174101 (4 pp).

156.

Glyavin, M.Yu., Golubev, S.V., Sidorov, A.V., Razin, S.V., Fokin, A.P., Luchinin, A.G., Litvak, A.G., Morozkin, M.V., Vodopyanov, A.V., Semenov, V.E., Rakova, E.I., Nusinovich, G.S., Tsvetkov, A.I., 2015, Experimental investigation of powerful THz gyrotrons for initiation of localized gas discharge. 40th Int. Conf. on Infrared, Millimeter, and Terahertz Waves (IRMMW-THz 2015), Hong Kong, WS-5.

157.

Skalyga, V., Izotov, I., Golubev, S., Vodopyanov, A., Tarvainen, O., 2016, First experiments with gasdynamic ion source in CW mode. Review of Scientific Instruments, 87, 02A715 (3 pp).

158.

Skalyga, V., Izotov, I., Golubev, S., Sidorov, A., Razin, S., Vodopyanov, A., Tarvainen, O., Koivisto, H., Kalvas, T., 2016, New progress of high current gasdynamic ion source (invited). Review of Scientific Instruments, 87, 02A716 (4 pp).

159.

Skalyga, V.A., Izotov, I.V., Sidorov, A.V., Golubev, S.V., Razin, S.V., 2017, Study of hydrogen ECR plasma in a simple mirror magnetic trap heated by 75 GHz pulsed gyrotron radiation. Review of Scientific Instruments, 88, 033503 (5 pp).

160.

Sidorov, A.V., Zorin, V.G., Izotov, I.V., Razin, S.V., Skalyga, V.A., 2010, Generation of high-current beam of multiply charged ions from a dense plasma produced by high-power millimeter-wave gyrotron radiation under ECR conditions. Technical Physics, 55, No. 10, 1540-1542.

161.

Sun, L., Zhao, H.W., Guo, J.W., 2017, Gyrotron frequency ECRIS development and future challenges. EPJ Web of Conferences, 149, 02005 (2 pp).

162.

Tsvetkov, A.I., Eremeev, A.G., Kholoptsev, V.V., Shmelev, M.Yu., Plotnikov, Yu.V., Bykov, Y.V., Kopelovich, E.A., Novikov, A.Yu., Troitskiy, M.M., Kuznetsov, M.V. Zhurin, K.A., Fokin, A.P., Morozkin, M.V., Glyavin, M.Yu., Bakulin, M.I., Denisov, G.G., Soluyanova, E.A., Tai, E.M., 2017, 45 GHz/20 kW gyrotron-based setup with automated output power control for ECR ion source. EPJ Web of Conferences, 149, 04032 (2 pp).

163.

Glyavin, M., Tsvetkov, A., Eremeev, A., Kholoptsev, V., Bykov, Y., Denisov, G., Kopelovich, E., Tai, E.M., 2017, 45 GHz/20 kW gyrotron-based microwave generator for ECR ion source. Proc. 42nd Int. Conf. on Infrared, Millimeter, and Terahertz Waves (IRMMW-THz 2017), Cancun, Mexico, RD36.

164.

Denisov, G.G., Glyavin, M.Yu., Tsvetkov, A.I., Eremeev, A.G., Kholoptsev, V.V., Plotnikov, I.V., Bykov, Y.V., Orlov, V.B., Morozkin, M.V., Shmelev, M.Yu., Kopelovich, A.A., Troitskiy, M.M., Kuznetsov, M.V., Zhurin, K.A., Novikov, A.Yu., Bakulin, M.I., Sobolev, D.I., Tai, E.M., Soluyanova, E.A., Sokolov, E.V., 2018, A 45 GHz/20 kW gyrotron-based microwave setup for the fourth-generation ECR ion sources. IEEE Trans. on Electron Devices, 2018, 65, No. 9, 3963-3969.

165.

Zhao, H.W., Sun, L.T., Guo, J.W., Zhang, W.H., Lu, W., Wu, W., Wu, B.M., Sabbi, G., Juchno, M., Hafalia, A., Ravaioli, E., Xie, D.Z., 2018, Superconducting ECR ion source: From 24-28 GHz SECRAL to 45 GHz fourth generation ECR. Review of Scientific Instruments, 89, No. 5, 052301 (10 pp).

166.

Flyagin, V.A., Kuftin, A.N., Luchinin, A.G., Nusinovich, G.S., Pankratova, T.B., Zapevalov, V.E., 1989, Gyrotrons for electron cyclotron heating and active plasma diagnostics. Proc. Joint IAEA Techn. Committee Meeting on ECE and ECRH (EC-7 Joint Workshop), Hefei, P.R. China, 355-372.

167.

Flyagin, V.A., Luchinin, A.G., Nusinovich, G.S., 1983, Submillimeter-wave gyrotrons: theory and experiment. Int. J. Infrared and Millimeter Waves, 4, 629-637.

168.

Glyavin, M.Yu., Luchinin, A.G., 2007, A terahertz gyrotron with pulsed magnetic field, Radiophysics and Quantum Electronics, 50, 755-761.

169.

Glyavin, M.Yu., Luchinin, A.G., Golubiatnikov, G.Yu., 2008, Generation of 1.5-kW, 1-THz coherent radiation from a gyrotron with a pulsed magnetic field, Physical Review Letters, 100, 015101(3 pp).

170.

Glyavin, M.Yu., Luchinin, A.G., 2008, 1.3 THz gyrotron with a pulsed magnet, Proc. 7th Int. Workshop on Strong Microwaves: Sources and Applications, Nizhny Novgorod, ed. A.G. Litvak, Inst. of Applied Physics, Russian Academy of Sciences, Nizhny Novgorod, 2009, Vol. 1, pp. 108-116.

171.

Glyavin, M.Yu., Luchinin, A.G., 2009, Powerful terahertz gyrotrons based on pulsed magnets. Terahertz Science and Technology, 2, 150-155.

172.

Bratman, V., Glyavin, M., Idehara, T., Kalynov, Y., Luchinin, A., Manuilov, V., Mitsudo, S., Ogawa, I., Saito, T., Tatematsu, Y., Zapevalov, V., 2009, Review of subterahertz and terahertz gyrodevices at IAP RAS and FIR FU, IEEE Trans. on Plasma Science, 37, 36-43.

173.

Bratman, V.L., Kalynov, Yu.K., Manuilov, V.N., 2009, Large-orbit gyrotron operation in the terahertz frequency range, Physical Review Letters, 102, 245101-1 – 2045101-4.

174.

Bratman, V.L., Glyavin, M.Yu., Kalynov, Yu.K., Litvak, A.G., Luchinin, A.G., Savilov, A.V., Zapevalov, V.E., 2011, Terahertz gyrotrons at IAP RAS: Status and new designs, J. of Infrared Milli Terahz Waves, 32, 371-379.

175.

Glyavin, M.Yu., Luchinin, A.G., 2011, High power pulsed terahertz gyrotrons, Proc. 8th Int. Workshop Strong Microwaves and Terahertz Waves: Sources and Applications, Nizhny Novgorod – St. Petersburg, Russia, July 9-16, 2011, pp. 59-60.

176.

Bratman, V.L., Bogdashov, A.A., Denisov, G.G., Glyavin, M.Yu., Kalynov, Yu.K., Luchinin, A.G., Manuilov, V.N., Zapevalov, V.E., Zavolsky, N.A., Zorin, V.G., 2012, Gyrotron development for high power THz technologies at IAP RAS. J. Infrared Milli Terahz Waves, 33, 715-723.

177.

Glyavin, M.Yu., Denisov, G.G., Zapevalov, V.E., Kuftin, A.N., Luchinin, A.G., Manuilov, V.N., Morozkin, M.V., Sedov, A.S., Chirkov, A.V., 2014, Terahertz gyrotrons: State of the art and prospects. J. Communications Technology and Electronics, 59, No. 8, 792-797.

178.

Glyavin, M.Yu., 2017, Development and applications of THz gyrotrons. EPJ Web of Conferences, 149, 01008 (2 pp).

179.

Glyavin, M., Denisov, G., 2017, Development of high power THz band gyrotrons and their applications in physical research. Proc. 42nd Int. Conf. on Infrared, Millimeter, and Terahertz Waves (IRMMW-THz 2017), Cancun, Mexico, RC2.1.

180.

Glyavin, M.Yu., Denisov, G.G., Khazanov, E.A., 2018, From millimeter to microns – IAP RAS powerful sources for various applications. EPJ Web of Conferences, 195, 00001 (2 pp).

181.

Glyavin, M., Denisov, G., 2018, Terahertz gyrotrons with unique parameters. Proc. 43rd Int. Conf. on Infrared, Millimeter, and Terahertz Waves (IRMMW-THz 2018), Nagoya, Japan, We-A2-4-1.

182.

Idehara, T., Tatsukawa, T., Ogawa, I., Shimizu, Y., Nishida, N., Yoshida, K., 1996, Development and applications of submillimeter wave gyrotrons. Proc. 3rd Int. Workshop on Strong Microwaves in Plasmas, Nizhny Novgorod, 1997, Vol.2, 634-659.

183.

Ogawa, I., Iwata, M., Idehara, T., Kawahata, K., Iguchi, H., Ejiri, A., 1997, Plasma scattering measurement using a submillimeter wave gyrotron (Gyrotron FUII) as a power source. Fusion Engineering and Design, 34-35, 455-458.

184.

Shimizu, Y., Ichikawa, K., Shibutani, K., Karuhashi, K., Tatsukawa, T., Idehara, T., Ogawa, I., Okazaki, Y., Okamoto, T., 1997, Submillimetre wave gyrotron (Gyrotron FU IV) for plasma diagnostics. Fusion Engineering and Design, 34-35, 459-462.

185.

Idehara, T., Ogawa, I., Mitsudo, S., Sabchevski, S., Kitai, A., Kitai, K., 2001, Development and applications of submillimeter wave gyrotrons (FU Series). Proc. 9th Int. Conf. Displays and Vacuum Electronics, Garmisch-Partenkirchen, ITG-Fachbericht 165, 177-182.

186.

Idehara, T., Kamada, M., Tsuchiya, H., Hayashi, T., Agusu, La, Mitsudo, S., Ogawa, I., Manuilov, V.N., Naito, K., Yuyama, T., Jiang, W., Yatsui, K., 2005, Development of THz gyrotrons in FIR FU. Proc. 6th Int. Workshop on Strong Microwaves in Plasmas, Nizhny Novgorod, ed. A.G. Litvak, Inst. of Applied Physics, Russian Academy of Sciences, Nizhny Novgorod, 2006, Vol. 1, 141-149.

187.

Idehara, T., Saito, T., Ogawa, I., Mitsudo, S., Tatematsu, Y., 2008, THz gyrotrons – FU CW series for high power THz technologies, Proc. 33rd Int. Conf. on Infrared, Millimeter and Terahertz Waves, Pasadena, CA, USA, M2A3.1267.

188.

Notake, T., Saito, T., Tatematsu, Y., Kubo, S., Shimozuma, T., Tanaka, K., Nishiura, M., Fujii, A., Agusu, L., Ogawa, I., Idehara, T., 2008, Subterahertz gyrotron developments for collective Thomson scattering in LHD. Review of Scientific Instruments, 79, 10E732-1-3.

189.

Idehara, T., Ogawa, I., Mitsudo, S., Tatematsu, Y., Saito, T., 2008, Development and applications of THz gyrotrons, Proc. 7th Int. Workshop on Strong Microwaves: Sources and Applications, Nizhny Novgorod, ed. A.G. Litvak, Inst. of Applied Physics, Russian Academy of Sciences, Nizhny Novgorod, 2009, Vol. 1, pp. 40-46.

190.

Idehara, T., Ogawa, I., Mitsudo, S., Tatematsu, Y., Furuya, T., Saito, T., 2009, High power THz technologies using gyrotrons as radiation sources, Proc. 34th Int. Conf. on Infrared, Millimeter and Terahertz Waves, Busan, Korea, W3D01.0047.

191.

Notake, T., Saito, T., Tatematsu, Y., Fujii, A., Ogasawara, S., La Augusu, Ogawa, I., Idehara, T., 2009, Development of a novel high power sub-THz second harmonic gyrotron, Physical Review Letters, 225002-1-4.

192.

Saito, T., Notake, T., Tatematsu, Y., Fujii, A., Ogasawara, S., Agusu, L., Idehara, T., Manuilov, V.N., 2009, Generation of high power sub terahertz radiation from a gyrotron at second harmonic resonance, Proc. 34th Int. Conf. on Infrared, Millimeter and Terahertz Waves, Busan, Korea, R4D05.0089.

193.

Saito, T., Tatematsu, Y., Ogasawara, S., Yamada, N., Fujii, A., Idehara, T., Manuilov, V.N., 2010, Development of high power sub terahertz gyrotrons for application to CTS measurement, Proc. 35th Int. Conf. on Infrared, Millimeter and Terahertz Waves, Rome, Italy, Th-E1.5.

194.

Idehara, T., Horii, F., Fujii, Y., Ogawa, I., Saito, T., Fujiwara, T., Suehara, T., Dupree, R., 2011, High power THz technologies opened by high power radiation sources – Gyrotron FU CW series, Proc. 8th Int. Workshop Strong Microwaves and Terahertz Waves: Sources and Applications, Nizhny Novgorod – St. Petersburg, Russia, July 9-16, 2011, Invited S1, pp. 61-62.

195.

Saito, T., Tatematsu, Y., Yamada, N., Ogasawara, S., Ikeda, R., Ogawa, I., Idehara, T., Manuilov, V.N., 2011, Development of high power gyrotrons in the sub terahertz region for application to CTS measurement, Proc. 8th Int. Workshop Strong Microwaves and Terahertz Waves: Sources and Applications, Nizhny Novgorod – St. Petersburg, Russia, July 9-16, 2011, pp. 65-66.

196.

Tatematsu, Y., Yamaguchi, Y., Idehara, T., Ozeki, T., Ikeda, R., Kanemaki, T., Ogawa, I., Saito, T., 2012, Development of a kW level-200 GHz gyrotron FU CW GI with an internal quasi-optical mode converter. J. Infrared Milli Terahz Waves, 33, 292-305.

197.

Saito, T., Ogasawara, S., Yamada, N., Ikeuchi, S., Tatematsu, Y., Ikeda, R., Ogawa, I., Manuilov, V.N., 2012, New power records of sub-terahertz gyrotron with second-harmonic oscillation. Plasma and Fusion Research: Rapid Communications, 7, 126003-1 (3 pages).

198.

Saito, T., Tatematsu, Y., Yamaguchi, Y., Ikeuchi, S., Ogasawara, S., Yamada, N., Ikeda, R., Ogawa, I., Idehara, T., 2012, Observation of dynamic interactions between fundamental and second-harmonic modes in a high-power sub-terahertz gyrotron operating in regimes of soft and hard self-excitation. Physical Review Letters, 109, 155001-1 (5 pp).

199.

Saito, T., Yamada, N., Ikeuti, S., Ogasawara, S., Tatematsu, Y., Ikeda, R., Ogawa, I., Idehara, T., Manuilov, V.N., Shimozuma, T., Kubo, S., Nishiura, M., Tanaka, K., Kawahata, K., 2012, Generation of high power sub-terahertz radiation from a gyrotron with second harmonic oscillation. Physics of Plasmas, 19, 063106 (9 pp).

200.

Idehara, T., Sabchevski, S.P., 2012, Development and applications of high-frequency gyrotrons in FIR FU covering the sub-THz to THz range. J. Infrared Milli Terahz Waves, 33, 667-694.

201.

Idehara, T., Mudiganti, J.C., Agusu, L., Kanemaki, T., Ogawa, I., Fujiwara, T., Matsuki, Y., Ueda, K., 2012, Development of a compact sub-THz gyrotron FU CW CI for application to high power THz technologies. J. Infrared Milli Terahz Waves, 33, 724-744.

202.

Saito, T., Yamada, N., Ikeuchi, S., Ogasawara, S., Yamaguchi, Y., Tatetmatsu, Y., Ikeda, R., Ogawa, I., 2012, Mode competition and cooperation in high power sub-THz gyrotrons, 37th Int. Conf. on Infrared, Millimeter and Terahertz Waves (IRMMW-THz 2012), Wollongong, Australia, 2012, Tue-A-3-4.

203.

Ikeda, R., Tatematsu, Y., Idehara, T., Yamaguchi, Y., Ogawa, I., Saito, T., 2012, Development of a table-top 200 GHz gyrotron FU CW CII with an internal mode converter, 37th Int. Conf. on Infrared, Millimeter and Terahertz Waves (IRMMW-THz 2012), Wollongong, Australia, 2012, Mon-C-3-5.

204.

Yamaguchi, Y., Saito, T., Tatematsu, Y., Ikeuchi, S., Yamada, N., Ikeda, R., Ogawa, I., Idehara, T., 2012, Development of a high-power 295 GHz fundamental-harmonic gyrotron, 37th Int. Conf. on Infrared, Millimeter and Terahertz Waves (IRMMW-THz 2012), Wollongong, Australia, 2012, Tue-A-3-5.

205.

Saito, T., Yamaguchi, Y., Ikeuchi, S., Kasa, J., Tatemetsu, Y., Ikeda, R., Ogawa, I., Idehara, T., Kubo, S., Shimozuma, T., Nishiura, M., Tanaka, K., 2013, Experimant for over 200 kW oscillation of a 295 GHz pulse gyrotron. Proc. 38th Int. Conf. on Infrared, Milli-meter and Terahertz Waves (IRMMW-THz 2013), Mainz, Germany, Mo5-3.

206.

Tatematsu, Y., Yamaguchi, Y., Idehara, T., Kawase, T., Ichioka, R., Ogawa, I., Saito, T., Fujiwara, T., 2014, Development of second harmonic gyrotrons, Gyrotron FU CW GII and Gyrotron FU CW GIII, equipped with internal mode converters. J Infrared Milli Terahz Waves, 35, No. 2, 169-178.

207.

Tatematsu, Y., Yamaguchi, Y., Idehara, T., Kawase, T., Ogawa, I., Saito, T., Fujiwara, T., 2014, Characteristics of the mode converter of Gyrotron FU CW GII radiating Gaussian beams in both the fundamental and second harmonic frequency bands. J Infrared Milli Terahz Waves, 35, No. 6-7, 517-524.

208.

Tatematsu, Y., Yamaguchi, Y., Kawase, T., Ichioka, R., Ogawa, I., Idehara, T., 2014, Analysis of oscillation characteristics and optimal conditions for high power operation of Gyrotron FU CW GIII. Physics of Plasmas, 21, 083113 (6 pp).

209.

Tatematsu, Y., Yamaguchi, Y., Ichioka, R., Ogawa, I., Idehara, T., Saito, T., 2014, Development of a multiple-frequency gyrotron, Gyrotron FU CW GV. 39th Int. Conf. on Infrared, Millim. and Terahertz Waves (IRMMW-THz 2014), Tucson, AZ, USA, W4_D-25.9.

210.

Saito, T., Yamaguchi, Y., Tatematsu, Y., Kasa, J., Kotera, M., Ikeuchi, S., Idehara, T., Kubo, S., Shimozuma, T., Tanaka, K., Nishiura, M., 2014, High power oscillation experiment of a prototype gyrotron for 300 GHz band collective Thomson scattering diagnostics in LHD. 39th Int. Conf. on Infrared, Millimeter and Terahertz Waves (IRMMW-THz 2014), Tucson, AZ, USA, W4_D-25.17.

211.

Yamaguchi, Y., Saito, T., Tatematsu, Y., Ikeuchi, S., Manuilov, V.N., Kasa, J., Kotera, M., Idehara, T., Kubo, S., Shimozuma, T., Tanaka, K., Nishiura, M., 2015, High-power pulsed gyrotron for 300 GHz-band collective Thomson scattering diagnostics in the Large Helical Device. Nucl. Fusion, 55, 013002 (10 pp).

212.

Tatematsu, Y., Yamaguchi, Y., Ichioka, R., Kotera, M., Saito, T., Idehara, T., 2015, Development of the multifrequency gyrotron FU CW GV with Gaussian beam output. J Infrared Milli Terahz Waves, 36, 697-708.

213.

Saito, T., Kasa, J., Yamaguchi, Y., Tatematsu, Y., Kotera, M., Kubo, S., Shimozuma, T., Tanaka, K., Nishiura, M., 2015, Development of a high power 300 GHz band gyrotron for practical use in collective Thomson scattering diagnostics in LHD. 40th Int. Conf. on Infrared, Millimeter, and Terahertz Waves (IRMMW-THz 2015), Hong Kong, H1E-2.

214.

Saito, T., Yamaguchi, Y., Tatematsu, Y., Hirobe, T., Fukunari, M., Kasa, J., Kubo, S., Shimozuma, T., Tanaka, K., Nishiura, M., 2016, High power oscillation of 300 GHz band gyrotron for practical use in Collective Thomson Scattering in LHD. Proc. 41st Int. Conf. on Infrared, Millimeter and Terahertz Waves (IRMMW-THz 2016), September 25-30, 2016, Copenhagen, Denmark, H4B.1.

215.

Saito, T., Yamaguchi, Y., Fukunari, M., Tatemetsu, Y., Hirobe, T., Shinbayashi, R., Tanaka, S., Kubo, S., Shimozuma, T., Tanaka, K., Nishiura, M., 2017, Design consideration and oscillation characteristics of high-power 300 GHz gyrotron. Proc. 42nd Int. Conf. on Infrared, Millimeter, and Terahertz Waves (IRMMW-THz 2017), Cancun, Mexico, RA2.1.

216.

Idehara, T., I. Ogawa, I., Wagner, D., Thumm, M., Kosuga, K., Sabchevski, S.P., 2018, High purity mode CW gyrotron covering the subterahertz to terahertz range using a 20 T superconducting magnet. IEEE Trans. on Electron Devices, 65, No. 8, 3486-3491.

217.

Idehara, T., Sabchevski, S.P., 2018, Development and application of gyrotrons at FIR UF. IEEE Trans. on Plasma Science, 46, No. 7, 2452-2459.

218.

Tatematsu, Y., 2018, Recent progress in development and application of sub-THz gyrotrons in University of Fukui. EPJ Web of Conferences, 195, 01018 (2 pp).

219.

Tatemetsu, Y., Takayama, K., Maeda, Y., Ueyama, T., Ogura, T., Fukunari, M., Yamaguchi, Y., Saito, T., 2018, Development of a second harmonic multi-frequency gyrotron with Gaussian beam output. Proc. 43rd Int. Conf. on Infrared, Millimeter, and Terahertz Waves (IRMMW-THz 2018), Nagoya, Japan, Tu-P2-R1-5.

220.

Bajaj, V.S., Farrar, C.T., Hornstein, M.K., Mastovsky, I., Vieregg, J., Bryant, J., Eléna, B., Kreischer, K.E., Temkin, R.J., Griffin, R.G., 2003, Dynamic nuclear polarization at 9 T using a novel 250 GHz gyrotron microwave source. J. of Magnetic Resonance, 160, 85-90.

221.

Hornstein, M.K., Bajaj, V.S., Griffin, R.G., Kreischer, K.E., Mastovsky, I., Shapiro, M.A., Sirigiri, J.R., Temkin, R.J., 2004, Harmonic results of a 460 GHz gyrotron. 5th IEEE Int. Vacuum Electronics Conf. (IVEC 2004), Monterey, CA, USA, 26-27.

222.

Hornstein, M.K., Bajaj, V.S., Griffin, R.G., Kreischer, K.E., Mastovsky, I., Shapiro, M.A., Sirigiri, J.R., Temkin, R.J., Woskov, P.P., 2004, CW results of a 460 GHz second harmonic gyrotron oscillator – for sensitivity enhanced NMR –. Conf. Digest 29th Int. Conf. on Infrared and Millimeter Waves and 12th Int. Conf. on Terahertz Electronics, Karlsruhe, Germany, 147-148.

223.

Hornstein, M.K., Bajaj, V.S., Kreischer, K.E., Griffin, R.G., Temkin, R.J., 2005, CW second harmonic results at 460 GHz of a gyrotron oscillator – for sensitivity enhanced NMR –. Conf. Digest 30th Int. Conf. on Infrared and Millimeter Waves and 13th Int. Conf. on Terahertz Electronics, Williamsburg, VA, USA, 437-438.

224.

Hornstein, M.K., Bajaj, V.S., Griffin, R.G., Kreischer, K.E., Mastovsky, I., Shapiro, M.A., Sirigiri, J.R., Temkin,R.J., 2005, Second harmonic operation at 460 GHz and broadband continuous frequency tuning of a gyrotron oscillator. IEEE Trans. on Electron Devices, 52, 798-807.

225.

Han, S.T., Joye, C.D., Mastovsky, I., Shapiro, M.A., Sirigiri, J.R., Temkin, R.J., Woskov, P.P., 2006, Stable operation of a 0.46 THz continuous wave gyrotron oscillator. Proc. Int. Vacuum Electronics Conference and Int. Vacuum Electron Sources (IVEC/IVESC 2006), Monterey, California, USA, 539-540.

226.

Joye, C.D., Griffin, R.G., Hornstein, M.K., Hu, K.N., Kreischer, K.E., Rosay, M., Shapiro, M.A., Sirigiri, J.R., Temkin, R.J., Woskov, P.P., 2006, Operational characteristics of a 14-W 140-GHz gyrotron for dynamic nuclear polarization. IEEE Trans. on Plasma Science, 34, 518-523.

227.

Hornstein, M.K., Bajaj, V.S., Griffin, R.G., Temkin, R.J., 2006, Continuous-wave operation of a 460-GHz second harmonic gyrotron oscillator. IEEE Trans. on Plasma Science, 34, 524-533.

228.

Hornstein, M.K., Bajaj, V.S., Griffin, R.G., Temkin, R.J., 2007, Efficient low-voltage operation of a CW gyrotron oscillator at 233 GHz. IEEE Trans. on Plasma Science, 35, 27-30.

229.

Han, S.T., Griffin, R.G., Hu, K.N., Joo, C.-G., Joye, C.D., Sirigiri, J.R., Temkin, R.J., Torrezan, A.C., Woskov, P.O., 2007, Spectral characteristics of a 140 GHz long-pulsed gyrotron, IEEE Trans. on Plasma Science, 35, 559-564.

230.

Bajaj, V.S., Hornstein, M.K., Kreischer, K.E., Sirigiri, J.R., Woskov, P.O., Mark-Jurkauskas, M.L., Herzfeld, J., Temkin, R.J., Griffin, R.G., 2007, 250 GHz CW gyrotron oscillator for dynamic nuclear polarization in biological solid state NMR, J. of Magnetic Resonance, 189, 251-279.

231.

Torrezan, A.C., Han, S.T., Shapiro, M.A., Sirigiri, J.R., Temkin, R.J., 2008, CW operation of a tunable 330/460 GHz gyrotron for enhanced nuclear magnetic resonance, Proc. 33rd Int. Conf. on Infrared, Millimeter and Terahertz Waves, Pasadena, CA, USA, T5D33.1271.

232.

Torrezan, A.C., Han, S.-T., Mastovsky, I., Shapiro, M.A., Sirigiri, J.R., Temkin, R.J., Barnes, A.B., Griffin, R.G., 2010, Continuous-wave operation of a frequency-tunable 460-GHz second-harmonic gyrotron for enhanced nuclear magnetic resonance, IEEE Trans. on Plasma Science, 38, 1150-1159.

233.

Torrezan, A.C., Shapiro, M.A., Sirigiri, J.R., Temkin, R.J., 2010, Operation of a tunable second-haramonic 330 GHz CW gyrotron, Proc. 11th IEEE Int. Vacuum Electronics Conference (IVEC 2010), Monterey, USA, pp. 199-200.

234.

Griffin, R.G., 2011, Dynamic nuclear polarization at 9 T using a novel 250 gyrotron microwave source. Journal of Magnetic Resonance, 213, 410-412.

235.

Temkin, R., Barnes, A., Griffin, R., Jawla, S., Mastovsky, I., Nanni, E., Shapiro, M., Torrezan, A., Woskov, P., 2011, Recent progress at MIT on THz gyrotron oscillators for DNP/NMR, Proc. 36th Int. Conf. on Infrared, Millimeter and Terahertz Waves (IRMMW-THz 2011), Houston, TX, USA, W3A.1.

236.

Barnes, A.B., Markhasin, E., Daviso, E., Michaelis, V.K., Nanni, E.A., Jawla, S.K., Mena, E.L., DeRocher, R., Thakkar, A., Woskov, P.P., Herzfeld., J., Temkin R.J., Griffin, R.G., 2012, Dynamic nuclear polarization at 700 MHz/460 GHz. J. of Magnetic Res., 224, 1-7.

237.

Barnes, A.B., Nanni, E.A., Herzfeld, J., Griffin, R.G., Temkin, R.J., 2012, A 250 GHz gyrotron with a 3 GHz tuning bandwidth for dynamic nuclear polarization. J. of Magnetic Resonance, 221, 147-153.

238.

Barnes, A.B., Nanni, E.A., Jawla, S., Ni, Q.Z., Herzfeld, J., Griffin, R.G., Temkin, R.J., 2012, A novel high power 3 GHz tunable 250 GHz gyrotron for dynamic nuclear polarization, Proc. 13th IEEE Int. Vacuum Electronics Conference and 9th IEEE Int. Vacuum Electron Sources Conference (IVEC-IVESC 2012), Monterey, CA, USA, pp. 329-330.

239.

Jawla, S., Ni, Q.Z., Barnes, A., Guss, W., Daviso, E., Herzfeld, J., Griffin, R., Temkin, R., 2013, Continuously tunable 250 GHz gyrotron with a double disk window for DNP-NMR spectroscopy. J. Infrared Milli Terahz Waves, 34, 42-52.

240.

Temkin, R., 2014, THz gyrotrons and their applications. 39th Int. Conf. on Infrared, Millimeter and Terahertz Waves (IRMMW-THz 2014), Tucson, AZ, USA, P-25.1.

241.

Jawla, S.K., Guss, W.C., Shapiro, M.A., Temkin, R.J., 2014, Design and experimental results from a 527 GHz gyrotron for DNP-NMR spectroscopy. 39th Int. Conf. on Infrared, Millimeter and Terahertz Waves (IRMMW-THz 2014), Tucson, AZ, USA, W4_D-25.12.

242.

Jawla, S., Resse, M., George, C., Yang, C., Shapiro, M.m Griffin, R., Temkin, R., 2016, 330 GHz / 500-MHz dynamic nuclear polarization – NMR spectrometer. 17th IEEE International Vacuum Electronics Conference (IVEC 2016), April 19-21, 2016, Monterey, CA, USA, Invited Keynote, P4.10.

243.

Blank, M., Borchard, P., Cahalan, P., Cauffman, S., Felch, K., Rosay, M., Tometich, L., 2009, Demonstration of a 263 GHz gyrotron for dynamic nuclear polarization, Proc. 34th Int. Conf. on Infrared, Millimeter and Terahertz Waves, Busan, Korea, W3D02.0122.

244.

Rosay, M., Tometich, L., Pawsey, S., Bader, R., Schauwecker, R., Blank, M., Borchard, P.M., Cauffman, S.R., Felch, K.L., Weber, R.T., Temkin, R.J., Griffin, R.G., Maas, W.E., 2010, Solid-state dynamic nuclear polarization at 263 GHz: Spectrometer design and experimental results, Phys. Chem. Chem. Phys., 12, 5850-5860.

245.

Blank, M., Borchard, P., Cauffman, S., Felch, K., Rosay, M., Tometich, L., 2012, High-frequency CW gyrotrons for NMR/DNP applications, Proc. 13th IEEE Int. Vacuum Electronics Conference and 9th IEEE Int. Vacuum Electron Sources Conference (IVEC-IVESC 2012), Monterey, CA, USA, pp. 327-328.

246.

Booske, J.H., Dobbs, R.J., Joye, C.D., Kory, C.L., Neil, G.R., Park, G.S., Park, J., Temkin, R.J., 2011, Vacuum electronic high power terahertz sources, IEEE Trans. on Terahertz Science and Technology, 1, 54-75.

247.

Nusinovich, G., 2011, Terahertz gyrotrons, Proc. 36th Int. Conf. on Infrared, Millimeter and Terahertz Waves (IRMMW-THz 2011), Houston, TX, USA, W1.1.

248.

Felch, K., Blanck, M., Borchard, P., Cauffman, S., Rosay, M., Tometich, L., 2013, First tests of a 527 GHz gyrotron for dynamic nuclear polarization. Proc. 14th IEEE Int. Vacuum Electronics Conference (IVEC 2013), Paris, France, 1B-1.

249.

Blank, M., High-frequency gyrotrons for DNP-enhanced NMR applications. 2014, Proc. 15th IEEE Int. Vacuum Electronics Conference (IVEC 2014), Monterey, CA, USA, PL4. Blank, M., Borchard, P., Cauffman, S., Felch, K., Rosay, M., Tometich, L., 2014, Development of high-frequency gyrotrons for DNP/NMR applications. Proc. 9th Int. Workshop "Strong Microwaves and Terahertz Waves: Sources and Applications", Nizhny Novgorod, Russia, pp. 13-14.

250.

Rosay, M., Blank, M., Engelke, F., 2016, Instrumentation for solid-state dynamic nuclear polarization with magic angle spinning NMR. J. of Magnetic Resonance, 262, 88-98.

251.

Blank, M., 2018, Demonstration of a 593 GHz gyrotron for DNP. Proc. 43rd Int. Conf. on Infrared, Millimeter, and Terahertz Waves (IRMMW-THz 2018), Nagoya, Japan, We-A2-4-2.

252.

Scott, F.J., Saliba, E.P., Albert, B.J., Alaniva, N., Sesti, E.L., Gao, C., Golota, N.C., Choi, E.J., Jagtap, A.P., Wittmann, J.J., Eckardt, M., Harneit, W.H., Corzilius, B., Sigurdsson, S.T., Barnes, A.B., 2018, Frequency-agile gyrotron for electron decoupling and pulsed dynamic nuclear polarization. Journal of Magnetic Resonance, 289, 45-54.

253.

Idehara, T., Ogawa, I., Agusu, La., Kanemaki, T., Mitsudo, S., Saito, T., Fujiwara, T., Takahashi, H., 2007, Development of 394.6 GHz CW gyrotron (gyrotron FU CW II) for DNP/Proton-NMR at 600 MHz. Int. J. Infrared and Millimeter Waves, 28, 433-442.

254.

Agusu, La, Idehara, T., Ogawa, I., Saito, T., Kanemaki, T., Takahashi, H., Fujiwara, T., 2007, Detailed consideration of experimental results of gyrotron FU CW II developed as a radiation source for DNP-NMR spectroscopy. Int. J. Infrared and Millimeter Waves, 28, 499-511.

255.

Idehara, T. Saito, T., Ogawa, I., Mitsudo, S., Tatematsu, Y., La Agusu, Mori, H., Kobayashi, S., 2008, Development of terahertz FU CW gyrotron series for DNP, Appl. Magn. Resonance, 34, 265-275.

256.

Idehara, T., Agusu, L., Ogawa, I., Kobayashi, S., Saito, T., Dupree, R., Smith, M.E., 2008, Development of gyrotron FU CW IIA for 600 MHz and 300 MHz DNP-NMR experiments at the University of Warwick, Proc. 33rd Int. Conf. on Infrared, Millimeter and Terahertz Waves, Pasadena, CA, USA, T5D23.1185.

257.

Kosuga, K., Idehara, T., Ogawa, I., Saito, T., Agusu, L., Kanemaki, T., Smith, M.E., Dupree, R., 2009, Development of Gyrotron FU CW VII for 600 and 300 MHz DNP-NMR, Proc. 34th Int. Conf. on Infrared, Millimeter and Terahertz Waves, Busan, Korea, M5E55.0235.

258.

Ogawa, I., Idehara, T., Kobayashi, S., Changb, T.H., Horii, F., Saito, T., 2009, Development of continuously frequen