Abstract
Archaeology from St. Mary's College of Maryland began looking for the former homestead of West Ashcom in the Spring of 2012. West Ashcom was established on the south bank of the Patuxent River in what is now St. Mary's County, MD by John Ashcom in 1651. At its height in the early eighteenth century it contained a manor house, kitchen, dairy, orchard, port, haberdashery, and various other barns and dependencies. Using traditional sources such as archives and methods like pedestrian surveys and surface collections, a late seventeenth/early eighteenth-century site was identified in a plowed field. Since then, archaeologists from SMCM have employed a range of sources, field methods, and mapping techniques to define the parameters of the site, past structures, and identify activity areas in a largely compromised area. This paper summarizes the results of more traditional uses of GIS mapping paired with experimental drone data to demonstrate the benefit of mixing old and new technologies when interpreting sites subject to continuous plowing and planting.
This is a preview of subscription content, log in to check access.
Access options
Buy single article
Instant access to the full article PDF.
US$ 39.95
Price includes VAT for USA
Subscribe to journal
Immediate online access to all issues from 2019. Subscription will auto renew annually.
US$ 99
This is the net price. Taxes to be calculated in checkout.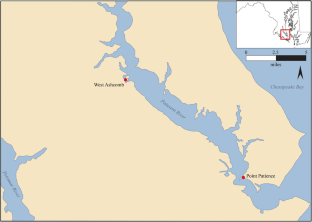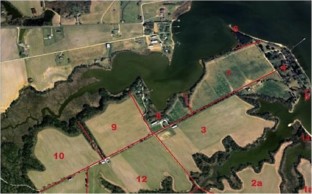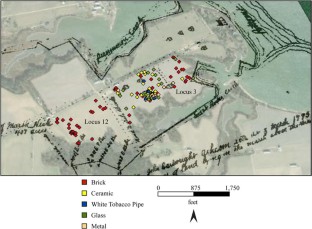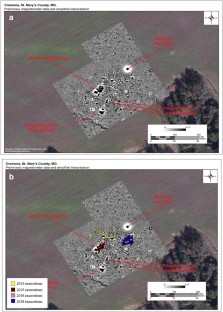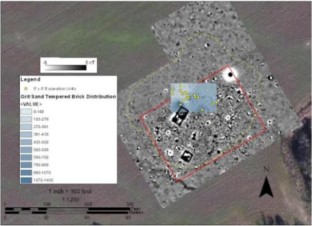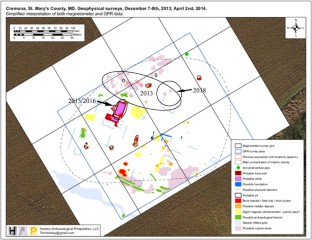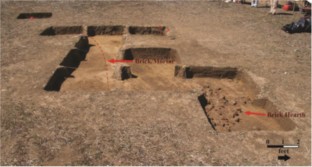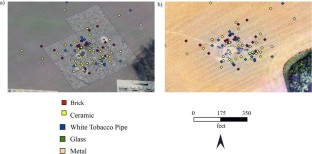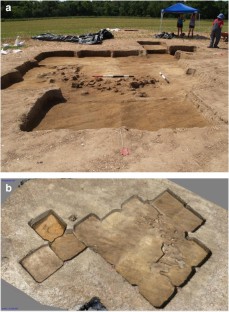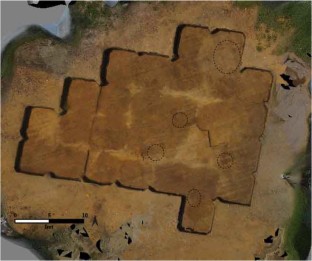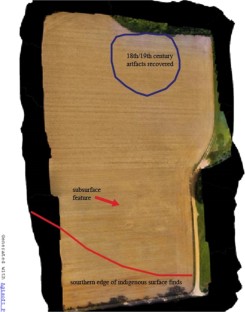 References
Altschul, J. H., Thiaw, I., and Wait, G. A. (2016). A Slave Who Would Be King: Oral Tradition and Archaeology of the Recent Past in the Upper Senegal River Basin. Archaoepress, New York.

Ashcom, R. (2016). Ashcom family history. Oral History interview, July 15: 2016.

Bendea, H., Chiabrando, F., Tonolo, F. G., and Marenchino, D. (2007). Mapping of archaeological areas using a low-cost UAV. The Augusta Bagiennorum Test Site. Proceedings of the XXI International CIPA Symposium, Citeseer.

Bradburn, D. M. and Coombs, J. C. (2006). Smoke and mirrors. Atlantic Studies3(2): 131–157.

Bruno, F., Bruno, S., De Sensi, G., Luchi, M., Mancuso, S., and Muzzupappa, M. (2010). From 3D reconstruction to virtual reality: a complete methodology for digital archaeological exhibition. Journal of Cultural Heritage11(1): 42–49.

Campana, S. (2017). Drones in archaeology: state-of-the-art and future perspectives. Archaeological Prospection24(4): 275–296.

Charles Ashcom Inventory. (1702). Liber 12 Folio 257: Maryland State Archives, Annapolis, MD.

Charles Ashcom Jr. Inventory. (1727). Liber 9 Folio 195: Maryland State Archives, Annapolis, MD.

Chiabrando, F., Nex, F., Piatti, D., and Rinaudo, F. (2011). UAV and RPV systems for photogrammetric surveys in archaelogical areas: two tests in the Piedmont region (Italy). Journal of Archaeological Science38(3): 697–710.

Clarke, D. L. (1977). Spatial Archaeology. Academic Press, New York.

Deetz, J. (1995). Flowerdew Hundred: The Archaeology of a Virginia Plantation, 1619–1864. University of Virginia Press, Charlottesville.

Fernández-Hernandez, J., González-Aguilera, D., Rodríguez-Gonzálvez, P., and Mancera-Taboada, J. (2015). Image-based modelling from unmanned aerial vehicle (UAV) photogrammetry: an effective, low-cost tool for archaeological applications. Archaeometry57(1): 128–145.

Fish, S. K. and Kowalewski, S. A. (1990). The Archaeology of Regions: A Case for Full-Coverage Survey. Smithsonian Institution Press, Washington, DC.

Flick, A. J, Bauer, S. A., Strickland, S. M., Hatch, B. D., and King, J. A. (2012). "A place now known unto them:" the search for Zekiah Fort. St. Mary's College of Maryland, St. Mary's City, MD.

Fussell, A. (1982). Terrestrial photogrammetry in archaeology. World Archaeology14(2): 157–172.

Gijanto, L. (2016). Phase II Archaeological Investigations at 18ST871 2015 Winter Field Season at Cremona Estate Mechanicsville, Maryland. St. Mary's College of Maryland, St. Mary's City, MD.

González-Tennant, E. (2016). Recent directions and future developments in geographic information systems for historical archaeology. Historical Archaeology50(3): 24–49.

Green, E. (1973). Location analysis of prehistoric Maya sites in northern British Honduras. American Antiquity38: 279–293.

Harmon, J. M., Neuwirth, J. L., and Solomon-Valado, T. (1996). Phase I Archaeological Resources Inventory Naval Recreation Center, Solomons Calvert County, Maryland. Archaeological Conservation Lab, St. Leonard, MD.

Hayden, B., Hodder, I., and Isaac, G. L. (1984). Intrasite Spatial Analysis in Archaeology. Cambridge University Press, Cambridge.

Himmelheber, P. (2014). West Ashcom, St. Mary's County. St. Mary's County Historical Society, Leonardtown, MD.

Jennings, K. (2014). Cremona: An Archaeological Approach to Understanding Maryland's Colonial Past. St. Mary's College of Maryland, St. Mary's City, MD.

Johnson, S. (2009). Descendants of John Ashcom (1615–1684). Stephen Johnson Genealogy, Pittsburgh, PA.

King, J. A. and Miller, H. M. (1987). The view from the midden: an analysis of midden distribution and composition at the Van Sweringen site, St. Mary's City, Maryland. Historical Archaeology21(2): 37–59.

Kintigh, K. W. and Ammerman, A. J. (1982). Heuristic approaches to spatial analysis in archaeology. American Antiquity47(1): 31–63.

Kohler, T. A. and Parker, S. C. (1986). Predictive models for archaeological resource location. In Schiffer, M. B. (ed.), Advances in Archaeological Method and Theory, Academic Press New York, pp. 397–452.

Kostro, M. (2006). Excavating sites unseen: the example of earthfast buildings in the colonial Chesapeake. In Archer, S. N. and Bartoy, K. M. (eds.), Between Dirt and Discussion: Methods, Methodology, and Interpretation in Historical Archaeology. Springer, New York, pp. 183–199.

Martha Dansey Inventory. (1724). Liber 10 Folio 1: Maryland State Archives, Annapolis, MD.

Maryland Department of Agriculture. (n.d.).https://mda.maryland.gov/resource_conservation/Pages/scwqpi.aspx, accessed June 2018.

Menard, R. and Carr, L. G. (1982). The Lords Baltimore and the colonization of Maryland. In Quinn, D. B. (ed.), Early Maryland in a Wider World. Wayne State University Press, Detroit, pp. 167–215.

Neubauer, W. (2004). GIS in archaeology: the interface between prospection and excavation. Archaeological Prospection11(3): 159–166.

O'Brien, M. J. and Lewarch, D. E. (1981). Plowzone Archeology: Contributions to Theory and Technique. Vanderbilt University, Nashville.

Odell, G. H. and Cowan, F. (1987). Estimating tillage effects on artifact distributions. American Antiquity52(3): 456–484.

Plog, F. and Hill, J. N. (1971). Explaining variability in the distribution of sites. In Gunnerman, G. J. (ed.), The Distribution of Prehistoric Population Aggregates, Prescott College Papers 8:17–36.

Riordan, T. B. (1988). The interpretation of seventeenth century sites through plowzone surface collections: examples from St. Mary's City, Maryland. Historical Archaeology 22(2):2–16.

Roper, D. C. (1976). Lateral displacement of artifacts due to plowing. American Antiquity41(3): 372–375.

Savage, S. H. (1990). GIS in archaeological research. In Allen, K. M., Green, S. W., and Zubrow, E. B. (eds.), Interpreting Space: GIS and Archaeology. Taylor and Francis, London, pp. 22–32.

Shott, M. J. (1995). Reliability of archaeological records on cultivated surfaces: a Michigan case study. Journal of Field Archaeology22(4): 475–490.

Themistocleous, K., Agapiou, A., Cuca, B., and Hadjimitsis, D. G. (2015). Unmanned aerial systems and spectroscopy for remote sensing applications in archaeology. International Society for Photogrammetry and Remote SensingXL-7(W3): 1419–1423.

Unpatented Certificate. (1717). St Mary's County Circuit Court, Land Survey, Subdivision, and Condominium Plats. Maryland State Archives.

Valdés, J. A. and Kaplan, J. (2000). Ground-penetrating radar at the Maya site of Kaminaljuyu, Guatemala. Journal of Field Archaeology27(3): 329–342.

Walsh, L. S. (1999). Summing the parts: implications for estimating Chesapeake output and income subregionally. William and Mary Quarterly56: 53–94.

Weymouth, J. W. (1986). Geophysical methods of archaeological site surveying. Advances in Archaeological Method and Theory9: 311–395.

Wheatley, D. and Gillings, M. (2002). Spatial Technology and Archaeology. Taylor and Francis, London.

Willoughby, W. R. (2015). The Country's House: Examining Public Space and Community in St. Mary's City's Seventeenth-Century Town Center. Doctoral dissertation, Syracuse University, Syracuse, NY.
Additional information
Publisher's Note
Springer Nature remains neutral with regard to jurisdictional claims in published maps and institutional affiliations.
About this article
Cite this article
Gijanto, L. Interpreting West Ashcom: Drones, Artifacts, and Archives. Int J Histor Archaeol (2020). https://doi.org/10.1007/s10761-020-00538-8
Keywords
Chesapeake

Mapping

Spatial analysis

Photogrammetry