Abstract
As new technologies increase the opportunities for multitasking, the need to understand human capacities for multitasking continues to grow stronger. Is multitasking helping us to be more efficient? This study investigated the multitasking abilities of 168 participants, ages 6–72, by measuring their task accuracy and completion time when they completed a visual or auditory task alone (single-tasking) as compared to when they attempted the two tasks simultaneously (multitasking). Age, gender, and personality factors were assessed. Observations and post-study interviews provided additional insights into the participants' multitasking strategies. Results showed significantly lower accuracy and longer completion time in participants when they attempted the combined tasks, suggesting that even concurrent tasks that depend upon different modalities may hinder efficiency. In addition, a significant correlation was seen between age groupings, with teenagers (ages 13–19) and young adults (ages 20–40) showing the strongest multitasking abilities.
Access options
Buy single article
Instant access to the full article PDF.
US$ 39.95
Tax calculation will be finalised during checkout.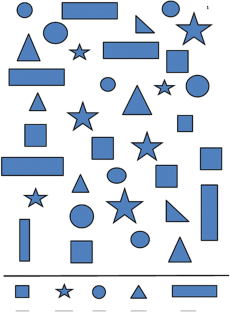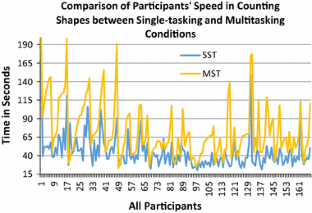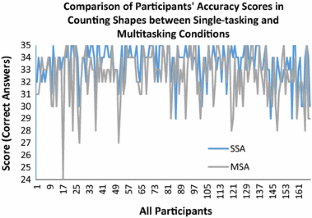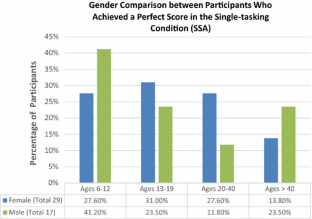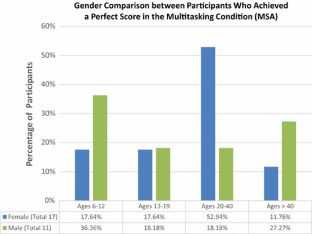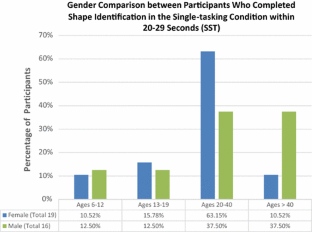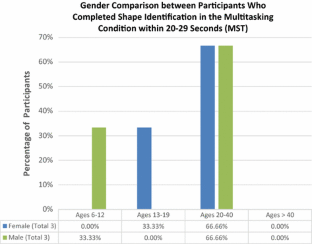 References
Abbott, A. (2013). Gaming improves multitasking skills. Nature, 501(7465), 18.

Alais, D., Morrone, C., & Burr, D. (2006). Separate attentional resources for vision and audition. Proceedings of the Royal Society of London B: Biological Sciences, 273(1592), 1339–1345.

Baddeley, A. D., Chincotta, D., & Adlam, A. (2001). Working memory and the control of action: Evidence from task switching. Journal of Experimental Psychology: General, 130, 641–657.

Baron, R. A. (2007). Behavioral and cognitive factors in entrepreneurship: Entrepreneurs as the active element in new venture creation. Strategic Entrepreneurship Journal, 1(1–2), 167–182.

Burgess, P. W., Veitch, E., de Lacy Costello, A., & Shallice, T. (2000). The cognitive and neuroanatomical correlates of multitasking. Neuropsychologia, 38(6), 848–863.

Conte, J., & Jacobs, R. (2003). Validity evidence linking polychronicity and big five personality dimensions to absence, lateness, and supervisory performance ratings. Human Performance, 16(2), 107–129.

Cramer, D. (1998). Fundamental statistics for social research. London: Routledge.

Cramer, D., & Howitt, D. (2004). The SAGE dictionary of statistics. London: SAGE.

Doane, D. P., & Seward, L. E. (2011). Measuring skewness. Journal of Statistics Education, 19(2), 1–18.

Foehr, U. G. (2006). Media multitasking among american youth: prevalence, predictors and pairings. Washington, DC: The Henry J. Kaiser Family Foundation. Retrieved April 1, 2015 from http://kff.org/other/media-multitasking-among-american-youth-prevalence-predictors/

Friedman, N. P., Miyake, A., Young, S. E., DeFries, J. C., Corley, R. P., & Hewitt, J. K. (2008). Individual differences in executive functions are almost entirely genetic in origin. Journal of Experimental Psychology: General, 137(2), 201–225. doi:10.1037/0096-3445.137.2.201.

Gibson, D. (2011). simSchool ocean survey. Retrieved from http://simschool.org

Goldberg, L., Johnson, J., Eber, H., Hogan, R., Ashton, M., Cloninger, R., & Gough, H. (2006). The international personality item pool and the future of public-domain personality measures. Journal of Research in Personality, 40, 84–96.

Green, C. S., Li, R., & Bavelier, D. (2010). Perceptual learning during action video game playing. Topics in cognitive science, 2(2), 202–216.

Hall, E. T. (2000). Monochronic and polychronic time. Intercultural communication: A reader, 9, 280–286.

Hayles, N. K. (2007). Hyper and deep attention: The generational divide in cognitive modes. Profession, 2007(1), 187–199. doi:10.1632/prof.2007.2007.1.187.

Ishizaka, K., Marshall, S. P., & Conte, J. M. (2001). Individual differences in attentional strategies in multitasking situations. Human Performance, 14(4), 339–358.

Just, M. A., Carpenter, P. A., Keller, T. A., Emery, L., Zajac, H., & Thulborn, K. R. (2001). Interdependence of nonoverlapping cortical systems in dual cognitive tasks. NeuroImage, 14(2), 417–426.

Kahneman, D. (1973). Attention and effort. Englewood Cliffs, NJ: Prentice Hall.

Klingberg, T. (2009). The overflowing brain: Information overload and the limits of working memory. UK: Oxford University Press.

Kolb, B., & Whishaw, I. Q. (1998). Brain plasticity and behavior. Annual Review of Psychology, 49, 43–64.

Konig, C. J., Buhner, M., & Murling, G. (2005). Working memory, fluid intelligence, and attention are predictors of multitasking performance, but polychronicity and extraversion are not. Human Performance, 18(3), 243–266.

Kushleyeva, Y., Salvucci, D. D., & Lee, F. J. (2005). Deciding when to switch tasks in time critical multitasking. Cognitive Systems Research, 6(1), 41–49.

Levitin, D. (2015). Why the modern world is bad for your brain. Neuroscience: The Observer http://www.theguardian.com/science/2015/jan/18/modern-world-bad-for-brain-daniel-j-levitin-organized-mind-information-overload.

Lin, L. (2009). Breadth-biased versus focused cognitive control in media multitasking behaviors. Proceedings of the National Academy of Sciences (PNAS) USA, 106, 15521–15522.

Lin, L., Cranton, P., & Lee, J. (2014). Research methodologies for multitasking studies. In V. Wang (Ed.), Handbook of research on scholarly publishing and research methods (pp. 329–348). IGI.

Lin, L., Lee, J., & Robertson, T. (2011). Reading while watching video: The effect of video content on reading comprehension and media multitasking ability. Journal of Educational Computing Research, 45(2), 183–201.

Lin, L., Li, J., Wircenski, M., & Wircenski, J. (2013). Multitasking and career skill requirements: Implications for career technical education. Workforce Education Forum, 36(1), 1–20.

Mäntylä, T. (2013). Gender differences in multitasking reflect spatial ability. Psychological Science, 24(4), 514–520.

Meyer, D. E., & Kieras, D. E. (1997). A computational theory of executive cognitive processes and multiple-task performance: Part I. Basic mechanisms. Psychological Review, 104(1), 229–233.

Ophir, E., Nass, C. I., & Wagner, A. D. (2009). Cognitive control in media multitaskers. Proceedings of the National Academy of Sciences of the United States of America, 106(37), 15583–15587. doi:10.1073/pnas.0903620106.

Poldrack, R. A., & Foerde, K. (2008). Category learning and the memory systems debate. Neuroscience and Biobehavioral Reviews, 32(2), 197–205.

Prensky, M. (2001). Digital game-based learning. New York: McGraw-Hill.

Razali, N. M., & Wah, Y. B. (2011). Power comparisons of Shapiro–Wilk, Kolmogorov–Smirnov, Lilliefors and Anderson–Darling tests. Journal of Statistical Modeling and Analytics, 2(1), 21–33.

Rosen, L. D. (2011). Teaching the iGeneration. Educational Leadership, 68(5), 10–15.

Rowlands, I., Nicholas, D., Williams, P., Huntington, P., Fieldhouse, M., Gunter, B., & Tenopir, C. (2008, July). The Google generation: the information behaviour of the researcher of the future. In Aslib proceedings (Vol. 60, No. 4, pp. 290–310). Emerald Group Publishing Limited.

Shapiro, S. S., & Wilk, M. B. (1965). An Analysis of Variance Test for Normality (Complete Samples). Biometrika, 52(3/4), 591–611.

Strayer, D. L., Medeiros-Ward, N., & Watson, J. M. (2013). Gender invariance in multitasking: A comment on Mäntylä (2013). Psychological Science, 24(5), 809–810.

Stricker, A. G. (2009). Why Affective Learning in a Situated Place Matters for the Millennial Generation. Air University, AL: Wright Stuff.

Tapscott, D. (2008). Grown Up Digital: How the Net Generation is Changing Your World. New York: McGraw-Hill.

Wallis, C. (2006). The multitasking generation. Time Magazine, 167(13), 48–55.

Wickens, C. D. (2008). Multiple resources and mental workload. Human Factors: The Journal of the Human Factors and Ergonomics Society, 50(3), 449–455.

Woodcock, R. W., McGrew, K. S., & Mather, N. (2001). Test 2: Reading Fluency. Woodcock-Johnson III Normative Update Tests of Achievement. Riverside, CA:  Riverside Publishing.

Zelazo, P. D., Müller, U., & Goswami, U. (Eds.). (2002). Executive function in typical and atypical development. Blackwell handbook of childhood cognitive development. Blackwell handbooks of developmental psychology (pp. 445–469). Malden: Blackwell Publishing.
Acknowledgments
The authors thank Ken Cockerham for his assistance in designing and conducting the study. We also wish to thank the Research and Learning Center at the Fort Worth Museum of Science and History for their hospitality and their continued support.
About this article
Cite this article
Lin, L., Cockerham, D., Chang, Z. et al. Task Speed and Accuracy Decrease When Multitasking. Tech Know Learn 21, 307–323 (2016). https://doi.org/10.1007/s10758-015-9266-4
Keywords
Multitasking

Single-tasking

Dual-task

Cognitive load

Accuracy

Speed

Personality traits