Spilanthol Inhibits COX-2 and ICAM-1 Expression via Suppression of NF-κB and MAPK Signaling in Interleukin-1β-Stimulated Human Lung Epithelial Cells
Abstract
Spilanthol a phytochemical derived from the Spilanthes acmella plant has antimicrobial, antioxidant, and anti-inflammatory properties. This study evaluated its effects on the expression of intercellular adhesion molecule 1 (ICAM-1) and inflammation-related mediators in IL-1β-stimulated human lung epithelial A549 cells. Human lung epithelial A549 cells were pretreated with various concentrations of spilanthol (3–100 μM) followed by treatment with IL-1β to induce inflammation. The protein levels of pro-inflammatory cytokines, chemokines, and prostaglandin E2 (PGE2) were measured using ELISA. Cyclooxygenase-2 (COX-2), heme oxygenase (HO-1), nuclear transcription factor kappa-B (NF-κB), and mitogen-activated protein kinase (MAPK) were measured by immunoblotting. The mRNA expression levels of ICAM-1 and MUC5AC were determined by real-time polymerase chain reaction. Spilanthol decreased the expression of PGE2, COX-2, TNF-α, and MCP-1. It also decreased ICAM-1 expression and suppressed monocyte adhesion to IL-1β-stimulated A549 cells. Spilanthol also significantly inhibited the phosphorylation of MAPK and I-κB. These results suggest that spilanthol exerts anti-inflammatory effects by inhibiting the expression of the pro-inflammatory cytokines, COX-2, and ICAM-1 by inhibiting the NF-κB and MAPK signaling pathways.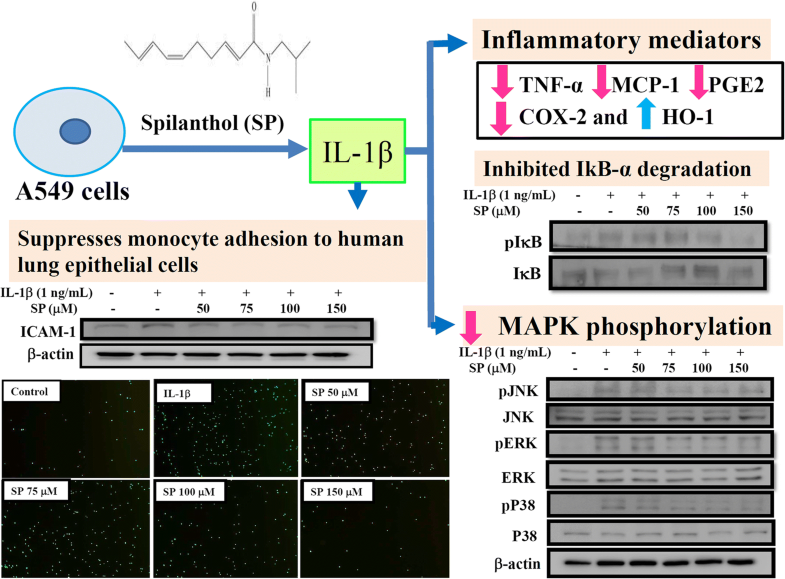 KEY WORDS
chemokines 
ICAM-1 
MAPK 
NF-κB 
spilanthol 
Notes
Authors' Contributions
Wen-Chung Huang and Ling-Yu Wu designed the study and performed the experiments. Sindy Hu searched the literature and performed the experiments. Shu-Ju analyzed interpretation of data and drafting the manuscript.
Funding Information
This study was supported in part by grants from the Chang Gung Memorial Hospital (CMRPF1G0201), the Ministry of Science and Technology in Taiwan (MOST 105-2320-B-255-004), and Chang Gung University of Science and Technology (EZRPF3FG0071).
Compliance with Ethical Standards
Conflict of Interest
The authors declare that they have no conflict of interest.
Copyright information
© Springer Science+Business Media, LLC, part of Springer Nature 2018