Abstract
Estuaries along the US east coast serve as essential nursery habitats for the early life history stages of many marine fishes. In the South Atlantic Bight (SAB), many studies have demonstrated the importance of these habitats for juveniles, but larval fish communities have received little attention, particularly around northeast Florida. To determine community structure, and seasonal distribution and abundance of larval fish in the Guana–Tolomato–Matanzas (GTM) estuary at its two inlets (St. Augustine and Matanzas), ichthyoplankton were sampled bi-weekly for one year at both inlets during nighttime spring flood tides. Samples were collected with a plankton net (1 m diameter, 1 mm mesh) suspended 1 m below the surface. Seventy-two taxa were collected, with four families comprising 85% of the collection: Sciaenidae (36.2%), Engraulidae (19.9%), Gobiidae (18.0%), and Gerreidae (10.7%). The two inlets differed in larval densities and taxonomic richness, although both were greatest during the summer. Spring and summer pulses in recruitment were observed for nearshore summer spawners. Marine offshore-spawned species exhibited peak recruitment in winter. The ichthyoplankton communities of the GTM estuary were most similar to those in southern SAB estuaries, and showed pronounced seasonal changes in composition, as is common in estuaries worldwide.
This is a preview of subscription content, log in to check access.
Access options
Buy single article
Instant unlimited access to the full article PDF.
US$ 39.95
Price includes VAT for USA
Subscribe to journal
Immediate online access to all issues from 2019. Subscription will auto renew annually.
US$ 199
This is the net price. Taxes to be calculated in checkout.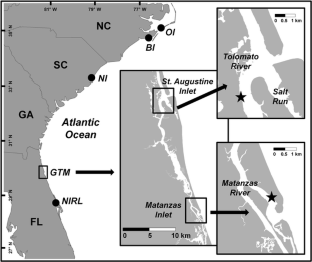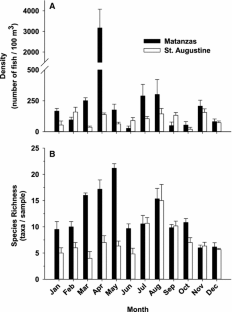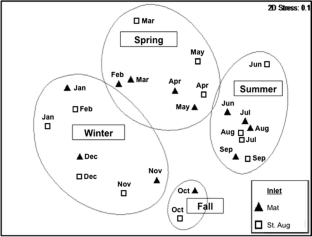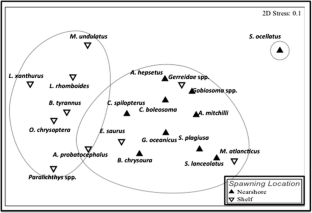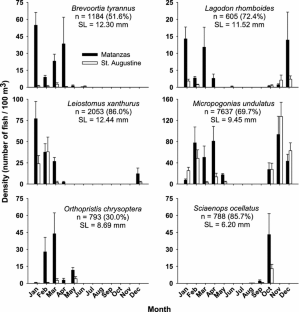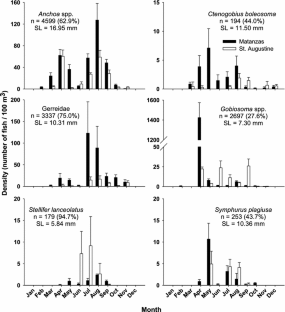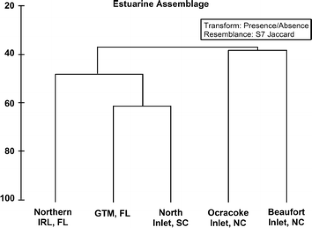 References
Able, K. W. & M. P. Fahay, 2010. Ecology of Estuarine Fishes: Temperate Waters of the Western North Atlantic. John Hopkins Press, Baltimore, MD: 566 pp.

Allen, D. M. & D. L. Barker, 1990. Interannual variations in larval fish recruitment to estuarine epibenthic habitats. Marine Ecology Progress Series 63: 113–125.

Atkinson, L. P., T. N. Lee, J. O. Blanton & W. S. Chandler, 1983. Climatology of the southeastern United States continental shelf waters. Journal of Geophysical Research 88: 4705–4718.

Bray, J. R. & J. T. Curtis, 1957. An ordination of the upland forest communities of southern Wisconsin. Ecological Monographs 27: 325–349.

Clark, K. R. & R. M. Warwick, 2001. Change in Marine Communities: An Approach to Statistical Analysis and Interpretation, 2nd ed. PRIMER-E Ltd, Plymouth.

Dame, R. D., T. Chrzanowski, K. Bildstein, B. Kjerfve, H. McKellar, D. Nelson, J. Spurrier, S. Stancyk, H. Stevenson, J. Vernberg & R. Zingmark, 1986. The outwelling hypothesis and North Inlet, South Carolina. Marine Ecology Progress Series 33: 217–229.

Dame, R. D., M. Alber, D. Allen, M. Mallin, C. Montague, A. Lewitus, A. Chalmers, R. Gardner, C. Gilman, B. Kjerfve, J. Pinckney & N. Smith, 2000. Estuaries of the south Atlantic coast of North America: their geographical signatures. Estuaries 23: 793–819.

Davis, R. A. & W. T. Fox, 1981. Interaction between wave- and tide-generated processes at the mouth of a microtidal estuary: Matanzas River, Florida (U.S.A.). Marine Geology 40: 49–68.

Dean, R. G. & M. P. O'Brien, 1987. Florida's East Coast Inlets: Shoreline Effects and Recommended Action. University of Florida & Florida Department of Natural Resources. Gainesville, FL: 65 pp.

Epifanio, C. E. & R. W. Garvine, 2001. Larval transport on the Atlantic continental shelf of North America: a review. Estuarine, Coastal and Shelf Science 52: 51–77.

Faria, A., P. Morais & M. A. Chícharo, 2006. Ichthyoplankton dynamics in the Guadiana estuary and adjacent coastal area, South-East Portugal. Estuarine, Coastal, and Shelf Science. 70: 85–97.

Ferrel, H. E., 1999. Storms and the recruitment of larval and juvenile fishes through Sebastian Inlet, Florida. MS thesis, Florida Institute of Technology, Melbourne, FL: 106 pp.

Fodrie, F. J., K. L. Heck, S. P. Powers, W. M. Graham & K. L. Robinson, 2010. Climate-related, decadal-scale assemblage changes of seagrass-associated fishes in the northern Gulf of Mexico. Global Change Biology 16: 48–59.

Forward, R. B. & R. A. Tankersley, 2001. Selective tidal-stream transport of marine animals. Oceanography and Marine Biology Annual Review 39: 305–353.

Gilmore, R. G., 1977. Fishes of the Indian River Lagoon and adjacent waters, Florida. Bulletin of the Florida State Museum, Biological Sciences 22: 101–148.

Hare, J. A. & H. J. Walsh, 2007. Planktonic linkages among marine protected areas on the south Florida and southeast United States continental shelves. Canadian Journal of Fishery and Aquatic Sciences 64: 1234–1247.

Hettler, W. F. & D. L. Barker, 1993. Distribution and abundance of larval fishes at two North Carolina inlets. Estuarine, Coastal and Shelf Science 37: 161–179.

Hettler, W. F. & A. J. Chester, 1990. Temporal distribution of ichthyoplankton near Beaufort Inlet, North Carolina. Marine Ecology Progress Series 68: 157–168.

Hettler, W. F. & J. A. Hare, 1998. Abundance and size of larval fishes outside the entrance to Beaufort Inlet, North Carolina. Estuaries 21: 476–499.

Hettler, W. F., E. S. Peters, D. R. Colby & E. S. Laban, 1997. Daily variability in abundance of larval fishes inside Beaufort Inlet. Fishery Bulletin 95: 477–493.

Heupel, M. R. & R. E. Hueter, 2002. Importance of prey density in relation to the movement patterns of juvenile blacktip sharks (Carcharhinus limbatus) within a coastal nursery area. Marine and Freshwater Research 53: 543–550.

Hoese, H. D. & R. H. Moore, 1998. Fishes of the Gulf of Mexico: Texas, Louisiana, and Adjacent Waters, 2nd ed. Texas A&M University Press, College Station, TX.

Hsiao-hao, C., 2015. Relationship between larval fish assemblage and hydrographic characteristics in the waters southwest of Taiwan in summer and winter. MS thesis, National Sun Yat-sen University. Kaohsiung, Taiwan: 106 pp.

Jost, L., 2006. Entropy and diversity. Oikos 113: 363–375.

Kneib, R. T., 1997. The role of tidal marshes in the ecology of estuarine nekton. Oceanography and Marine Biology: An Annual Review 35: 163–220.

Lesher, A. T., 2008. An analysis of larval dispersal and retention within the South Atlantic Bight using satellite-tracked drifters released on reef fish spawning grounds. MS thesis, College of Charleston. Charleston, SC: 88 pp.

McDonough, C. J., C. A. Wenner & W. A. Roumillat, 2011. Age, growth, and reproduction of sheepsheads in South Carolina. Marine and Coastal Fisheries: Dynamics, Management, and Ecosystem Science. 3: 366–382.

Nordlie, F. G., 2003. Fish communities of estuarine salt marshes of eastern North America, and comparisons with temperate estuaries of other continents. Reviews in Fish Biology and Fisheries 13: 281–325.

Paperno, R. & R. B. Brodie, 2004. Effects of environmental variables upon the spatial and temporal structure of a fish community in a small, freshwater tributary of the Indian River Lagoon, Florida. Estuarine, Coastal and Shelf Science 61: 229–241.

Paperno, R., K. J. Mille & E. Kadison, 2001. Patterns in species composition of fish and selected invertebrate assemblages in estuarine subregions near Ponce de Leon Inlet, Florida. Estuarine, Coastal and Shelf Science 52: 117–130.

Parrish, R. H., C. S. Nelson & A. Bakun, 1981. Transport mechanisms and reproductive success of fishes in the California Current. Biological Oceanography 1: 175–203.

Peters, K. M. & J. R. McMichael, 1987. Early life history of the red drum Sciaenops ocellatus (Pisces: Sciaenidae), in Tampa Bay, Florida. Estuaries 10: 92–107.

Peters, K. M. & J. R. McMichael, 1989. Early life history of spotted seatrout Cynoscion nebulosus (Pisces: Sciaenidae), in Tampa Bay, Florida. Estuaries 12: 98–110.

Phlips, E. J., N. Love, S. Badylak, P. Hansen, J. Lockwood, C. V. John & R. Gleeson, 2004. A comparison of water quality and hydrodynamic characteristics of the Guana Tolomato Matanzas National Estuarine Research Reserve and the Indian River Lagoon of Florida. Journal of Coastal Research 45: 93–109.

Powell, M. A., R. J. Thierke & A. J. Mehta, 2006. Morphodynamic relationships for ebb and flood delta volumes at Florida's tidal entrances. Ocean Dynamics 56: 295–307.

Reyier, E. A. & J. M. Shenker, 2007. Ichthyoplankton community structure in a shallow subtropical estuary of the Florida Atlantic coast. Bulletin of Marine Science 80: 267–293.

Ribeiro, F., E. Hale, E. J. Hilton, T. R. Clardy, A. L. Deary, T. E. Targett & J. E. Olney, 2015. Composition and temporal patterns of larval fish communities in Chesapeake and Delaware Bays, USA. Marine Ecology Progress Series 527: 167–180.

Rice, W. R., 1989. Analyzing tables of statistical tests. Evolution 43: 223–225.

Seabergh, W. C., 1988. Observations on inlet flow patterns derived from numerical and physical modeling studies. American Fisheries Society Symposium 3: 16–25.

Sheng, Y. P., B. Tutak, J. Davis & V. Paramygin, 2008. Circulation and flushing in the lagoonal system of the Guana Tolomato Matanzas National Estuarine Research Reserve (GTMNERR), Florida. Journal of Coastal Research 55: 9–25.

Sherman, K., W. Smith, W. W. Morse, M. Berman, J. Green & L. Ejsymont, 1984. Spawning strategies of fishes in relation to circulation, phytoplankton production, and pulses in zooplankton off the northeastern United States. Marine Ecology Progress Series 18: 1–19.

Simpson, C. A., M. J. Wilberg, B. Hongsheng, A. M. Schueller, G. M. Nesslage & H. J. Walsh, 2016. Trends in relative abundance and early life survival of Atlantic menhaden during 1977–2013 from long-term ichthyoplankton programs. Transactions of the American Fisheries Society 14: 1139–1151.

Smith, N. P., 1993. Tidal and nontidal flushing of Florida's Indian River Lagoon. Estuaries and Coasts 16: 739–746.

Solomon, J. J., R. B. Brodie & G. E. Ehlinger, 2006. Distribution and abundance of fish assemblages and select macroinvertebrates from the lower St. Marys River basin in northeast Florida. Florida Scientist 69: 1–18.

Stegmann, P. M., J. A. Quinlan, F. E. Werner, B. O. Blanton & P. Berrien, 1999. Atlantic menhaden recruitment to a southern estuary: defining potential spawning regions. Fisheries Oceanography 8: 111–123.

Strydom, N. A., 2015. Patterns in larval fish diversity, abundance, and distribution in temperate South African estuaries. Estuaries and Coasts 38: 268–284.

Taylor, J. C., W. A. Mitchell, J. A. Buckel, H. J. Walsh, K. W. Shertzer, G. Bath-Martin & J. A. Hare, 2009. Relationships between larval and juvenile abundance of winter-spawned fishes in North Carolina, USA. Marine and Coastal Fisheries: Dynamics, Management, and Ecosystem Science 1: 12–21.

R Core Team, 2013. R: A Language and Environment for Statistical Computing. R Foundation for Statistical Computing, Vienna. http://www.R-project.org/.

Tester, P. A., M. E. Geesey, G. Chunzhi, H. W. Paerl & D. F. Millie, 1995. Evaluating phytoplankton dynamics in the Newport River estuary (North Carolina, USA) by HPLC-derived pigment profiles. Marine Ecology Progess Series 124: 237–245.

Thorne, R. S. J., W. P. Williams & Y. Cao, 1999. The influence of data transformations on biological monitoring studies using macroinvertebrates. Water Resources 33: 343–350.

Tremain, D. M. & D. H. Adams, 1995. Seasonal variations in species diversity, abundance, and composition of fish communities in the northern Indian River Lagoon, Florida. Bulletin of Marine Science 57: 171–192.

Tringali, M. D., S. Seyoum, M. Higham & E. M. Wallace, 2011. A dispersal-dependent zone of introgressive hybridization between weakfish, Cynoscion regalis, and sand seatrout, C. arenarius, (Sciaenidae) in the Florida Atlantic. Journal of Heredity 102: 416–432.

Turtora, M. & E. M. Schotman, 2010. Seasonal and spatial distribution patterns of finfish and selected invertebrates in coastal lagoons of northeastern Florida, 2002–2004. USGS Scientific Investigations Report 2010-5131.

Valle-Levinson, A., G. Gutierrez de Velasco, A. Trasviña, A. J. Souza, R. Durazo & A. J. Mehta, 2009. Residual exchange flows in subtropical estuaries. Estuaries and Coasts 32: 54–67.

Webb, B. M., J. N. King, B. Tutak & A. Valle-Levinson, 2007. Flow structure at a trifurcation near a north Florida inlet. Continental Shelf Research 27: 1528–1547.

Weber, A. H. & J. O. Blanton, 1980. Monthly mean wind fields for the South Atlantic Bight. Journal of Physical Oceanography 10: 1256–1263.

Weinstein, M. P., S. L. Weiss, R. G. Hodson & L. R. Gerry, 1980. Retention of three taxa of postlarval fishes in an intensively flushed tidal estuary, Cape Fear River, North Carolina. Fishery Bulletin 78: 419–436.

Werner, F. E., J. A. Quinlan, B. O. Blanton & R. A. Luettich, 1997. The role of hydrodynamics in explaining variability in fish populations. Journal of Sea Research 37: 195–212.

Williams, A. A. & M. E. Kimball, 2013. Evaluation of long-term trends in hydrographic and nutrient parameters in a southeast US coastal river. Environmental Monitoring and Assessment 185: 10495–10509.

Williams, A. A., S. F. Eastman, W. E. Eash-Loucks, M. E. Kimball, M. L. Lehmann & J. D. Parker, 2014. Record northernmost endemic mangroves on the United States Atlantic coast with a note on latitudinal migration. Southeastern Naturalist 13: 56–63.

Woodward-Clyde Consultants, 1994. Physical features of the Indian River Lagoon. Indian River Lagoon National Estuary Program, Melbourne Florida. Final Technical Report Project No. 92F274C, Tampa, FL: 166 pp.
Acknowledgements
Funding for this project was provided by the Oscar and Catherine A. Munoz Presidential Fellowship at the University of North Florida and by the Northeast Florida Association of Environmental Professionals, both awarded to BMK. The authors would like to extend special thanks to National Parks Service Personnel at Fort Matanzas National Monument (K. Foote, A. Rich), and the St. Augustine Municipal Marina (S. Adukiewicz) for providing access to field sites. Additional appreciation is extended to faculty and staff at the University of Southern Mississippi's Gulf Coast Research Lab (particularly S. Muffelman) for assistance with fish identification, the Guana Tolomato Matanzas National Estuarine Research Reserve (W. Eash-Loucks, T. Harding) for field sampling support, and the North Inlet-Winyah Bay National Estuarine Research Reserve (J. Plunket) for assistance with GIS. This manuscript was greatly improved by critical reviews from C. Hackney and E. Johnson. All applicable international, national, and/or institutional guidelines for the care and use of animals were followed. This research was conducted pursuant to the Florida Fish and Wildlife Conservation Commission Special Activity License number SAL-11-1035B-SR.
Additional information
Handling editor: Luiz Carlos Gomes
Electronic supplementary material
Below is the link to the electronic supplementary material.
About this article
Cite this article
Korsman, B.M., Kimball, M.E. & Hernandez, F.J. Spatial and temporal variability in ichthyoplankton communities ingressing through two adjacent inlets along the southeastern US Atlantic coast. Hydrobiologia 795, 219–237 (2017) doi:10.1007/s10750-017-3131-5
Received:

Revised:

Accepted:

Published:

Issue Date:
Keywords
Ichthyoplankton

Larval fish

Ingress

Inlet

Estuary

South Atlantic Bight