The role of Salvelinus in contemporary studies of evolution, trophic ecology and anthropogenic change
The first international symposium on Arctic charr (Salvelinus alpinus) was held in May, 1981, in Winnipeg, Manitoba, Canada, following shortly after the release of the seminal publication Charrs: Salmonid Fishes of the Genus Salvelinus (Balon, 1980), and sought to bring together scientists from nations in the circumpolar region containing Arctic charr or its close relatives in the S. alpinus complex. Since then, symposia have been held in Japan (1988), Norway (1994), Canada (2000), Iceland (2006), Scotland (2009) and Russia (2012). On the 14th June 2015, reflecting a buoyant research interest in Salvelinus, 112 participants from 13 countries gathered for the 8th International Charr Symposium in Tromsø, Norway. Hosted by the UiT, The Arctic University of Norway, delegates included: 9 from Russia, 13 from USA, 15 from Canada, 9 from Japan, 8 from Iceland, 6 from Sweden, 3 from Scotland, 2 from Finland, 1 each from France, The Netherlands, Switzerland and Spain and 43 from Norway. In total, there were 79 oral presentations and 28 posters presented over the 4 days of meetings. Topical themes covered by the presentations and posters included anadromy, aquaculture, climate change, ecology, evolution, genetics, fisheries management, life history, parasitology and pollution impacts.
Although the majority (two-thirds) of studies presented at the symposium focused on Arctic charr, there were many devoted to Dolly Varden charr (Salvelinus malma), Lake charr (Salvelinus namaycush), Brook charr (Salvelinus fontinalis) and White-spotted charr (Salvelinus leucomaenis). The contributions covered two major geographic areas: northern Europe, and the Pacific basin drainages of the Asian and North American coasts. The vast area comprising the range of Salvelinus between these two more highly investigated regions was represented by only a few presentations from the Kola Peninsula, Siberia and Greenland, with the geographic spread of studies clearly demonstrating the need for more extensive Salvelinus research in the less investigated areas.
Over the intervening period since the first Charr Symposium, tools for addressing research questions of interest have evolved, most notably with advances in genetics, statistics and the application of micro-chemical analyses, such as stable isotopes. Nevertheless, many of the questions that were being asked in the last century remain relevant to charr biologists today. How did charrs evolve and what controlled the rate of evolution? What explains the diversity found among charrs and what is its evolutionary significance? Why do we appear to see greater divergence in some Salvelinus species, e.g. S. alpinus and S. malma, than others, e.g. S. leucomaenis? What is the importance of life-history variation and what controls it? Crucially, new methods for linking genotype to phenotype (genomics, transcriptomics and micro RNA analysis) were used in several studies to reveal a genetic basis for morphological traits in natural populations and open a new direction for the future study of Salvelinus ecology, evolution and development.
The initial collection of published papers emanating from the charr symposium series was almost exclusively focused on a single species, Arctic charr. Subsequent symposia and associated publications, however, have become considerably more varied over the years and now include considerations of all aspects of the biology, ecology, physiology and husbandry of fishes in the genus
Salvelinus
. The diversification in interest has been accompanied by exponential growth in the number of scientific publications devoted to
Salvelinus
, particularly in the period leading up to 2000 (Fig. 
1
). Scientific publications on the genus
Salvelinus
now average some 300 a year, with a third of those being accounted for by Arctic charr. In that regard
Salvelinus
remains an important model group of fish species with which to explore fundamental evolutionary and ecological questions.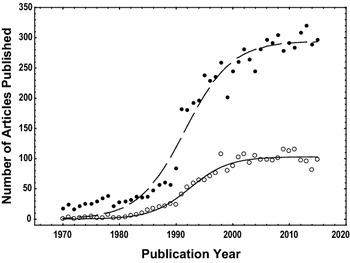 No less diverse were the series of papers given at the eighth symposium in Norway, a diversity that is reflected in the associated collection of papers reviewed and accepted for publication as part of the symposium proceedings that follow. The papers may be roughly grouped into three topic groups: life-history and trophic ecology, evolutionary studies and studies of the effects of human interactions with charr, e.g. contaminant impacts. While themes related to the life-history and evolutionary ecology of species have remained more or less constant in terms of emphasis, interests and emphasis on the impacts of human activity on charrs have grown in importance. To some extent the grouping is arbitrary, given the multi-disciplinary approaches used by most investigators, but each reflects a current emphasis within the research community on questions of interest as they pertain to Salvelinus populations. The development of laboratory methods and the recent rapid decline in analytical costs associated with the completion of laboratory testing has facilitated multi-disciplinary approaches to the study of charrs; a trend that will undoubtedly both increase in the future and provide novel insights into Salvelinus biology.
Copyright information
© Springer International Publishing Switzerland 2016