Ecological effects of water-level fluctuations in lakes: an urgent issue
Water-level fluctuations (WLF) affect the ecological processes and patterns of lakes in several ways. Aquatic habitats and feeding or breeding grounds are gained or lost, as light, climate and wave impacts change to mention only a few phenomena. While the phenomenon of WLF has been studied in many rivers (better known as flood pulse, Junk & Wantzen,
2004
) and environmental flows (Bunn et al.,
2006
), so far it has not received due attention in lakes (Coops et al.,
2003
). A potential reason for why WLF in lakes have been overlooked for such a long time may be that central Europe and North America—the cradles of limnological research—are situated in landscapes which have been shaped by man for long time. Most central European lakes have been regulated since the middle ages; therefore, naturally fluctuating lakes such as Lake Constance (Fig.
1
) are rare today.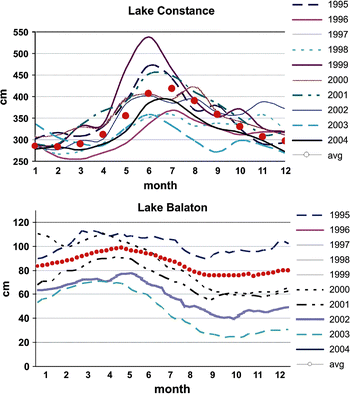 Keywords
Zebra Mussel 
Coarse Woody Debris 
Flood Pulse 
Corbicula Fluminea 
Clam Corbicula 
These keywords were added by machine and not by the authors. This process is experimental and the keywords may be updated as the learning algorithm improves.
Copyright information
© Springer Science+Business Media B.V. 2008