Global diversity of black flies (Diptera: Simuliidae) in freshwater
FRESHWATER ANIMAL DIVERSITY ASSESSMENT
Abstract
Black flies are a worldwide family of nematocerous Diptera whose immature stages are confined to running waters. They are key organisms in both aquatic and terrestrial ecosystems, but are perhaps best known for the bloodsucking habits of adult females. Attacks by black flies are responsible for reduced tourism, deaths in wild and domestic birds and mammals, and transmission of parasitic diseases to hosts, including humans. About 2,000 nominal species are currently recognized; however, certain geographical regions remain inadequately surveyed. Furthermore, studies of the giant polytene chromosomes of larvae reveal that many morphologically recognized species actually consist of two or more structurally indistinguishable (yet reproductively isolated) sibling species. Calculations derived from the best-known regional fauna—the Nearctic Region—reveal that the actual number of World black fly species exceeds 3,000.
Keywords
Simuliidae 
Lotic 
Filter-feeders 
Bloodsuckers 
Sibling species 
Bioindicators 
Introduction
Black flies (Simuliidae) represent a relatively small and structurally homogeneous family of nematocerous Diptera. They are most closely related to the Ceratopogonidae, Chironomidae, and Thaumaleidae, which collectively form the culicomorphan superfamily Chironomoidea. The 2000 nominal species of black flies are worldwide in distribution, occurring on all continents except Antarctica. They also populate most major archipelagos except Hawaii, the Falkland Islands, and isolated desert islands.
As with other holometabolous insects, black flies pass through four stages to complete their development: egg, larva, pupa, and adult. The first three stages are confined to running waters which, depending on species, can range in size from tiny headwaters to large rivers. Eggs are deposited on a variety of submerged or emergent substrata, or are simply dropped into the water where they settle into the sediments. Larvae (Fig. 1, top) are sausage-shaped organisms with a well-sclerotized external head capsule that typically bears a pair of labral fans. The thorax bears a single-ventral prothoracic proleg, and the last abdominal segment terminates with a posterior proleg that serves as an attachment organ. Larvae typically pass through seven instars to reach maturity. The fully mature larva (pharate pupa) spins a variously shaped silken cocoon in which to pupate. The pupa (Fig. 1, bottom) is remarkably uniform in shape and reflects the shape of the future adult. A pair of spiracular gills arises from the anterolateral corners of the thorax and typically projects anteriorly or anterodorsally. The gill consists of a number of slender filaments, or in some species it is tubular, club shaped, or spherical. The adults are small, hunchbacked flies with cigar-shaped antennae. Their wings are broad at the base with darkly sclerotized anterior veins and weakly sclerotized posterior veins. Both sexes require sugars (nectar, honeydew) as a source of energy for flight and other metabolic needs. Females of most species require blood from homeothermic hosts (mammals or birds) to develop their eggs. During blood feeding, black flies can transmit parasitic disease agents to their hosts. Some species (ca. 2.4% of the world fauna) have mouthparts that are feebly developed and unable to cut flesh (Crosskey, 1990). These obligatorily autogenous species develop their eggs in the absence of blood.
Black flies are key organisms in both aquatic and terrestrial ecosystems, especially in the boreal biome of the Nearctic and Palearctic Regions (Malmqvist et al., 2004). Larvae occur in huge numbers under favorable conditions, attaining population densities of up to a million individuals/m2. Under such densely packed conditions, they are an important source of food for many invertebrate (e.g., plecopteran) and vertebrate predators (e.g., salmonids). The filter-feeding habit of larvae plays a role in the processing of organic matter in streams. Fine particulate organic matter, and even dissolved organic matter, is removed from the water column and, as a consequence of the larva's low-digestion efficiency, is egested as nutritious fecal pellets. The pellets sink rapidly to the streambed where they serve as food for members of the collector–gatherer functional feeding guild of invertebrates. Were it not for the black fly larva's ability to assimilate such fine particles, much of the organic matter entrained in the water column would be transported downstream. The importance of fecal pellets in streams was highlighted by a study for a single river in Sweden that showed the average daily transport of fecal pellets reached a staggering 429 tonnes (dry mass) past an imaginary line across the river (Malmqvist et al., 2001). This massive amount of recycled organic matter provides crucial fodder for invertebrates and microorganisms, and has the potential to fertilize river valleys (Malmqvist et al., 2004).
Species & generic diversity
As one of the most prominent members of the benthic community and the second most important group of medically important insects, the family Simuliidae is among the most completely known groups of freshwater arthropods. The Simuliidae, along with the Culicidae in part, are unique among freshwater organisms in that their taxonomy has been greatly aided by band-by-band analyses of the giant polytene chromosomes in the larval silk glands. These giant chromosomes have routinely allowed the discovery of morphologically indistinguishable species. Despite these taxonomic promoters, we suspect that a significant proportion of the world's simuliid fauna remains undiscovered.
Approximately 2000 nominal species of extant black flies in 26 nominal genera are recognized as valid through mid-2006 (Crosskey & Howard,
2004
; Adler & Crosskey, unpublished) (Tables 
1
,
2
). We base our estimates of the absolute number of simuliids on mentations derived from one of the best-known regional faunas—the Nearctic fauna (Adler et al.,
2004
). Out of the 256 species of Nearctic black flies, 186 have had some level of chromosomal screening, albeit minimal in some cases. As a result of these chromosomal studies, 60 species (32.2%) were added to the Nearctic fauna. If we use 32.2% as a minimal estimate of hidden biodiversity (i.e., sibling species), the Nearctic fauna will increase by 23 species (i.e., 32.2% of the 70 chromosomally unscreened species), yielding a total of 279 species. Each of the remaining major regional faunas also would increase by 32.2% of the total number of nominal species known from each region, yielding species counts of 283 (Afrotropical), 258 (Australasian), 469 (Neotropical), 424 (Oriental), 73 (Pacific), and 924 (Palearctic).
Table 1
Numbers of simuliid species in each biogeographical region for the family, subfamilies, and tribes
|   | PA | NA | AT | NT | OL | AU | PAC | ANT | World* |
| --- | --- | --- | --- | --- | --- | --- | --- | --- | --- |
| Simuliidae | 699 | 256 | 214 | 355 | 321 | 195 | 55 | 2 | 2000 |
| Parasimuliinae | 0 | 4 | 0 | 0 | 0 | 0 | 0 | 0 | 4 |
| Simuliinae | 699 | 252 | 214 | 355 | 321 | 195 | 55 | 2 | 1996 |
| Prosimuliini | 77 | 62 | 0 | 0 | 0 | 0 | 0 | 0 | 136 |
| Simuliini | 622 | 190 | 214 | 355 | 321 | 195 | 55 | 2 | 1860 |
Table 2
Numbers of simuliid genera in each biogeographical region for the family, subfamilies, and tribes
|   | PA | NA | AT | NT | OL | AU | PAC | ANT | World* |
| --- | --- | --- | --- | --- | --- | --- | --- | --- | --- |
| Simuliidae | 12 | 13 | 2 | 10 | 1 | 2 | 1 | 1 | 26 |
| Parasimuliinae | 0 | 1 | 0 | 0 | 0 | 0 | 0 | 0 | 1 |
| Simuliinae | 12 | 12 | 2 | 10 | 1 | 2 | 1 | 1 | 25 |
| Prosimuliini | 6 | 4 | 0 | 0 | 0 | 0 | 0 | 0 | 6 |
| Simuliini | 6 | 8 | 2 | 10 | 1 | 2 | 1 | 1 | 20 |
The estimate derived for hidden biodiversity is a minimum value. Although giant chromosomes provide powerful prima facie evidence of reproductive isolation among species when two opposite and fixed chromosomal sequences are present in sympatry, they cannot always be used to reveal good species. Since Y-chromosome differences occur in the heterozygous condition—male black flies are typically XY—the giant chromosomes cannot always provide a distinction between two possibilities: separate species or a Y-chromosome polymorphism within one species. Given the high frequency of cases where different Y-chromosomes occur among putatively single species, we expect that the number of additional sibling species is considerable. Similarly, giant chromosomes cannot always reveal homosequential sibling species, which are not only morphologically indistinguishable, but also have the same chromosomal banding sequences. These species are real (e.g., Henderson, 1986), but too little prospecting has been done to provide an estimate of their numbers among the Simuliidae. We suspect that the number of homosequential sibling species would easily balance the number of potential synonyms, and for purposes of predicting the absolute number of species we here consider them to cancel one another.
Estimating the number of morphologically distinct species yet to be discovered is more problematic. In areas such as western Europe and North America, the number is probably quite low; only one new morphologically distinct species has been found in the Nearctic Region and none in western Europe in the past four years. On the other hand, in poorly explored hot spots, such as the Himalayas, Cambodia, Peru, and the interior of Irian Jaya, the number is likely to be large; for example, 71 morphologically distinct species were found on five major Indonesian islands in the past four years (Takaoka, 2003). We suggest that a 5% increase in the number of morphologically distinct species above the currently recognized number of nominal species in the Nearctic and Palearctic Regions is reasonable, yielding an increase of 13 and 35 species, respectively. For the Afrotropical, Australasian, Neotropical, Oriental, and Pacific Regions, we estimate a 25% increase in species numbers, yielding increases of 54, 49, 89, 80, and 14 species, respectively. Considering the number of potentially undiscovered morphospecies and sibling species, we suspect that the total number of black flies in the world is more than 3000, with regional contributions to this grand total as follows: 337 (Afrotropical), 2 (Antarctic), 307 (Australasian), 292 (Nearctic), 558 (Neotropical), 504 (Oriental), 87 (Pacific), and 959 (Palearctic).
Phylogeny and historical processes
The earliest definitive simuliid fossils date to late Jurassic times (Kalugina, 1991; Currie and Grimaldi, 2000); however, the fossil record of related families suggests that black flies must have originated considerably earlier. The family Simuliidae, therefore, likely had a Pangean, or effectively Pangean, origin.
There are no comprehensive phylogenies of the world Simuliidae—at least, none that are reconstructed in an explicitly phylogenetic framework. Adler et al. (
2004
) provided a cladistic analysis of the genera and subgenera of Holarctic black flies, and Moulton (
2000
) provided an interpretation of suprageneric relationships based on his analysis of molecular sequence data. Both studies recognized a two-subfamily system (Parasimuliinae and Simuliinae), of which the latter was divided into two tribes (Prosimuliini and Simuliini); this system is the one followed here. Members of the subfamily Parasimuliinae exhibit a relict distribution, occurring only in the coastal mountains of western North America. Within the subfamily Simuliinae, members of the tribe Prosimuliini occur only in the Nearctic and Palearctic Regions, whereas the most plesiomorphic members of the tribe Simuliini occur in the Afrotropical, Australasian, and Neotropical Regions. These distributions suggest that the two tribes originated in Laurasia and Gondwanaland, respectively (Currie,
1988
).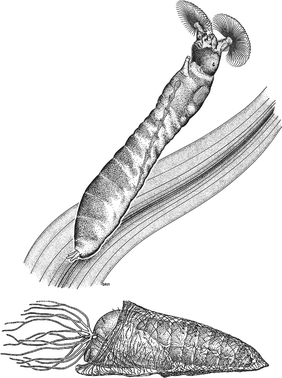 Present distribution and main areas of endemicity
The Palearctic Region has by far the largest number of described species (Fig. 
2
), although the dubious taxonomic practices of earlier specialists suggest that many synonyms probably exist among the names of currently recognized species. Nonetheless, significant parts of the Palearctic Region (e.g., Himalayas) remain inadequately surveyed and the current prediction of 959 species might not be unreasonable. The Nearctic Region—the most completely surveyed faunal area—has far fewer than half that number of predicted species. The Neotropical and Oriental Regions have roughly equal numbers of species (558 and 504 species, respectively), although the latter region has not received the same intensity of taxonomic scrutiny as the former.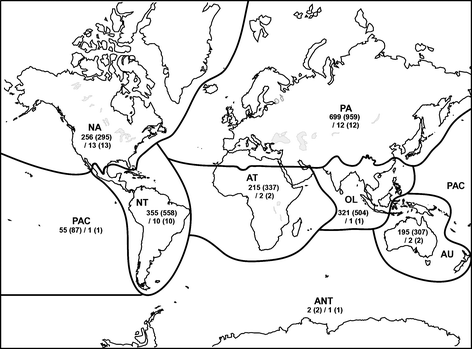 South Asia is in particular need of study. Relatively few taxonomic studies have been conducted in the area, consisting mainly of isolated species descriptions. The simuliid fauna of the Afrotropical Region has received considerable attention, but most of this effort has been directed toward vectors (e.g., Simulium damnosum complex) of the causal agent of human onchocerciasis. The Australasian Region has not been intensively studied since the early 1970s (e.g., Mackerras & Mackerras, 1952; Dumbleton, 1973). Indeed, the 71 species recently described from Irian Jaya, Maluku, and Sulawesi (Takaoka, 2003) represent more than 36% of all the morphospecies currently recognized from Australasia. More intensive surveys in Irian Jaya, Papua New Guinea, and Western Australia will increase the number of species for the region. The simuliid faunas of Antarctica (Crozet Islands) and the Pacific Oceanic Islands have been well surveyed (e.g., Craig et al., 2003; Craig & Joy, 2000); yet, additional species continue to be discovered in the Pacific Region as new collections are made.
The Nearctic and Oriental Regions have the fewest endemic taxa among the major zoogeographic areas, perhaps owing in part to their close association with the Palearctic Region (Tables 1, 2). The Neotropical Region has by far the largest number of endemic genus-group taxa; however, a number of currently recognized 'valid' names (e.g., Kempfsimulium, Pedrowygomyia) undoubtedly will fall into synonymy, as phylogenetic relationships become better understood. In contrast, several additional genus-group taxa will have to be recognized for species that are currently assigned to the Australian "Paracnephia." The Afrotropical Region, with its 11 unique genus-group taxa, is second only to the Neotropical Region in terms of endemicity. Antarctica (Crozet Islands) and the Pacific Oceanic Islands have one and two endemic genus-group taxa, respectively.
In terms of faunal similarities, the Nearctic and Palearctic Regions share by far the greatest number (18) of genus-group taxa (Table 
3
). The Nearctic and Neotropical Regions share six genus-group taxa, as do the Palearctic and Oriental Regions. At the other end of the spectrum, Antarctica (Crozet Islands), with its one endemic genus (
Crozetia
), exhibits no clear relationship with any other zoogeographical region (Craig et al.,
2003
) (Table 
3
).
Table 3
Genus-group taxa of Simuliidae shared among zoogeographic regions
|   | PA | NA | NT | AT | OL | AU | PAC | ANT |
| --- | --- | --- | --- | --- | --- | --- | --- | --- |
| PA | – |   |   |   |   |   |   |   |
| NA | 18 | – |   |   |   |   |   |   |
| NT | 2 | 6 | – |   |   |   |   |   |
| AT | 2 | 2 | 0 | – |   |   |   |   |
| OL | 6 | 4 | 1 | 2 | – |   |   |   |
| AU | 3 | 2 | 0 | 2 | 4 | – |   |   |
| PAC | 1 | 0 | 0 | 0 | 1 | 2 | – |   |
| ANT | 0 | 0 | 0 | 0 | 0 | 0 | 0 | – |
Human-related issues
The bloodsucking habits of female simuliids are responsible for considerable deleterious effects on humans and their economic welfare (Crosskey, 1990). Reduced tourism, deaths of domesticated birds and mammals, and transmission of parasitic disease organisms are but a few of the myriad medical and socioeconomic impacts associated with black flies. Human onchocerciasis (river blindness) is the most pressing health-related issue, with up to 18 million people infected in parts of Africa and South and Central America. The causative organism, Onchocerca volvulus, is transmitted exclusively by black flies—predominantly members of the Simulium damnosum complex in Africa and members of the Simulium subgenera Aspathia and Psilopelmia in South and Central America (Crosskey, 1990). In addition to being the sole vectors of the disease agent of river blindness, black flies are pests of humans due to their swarming and bloodsucking behavior. However, no species of black fly feeds exclusively on humans, and relatively few species include humans among their hosts. Massive outbreaks of anthropophilic species, nonetheless, can have a great impact on tourism and other forms of human activity.
Black flies are also responsible for transmitting parasitic disease organisms, such as filarial worms, protozoans, and arboviruses to a wide variety of domesticated animals (Adler, 2005). Massive attacks by livestock pests such as Cnephia pecuarum, Simulium colombaschense, Simulium luggeri, and Simulium vampirum have caused mortality in cattle, horses, mules, pigs, and sheep. Deaths in such instances are typically attributed to toxic shock (simuliotoxicosis) from the salivary injections of many bites. Sublethal attacks can have an economic impact through unrealized weight gains, reduced milk production, malnutrition, impotence, and stress-related phenomena (Adler et al., 2004). The effects of black flies on wild birds and mammals are inadequately studied, but are likely to be as great as those reported for domesticated animals.
Black flies have a negative reputation because of the bloodsucking habit of the females. On a more positive note, the adults provide food for predators, such as birds and odonates, and promote conservation by deterring people from inhabiting or developing wilderness areas. The immature stages not only play a dominant role in lotic communities by processing organic matter, but also are sensitive to anthropogenic inputs and are thus excellent barometers of water quality. Simulium maculatum (Meigen), for example, once widespread in central Europe, was extirpated from many large rivers because of pollution (Zwick & Crosskey, 1981).
Where pest species persist or thrive in the face of human activity, various means have been used to control their populations. Historically, chlorinated hydrocarbons such as DDT (dichlorodiphenyltrichloroethane) and methoxychlor were used against black fly larvae. Neither compound was specific to black flies, and both were susceptible to resistance problems. DDT was discontinued in the early 1970s because of its devastating impact on the environment (i.e., bioaccumulation), and methoxychlor and the organophosphate Abate fell into disfavor because of resistance and nonspecificity (Adler et al., 2004). Currently, the biological control agent Bacillus thuringiensis variety israelensis (Bti)—a naturally occurring bacterium—is the remedy of choice against black flies worldwide. Unlike its chemical predecessors, Bti has an excellent host specificity, is highly toxic to larval black flies, is safe for humans, and is relatively inexpensive.
Copyright information
© Springer Science+Business Media B.V. 2007