Abstract
Heart failure (HF) is mainly caused by left ventricular (LV) impairment of function, hence detailed assessment of its structure and function is a clinical priority. The frequent involvement of the left atrium (LA) and the right ventricle (RV) in the overall cardiac performance has recently gained significant interest with specific markers predicting exercise intolerance and prognosis being proposed. The LA and RV are not anatomically separated from the LV, while the LA controls the inlet the RV shares the interventricular septum with the LV. Likewise, the function of the two chambers is not entirely independent from that of the LV, with the LA enlarging to accommodate any rise in filling pressures, which could get transferred to the RV via the pulmonary circulation. In the absence of pulmonary disease, LA and RV function may become impaired in patients with moderate-severe LV disease and raised filling pressures. These changes can often occur irrespective of the severity of systolic dysfunction, thus highlighting the important need for critical assessment of the function of the two chambers. This review evaluates the pivotal role of the left atrium and right ventricle in the management of HF patients based on the available evidence.
This is a preview of subscription content, log in to check access.
Access options
Buy single article
Instant access to the full article PDF.
US$ 39.95
Price includes VAT for USA
Subscribe to journal
Immediate online access to all issues from 2019. Subscription will auto renew annually.
US$ 99
This is the net price. Taxes to be calculated in checkout.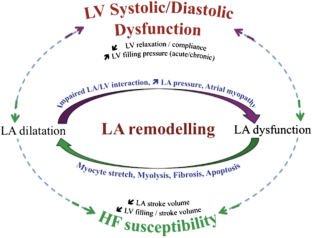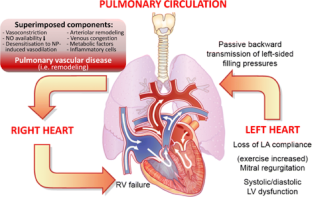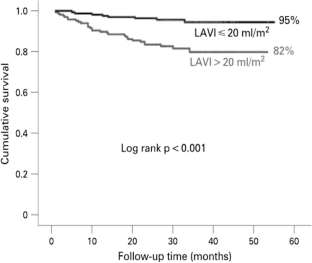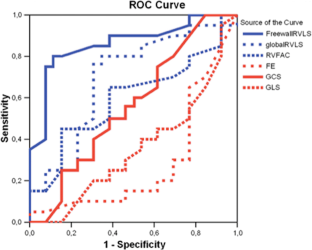 References
1.

Ponikowski P, Voors AA, Anker SD, Bueno H, Cleland JG, Coats AJ, Falk V, González-Juanatey JR, Harjola VP, Jankowska EA, Jessup M, Linde C, Nihoyannopoulos P, Parissis JT, Pieske B, Riley JP, Rosano GMC, Ruilope LM, Ruschitzka F, Rutten FH, van der Meer P, ESC Scientific Document Group.et al; Authors/TTask FForce MMembers (2016) ESC guidelines for the diagnosis and treatment of acute and chronic heart failure: the task force for the diagnosis and treatment of acute and chronic heart failure of the European Society of Cardiology (ESC). Developed with the special contribution of the Heart Failure Association (HFA) of the ESC. Eur Heart J 37(27): 2129–2200

2.

Lund LH, Aaronson KD, Mancini DM (2005) Validation of peak exercise oxygen consumption and the Heart Failure Survival Score for serial risk stratification in advanced heart failure. Am J Cardiol 95(6):734–741

3.

Mozaffarian D, Anker SD, Anand I, Linker DT, Sullivan MD, Cleland JG et al (2007) Prediction of mode of death in heart failure: the Seattle Heart Failure Model. Circulation. 116(4):392–398

4.

Marwick TH (2013) Methods used for the assessment of LV systolic function: common currency or tower of Babel? Heart. 99:1078–1086

5.

Skhiri M, Hunt SA, Denault AY, Haddad F (2010) Evidence-based management of right heart failure: a systematic review of an empiric field. Rev Esp Cardiol 63:451–471

6.

Apostolakis S, Konstantinides S (2012) The right ventricle in health and disease: insights into physiology, pathophysiology and diagnostic management. Cardiology. 121(4):263–273

7.

Triposkiadis F, Pieske B, Butler J, Parissis J, Giamouzis G, Skoularigis J, Brutsaert D, Boudoulas H (2016) Global left atrial failure in heart failure. Eur J Heart Fail 18(11):1307–1320

8.

Lancellotti P, Henri C (2014) The left atrium: an old 'barometer' which can reveal great secrets. Eur J Heart Fail 16(10):1047–1048

9.

Todaro MC, Khandheria BK (2014) Left atrium: still a neglected chamber? J Cardiovasc Echogr 24(3):72–77

10.

Melenovsky V, Hwang SJ, Redfield MM, Zakeri R, Lin G, Borlaug BA (2015) Left atrial remodeling and function in advanced heart failure with preserved or reduced ejection fraction. Circ Heart Fail 8(2):295–303

11.

Santamore WP, Dell'Italia LJ (1998) Ventricular interdependence: significant left ventricular contributions to right ventricular systolic function. Prog Cardiovasc Dis 40:289–308

12.

Dandel M, Krabatsch T, Falk V (2015) Left ventricular vs. biventricular mechanical support: decision making and strategies for avoidance of right heart failure after left ventricular assist device implantation. Int J Cardiol 198:241–250

13.

Khush KK, Tasissa G, Butler J, McGlothlin D, De Marco T, ESCAPE Investigators (2009) Effect of pulmonary hypertension on clinical outcomes in advanced heart failure: analysis of the evaluation study of congestive heart failure and pulmonary artery catheterization effectiveness (ESCAPE) database. Am Heart J 157:1026–1034

14.

MacNee W (1994) Pathophysiology of cor pulmonale in chronic obstructive pulmonary disease: part one. Am J Respir Crit Care Med 150:833–852

15.

Gomez-Arroyo J, Sandoval J, Simon MA, Dominguez-Cano E, Voelkel NF, Bogaard HJ (2014) Treatment for pulmonary arterial hypertension-associated right ventricular dysfunction. Ann Am Thorac Soc 11(7):1101–1115

16.

Axell RG, Messer SJ, White PA, McCabe C, Priest A, Statopoulou T, Drozdzynska M, Viscasillas J, Hinchy EC, Hampton-Till J, Alibhai HI, Morrell N, Pepke-Zaba J, Large SR, Hoole SP (2017) Ventriculo-arterial coupling detects occult RV dysfunction in chronic thromboembolic pulmonary vascular disease. Physiol Rep 5(7):e13227

17.

Aubert R, Venner C, Huttin O, Haine D, Filippetti L, Guillaumot A, Mandry D, Marie PY, Juilliere Y, Chabot F, Chaouat A, Selton-Suty C (2018) Three-dimensional echocardiography for the assessment of right ventriculo-arterial coupling. J Am Soc Echocardiogr 31(8):905–915

18.

Aguero J, Ishikawa K, Hadri L, Santos-Gallego C, Fish K, Hammoudi N, Chaanine A, Torquato S, Naim C, Ibanez B, Pereda D, García-Alvarez A, Fuster V, Sengupta PP, Leopold JA, Hajjar RJ (2014) Characterization of right ventricular remodeling and failure in a chronic pulmonary hypertension model. Am J Physiol Heart Circ Physiol 307(8):H1204–H1215

19.

Ghio S, Guazzi M, Scardovi AB, Klersy C, Clemenza F, Carluccio E, Temporelli PL, Rossi A, Faggiano P, Traversi E, Vriz O, Dini FL (2017) All investigators. Different correlates but similar prognostic implications for right ventricular dysfunction in heart failure patients with reduced or preserved ejection fraction. Eur J Heart Fail 19(7):873–879

20.

Russo C, Jin Z, Homma S, Rundek T, Elkind MS, Sacco RL et al (2012) Left atrium minimum volume and reservoir function as correlates of left ventricular diastolic dysfunction: impact on left ventricular systolic function. Heart 98:813–820

21.

Galderisi M, Cosyns B, Edvardsen T, Cardim N, Delgado V, Di Salvo G, Donal E,Elif Sade L, Ernande L, Garbi M, Grapsa J, Hagendorff A, Kamp O, Magne J, Santoro C, Stefanidis A, Lancellotti P, Popescu B, Habib G. Standardization of adult transthoracic echocardiography reporting in agreement with recent chamber quantification, diastolic function, and heart valve disease recommendations: an expert consensus document of the European Association of Cardiovascular Imaging. Eur Heart J Cardiovasc Imaging. 2017 Dec 1;18(12):1301-1310.

22.

Nagueh SF, Smiseth OA, Appleton CP, Byrd BF 3rd, Dokainish H, Edvardsen T et al (2016) Recommendations for the evaluation of left ventricular diastolic function by echocardiography: an update from the American Society of Echocardiography and the European Association of Cardiovascular Imaging. Eur Heart J Cardiovasc Imaging 17:1321–1360

23.

Lancellotti P, Galderisi M, Edvardsen T, Donal E, Goliasch G, Cardim N, Magne J, Laginha S, Hagendorff A, Haland TF, Aaberge L, Martinez C, Rapacciuolo A, Santoro C, Ilardi F, Postolache A, Dulgheru R, Mateescu AD, Beladan CC, Deleanu D, Marchetta S, Auffret V, Schwammenthal E, Habib G, Popescu BA (2017) Echo-Doppler estimation of left ventricular filling pressure: results of the multicentre EACVI Euro-Filling study. Eur Heart J Cardiovasc Imaging 18(9):961–968

24.

Benjamin EJ, D'Agostino RB, Belanger AJ, Wolf PA, Levy D et al (1995) Left atrial size and the risk of stroke and death: the Framingham Heart Study. Circulation 92:835–841

25.

Pritchett AM, Jacobsen SJ, Mahoney DW, Rodeheffer RJ, Bailey KR, Redfield MM (2003) Left atrial volume as an index of left atrial size: a population-based study. J Am Coll Cardiol 41:1036–1043

26.

Beinart R, Boyko V, Schwammenthal E, Kuperstein R, Sagie A, Hod H, Matetzky S, Behar S, Eldar M, Feinberg MS (2004) Long-term prognostic significance of left atrial volume in acute myocardial infarction. J Am Coll Cardiol 44:327–334

27.

Ramu B, Elwan AM, Coleman CI, Silverman DI, Gluck JA (2015) The association between baseline left atrial volume index and all-cause mortality in patients with heart failure: a meta-analysis. Conn Med 79(8):469–475

28.

Di Tullio MR, Qian M, Thompson JLP, Labovitz AJ, Mann DL, Sacco RL et al (2018) WARCEF Investigators. Left atrial volume and cardiovascular outcomes in systolic heart failure: effect of antithrombotic treatment. ESC Heart Fail. 2018 Oct;5(5):800-808.

29.

Rossi A, Cicoira M, Bonapace S, Golia G, Zanolla L, Franceschini L, Vassanelli C (2007) Left atrial volume provides independent and incremental information compared with exercise tolerance parameters in patients with heart failure and left ventricular systolic dysfunction. Heart. 93(11):1420–1425

30.

Lim TK, Dwivedi G, Hayat S, Majumdar S, Senior R (2009) Independent value of left atrial volume index for the prediction of mortality in patients with suspected heart failure referred from the community. Heart 95:1172–1178

31.

Quinones MA, Greenberg BH, Kopelen HA, Koilpillai C, Limacher MC, Shindler DM et al (2000) Echocardiographic predictors of clinical outcome in patients with left ventricular dysfunction enrolled in the SOLVD registry and trials: significance of left ventricular hypertrophy. Studies of left ventricular dysfunction. J Am Coll Cardiol 35:1237–1244

32.

Gopal D, Wang J, Han Y (2018) Determinants of normal left atrial volume in heart failure with moderate-to-severely reduced ejection fraction. Cardiol Res Pract 2018:7512758

33.

Carlino MV, Paladino F, Sforza A, Serra C, Liccardi F, de Simone G, Mancusi C (2018 Jun) Assessment of left atrial size in addition to focused cardiopulmonary ultrasound improves diagnostic accuracy of acute heart failure in the emergency department. Echocardiography. 35(6):785–791

34.

Cameli M, Mandoli GE, Loiacono F, Dini FL, Henein M, Mondillo S (2016) Left atrial strain: a new parameter for assessment of left ventricular filling pressure. Heart Fail Rev 21(1):65–76

35.

Lisi M, Henein MY, Cameli M, Ballo P, Reccia R, Bennati E, Chiavarelli M, Maccherini M, Mondillo S (2013) Severity of aortic stenosis predicts early post-operative normalization of left atrial size and function detected by myocardial strain. Int J Cardiol 167(4):1450–1455

36.

Hoit BD (2018) Assessment of left atrial function by echocardiography: novel insights. Curr Cardiol Rep 20(10):96

37.

Nagy AI, Hage C, Merkely B, Donal E, Daubert JC, Linde C, Lund LH, Manouras A (2018) Left atrial rather than left ventricular impaired mechanics are associated with the pro-fibrotic ST2 marker and outcomes in heart failure with preserved ejection fraction. J Intern Med 283(4):380–391

38.

Buggey J, Hoit BD (2018) Left atrial strain: measurement and clinical application. Curr Opin Cardiol 33(5):479–485

39.

Freed BH, Daruwalla V, Cheng JY et al (2016) Prognostic utility and clinical significance of cardiac mechanics in heart failure with preserved ejection fraction: importance of left atrial strain. Circ Cardiovasc imaging 9(3):10

40.

Caravita S, Mariani D, Blengino S, Branzi G, Crotti L, Parati G (2018) Pulmonary hypertension due to a stiff left atrium: speckle tracking equivalents of large V-waves. Echocardiography. 00:1–3

41.

Stefan L, Sedláček K, Černá D, Krýže L, Vančura V, Marek T, Kautzner J (2012) Small left atrium and mild mitral regurgitation predict super-response to cardiac resynchronization therapy. Europace. 14(11):1608–1614

42.

Imamura T, Kinugawa K, Nitta D, Komuro I (2015) Complete left bundle branch block and smaller left atrium are predictors of response to cardiac resynchronization therapy in advanced heart failure. Circ J 79(11):2414–2421

43.

Valzania C, Gadler F, Boriani G, Rapezzi C, Eriksson MJ (2016) Effect of cardiac resynchronization therapy on left atrial size and function as expressed by speckle tracking 2-dimensional strain. Am J Cardiol 118:237–243

44.

Sugahara M, Kagiyama N, Hasselberg NE, Adelstein E, Gorcsan J. Left atrial strain adds prognostic value to left ventricular global longitudinal strain in heart failure patients treated by cardiac resynchronization therapy with intermediate electrocardiographic criteria. In: American Heart Association Scientific Sessions. Circulation, Anaheim, CA, p A17211

45.

Lai WW, Gauvreau K, Rivera ES, Saleeb S, Powell AJ, Geva T (2008) Accuracy of guideline recommendations for two-dimensional quantification of the right ventricle by echocardiography. Int J Cardiovasc Imaging 24:691–698

46.

Grant A, Smedira N, Starling R, Marwick T (2012) Independent and incremental role of quantitative right ventricular evaluation for the prediction of right ventricular failure after left ventricular assist device implantation. J Am Coll Cardiol 60:521–528

47.

Kato TS, Farr M, Schulze PC, Maurer M, Shahzad K, Iwata S et al Usefulness of two-dimensional echocardiographic parameters of the left side of the heart to predict right ventricular failure after left. (2015) Am J Cardiol; 109(2):246-51.

48.

De Groote P, Millaire A, Foucher-Hossein C, Nugue O, Marchandise X, Ducloux G et al (1998) Right ventricular ejection fraction is an independent predictor of survival in patients with moderate heart failure. J Am Coll Cardiol 32:948–954

49.

Voelkel NF, Quaife RA, Leinwand LA, Barst RJ, McGoon MD, Meldrum DR, Dupuis J, Long CS, Rubin LJ, Smart FW, Suzuki YJ, Gladwin M, Denholm EM, Gail DB, National Heart, Lung, and Blood Institute Working Group on Cellular and Molecular Mechanisms of Right Heart Failure (2006) Right ventricular function and failure: report of a National Heart, Lung, and Blood Institute Working Group on cellular and molecular mechanisms of right heart failure. Circulation 114:1883–1891

50.

Carlsson M, Ugander M, Heiberg E, Arheden H (2007) The quantitative relationship between longitudinal and radial function in left, right, and total heart pumping in humans. Am J Physiol Heart Circ Physiol 293:H636–H644

51.

Lisi M, Cameli M, Righini FM, Malandrino A, Tacchini D, Focardi M, Tsioulpas C, Bernazzali S, Tanganelli P, Maccherini M, Mondillo S, Henein MY (2015) RV longitudinal deformation correlates with myocardial fibrosis in patients with end-stage heart failure. JACC Cardiovasc Imaging 8(5):514–522

52.

Motoki H, Borowski AG, Shrestha K, Hu B, Kusunose K, Troughton RW, Tang WHW, Klein AL (2014) Right ventricular global longitudinal strain provides prognostic value incremental to left ventricular ejection fraction in patients with heart failure. J Am Soc Echocardiogr 27(7):726–732

53.

Guendouz S, Rappeneau S, Nahum J, Dubois-Randé JL, Gueret P, Monin JL, Lim P, Adnot S, Hittinger L, Damy T (2012) Prognostic significance and normal values of 2d strain to assess right ventricular systolic function in chronic heart failure. Circ J 76(1):127–136

54.

Cameli M, Lisi M, Righini FM, Tsioulpas C, Bernazzali S, Maccherini M, Sani G, Ballo P, Galderisi M, Mondillo S (2012) Right ventricular longitudinal strain correlates well with right ventricular stroke work index in patients with advanced heart failure referred for heart transplantation. J Card Fail 18(3):208–215

55.

Cameli M, Righini FM, Lisi M, Bennati E, Navarri R, Lunghetti S, Padeletti M, Cameli P, Tsioulpas C, Bernazzali S, Maccherini M, Sani G, Henein M, Mondillo S (2013) Comparison of right versus left ventricular strain analysis as a predictor of outcome in patients with systolic heart failure referred for heart transplantation. Am J Cardiol 112(11):1778–1784

56.

Sljivic A, Pavlovic Kleut M, Bukumiric Z, Celic V (2018) Association between right ventricle two- and three-dimensional echocardiography and exercise capacity in patients with reduced left ventricular ejection fraction. PLoS One 13(6):e0199439

57.

Tadic M, Pieske-Kraigher E, Cuspidi C, Morris DA, Burkhardt F, Baudisch A, Haßfeld S, Tschöpe C, Pieske B (2017) Right ventricular strain in heart failure: clinical perspective. Arch Cardiovasc Dis 110(10):562–571

58.

Badano LP, Boccalini F, Muraru D, Dal Bianco L, Peluso D, Bellu R et al (2012) Current clinical applications of transthoracic three-dimensional echocardiography. J Cardiovasc Ultrasound 20(1):1–22

59.

Dutta T, Aronow WS (2017) Echocardiographic evaluation of the right ventricle: clinical implications. Clin Cardiol 40:542–548

60.

Guazzi M, Dixon D, Labate V, Beussink-Nelson L, Bandera F, Cuttica MJ et al (2017) RV contractile function and its coupling to pulmonary circulation in heart failure with preserved ejection fraction: stratification of clinical phenotypes and outcomes. JACC Cardiovasc Imaging 10:1211–1221

61.

Lopez-Candales A, Lopez FR, Trivedi S, Elwing J (2014) Right ventricular ejection efficiency: a new echocardiographic measure of mechanical performance in chronic pulmonary hypertension. Echocardiography 31:516–523

62.

Iacoviello M, Monitillo F, Citarelli G, Leone M, Grande D, Antoncecchi V, Rizzo C, Terlizzese P, Romito R, Caldarola P, Ciccone MM (2017) Right ventriculo-arterial coupling assessed by two-dimensional strain: a new parameter of right ventricular function independently associated with prognosis in chronic heart failure patients. Int J Cardiol 241:318–321

63.

Nochioka K, Querejeta Roca G, Claggett B, Biering-Sørensen T, Matsushita K, Hung CL, Solomon SD, Kitzman D, Shah AM Right ventricular function, right ventricular-pulmonary artery coupling, and heart failure risk in 4 US communities: the Atherosclerosis Risk in Communities (ARIC) study. (2018) JAMA Cardiol;3(10):939-948.

64.

Vitarelli A, Terzano C (2010) Do we have two hearts? New insights in right ventricular function supported by myocardial imaging echocardiography. Heart Fail Rev 15(1):39–61

65.

Dang N, Topkara V, Mercando M et al (2006) Right heart failure after left ventricular assist device implantation in patients with chronic congestive heart failure. J Heart Lung Transplant 25:1–6

66.

Matthews JC, Koelling T, Pagani F, Aaronson K (2008) The right ventricular failure risk score a preoperative tool for assessing the risk of right ventricular failure in left ventricular assist device candidates. J Am Coll Cardiol 51:2163–2172

67.

Lewis GD, Lachmann J, Camuso J, Lepore JJ, Shin J, Martinovic ME, Systrom DM, Bloch KD, Semigran MJ (2007) Sildenafil improves exercise hemodynamics and oxygen uptake in patients with systolic heart failure. Circulation 115:59–66

68.

Turner KR. Right ventricular failure after left ventricular assist device placement-the beginning of the end or just another challenge? (2019) J Cardiothorac Vasc Anesth.; 33(4):1105-1121.

69.

Kato TS, Jiang J, Schulze PC, Jorde U, Uriel N, Kitada S, Takayama H, Naka Y, Mancini D, Gillam L, Homma S, Farr M (2013) Serial echocardiography using tissue Doppler and speckle tracking imaging to monitor right ventricular failure before and after left ventricular assist device surgery. JACC: Heart Failure 1:216–222

70.

Cameli M, Lisi M, Righini FM, Focardi M, Lunghetti S, Bernazzali S, Marchetti L, Biagioli B, Galderisi M, Maccherini M, Sani G, Mondillo S (2013) Speckle tracking echocardiography as a new technique to evaluate right ventricular function in patients with left ventricular assist device therapy. J Heart Lung Transplant 32(4):424–430
Ethics declarations
Conflict of interest
The authors declare that they have no conflict of interest.
Additional information
Publisher's note
Springer Nature remains neutral with regard to jurisdictional claims in published maps and institutional affiliations.
About this article
Cite this article
Cameli, M., Pastore, M., Henein, M. et al. The left atrium and the right ventricle: two supporting chambers to the failing left ventricle. Heart Fail Rev 24, 661–669 (2019). https://doi.org/10.1007/s10741-019-09791-4
Keywords
Heart failure

Left atrium

Right ventricle

Prognosis

Echocardiography