Abstract
The selection of fine flavour cocoa and coffee varieties can lead to attractive niche markets but germplasm need to be analysed for non-volatile compounds and aroma precursors. In the present study, green beans of 202 Theobroma cacao L. accessions (acc.), 64 Coffea arabica L. acc., 35 C. canephora Pierre ex A. Froehner, 7 C. arabusta Capot & Aké Assi and 2 C. canephora × C. congensis A. Froehner hybrids cultivated in Santo, Vanuatu, and harvested at full maturity, were analysed using High Performance Thin Layer Chromatography (HPTLC). In cocoa, 11 compounds were quantified: two alkaloids, two catechins, five proanthocyanidins, and two anthocyanins. Multivariate analyses revealed that Amenolado acc. are differentiated from Criollo, Forastero and Trinitario acc. due to their low caffeine, catechins, and proanthocyanidins contents. Hybrids involving an Amenolado parent also produce low non-volatile compounds contents. In coffee, 11 compounds were quantified: sucrose, two alkaloids, and eight chlorogenic acids. The two major species were differentiated by their mean caffeine content (12.69 mg/g in C. arabica vs. 16.04 mg/g in C. canephora), which is highly correlated with CGA and other chlorogenic acids. Each of the eight chlorogenic acids presented higher values in C. canephora. The ratio sucrose/alkaloids + chlorogenic acids was significantly higher in C. arabica (3.24) than in C. canephora (1.68) which could be an explanation for its comparative sweetness. Coffea arabusta interspecific hybrids presented an intermediate value (2.64). Congusta hybrids were low in sucrose. HPTLC is a cost-efficient technique when applied to germplasm characterization of non-volatile compounds in green cocoa and coffee beans. Chemotype selection appears promising for the development of fine flavor varieties.
This is a preview of subscription content, log in to check access.
Access options
Buy single article
Instant access to the full article PDF.
US$ 39.95
Price includes VAT for USA
Subscribe to journal
Immediate online access to all issues from 2019. Subscription will auto renew annually.
US$ 199
This is the net price. Taxes to be calculated in checkout.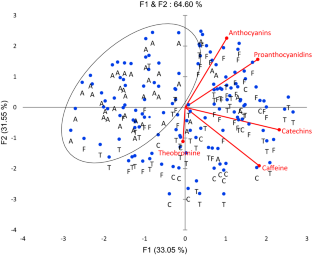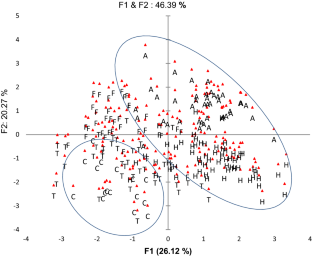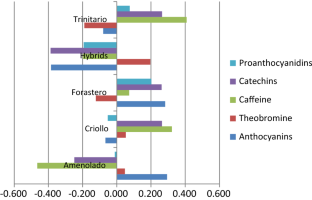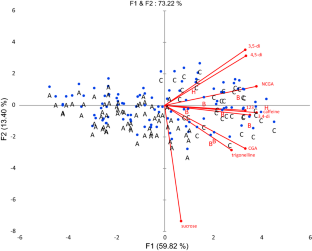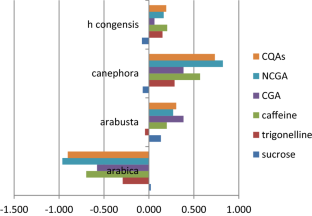 References
Alonso-Salces RM, Serra F, Reniero F, Héberger K (2009) Botanical and geographical characterization of green coffee (Coffea arabica and Coffea canephora): chemometric evaluation of phenolic and methylxanthine contents. J Agric Food Chem 57:4224–4235. https://doi.org/10.1021/jf8037117

Anagbogu CF, Bhattacharjee R, Ilori C, Tongyoo P, Dada KE, Muyiwa AA, Gepts P, Beckles DM (2019) Genetic diversity and re-classification of coffee (Coffea canephora Pierre ex A. Froehner) from South Western Nigeria through genotyping-by-sequencing-single nucleotide polymorphism analysis. Genet Resour Crop Evol 66:685–696. https://doi.org/10.1007/s10722-019-00744-2

Aprotosoaie AC, Vlad Luca S, Miron A (2016) Flavor chemistry of cocoa and cocoa products: an overview. Compr Rev Food Sci Food Safety 15:73–91. https://doi.org/10.1111/1541-4337.12180

Babova O, Occhipinti A, Maffei ME (2016) Chemical partitioning and antioxidant capacity of green coffee (Coffea arabica and Coffea canephora) of different geographical origin. Phytochemistry 123:33–39. https://doi.org/10.1016/j.phytochem.2016.01.016

Bertrand B, Villareal D, Laffargue A, Posada H, Lashermes P, Dussert S (2008) Comparison of the effectiveness of fatty acids, chlorogenic acids, and elements for the chemometric discrimination of coffee (Coffea arabica L.) varieties and growing origins. J Agric Food Chem 56:2273–2280. https://doi.org/10.1021/jf073314f

Borém FM, Figueiredo LP, Ribeiro FC, Taveira JHS, Giomo GS, Dalva TJG (2016) The relationship between organic acids, sucrose and the quality of specialty coffees. Afr J Agric Res 11(8):709–717. https://doi.org/10.5897/AJAR2015.10569

Boza EJ, Irish BM, Meerow AW, Tondo CL, Rodríguez OA, Ventura-López M, Gómez JA, Moore JM, Zhang D, Motamayor JC, Schnell RJ (2013) Genetic diversity, conservation, and utilization of Theobroma cacao L.: genetic resources in the Dominican Republic. Genet Resour Crop Evol 60:605–619. https://doi.org/10.1007/s10722-012-9860-4

Bramel P, Krishnan S, Horna D, Lainoff B, Montagnon C (2017) Global conservation strategy for coffee genetic resources. Crop Trust and Word Coffee Research, 71 p. https://worldcoffeeresearch.org/media/documents/Coffee_Strategy_Low_Res.pdf

Bubueanu C, Pavaloiu R, Pirvu L (2016) HPTLC profiles and antioxidant activities from leaves to green and roasted beans of Coffea arabica. Malay J Med Biol Res 3(1):31–36

Campa C, Doulbeau S, Dussert S, Hamon S, Noirot M (2005) Qualitative relationship between caffeine and chlorogenic acid contents among wild Coffea species. Food Chem 93:135–139. https://doi.org/10.1016/j.foodchem.2004.10.015

Caprioli G, Fiorini D, Maggi F, Nicoletti M, Ricciutelli M, Toniolo C, Prosper B, Vittori S, Sagratini G (2016) Nutritional composition, bioactive compounds and volatile profile of cocoa beans from different regions of Cameroon. Int J Food Sci Nutr. https://doi.org/10.3109/09637486.2016.1170769

Carrillo LC, Londoño-Londoño J, Gil A (2014) Comparison of polyphenol, methylxanthines and antioxidant activity in Theobroma cacao beans from different cocoa-growing areas in Colombia. Food Res Int 60:273–280. https://doi.org/10.1016/j.foodres.2013.06.019

Cheng B, Furtado A, Smyth HE, Henry RJ (2016) Influence of genotype and environment on coffee quality. Trends Food Sci Technol 57:20–30. https://doi.org/10.1016/j.tifs.2016.09.003

Cosme S, Cuevas HE, Zhang D, Oleksyk TK, Irish BM (2016) Genetic diversity of naturalized cacao (Theobroma cacao L.) in Puerto Rico. Tree Genet Genom 12:88. https://doi.org/10.1007/s11295-16-1045-4

Counet C, Ouwerx C, Rosoux D, Collin S (2004) Relationship between procyanidin and flavor contents of cocoa liquors from different origins. J Agric Food Chem 52:6243–6249. https://doi.org/10.1021/jf040105b

Cruz JFM, Leite PB, Soares SE, Bispo ES (2015) Bioactive compounds in different cocoa (Theobroma cacao L.) cultivars during fermentation. Food Sci Technol 35(2):279–284. https://doi.org/10.1590/1678-457X.6541

Cubry P, Musoli P, Legnaté H, Pot D, De Bellis F, Poncet V, Anthony F, Dufour M, Leroy T (2008) Diversity in coffee assessed with SSR Markers: structure of the genus Coffea and perspectives for breeding. Genome 51(1):50–63. https://doi.org/10.1139/g07-096

Davrieux F, Assemat S, Sukha D, Portillo E, Boulanger R, Bastianelli D, Cros E (2007) Genotype characterization of cocoa into genetic groups through caffeine and theobromine content predicted by near infra red spectroscopy. In: Proceedings 12th international conference on near infrared spectroscopy, 9–15th April 2005, Auckland, New Zealand, pp 382–386. https://agritrop.cirad.fr/530989/1/document_530989.pdf

de Carvalho Martins V, Godoy RLO, Gouvêa ACMS, Santiago MCPDA, Borguini RG, Braga ECDO, Pacheco S, Nascimento LDSDMD (2018) Fraud investigation in commercial coffee by chromatography. Food Qual Safety 3:121–133. https://doi.org/10.1093/fqsafe/fyy017

del Rosario Brunetto M, Gutiérrez L, Delgado Y, Gallignani M, Zambrano A, Gómez A, Ramos G, Romero C (2007) Determination of theobromine, theophylline and caffeine in cocoa samples by a high-performance liquid chromatographic method with on-line sample cleanup in a switching-column system. Food Chem 100:459–467. https://doi.org/10.1016/j.foodchem.2005.10.007

Farah A, Monteiro MC, Calado V, Franca AS, Trugo LC (2006) Correlation between cup quality and chemical attributes of Brazilian coffee. Food Chem 98(2006):373–380. https://doi.org/10.1016/j.foodchem.2005.07.032

Franco R, Oñatibia-Astibia A, Martinez-Pinilla E (2013) Health benefits of methylxanthines in cocoa and chocolate. Nutrients 5(10):4159–4173

Friend D (1978) A report in the cocoa industries in the New Hebrides. Australian Development Assistance Bureau, Department of Foreign Affairs, Canberra, Australia, 55 pp

Glavnik V, Simonovska B, Irena V (2010) Comparison of TLC and HPLC methods used for analysis of (−)-epicatechin and its dimer procyanidin B2 in chocolate. J Planar Chrom Mod TLC 23:230–232. https://doi.org/10.1556/JPC.23.2010.3.13

Glavnik V, Simonovska B, Irena V, Mutavdzic D, Asperger D, Babic S (2011) Quantification of (−)-epicatechin and procyanidin B2 in chocolates. J Planar Chrom Mod TLC 24:482–486. https://doi.org/10.1556/JPC.24.2011.6.5

Hammerstone JF, Lazarus SA, Mitchell AE, Rucker R, Schmitz HH (1999) Identification of procyanidins in cocoa (Theobroma cacao) and chocolate using high-performance liquid chromatography/mass spectrometry. J Agric Food Chem 47:490–496. https://doi.org/10.1021/jf980760h

Jeszka-Skowron M, Zgoła-Grześkowiak A, Grześkowiak T (2015) Analytical methods applied for the characterization and the determination of bioactive compounds in coffee. Eur Food Res Technol 240:19–31. https://doi.org/10.1007/s00217-014-2356-z

Jeszka-Skowron M, Sentkowska A, Pyrzyńska K, De Peña MP (2016) Chlorogenic acids, caffeine content and antioxidant properties of green coffee extracts: influence of green coffee bean preparation. Eur Food Res Technol 242:1403–1409. https://doi.org/10.1007/s00217-016-2643-y

Joet T, Laffargue A, Descroix F, Doulbeau S, Bertrand B, de Kochko A, Dussert S (2010) Influence of environmental factors, wet processing and their interactions on the biochemical composition of green Arabica coffee beans. Food Chem 118:693–701. https://doi.org/10.1016/j.foodchem.2009.05.048

Knopp S, Bytof G, Selmar D (2006) Influence of processing on the content of sugars in green Arabica coffee beans. Eur Food Res Technol 223:195–201. https://doi.org/10.1007/s00217-005-0172-1

Kongor JE, Hinneh M, Van de Valle D, Afoakwa EO, Boeckx P, Dewettinck K (2016) Factors influencing quality variation in cocoa (Theobroma cacao) bean flavor profiles: a review. Food Res Int 82:44–52. https://doi.org/10.1016/j.foodres.2016.01.012

Ky CL, Louarn J, Dussert S, Guyot B, Hamon S, Noirot M (2001) Caffeine, trigonelline, chlorogenic acids and sucrose diversity in wild Coffea arabica L. and C. canephora P. accessions. Food Chem 75:223–230. https://doi.org/10.1016/S0308-8146(01)00204-7

Laliberté B, Cryer NC, Daymond AJ, End MJ, Engels J, Eskes B, Gilmour M, Lachenaud P, Phillips-Mora M, Turnbull CJ, Umaharan P, Zhang D, Weise S (2012) A global strategy for the conservation and use of cacao genetic resources, as the foundation for a sustainable cocoa economy. In: 17th international cocoa research conference, Yaoundé, Cameroon, 15–20 October 2012. https://agritrop.cirad.fr/568442/1/document_568442.pdf

Lécolier A, Besse P, Charrier A, Tchakalov TN, Noirot M (2009) Unraveling the origin of CoVea arabica 'Bourbon pointu' from La Réunion: a historical and scientific perspective. Euphytica 168:1–10. https://doi.org/10.1007/s10681-009-9886-7

Lernoud J, Potts J, Sampson G, Schlatter B, Huppe G, Voora V, Willer H, Wozniak J, Dang D (2018) The state of sustainable markets—statistics and emerging trends 2018. ITC, Geneva. http://www.intracen.org/uploadedFiles/intracenorg/Content/Publications/Sustainibility%202018%20layout-FIN-web-v1.pdf

Leroy T, De Bellis F, Legnate H, Kananura E, Gonzales G, Pereira LF, Carvalho Andrade A, Charmetant P, Montagnon C, Cubry P, Marraccini P, Pot D, de Kochko A (2011) Improving the quality of African robustas: QTLs for yield- and quality-related traits in Coffea canephora. Tree Genet Genom 7:781–798. https://doi.org/10.1007/s11295-011-0374-6

Mehari B, Redi-Abshiro M, Chandravanshi BS, Combrinck S, Atlabachew M, McCrindle R (2016) Profiling of phenolic compounds using UPLC–MS for determining the geographical origin of green coffee beans from Ethiopia. J Food Compos Anal 45:16–25. https://doi.org/10.1016/j.jfca.2015.09.006

Motamayor JC, Lachenaud P, da Silva e Mota JW, Loor R, Kuhn DN, Brown JS, Schnel RJ (2008) Geographic and Genetic population differentiation of the amazonian chocolate tree (Theobroma cacao L). PLoS ONE 3(10):e3311. https://doi.org/10.1371/journal.pone.0003311

Najib A, Ahmad AR, Labadjo NS (2015) Chemoprofiling and determination of caffeine content on Arabica Coffee (Coffea arabica L.). J Chem Pharm Res 7(12):374–377

Noor-Soffalina SS, Jinap S, Nazamid S, Nazimah SAH (2009) Effect of polyphenol and pH on cocoa Maillard-related flavour precursors in a lipidic model system. J Food Sci Technol 44:168–180. https://doi.org/10.1111/j.1365-2621.2008.01711.x

Oellig C, Radovanovic J (2017) Screening for 16-O-methylcafestol in roasted coffee by high-performance thin-layer chromatography-fluorescence detection-determination of Coffea canephora admixtures to Coffea arabica. J Chrom A 1525:173–180. https://doi.org/10.1016/j.chroma.2017.10.031

Oestreich-Janzen S (2013) Chemistry of coffee. Reference MODULe in chemistry, Mol Sci Chem Eng. Elsevier. pp 1–28. http://dx.doi.org/10.1016/B978-0-12-409547-2.02786-4

Pedan V, Weber C, Do T, Fischer N, Reich E, Rohn S (2018) HPTLC fingerprint profile analysis of cocoa proanthocyanidins depending on origin and genotype. Food Chem 267:277–287. https://doi.org/10.1016/j.foodchem.2017.08.109

Pelàez PP, Bardón I, Cmasca P (2016) Methylxanthine and catechin content in fresh and fermented cocoa beans, dried cocoa and cocoa liquor. Sci Agropecu 7(4):355–365. https://doi.org/10.17268/sci.agropecu.2016.04.01

Reich E, Schibli A, Debatt A (2008) Validation of high-performance thin-layer chromatographic methods for the identification of botanicals in a cGMP environment. J AOAC Int 91(1):13–20

Saltini R, Akkerman R, Frosch S (2013) Optimizing chocolate production through traceability: a review of the influence of farming practices on cocoa bean quality. Food Control 29:167–187. https://doi.org/10.1016/j.foodcont.2012.05.054

Shan Y, Jin X, Cheng Y, Yan W (2017) Simultaneous determination of chlorogenic acids in green coffee bean extracts with effective relative response factors. Int J Food Prop 20(9):2028–2040. https://doi.org/10.1080/10942912.2016.1230746

Stredanskya M, Redivo L, Magdolen P, Stredansky A, Navarini L (2018) Rapid sucrose monitoring in green coffee samples using multienzymatic biosensor. Food Chem 254:8–12. https://doi.org/10.1016/j.foodchem.2018.01.171

Sunarharum WB, Williams DJ, Smyth HE (2014) Complexity of coffee flavor: a compositional and sensory perspective. Food Res Int 62:315–325. https://doi.org/10.1016/j.foodres.2014.02.030

Tchouatcheu GAN, Noah AM, Lieberei R, Niemenak N (2019) Effect of cacao bean quality grade on cacao quality evaluation by cut test and correlations with free amino acids and polyphenols profiles. J Food Sci Technol 56(5):2621–2627. https://doi.org/10.1007/s13197-019-03749-y

Trognitz B, Cros E, Assemat S, Davrieux F, Forestier-Chiron N, Ayestas E, Kuant A, Scheldeman X, Hermann M (2013) Diversity of Cacao Trees in Waslala, Nicaragua: associations between genotype spectra, product quality and yield potential. PLoS ONE 8(1):e54079. https://doi.org/10.1371/journal.pone.0054079

Urakova IN, Pozharitskaya ON, Shikov AN, Kosman VM, Makarov VG (2008) Comparison of high performance TLC and HPLC for separation and quantification of chlorogenic acid in green coffee bean extracts. J Sep Sci 31:237–241. https://doi.org/10.1002/jssc.200700472

Weightman B (1989) Agriculture in Vanuatu: a historical review. Grosvernor Press Ltd., Port-Smouth, p 320

Wollgast J, Anklam E (2000) Review on polyphenols in Theobroma cacao: changes in composition during the manufacture of chocolate and methodology for identification and quantification. Food Res Int 33:423–447. https://doi.org/10.1016/S0963-9969(00)00068-5
Acknowledgements
This study would not have been possible without the financial support of the Agence Nationale pour la Recherche (ANR, France), through the Project No. ANR-10-STRA-007, and the technical assistance of the Vanuatu Agricultural Research and Technical Centre (VARTC). Special thanks are due to P. Charmetant for confirmation of Coffea acc. origins, to Willy Tabisap for green beans samples preparation and to Elisha Tekak for laboratory assistance in preparing the samples and extracts.
Ethics declarations
Conflict of interest
The author declares that there are no potential conflicts of interest.
Additional information
Publisher's Note
Springer Nature remains neutral with regard to jurisdictional claims in published maps and institutional affiliations.
Electronic supplementary material
Below is the link to the electronic supplementary material.
About this article
Cite this article
Lebot, V., Melteras, M., Pilecki, A. et al. Chemometric evaluation of cocoa (Theobroma cacao L.) and coffee (Coffea spp.) germplasm using HPTLC. Genet Resour Crop Evol (2020). https://doi.org/10.1007/s10722-020-00888-6
Received:

Accepted:

Published:
Keywords
Aroma

Chemical composition

Cocoa

Coffee

Flavour

HPTLC

Non-volatile compounds

Quality

Vanuatu