Abstract
The experimental work described in this paper was carried out in order to discover about the effects of petrographic characteristics on the ultrasonic pulse velocity and dynamic elastic constants of granitic rocks. For this, petrographic characteristics include the mean mineral grain size (MGS) and ratio of Quartz to Feldspar (Qz/Fl), ultrasonic pulse velocity include the P-wave (Vp) and S-wave velocity (Vs), and dynamic elastic constants include the elastic modulus (E) and Poisson's ratio (ν) of ten different granitic rock were determined. By data analysis, correlations between Vp, Vs, E and ν with MGS and Qz/Fl were developed. It is concluded that the MGS and Qz/Fl have significant effects on the Vp, Vs, E and ν. Moreover, the results showed that MGS and Qz/Fl are in good accuracy for estimating the Vp, Vs and E, while there are no meaningful correlations between ν with MGS and Qz/Fl.
This is a preview of subscription content, log in to check access.
Access options
Buy single article
Instant unlimited access to the full article PDF.
US$ 39.95
Price includes VAT for USA
Subscribe to journal
Immediate online access to all issues from 2019. Subscription will auto renew annually.
US$ 99
This is the net price. Taxes to be calculated in checkout.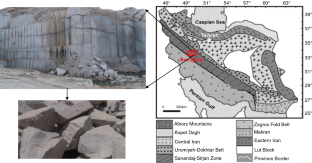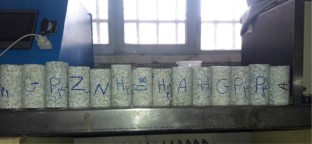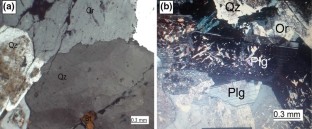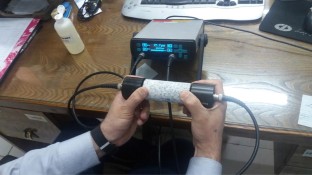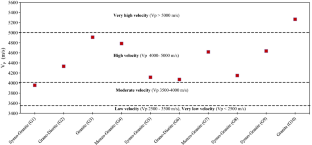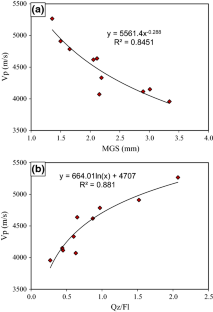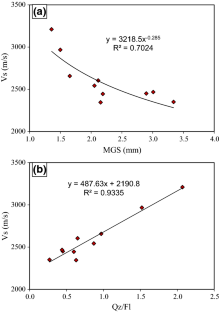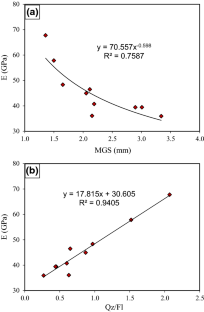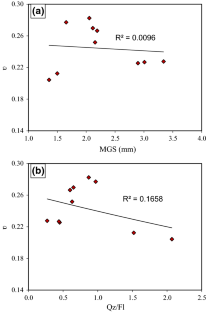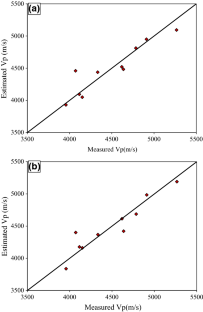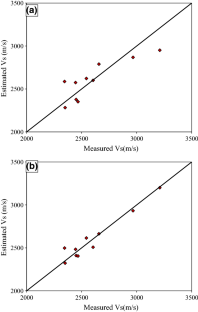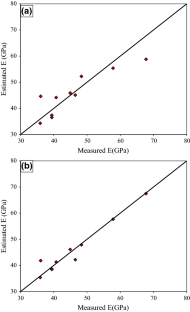 References
Al-Shayea NA (2014) Effects of testing methods and conditions on the elastic properties of limestone rock. Eng Geol 74:139–156

Ameen MS, Smart BG, Somerville JM, Hammilton S, Naji NA (2009) Predicting rock mechanical properties of carbonates from wireline logs (a case study: Arab-D reservoir, Ghawar field, Saudi Arabia). Mar Pet Geol 26:430–444

Anon (1979) Classification of rocks and soils for engineering geological mapping. Part 1: rock and soil materials. Bull Eng Geol Environ 19:355–371

Brotons V, Tomas R, Ivorra S, Grediaga A (2014) Relationship between static and dynamic elastic modulus of calcarenite heated at different temperatures: the San Julians stone. Bull Eng Geol Environ 73:791–799

Christaras B (2003) P-wave velocity and quality of building materials. In: Yuzer E, Ergin H, Tugrul A (eds) Proceedings of the international symposium industrial minerals and building stones, Istanbul, pp 295–300

Christaras B, Auger F, Mosse E (1994) Determination of the moduli of elasticity of rocks. Comparison of the ultrasonic velocity and mechanical resonance frequency methods with direct static methods. Mater Struct 27:222–228

Christaras B, Mariolakos I, Foundoulis J, Athanasias S, Dimitriou A (1997) Geotechnical input for the protection of some Macedonian Tombs in Northern Greece. In: Proceedings of the 6th international symposium conservation of monuments in the Mediterranean Basin, Rhodes, pp 125–132

Ciccotti M, Mulargia E (2004) Differences between static and dynamic elastic moduli of a typical seismogenic rock. Geophys J Int 157:474–477

D'Andrea DV, Fischer RL, Fogelson DE (1965) Prediction of compressive strength from other rock properties. US Bureau of Mines Report of Investigations 6702

Deere DU, Miller RP (1966) Engineering classification and index properties for intact rock. Air Force Weapons Laboratory Technical Report, AFWL-TR 65-116, Kirtland Base, New Mexico

Eissa EA, Kazi A (1988) Relation between static and dynamic Young's moduli of rocks. Int J Rock Mech Min Sci 25:479–482

Hudson JA (1981) Wave speed and attenuation of elastic waves in material containing cracks. Geophys J R Astron Soc 64:133–150

Hudson JA, Jones ETW, New BM (1980) P-wave velocity measurements in a machine bored chalk tunnels. Quart J Eng Geol 13:33–43

ISRM (1981) Suggested method for rock characterization, testing and monitoring, ISRM commission on testing methods. Pergamon Press, Oxford, p 211

Karpuz C, Pasamehmetoglu AG (1997) Field characterization of weathered Ankara andesites. Eng Geol 46:1–17

Khandelwal M, Singh TN (2011) Predicting elastic properties of schistose rocks from unconfined strength using intelligent approach. Arab J Geosci 4:435–442

King MS (1983) Static and dynamic elastic properties of rocks from the Canadian Shield. Int J Rock Mech Min Sci 20:237–241

King MS, Chaudhry NA, Shakeel A (1995) Experimental ultrasonic velocities and permeability for sandstones with aligned cracks. Int J Rock Mech Min Sci 32:155–163

Knill JL (1970) The application of seismic methods in the interpretation of grout takes in rock. In: Proceedings of the conference on in situ investigation in soils and rocks, British Geotechnical Society, no 8, pp 93–100

Martınez-Martınez J, Benavente D, Garcıa-del-Cura MA (2012) Comparison of the static and dynamic elastic modulus in carbonate rocks. Bull Eng Geol Environ 71:263–268

Matula M, Dearman WR, Golodkovskaja GA, Pahl A, Radbruch-Hall Dorothy H, Sanejouand R (1979) Classification of rocks and soils for engineering geological mapping. Part 1: rock and soil materials. Bull Eng Geol Environ 19:364–371

Najibi AR, Ghafoori M, Lashkaripour GR (2015) Empirical relations between strength and static and dynamic elastic properties of Asmari and Sarvak limestones, two main oil reservoirs in Iran. J Pet Sci Eng 126:78–82

O'Connel RJ, Budiansky B (1974) Seismic velocities in dry and saturated cracked rock. J Geophys Res 79:5412–5426

Ocak I, Seker SE (2012) Estimation of elastic modulus of intact rocks by artificial neural network. Rock Mech Rock Eng 45:1047–1054

Onodera TF (1963) Dynamic investigation of foundation rocks, in situ. In: Proceedings of the 5th US symposium on rock mechanics, pp 517–533

Price DG, Malone, AW, Knill JL (1970) The application of seismic methods in the design of rock bolt system. In: Proceedings of the first international congress, vol 2. International Association of Engineering Geology, pp 740–752

Streckeisen AL (1967) Classification and nomenclature of igneous rocks (Final report of an inquiry). Neues Jahrb fur Mineral Abh 107:144–240

Turk N, Dearman WR (1986) A suggested approach to rock characterization in terms of seismic velocities. In: Hartman HL (ed) Proceedings of the 27th US symposium on rock mechanics, pp 168–175

Youash Y (1970) Dynamic physical properties of rocks: part 2, experimental result. In: Proceedings of the 2nd congress of the international society for rock mechanics, vol 1. Privredni Pregled, Beograd, Yugoslavia, pp 185–195

Young RP, Hill TT, Bryan IR, Middleton R (1985) Seismic spectroscopy in fracture characterization. Q J Eng Geol 18:459–479

Zezza F (1993) Evaluation criteria of the effectiveness of treatments by non destructive analysis. In: Proceedings of the 2nd course of CUN university school of monument conservation. Heraklion, pp 198–207
Additional information
Publisher's Note
Springer Nature remains neutral with regard to jurisdictional claims in published maps and institutional affiliations.
About this article
Cite this article
Ajalloeian, R., Jamshidi, A. & Khorasani, R. Assessments of Ultrasonic Pulse Velocity and Dynamic Elastic Constants of Granitic Rocks Using Petrographic Characteristics. Geotech Geol Eng (2020). https://doi.org/10.1007/s10706-020-01189-6
Received:

Accepted:

Published:
Keywords
Petrographic characteristics

Ultrasonic pulse velocity

Dynamic elastic constants

Granitic stones