Dietary supplementation of drumstick tree, Moringa oleifera, improves mucosal immune response in skin and gills of seabream, Sparus aurata, and attenuates the effect of hydrogen peroxide exposure
Abstract
In aquatic animals, the mucosal barrier is the first line of innate immune defence against external chemicals and pathogens. In this study, the effects of dietary Moringa oleifera leaf (MOL) supplementation on skin and gill mucosal immunity, antioxidants and stress responses were evaluated in seabream (Sparus aurata) fingerlings exposed to hydrogen peroxide (H2O2). A total of 144 specimens (10.11 ± 0.41 g) were divided into four treatments (three replicates per treatment contained 12 specimens each) and fed a non-supplemented control diet or a 1, 2.5 or 5% MOL-supplemented diet. After three weeks of feeding, six specimens from each aquarium were sampled for blood, mucus and tissues. The other six fish in each aquarium were subjected to H2O2 exposure. The results revealed that MOL did not negatively affect either cortisol or glucose levels. MOL supplementation significantly (P < 0.05) improved skin mucosal immunity-related characteristics, including phosphatase, peroxidase and lysozyme activity and IgM levels. Additionally, MOL upregulated the expression of antioxidant genes (sod and cat), an anti-inflammatory gene (tgf-β), tight junction protein genes (occludin and zo-1), c3, and igm in both the skin and gills. However, H2O2 exposure significantly (P < 0.05) increased both cortisol and glucose levels and disrupted skin mucosal immune function by significantly (P < 0.05) decreasing phosphatase, peroxidase, protease, antiprotease and lysozyme activity and IgM levels. H2O2 exposure severely decreased the mRNA levels of the studied genes. MOL dietary supplementation at the 5% level successfully attenuated the negative effects of H2O2 on the mucosal immune response in both the skin and gills. In conclusion, dietary MOL supplementation at the 5% level is recommended to improve S. aurata mucosal immune function under both normal and stress conditions. Additionally, exposure to H2O2 disrupts the mucosal immunity of fish. This contributes knowledge on the routes involved in mucosal innate immunity and could help to understand the fish resistance against chemicals exposure.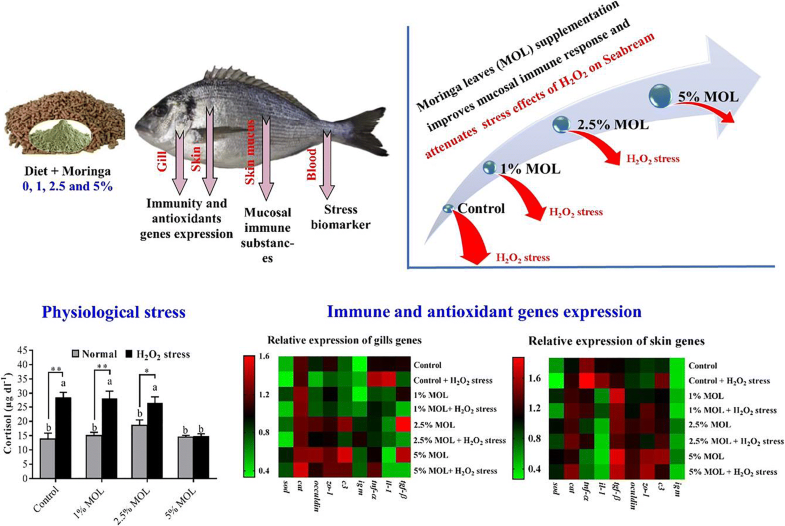 Keywords
Phytochemical 
Mucosal immunity 
H2O2 
Stress 
Seabream 
Notes
Acknowledgements
The authors wish to thank Alexandria University, Egypt, for the post-doctoral grant (Alex-GYR) for Dr. Abdallah T. Mansour.
Compliance with ethical standards
Competing interests
The authors declare that they have no conflict of interest.
Copyright information
© Springer Nature B.V. 2020