Abstract
Despite the acceptance of NextGen sequencing as a diagnostic modality suitable for probands and carriers of Mendelian diseases, its efficiency in identifying causal mutations is limited by both technical aspects of variant call algorithms and by imperfect, consensus-based criteria for assessing the pathogenicity of the findings. Here we describe the medical history of the family with a child born with Fanconi anemia. In this case, typical diagnostic routines were complicated by unusual combination of mutations. PALB2 variant NM_024675.3:c.172_175delTTGT (p.Gln60Argfs) in maternal sample, previously classified as a definitely pathogenic frameshift mutation, was in compound heterozygous state with PALB2 NM_024675.3:c.3114-16_3114-11del (p.Asn1039Glyfs*7), which led to validated PALB2 exon 11 skipping event in paternal locus. Findings enabled the development of the PGТ and successful selection of two mutation-free embryos. We show that even in absence of definitive exome findings, clinician-guided research inquiries into the structure and function of the suspected loci allow definitive diagnosis. Described case provides an example of a crucial input of an investigational workflow in genetic prognosis and successful PGT.
This is a preview of subscription content, log in to check access.
Access options
Buy single article
Instant access to the full article PDF.
US$ 39.95
Price includes VAT for USA
Subscribe to journal
Immediate online access to all issues from 2019. Subscription will auto renew annually.
US$ 99
This is the net price. Taxes to be calculated in checkout.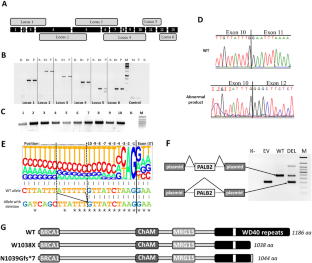 References
1.

Bagby G (2018) Recent advances in understanding hematopoiesis in Fanconi anemia. F1000Res 7:105

2.

Rosendorff J, Bernstein R (1988) Fanconi's anemia–chromosome breakage studies in homozygotes and heterozygotes. Cancer Genet Cytogenet 33(2):175–183

3.

Gille JJ et al (2012) Diagnosis of Fanconi anemia: mutation analysis by multiplex ligation-dependent probe amplification and PCR-based sanger sequencing. Anemia 2012:603253

4.

Ece Solmaz A et al (2015) Targeted multi-gene panel testing for the diagnosis of Bardet Biedl syndrome: identification of nine novel mutations across BBS1, BBS2, BBS4, BBS7, BBS9, BBS10 genes. Eur J Med Genet 58(12):689–694

5.

Ghemlas I et al (2015) Improving diagnostic precision, care and syndrome definitions using comprehensive next-generation sequencing for the inherited bone marrow failure syndromes. J Med Genet 52(9):575–584

6.

Zhang F et al (2009) PALB2 functionally connects the breast cancer susceptibility proteins BRCA1 and BRCA2. Mol Cancer Res 7:1110–1118

7.

Park JY et al (2014) Breast cancer-associated missense mutants of the PALB2 WD40 domain, which directly binds RAD51C, RAD51 and BRCA2, disrupt DNA repair. Oncogene 33:4803–4812

8.

Lozie ER et al (2018) De novo nonsense mutation in WHSC1 (NSD2) in patient with intellectual disability and dysmorphic features. J Hum Genet 63(8):919–922

9.

Auerbach AD (2015) Diagnosis of Fanconi anemia by diepoxybutane analysis. Curr Protoc Hum Genet 85:8 7 1–17

10.

Hellebrand H et al (2011) Germline mutations in the PALB2 gene are population specific and occur with low frequencies in familial breast cancer. Hum Mutat 32(6):E2176–E2188

11.

Kluska A et al (2017) PALB2 mutations in BRCA1/2-mutation negative breast and ovarian cancer patients from Poland. BMC Med Genomics 10(1):14

12.

Pauty J et al (2017) Cancer-causing mutations in the tumor suppressor PALB2 reveal a novel cancer mechanism using a hidden nuclear export signal in the WD40 repeat motif. Nucleic Acids Res 45(5):2644–2657

13.

Reid S et al (2007) Biallelic mutations in PALB2 cause Fanconi anemia subtype FA-N and predispose to childhood cancer. Nat Genet 39(2):162–164
Funding
The research was carried out within the state assignment of Ministry of Science and Higher Education of the Russian Federation.
Ethics declarations
Conflict of interest
All authors declare that they have no conflict of interest.
Additional information
Publisher's Note
Springer Nature remains neutral with regard to jurisdictional claims in published maps and institutional affiliations.
Electronic supplementary material
Below is the link to the electronic supplementary material.
About this article
Cite this article
Viakhireva, I., Musatova, E., Bessonova, L. et al. Novel intronic variant in PALB2 gene and effective prevention of Fanconi anemia in family. Familial Cancer (2020). https://doi.org/10.1007/s10689-020-00165-6
Received:

Accepted:

Published:
Keywords
Fanconi anemia

PALB2

Preimplantation genetic testing

Splicing mutations

Minigene assay

Functional analysis