Abstract
Multiple Endocrine Neoplasia (MEN) type 4 is a rare genetic condition that results from variants of the CDKN1B gene and predisposes individuals to develop endocrine tumors. Spinal neurofibromatosis (SNF) is an uncommon subtype of neurofibromatosis type 1 (NF1) characterized by bilateral neurofibromas of all spinal roots. Here we report a case of the co-occurrence of these syndromes, which has not yet been described in the literature. A male in his 60s presented with Gleason 5 + 4 localized prostate adenocarcinoma treated with radical prostatectomy. Two years later, he developed liver and bone metastasis consistent with trans-differentiation into small cell carcinoma. He developed hypercalcemia due to primary hyperparathyroidism from a parathyroid adenoma treated surgically. His family history was significant for a first-degree relative with a clinical diagnosis of NF1 and several second-degree relatives with multiple café-au-lait macules. Spine MRI showed multiple bilateral neurofibromas. Germline genetic testing showed a pathogenic variant in the CDKN1B gene, a variant in the NF1 gene, and a normal MEN1 gene. In this rare case of MEN4 and SNF, the patient was asymptomatic for much of his life. In addition to parathyroid adenoma and spinal neurofibromas, he had prostate adenocarcinoma with trans-differentiation into metastatic small cell cancer. Whether this diagnosis was coincidental or related to an emerging phenotype remains to be elucidated.
This is a preview of subscription content, log in to check access.
Access options
Buy single article
Instant access to the full article PDF.
US$ 39.95
Price includes VAT for USA
Subscribe to journal
Immediate online access to all issues from 2019. Subscription will auto renew annually.
US$ 99
This is the net price. Taxes to be calculated in checkout.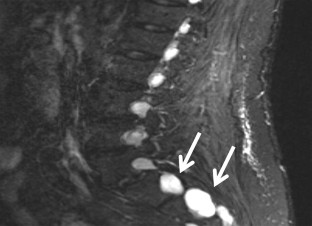 References
1.

Alrezk R, Hannah-Shmouni F, Stratakis CA (2017) MEN4 and CDKN1B mutations: the latest of the MEN syndromes. Endocr Relat Cancer 24(10):T195–T208

2.

Pellegata N, Quintanilla-Martinez L, Siggelkow H, Samson E, Bink K, Hofler H, Fend F, Graw J, Atkinson M (2006) Germ-line mutations in p27Kip1 cause a multiple endocrine neoplasia syndrome in rats and humans. Proc Natl Acad Sci USA 103(42):15558–15563

3.

Pulst S, Riccardi V, Fain P, Korenberg J (1991) Familial spinal neurofibromatosis: clinical and DNA linkage analysis. Neurology 41:1923–1927

4.

Corsello G, Antona V, Serra G, Zara F, Giambrone C, Lagalla L, Piccione M, Piro E (2018) Clinical and molecular characterization of 112 single-center patients with Neurofibromatosis type 1. Ital J Pediatr 44(1):45

5.

Frederiksen A, Rossing M, Hermann P, Ejersed C, Thakker R, Frost M (2019) Clinical features of multiple endocrine neoplasia type 4: novel pathogenic variant and review of published cases. J Clin Endocrinol Metab 104(9):3637–3646

6.

Agarwal S, Kester M, Debelenko L, Heppner C, Emmert-Buck M, Skarulis M, Doppman J, Kim Y, Lubensky I, Zhuang A et al (1997) Germline mutations of the MEN1 gene in familial multiple endocrine neoplasia type 1 and related states. Hum Mol Genet 6(7):1169–1175

7.

European Consortium on MEN1 (1997) Identification of the multiple endocrine neoplasia type 1 (MEN1) gene. Hum Mol Genet 6:1177–1183

8.

Ellard S, Hattersley AT, Brewer CM, Vaidya B (2005) Detection of an MEN1 gene mutation depends on clinical features and supports current referral criteria for diagnostic molecular genetic testing. Clin Endocrinol 62(2):169–175

9.

Walther M, Herring J, Enquiest E, Keiser H, Linehand W (1999) Von Recklinghausen's disease and pheochromocytomas. J Urol 162:1582–1586

10.

Favere AM, Tsukumo DM, Matos PS, Santos SL, Lalli CA (2015) Association between atypical parathyroid adenoma and neurofibromatosis. Arch Endocrinol Metab 59(5):460–466

11.

Ruggieri M, Polizzi A, Spalice A, Salpietro V, Caltabiano R, D'Orazi V, Pavone P, Pirrone C, Magro G, Platania N et al (2015) The natural history of spinal neurofibromatosis: a critical review of clinical and genetic features. Clin Genet 87(5):401–410
Ethics declarations
Conflict of interest
Dr. Manisha Shah is an Institutional Principal Investigator for Merck & Co., Inc, and LOXO Oncology (commercial interest) and is an Advisory Board Member for Eisai Inc. All other authors report nothing to declare.
Ethical approval
This project was exempt from Institutional Review Board review. This case report received approval from the Ohio State University Privacy Officer.
Additional information
Publisher's Note
Springer Nature remains neutral with regard to jurisdictional claims in published maps and institutional affiliations.
About this article
Cite this article
Brock, P., Bustamante Alvarez, J., Mortazavi, A. et al. Co-occurrence of multiple endocrine neoplasia type 4 and spinal neurofibromatosis: a case report. Familial Cancer (2020). https://doi.org/10.1007/s10689-019-00152-6
Keywords
Multiple endocrine neoplasia

Neuroendocrine tumors

Parathyroid

Molecular genetics