Abstract
Background BRCA1 recurrent mutations have rarely been assessed in non-founder populations. Still, identifying such mutations could be important for designing genetic testing strategies for high-risk breast/ovarian cancer families in non-founder populations. Objective To determine whether the recurrent BRCA1 Y101X mutation identified in Yoruban breast cancer patients represents a single historical mutation event, and determine the prevalence of this mutation in a hospital based cohort. Methods 365 breast cancer patients and 177 controls of Yoruban ancestry from Nigeria, unselected for age of onset or family history were screened for the BRCA1 Y101X mutation. The haplotypes on which the Y101X mutation occurred were characterized using microsatellite markers and single-nucleotide polymorphisms (SNPs). Phase ambiguity was resolved using allele-specific PCR. Results The BRCA1 Y101X mutation was detected in four Yoruban patients with no documented family history of breast cancer among a cohort of 365 (1.1, 95% C.I. = 0.43–2.78%) unrelated Yoruban breast cancer patients. This study reveals the four Y101X mutations occur on a single, rare haplotype. Further characterization in a patient of European ancestry with a strong family history of breast/ovarian cancer revealed the same Y101X mutation on the same haplotype as those in the Yoruban carriers. These observations suggest the Y101X mutations identified in the Yoruban patients may have originated from a single mutation event. Conclusions BRCA1 Y101X is the first reported recurrent mutation occurring in patients of African ancestry for which prevalence has been determined. Identification of this mutation in a woman of European ancestry with strong family history of breast/ovarian suggests further that this mutation occurred once, probably many generations ago.
This is a preview of subscription content, log in to check access.
Access options
Buy single article
Instant unlimited access to the full article PDF.
US$ 39.95
Price includes VAT for USA
Subscribe to journal
Immediate online access to all issues from 2019. Subscription will auto renew annually.
US$ 99
This is the net price. Taxes to be calculated in checkout.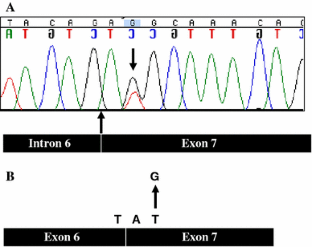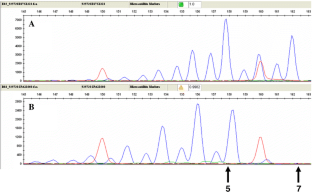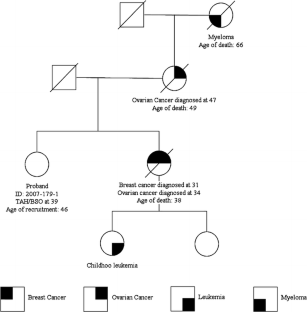 References
1.

Fackenthal JD, Sveen L, Gao Q et al (2005) Complete allelic analysis of BRCA1 and BRCA2 variants in young Nigerian breast cancer patients. J Med Genet 42(3):276–281. doi:10.1136/jmg.2004.020446

2.

Warner E, Foulkes W, Goodwin P et al (1999) Prevalence and penetrance of BRCA1 and BRCA2 gene mutations in unselected Ashkenazi Jewish women with breast cancer. J Natl Cancer Inst 91(14):1241–1247. doi:10.1093/jnci/91.14.1241

3.

Ford D, Easton DF, Stratton M et al (1998) Genetic heterogeneity and penetrance analysis of the BRCA1 and BRCA2 genes in breast cancer families. The breast cancer linkage consortium. Am J Hum Genet 62(3):676–689. doi:10.1086/301749

4.

King MC, Marks JH, Mandell JB et al (2003) Breast and ovarian cancer risks due to inherited mutations in BRCA1 and BRCA2. Science 302(5645):643–646. doi:10.1126/science.1088759

5.

Friedman LS, Szabo CI, Ostermeyer EA et al (1995) Novel inherited mutations and variable expressivity of BRCA1 alleles, including the founder mutation 185delAG in Ashkenazi Jewish families. Am J Hum Genet 57(6):1284–1297

6.

Neuhausen S, Gilewski T, Norton L et al (1996) Recurrent BRCA2 6174delT mutations in Ashkenazi Jewish women affected by breast cancer. Nat Genet 13(1):126–128. doi:10.1038/ng0596-126

7.

Claes K, Machackova E, De Vos M et al (1999) Mutation analysis of the BRCA1 and BRCA2 genes in the Belgian patient population and identification of a Belgian founder mutation BRCA1 IVS5+3A>G. Dis Markers 15(1–3):69–73

8.

Tonin PN, Mes-Masson AM, Futreal PA et al (1998) Founder BRCA1 and BRCA2 mutations in French Canadian breast and ovarian cancer families. Am J Hum Genet 63(5):1341–1351. doi:10.1086/302099

9.

Hartmann C, John AL, Klaes R et al (2004) Large BRCA1 gene deletions are found in 3% of German high-risk breast cancer families. Hum Mutat 24(6):534. doi:10.1002/humu.9291

10.

Vega A, Campos B, Bressac-De-Paillerets B et al (2001) The R71G BRCA1 is a founder Spanish mutation and leads to aberrant splicing of the transcript. Hum Mutat 17(6):520–521. doi:10.1002/humu.1136

11.

Bergman A, Einbeigi Z, Olofsson U et al (2001) The western Swedish BRCA1 founder mutation 3171ins5; a 37 cM conserved haplotype of today is a reminiscence of a 1500-year-old mutation. Eur J Hum Genet 9(10):787–793. doi:10.1038/sj.ejhg.5200704

12.

Khoo US, Chan KY, Cheung AN et al (2002) Recurrent BRCA1 and BRCA2 germline mutations in ovarian cancer: a founder mutation of BRCA1 identified in the Chinese population. Hum Mutat 19(3):307–308. doi:10.1002/humu.9015

13.

Sekine M, Nagata H, Tsuji S et al (2001) Mutational analysis of BRCA1 and BRCA2 and clinicopathologic analysis of ovarian cancer in 82 ovarian cancer families: two common founder mutations of BRCA1 in Japanese population. Clin Cancer Res 7(10):3144–3150

14.

Lee AS, Ho GH, Oh PC et al (2003) Founder mutation in the BRCA1 gene in Malay breast cancer patients from Singapore. Hum Mutat 22(2):178. doi:10.1002/humu.9162

15.

Patmasiriwat P, Bhothisuwan K, Sinilnikova OM et al (2002) Analysis of breast cancer susceptibility genes BRCA1 and BRCA2 in Thai familial and isolated early-onset breast and ovarian cancer. Hum Mutat 20(3):230. doi:10.1002/humu.9049

16.

De Leon Matsuda ML, Liede A, Kwan E et al (2002) BRCA1 and BRCA2 mutations among breast cancer patients from the Philippines. Int J Cancer 98(4):596–603. doi:10.1002/ijc.10194

17.

Mefford HC, Baumbach L, Panguluri RC et al (1999) Evidence for a BRCA1 founder mutation in families of West African ancestry. Am J Hum Genet 65(2):575–578. doi:10.1086/302511 letter

18.

Adebamowo CA, Ogundiran TO, Adenipekun AA et al (2003) Obesity and height in urban Nigerian women with breast cancer. Ann Epidemiol 13(6):455–461. doi:10.1016/S1047-2797(02)00426-X

19.

Neuhausen SL, Mazoyer S, Friedman L et al (1996) Haplotype and phenotype analysis of six recurrent BRCA1 mutations in 61 families: results of an international study. Am J Hum Genet 58(2):271–280

20.

Freedman ML, Penney KL, Stram DO et al (2005) A haplotype-based case-control study of BRCA1 and sporadic breast cancer risk. Cancer Res 65(16):7516–7522. doi:10.1158/0008-5472.CAN-05-0132

21.

Stephens M, Smith NJ, Donnelly P (2001) A new statistical method for haplotype reconstruction from population data. Am J Hum Genet 68(4):978–989. doi:10.1086/319501

22.

Stephens M, Donnelly P (2003) A comparison of bayesian methods for haplotype reconstruction from population genotype data. Am J Hum Genet 73(5):1162–1169. doi:10.1086/379378

23.

Olopade OI, Fackenthal JD, Dunston G et al (2003) Breast cancer genetics in African Americans. Cancer 97(Suppl 1):236–245. doi:10.1002/cncr.11019

24.

Panguluri RC, Brody LC, Modali R, Utley K, Adams-Campbell L, Day AA et al (1999) BRCA1 mutations in African Americans. Hum Genet 105(1–2):28–31. doi:10.1007/s004390051059

25.

Dorum A, Hovig E, Trope C, Inganas M, Moller P et al (1999) Three percent of Norwegian ovarian cancers are caused by BRCA1 1675delA or 1135insA. Eur J Cancer 35(5):779–781

26.

Couch FJ, Farid LM, DeShano ML et al (1996) BRCA2 germline mutations in male breast cancer cases and breast cancer families. Nat Genet 13(1):123–125. doi:10.1038/ng0596-123
Acknowledgements
This work was supported by grants from R01 CA 89085-01A1 the National Cancer Institute, the Falk Medical Research Trust, and the University of Chicago Cancer Research Center.
Additional information
B. Zhang, J. D. Fackenthal contributed equally to this work.
About this article
Cite this article
Zhang, B., Fackenthal, J.D., Niu, Q. et al. Evidence for an ancient BRCA1 mutation in breast cancer patients of yoruban ancestry. Familial Cancer 8, 15–22 (2009). https://doi.org/10.1007/s10689-008-9205-9
Received:

Accepted:

Published:

Issue Date:
Keywords
BRCA1 mutations

Yoruba

Haplotype

SNPs

Breast cancer