Abstract
Diversity of food-grade soybeans is critical for utilization of genetic resources in cultivar development, germplasm enhancement, and end-product commercialization. The objective of this study was to assess seed quality attributes and phenotypic variability among 54 U.S. and 51 Asian food-grade cultivars and breeding lines. The results showed greater genetic diversity of protein content, calcium content, seed hardness, and seed size uniformity than other quality traits in both small- and large-seeded genotypes evaluated in this study. Among the small-seeded soybeans, the U.S. genotypes were more diverse and exhibited higher swell ratio and oil content but lower stone seed ratio and protein content than Asian accessions. Among the large-seeded accessions, U.S. genotypes had higher stone seed ratio and oil content but lower swell ratio and protein content, and were less diverse than Asian genotypes. The characterization of diverse food-grade soybeans will facilitate parent selection in specialty soybean breeding.
This is a preview of subscription content, log in to check access.
Access options
Buy single article
Instant access to the full article PDF.
US$ 39.95
Price includes VAT for USA
Subscribe to journal
Immediate online access to all issues from 2019. Subscription will auto renew annually.
US$ 199
This is the net price. Taxes to be calculated in checkout.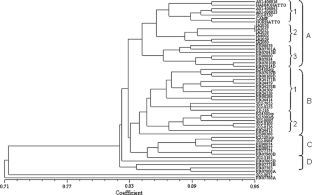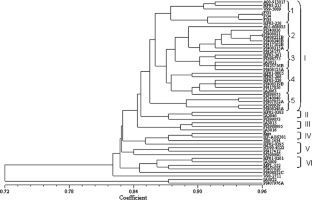 References
Abe J, Xu DH, Suzuki Y, Kanazawa A (2003) Soybean germplasm pools in Asia revealed by nuclear SSRs. Theor Appl Genet 106:445–453

Bachman MS, Tamulonis JP, Nickell CD, Bent AF (2001) Molecular markers linked to brown stem rot resistance genes, Rbs1 and Rbs2, in soybean. Crop Sci 41:527–535

Campbell CR, Plank CO (1991) Sample preparation. In: Plant analysis reference procedures for the southern region of the United States. Southern Cooperative, p 368

CGC (2004) Official grain grading guide. Winnipeg, MB, Canada. http://www.grainscanada.gc.ca/Pubs/GGG/ggg-e.htm. Accessed 5 May 2004

Chandler WG, Fehr WR, Wilson LA (2000) Association of soybean seed traits with physical properties of natto. Crop Sci 40:1529–1534

Chen P (2004) Developing high quality identity-preserved soybean for the specialty soyfood market. In: American Soybean Association (ed) Production and marketing of identity-preserved Soybean. American Soybean Association, pp 23–31

Cicek MS, Chen P, Saghai Maroof MA, Buss GR (2006) Interrelationships among agronomic and seed quality traits in an interspecific soybean recombinant inbred population. Crop Sci 46:1253–1259

Cui Z, Carter TE, Burton JW, Wells R (2001) Phenotypic diversity of modern Chinese and North American soybean cultivars. Crop Sci 41:1954–1967

Cui Z, James AT, Miyazaki S, Wilson RF, Carter TE (2004) Breeding of specialty soybeans for traditional and new soyfoods. In: Liu K (ed) Soybeans as a functional food. AOCS Press, Champaign, pp 264–322

Doehlert DC, McMullen MS, Jannink J, Panigrahi S, Gu H, Riveland NR (2004) Evaluation of oat kernel size uniformity. Crop Sci 44:1178–1186

Dong YS, Zhao LM, Liu B, Wang ZW, Jin ZQ, Sun H (2004) The genetic diversity of cultivated soybean grown in China. Theor Appl Genet 108:931–936

Gorman MB (1984) An electrophoretic analysis of the genetic variation in the wild and cultivated soybean germplasm. Diss Abstr Int B 44:11

Graef GL, Specht JE (1989) Fitting the niche food grade soybean production: a new opportunity for Nebraska soybean producers. Nebraska Department of Agriculture, Lincoln, pp 18–27

Griffis G, Wiedermann L (1990) Marketing food-quality soybeans in Japan, 3rd edn. American Soybean Association, St. Louis

Hartwig EE (1994) Registration of near-isogenic soybean germplasm lines D68-0099 and D68-0102, differing in ability to form nodules. Crop Sci 34:822

JMP 5.0 (1989–2005) SAS Institute Inc, Cary, NC

Liu K (1997) Soybeans: chemistry, technology and utilization. Chapman & Hall, New York, p 523

Mullin WJ, Xu W (2001) Study of soybean seed coat components and their relationship to water absorption. J Agric Food Chem 49:5331–5335

National Agricultural Statistics Service (NASS) (2006) US Agricultural Statistics Board crop production http://usda.mannlib.cornell.edu/reports/nassr/field/pcp-bb/2006/crop0506.pdf. Accessed 5 May 2006

Nei M, Li WH (1979) Mathematical model for studying genetic variation in terms of restriction endonucleases. Proc Natl Acad Sci USA 76:5269–5273

Omoni AO, Aluko RE (2005) Soybean foods and their benefits: potential mechanisms of action. Nutr Rev 63:272–283

Poysa V, Cober E, Reid J, Pietrzak L, Mullin J, Voldeng H (2002) Improving the quality of food grade soybeans. Bulletin NRC/PBI PBI

Rohlf FJ (2000) NTSYS-pc: numerical taxonomy and multivariate analysis system, version 2.1. Exeter Software, Setauket, NY

Saio K (1976) Soybeans resistant to water absorption. Cereal Foods World 21:168–173

Smith KJ, Huyser W (1987) World distribution and significance of soybean. In: Wilcox JR (ed) Soybeans: improvement, production, and uses. American Society of Agronomy, Madison, pp 1–2

Song J, An G, Kim C (2003) Color, texture, nutrient contents, and sensory values of vegetable soybeans [Glycine max (L) Merrill] as affected by blanching. Food Chem 83:69–74

Soy Stats USDA (2007) http://www.soystats.com. Accessed 10 Sept 2008

Soy Stats USDA (2008) http://www.soystats.com. Accessed 10 Sept 2008

Taira H (1990) Quality of soybeans for processed foods in Japan. Jpn Agric Res Q 24:224–230

US soyfoods directory (2006) http://www.soyfoods.com/soyfoodsdescriptions/descriptions.html. Accessed 5 May 2006

Wang L, Guan R, Liu Z, Chang R, Qiu L (2006) Genetic diversity of Chinese cultivated soybean revealed by SSR markers. Crop Sci 46:1032–1038

Wilcox JR, Shibles RM (2001) Interrelationships among seed quality attributes in soybean. Crop Sci 41:11–14

Zhang B, Chen P, Chen CY, Wang D, Shi A, Hou A, Ishibashi T (2008a) Quantitative trait loci mapping of seed hardness in soybean. Crop Sci 48:1341–1349

Zhang B, Tamura M, Berger-Doyle J, Chen P (2008b) Comparison of instrumental methods for measuring hardness of food-grade soybean. J Texture Stud 39:28–39

Zhang B, Chen P, Shi A, Hou A, Ishibashi T, Wang D (2009) Putative quantitative trait loci (QTL) associated with calcium content in soybean seed. J Hered 100(2):263–269
About this article
Cite this article
Zhang, B., Chen, P., Florez-Palacios, S.L. et al. Seed quality attributes of food-grade soybeans from the U.S. and Asia. Euphytica 173, 387–396 (2010). https://doi.org/10.1007/s10681-010-0126-y
Received:

Accepted:

Published:

Issue Date:
Keywords
Genetic diversity

Food-grade soybean

Glycine max

Seed composition

Soyfood

Soybean germplasm