Abstract
At present, wastewater reuse and recycling in water-stressed countries such as Iran has become a vital option for better management of water scarcity. However, despite the benefits of wastewater reuse, there is a probability of incomplete treatment of wastewater in accordance with the standards. Risk assessment of a wastewater treatment plant is required in order to determine the causes and consequences of failure in the treatment system. Among various methods used for risk assessment, the bow-tie (BT) approach is an efficient technique since it represents a failure event from causes to effects. In this method, for a wastewater treatment plant (WWTP), causes of an adverse event, including the violation of the effluent water quality from the standard limit is studied using fault tree analysis (FTA). Then, the impacts of these adverse events are classified in different scenarios by the use of event tree analysis (ETA). In this study, the BT technique was applied to assess the risk of the WWTP of the Moorchekhort industrial complex (MIC), located in the central part of Iran. The plant consists of two parts, including activated sludge and advanced treatment processes to provide reclaimed water for different industrial uses. Results showed a 41% risk of violation from the effluent standard limit in the MIC WWTP. In addition, analyzing the risk factors revealed that the human error had the largest contribution to the risk calculation of the WWTP failure. In this regard, a number of mitigation measures were proposed to improve the reliability of the WWTP.
This is a preview of subscription content, log in to check access.
Access options
Buy single article
Instant unlimited access to the full article PDF.
US$ 39.95
Price includes VAT for USA
Subscribe to journal
Immediate online access to all issues from 2019. Subscription will auto renew annually.
US$ 199
This is the net price. Taxes to be calculated in checkout.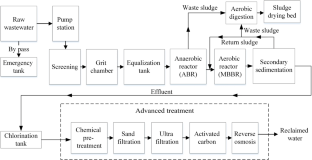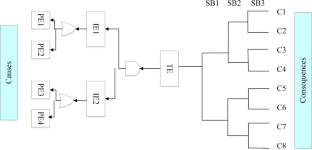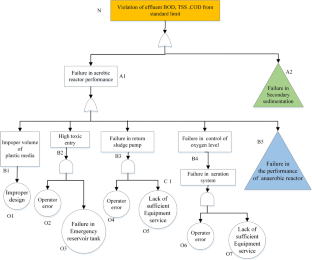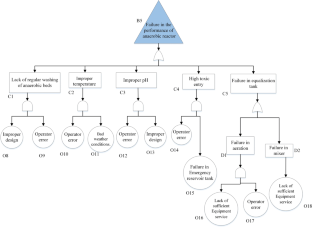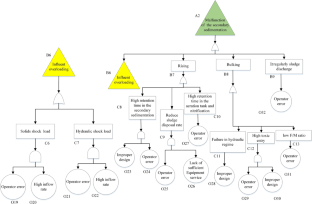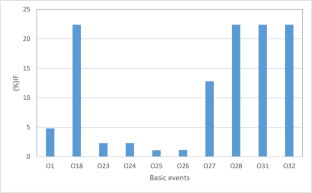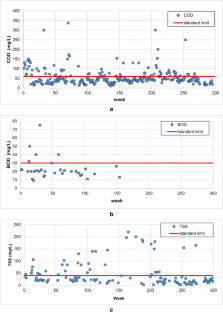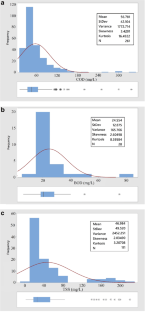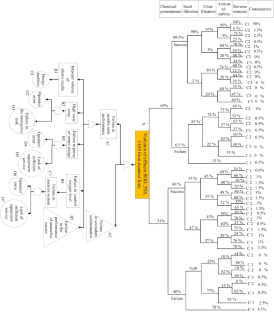 References
Amoueyan, E., Ahmad, S., Eisenberg, J. N., Pecson, B., & Gerrity, D. (2017). Quantifying pathogen risks associated with potable reuse: a risk assessment case study for cryptosporidium. Water Research, 119, 252–266.

APHA, AWWA & WEF. (2017). Standard methods for the examination of wastewater (23th ed.). Washington: America Public Health Association, American Water Works Association, Water Environment Federation.

Asano, T., Burton, F., Leverenz, H., Tsuchihashi, R., & Tchobanoglous, G., (2007). Water reuse: issues, technologies, and applications. 10–13.

Beauchamp, N., Lence, B., & Bouchard, C. (2010). Technical hazard identification in water treatment using fault tree analysis. Canadian Journal of Civil Engineering, 897–906.

Carducci, A., Donzelli, G., Cioni, L., Federigi, I., Lombardi, R., & Verani, M. (2018). Quantitative microbial risk assessment for workers exposed to bioaerosol in wastewater treatment plants aimed at the choice and setup of safety measures. International Journal of Environmental Research and Public Health, 15(7).

Center for Chemical Process Safety (CCPS). (2018). Bow ties in risk management: a concept book for process safety. John Wiley & Sons.

Chen, Z., Wu, Q., Wu, G., & Hu, H. Y. (2017). Centralized water reuse system with multiple applications in urban areas: lessons from China's experience. Resources, Conservation and Recycling, 117, 125–136.

Courault, D., Albert, I., Perelle, S., Fraisse, A., Renault, P., Salemkour, A., & Amato, P. (2017). Assessment and risk modeling of airborne enteric viruses emitted from wastewater reused for irrigation. Science of the Total Environment, 592, 512–526.

Deputy of Strategic supervision of the Ministry of Energy (DSSME) (2010). Code no. 535, Environmental regulations for the reuse of wastewater and wastewater. Bureau of the Technical Management System of Engineering and Technical Standards for Water and Wastewater.

Elgallal, M., Fletcher, L., & Evans, B. (2016). Assessment of potential risks associated with chemicals in wastewater used for irrigation in arid and semiarid zones: a review. Agricultural Water Management, 177, 419–431.

Formal Software Construction. (2005). Open FTA user manual ver. 1.0. Formal Software Construction (FSC) (pp. 5–83). Wales: Ltd Cardiff.

Ganoulis, J. (2009). Risk analysis of water pollution (pp. 32–34). John Wiley & Sons.

Gheorghe, A., & Mock, R. (1999). Risk engineering: bridging risk analysis with stakeholders values. New York: Springer Science+Business Media.

Gheorghe, A., & Nicolet-Monnier, M. (1995). Integrated regional risk assessment (Vol. II) Consequence Assessment of Accidental Releases. Netherlands: Springer.

Hocaoglu, S. (2017). Evaluations of on-site wastewater reuse alternatives for hotels through water balance. Resources, Conservation and Recycling, 122, 43–50.

Hu, Y. N. (2016). Research on the application of fault tree analysis for building fire safety of hotels. Procedia Engineering, 135, 524–530.

ISO/Guide 73 (2009). Risk management — vocabulary, p.2, available on, https://www.iso.org/obp/ui/#iso:std:iso:guide:73:ed-1:v1:en. Accessed 15 Sept 2018.

Khakzad, N., Khan, F., & Amyotte, P. (2011). Safety analysis in process facilities: comparison of fault tree and Bayesian network approaches, reliability engineering and system safety (Vol. 96, pp. 925–932).

Khakzad, N., Khan, F., & Amyotte, P. (2012). Dynamic risk analysis using bow-tie approach. Reliability Engineering and System Safety., 104, 36–44.

Khakzad, N., Khan, F., & Amyotte, P. (2013). Dynamic safety analysis of process systems by mapping bow-tie into Bayesian network. Process Safety and Environmental Protection, 91, 46–53.

Lindhe, A., Rosén, L., Norberg, T., & Bergstedt, O. (2009). Fault tree analysis for integrated and probabilistic risk analysis of drinking water systems. Water Research, 43(6), 1641–1653.

Mokhtari, K., Ren, J., Roberts, C., & Wang, J. (2011). Application of a generic bow-tie based risk analysis framework on risk management of sea ports and offshore terminals. Journal of Hazardous Materials, 192(2), 465–475.

Qasim, S. R. (1999). Wastewater treatment plants: planning, design, and operation. Routledge.

Rausand, M., & Hoyland, A. (2004). System reliability theory: models, statistical methods, and applications (2nd ed.). New Jersey: Wiley and Sons.

Ruijters, E., & Stoelinga, M. (2015). Fault tree analysis: a survey of the state-of-the-art in modeling, analysis and tools. Computer Science Review, 15–16, 29–62.

Shahriar, A., Sadiq, R., & Tesfamariam, S. (2012). Risk analysis for oil & gas pipelines: a sustainability assessment approach using fuzzy based bow-tie analysis. Journal of Loss Prevention in the Process Industries, 25, 505–523.

Soller, J. A., Eftim, S. E., & Nappier, S. P. (2018). Direct potable reuse microbial risk assessment methodology: sensitivity analysis and application to state log credit allocations. Water Research, 128, 286–292.

Taheriyoun, M., & Moradinejad, S. (2015). Reliability analysis of a wastewater treatment plant using fault tree analysis and Monte Carlo simulation. Journal of Environ Monit Assess, 187(4186), 1–13.

Tchobanoglous, G., & Burton, F. L. (2014). Wastewater engineering: treatment and resource recovery (15th ed.). New York: Metcalf & Eddy, McGraw-Hill Education.

Thienen-Visser, K., Hendriks, D., Marsman, A., Nepveu, M., Groenenberg, R., Wildenborg, T., van Duijne, H., den Hartogh, M., & Pinkse, T. (2014). Bow-tie risk assessment combining causes and effects applied to gas oil storage in an abandoned salt cavern. Engineering Geology, 168, 149–166.

Vose, D. (2008). Risk analysis: a quantitative guide (pp. 11–12). John Wiley & Sons.
Acknowledgments
The authors would like to thank Dr. Seyed Alireza Momeni and Mrs. Mahnaz Heydari and Mrs. Hamideh Ebrahimi from the MIC WWTP for preparing the plant operation data and filling the questioners and Eng. Hamidreza Oroomieh for sharing his experience about treatment plant design and operation. In addition, the efforts of anonymous reviewers in preparing the insightful comments, which greatly improved the paper, are kindly acknowledged.
Additional information
Publisher's note
Springer Nature remains neutral with regard to jurisdictional claims in published maps and institutional affiliations.
About this article
Cite this article
Analouei, R., Taheriyoun, M. & Safavi, H. Risk assessment of an industrial wastewater treatment and reclamation plant using the bow-tie method. Environ Monit Assess 192, 33 (2020) doi:10.1007/s10661-019-7995-x
Received:

Accepted:

Published:
Keywords
Risk assessment

Wastewater treatment plant

Bow-tie method

Reclaimed water