Monitoring concentration and isotopic composition of methane in groundwater in the Utica Shale hydraulic fracturing region of Ohio
Abstract
Degradation of groundwater quality is a primary public concern in rural hydraulic fracturing areas. Previous studies have shown that natural gas methane (CH4) is present in groundwater near shale gas wells in the Marcellus Shale of Pennsylvania, but did not have pre-drilling baseline measurements. Here, we present the results of a free public water testing program in the Utica Shale of Ohio, where we measured CH4 concentration, CH4 stable isotopic composition, and pH and conductivity along temporal and spatial gradients of hydraulic fracturing activity. Dissolved CH4 ranged from 0.2 μg/L to 25 mg/L, and stable isotopic measurements indicated a predominantly biogenic carbonate reduction CH4 source. Radiocarbon dating of CH4 in combination with stable isotopic analysis of CH4 in three samples indicated that fossil C substrates are the source of CH4 in groundwater, with one 14C date indicative of modern biogenic carbonate reduction. We found no relationship between CH4 concentration or source in groundwater and proximity to active gas well sites. No significant changes in CH4 concentration, CH4 isotopic composition, pH, or conductivity in water wells were observed during the study period. These data indicate that high levels of biogenic CH4 can be present in groundwater wells independent of hydraulic fracturing activity and affirm the need for isotopic or other fingerprinting techniques for CH4 source identification. Continued monitoring of private drinking water wells is critical to ensure that groundwater quality is not altered as hydraulic fracturing activity continues in the region.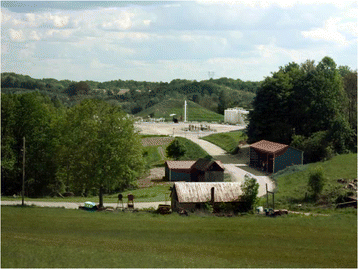 Keywords
Hydraulic fracturing 
Groundwater 
Methane 
Natural gas 
Radiocarbon 
Stable isotopes 
Notes
Acknowledgements
We thank Paul Feezel of Carroll Concerned Citizens for assistance with study design and logistics. Frida Akerstrom, Zoë Doss, Julianne Fernandez, Kristine Jimenez, Gomez Townsend-Small, and Casey White of the University of Cincinnati provided valuable field and laboratory assistance. We thank Susan Dunlap and Kait Barnes of the University of Cincinnati Foundation for assistance in obtaining funding for this project. This study was funded by the David & Sara Weston Foundation and the Deer Creek Foundation. Stable isotope ratios of CH4 were measured with instrumentation funded by the National Science Foundation (award no. 1229114).
The authors declare no competing financial interest.
Copyright information
© Springer International Publishing AG, part of Springer Nature 2018