Trace element concentrations in livers of Common Buzzards Buteo buteo from eastern Poland
Abstract
In this study, our aim was to determine the common sources of origin of 18 elements in the livers of Common Buzzards collected during the breeding season in an extensive agricultural landscape in south-east Poland with respect to age (adults and immatures) and sex (males and females). In all 34 specimens collected, the element concentrations followed the pattern of S > Na > Fe > Mg > Zn > Si > Cu > Mn > Ba > Se > B > Pb > Hg > Cd > Cr > Ni > Sr > V. Among the heavy metals examined, only the concentration of Pb was relatively high. Given the prevalence of farmland in the studied area (and the wide use of fertilizers), common use of lead-hunting ammunition and moderate concentration of Pb in fertilizers, the indirect influence of hunting ammunition ingested with food or as gastroliths was apparently responsible for the elevated levels of Pb in the livers of Common Buzzards. In our study, no significant sex-related differences were detected in the hepatic concentrations of any element. However, a significant age effect was observed for three elements, which had elevated levels in adults (Hg) and immature birds (B, Pb), and a significant age x sex interaction was found for S and Fe. These results might be explained by the importance of these elements in bone growth in immature birds (B), variable strategies of foraging between adults and immature birds (Pb), and possible intersex differences in the immature cohort in response to the presence of lead (S, Fe).
Keywords
Common Buzzard 
Trace elements 
Heavy metals 
Liver 
Poland 
Introduction
The relative proportions and interactions of trace elements in the organs of vertebrates, which include metals that are essential for life, influence the condition and functioning of individuals (McDowell 1992; Yang et al. 2008; Patlar et al. 2014). In birds, the concentrations of these essential elements depend on numerous biochemical, physiological, and ecological factors (Horai et al. 2007; Skoric et al. 2012; Ansara-Ross et al. 2013) and among the ecological factors, foraging areas, food composition, position in the trophic chain, and life-history stage and age are particularly important (Horai et al. 2007; Schummer et al. 2011; Skoric et al. 2012). When the concentrations of essential elements in an organism exceed threshold values, an individual may become intoxicated (Droual et al. 1991; Sileo et al. 2003; Kalisińska et al. 2008).
Raptors are the final consumers in food chains and therefore accumulate both trace elements, which are essential to their functioning, and contaminants from their prey, and because of their spatio-temporal relationships with their habitats, raptors can serve as models in studies of the ecological aspects of element accumulation in key organs (Ansara-Ross et al. 2013; Kim and Oh 2016). The Common Buzzard, Buteo buteo, occurs throughout Europe in a wide spectrum of breeding habitats, including agricultural zones, forests, suburban and urban areas, mountain regions, and wetlands (Cramp and Simmons 1980; Jedrzejewski et al. 1994). Common Buzzards, similarly to other raptors, are territorial and are opportunistic hunters of a wide variety of prey, including rodents, pigeons, weasels, and amphibians (Jedrzejewski et al. 1994; Goszczyński 1997; Goszczyński et al. 2005; Wuczyński 2003, 2005). Thus, the elements that accumulate in the organs of Common Buzzards may reflect contamination in mosaics of agricultural and forest habitats. The level of contamination in this species has been relatively well studied in western Europe (Hontelez et al. 1992; Battaglia et al. 2005; Jager et al. 1996; Licata et al. 2010; Castro et al. 2011; Carneiro et al. 2014), but studies from central and eastern Europe remain scarce and have often been based on small sample sizes and/or only focused on a single element (Houserova et al. 2007; Kalisinska et al. 2009).
The aims of the study were (1) to determine the concentrations of some essential elements (iron, manganese, zinc, selenium) and heavy metals (lead, mercury, cadmium) and then compare the concentrations with those of other species and reference values for toxicity and (2) to compare the hepatic concentrations of 18 elements (B, Ba, Cd, Cr, Cu, Fe, Hg, Mg, Mn, Na, Ni, Pb, S, Se, Si, Sr, V, and Zn) among individuals differing in age (adults vs. immature birds) and sex (males vs. females).
Considering the differences in the parental roles of females (incubation, chick rearing) and males (food provisioning) and the reverse sexual dimorphism in Common Buzzards (Cramp and Simmons 1980; Manosa and Cordero 1992), we expected to find differences between adult males and females in their exposure to contamination. Moreover, females may reallocate some toxic elements during egg formation, e.g., heavy metals from body tissues to eggshells (Burger 1994). Thus, considering that most of the birds in this study were collected during the breeding period, the concentrations of some heavy metals might have been lower in adult females. Furthermore, on the basis of age-related differences in hunting efficiency in raptors (Toland 1986; Ellis et al. 1993; Schindler 2002; Rutz et al. 2006), less experienced immature birds may hunt more frequently in suboptimal areas and focus on suboptimal prey, as compared with adults, and foraging on suboptimal prey (e.g., carrion) may make immature birds more susceptible to Pb contamination. Additionally, because Common Buzzards may feed on prey and carrion that is contaminated with Pb from hunting ammunition (Castro et al. 2011; Carneiro et al. 2014), we expected to find elevated Pb concentrations in at least some individuals, with the accompanying accumulation of other elements.
Methods
Origin of the studied birds
In total, the livers of 34 Common Buzzards that were collected in an extensive agricultural landscape in south-east and central-east Poland (Lublin, Rzeszow, and Warsaw regions; Fig.
1
) were analyzed. A large area of farmland with a low level of industrialization characterizes the study area. The livers were collected from dead individuals delivered to veterinary clinics in April–June between 2010 and 2014. The delivered birds were either dead or if they were found to be untreatable upon 134 delivery, they were euthanized by lethal injection by veterinary doctors to avoid unnecessary suffering. The birds did not remain in the clinics for more than 5 days. Some specimens (
N
 = 5) were found during field observations under high-voltage power lines; their condition precluded any veterinary treatment. Another small group of specimens (
N
 = 4) comprised road causalities. After being extracted from the bodies of the birds, the liver tissues were stored in freezers until analyses. Birds were sexed by internal examination after dissection and classified as either immature birds (≤2 years old) or adults (>2 years old) on the basis of their plumage, gonadal development, and iris color (Cramp and Simmons
1980
; Baker
1993
; Forsman
1999
).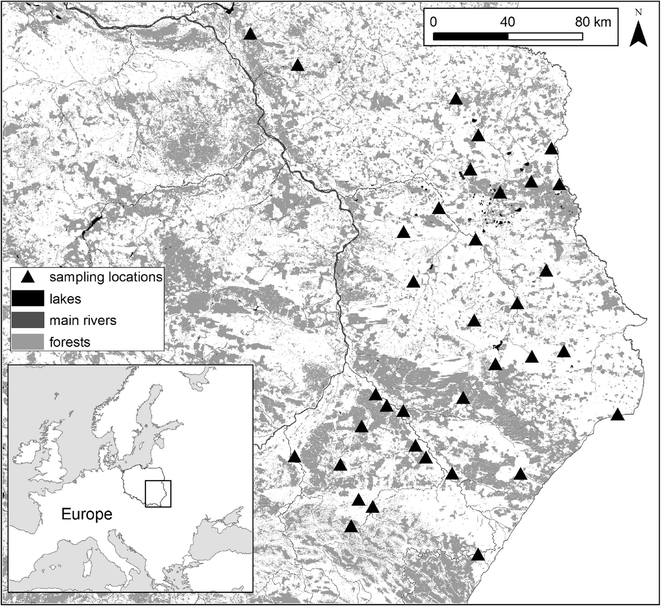 Laboratory analyses
Before analyses, the livers were lyophilized and ground in a ceramic mortar. Before use, all glassware and instruments were rinsed with tap water, soaked in an acid bath (5 M HNO3) for 24 h, rinsed with demineralized water, and dried under a laminar flow hood to minimize the risk of metal contamination. Weighed portions of the samples (500 ± 1 mg) were mixed with 10 mL of concentrated HNO3 (Sigma Aldrich, Germany) and subjected to wet-ashing. Mineralization was conducted using a microwave digestion system, and optical temperature and pressure monitoring were performed on each sample during acid digestion (Berghof Speedwave) in Teflon vials (DAP 100 type) from Berghof GmbH, Eningen, Germany. The mineralization process was as follows: 15 min gradient from room temperature to 140 °C, 5 min at 140 °C, 5 min gradient from 140 to 170 °C, 15 min at 170 °C, and cooling to room temperature (varying times). The pressure did not exceed 12 bars throughout the entire mineralization process. After mineralization, a clear elemental solution was obtained that was cooled to room temperature and transferred to 50-mL volumetric flasks, which were filled with demineralized water (ELGA Pure Lab Classic). In this study, a Thermo Scientific iCAP Series 6500 ICP-OES (inductively coupled plasma optical emission spectrometer) equipped with a charge injection device (CID) detector was used for the elemental determinations. The spectrometer was controlled with the PC-based iTEVA software using the following instrumental parameters: RF generator power of 1150 W, RF generator frequency of 27.12 MHz, coolant gas flow rate of 16 L min−1, carrier gas flow rate of 0.65 L min−1, auxiliary gas flow rate of 0.4 L min−1, max integration time of 15 s, pump rate of 50 rpm, an axial viewing configuration, three replicates, and a flush time of 20 s.
The following multi-element stock solutions (Inorganic Ventures) were used as standards:
1.

Analityk-46: 63Cu, 57Fe, and 24Mg in 5% HNO3-1000 mg L-1;

 

2.

Analityk-47: 75As, 111Cd, 52Cr, 208Pb, 55Mn, 201Hg, 60Ni, 45Sc, 79Se, 88Sr, 51V, and 66Zn in 10% HNO3-100 mg L-1;

 

3.

Analityk-83: 40Ca, 39K, 24Mg, 23Na, 31P, and 32S in 2% HNO3-1000 mg L−1

 
On the basis of the mineralization method (500 mg of sample diluted in 10 mL of HNO3 with a density of 1.51 g cm−3), the estimated Hg detection limit was 0.058 μg L−1 (3.72 × 10−5 μg/kg).
Samples (livers), including a blank (control) sample, were analyzed against a certified reference material, TraceCERT periodic table mix 1 for ICP (Fluka Analytical, Sigma Aldrich, Germany), to control the accuracy of the method under the laboratory conditions. To calculate the recovery percentage, three randomly selected samples were supplied with known amounts of the analytical standard and the mean percentage recoveries of the analyzed elements were calculated on the basis of the following equation: Recovery [%] = (CE/CS × 100), where CE is the experimental concentration determined from the calibration curve and CS is the spiked concentration. All concentrations obtained in this study are presented as microgram per kilogram of dry weight (dw).
Background and toxicity levels (subclinical toxicity and moderate and severe clinical poisoning) of Cd and Pb were classified on the basis of data from the literature (Scheuhammer 1987; Guitart et al. 1994; Martin et al. 2008; Kim and Oh 2016).
Statistical analyses
To compare the concentrations of particular elements among sexes and ages, two methods were used: for all elements simultaneously-PERMANOVA (non-parametric MANOVA based on the Bray-Curtis measure; Anderson 2001) with fixed factors (age and sex) and their interaction as explanatory variables; for particular elements-factorial analyses of variance (ANOVA) followed by a post hoc HSD test for unequal N (Sokal and Rohlf 1981).
The data set was tested for linearity and heterogeneity of variance using Q-Q plots (the quantile expected from a normal distribution vs. the quantile from the plot of observed residuals) and Levene's test. Because data were not normally distributed, they were normalized using the following transformations: ln (Cd, Cu, Se), 1/x (Cr, Fe, Pb, V), and Box-Cox (B, Ni, Sr). The Hg data were ln (x + 1) transformed, because they contained zero values. Multivariate analyses were performed on log (x + 1) transformed data for all elements. The mean and SD are the values for particular groups presented in the tables. All statistical analyses were performed in STATISTICA 12.0 (StatSoft, Inc. 2014, USA) and PAST 3.0 (Hammer et al. 2001).
Results and discussion
To our knowledge, this study is the first comprehensive investigation of inter-group differences in concentrations of hepatic elements in one of the most common bird of prey, the Common Buzzard, in central and eastern Europe. The following pattern of trace element concentration was found in the Common Buzzards: S > Na > Fe > Mg > Zn > Si > Cu > Mn > Ba > Se > B > Pb > Hg > Cd > Cr > Ni > Sr > V.
Conclusions
The absence of inter-group differences for age and sex in the concentrations of many of elements found during our study might be explained by the high similarity of diets and the low rate of element excretion into the eggs laid by females. Among the toxic elements examined, the hepatic concentration of Pb was relatively high. Given the prevalence of farmland in the study area (and wide use of fertilizers), common use of lead-hunting ammunition and moderate concentration of Pb from fertilizers, the indirect influence of hunting ammunition ingested with food or as gastroliths was apparently responsible for the elevated levels of Pb in the livers of Common Buzzards. Less experienced individuals feeding on suboptimal foods (carrion, wounded game species) might explain the elevated levels of Pb in immatures. Compared with those in other studies, low hepatic concentrations of Hg and Se might indicate low contributions of granivorous passerines and amphibians contaminated by these heavy metals in the diets of the studied birds.
Notes
Acknowledgments
The author thanks the veterinarians from local veterinary clinics and rehabilitation centers in eastern Poland for their assistance in obtaining the research materials. The study was performed using statutory funds from the Institute of Agrophysics of the Polish Academy of Sciences in Lublin.
Copyright information
© The Author(s) 2017
Open Access This article is distributed under the terms of the Creative Commons Attribution 4.0 International License (http://creativecommons.org/licenses/by/4.0/), which permits unrestricted use, distribution, and reproduction in any medium, provided you give appropriate credit to the original author(s) and the source, provide a link to the Creative Commons license, and indicate if changes were made.