Abstract
The inhibitory effects of Chinese leek (Allium tuberosum) on Fusarium oxysporum f. sp. cubense (Foc) and on Fusarium wilt incidence were studied in order to identify a potential efficient way to control the disease. Adopting the rotation system of Chinese leek-banana reduced the Fusarium wilt incidence and disease severity index by 88–97 % and 91–96 %, respectively, and improved the crop value by 36–86 %, in an area heavily infested by Foc between 2007 and 2009. As a result of inoculation in the greenhouse, Chinese leek treatment reduced disease incidence and the disease severity index by 58 % and 62 %, respectively in the variety Baxi (AAA) and by 79 % and 81 %, respectively in the variety Guangfen NO.1 (ABB). Crude extracts of Chinese leek completely inhibited the growth of Foc race 4 on Petri dishes, suppressed the proliferation of the spores by 91 % and caused 87 % spore mortality. The findings of this study suggest that Chinese leek has the potential to inhibit Foc growth and Fusarium wilt incidence. This potential may be developed into an environmentally friendly treatment to control Fusarium wilt of banana.
Access options
Buy single article
Instant access to the full article PDF.
US$ 39.95
Tax calculation will be finalised during checkout.
Subscribe to journal
Immediate online access to all issues from 2019. Subscription will auto renew annually.
US$ 119
Tax calculation will be finalised during checkout.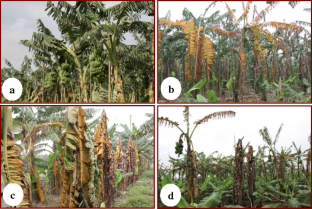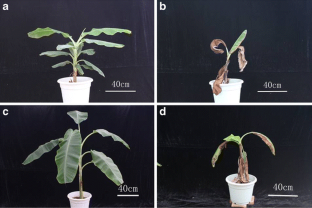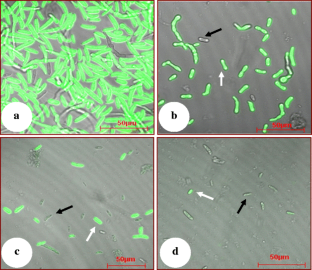 References
Ameziane, N., Boubaker, H., Boudyach, H., Msanda, F., Jilal, A., & Benaoumar, A. A. (2007). Antifungal activity of Moroccan plants against citrus fruit pathogens. Agronomy for Sustainable Development, 27, 273–277.

Anand, T., & Bhaskaran, R. (2009). Exploitation of plant products and bioagents for ecofriendly management of chili fruit rot disease. Journal of Plant Protection Research, 49, 195–203.

Balestra, G. M., Heydari, A., Ceccarelli, D., Ovidi, E., & Quattrucci, A. (2009). Antibacterial effect of Allium sativum and Ficus carica extracts on tomato bacterial pathogens. Crop Protection, 28, 807–811.

Bluma, R., Amaiden, M. R., Daghero, J., & Etcheverry, M. (2008). Control of Aspergillus section Flavi growth and aflatoxin accumulation by plant essential oils. Journal of Applied Microbiology, 105, 203–214.

Cao, L. X., Qiu, Z. Q., You, J. L., Tan, H. M., & Zhou, S. N. (2005). Isolation and characterization of endophytic streptomycete antagonists of fusarium wilt pathogen from surface-sterilized banana roots. FEMS Microbiology Letters, 247, 147–152.

Chaijuckam, P., & Davis, R. M. (2010). Efficacy of natural plant products on the control of aggregate sheath spot of rice. Plant Disease, 94, 986–992.

Chen, C. H., Chou, T. W., Cheng, L. H., & Ho, C. W. (2011). In vitro anti-adenoviral activity of five Allium plants. Journal of the Taiwan Institute of Chemical Engineers, 42, 228–232.

Dagostin, S., Formolo, T., Giovannini, O., Pertot, I., & Schmitt, A. (2010). Salvia officinalis extract can protect grapevine against plasmopara viticola. Plant Disease, 94, 575–580.

Das, M. K., Rajaram, S., Mundt, C. C., & Kronstad, W. E. (1992). Inheritance of slow-rusting resistance to leaf rust in wheat. Crop Science, 32, 1452–1456.

El-Mougy, N. S., & Alhabeb, R. S. (2009). Inhibitory effects of powdered caraway and peppermint extracts on pea root rot under greenhouse condition. Journal of Plant Protection Research, 49, 93–96.

Harish, S., Saravanakumar, D., Radjacommare, R., Ebenezar, E. G., & Seetharaman, K. (2008). Use of plant extracts and biocontrol agents for the management of brown spot disease in rice. BioControl, 53, 555–567.

Ho, W. C., Wu, T. Y., Su, H. J., & Ko, W. H. (2007). Effect of oriental medicinal plant extracts on spore germination of Alternaria brassicicola and nature of inhibitory substances from speedweed. Plant Disease, 91, 1621–1624.

Hwang, S. C., & Ko, W. H. (2004). Cavendish banana cultivars resistant to fusarium wilt acquired somaclonal variation in Taiwan. Plant Disease, 88, 580–588.

Lazarevic, J. S., Dorđevic, A. S., Zlatkovic, B. K., Radulovic, N. S., & Palic, R. M. (2011). Chemical composition and antioxidant and antimicrobial activities of essential oil of Allium sphaerocephalon L. subsp. sphaerocephalon (Liliaceae) inflorescences. Journal of the Science of Food and Agriculture, 91, 322–329.

Lee, C. F., Han, C. K., & Tsau, J. L. (2004). In vitro inhibitory activity of Chinese leek extract against Campylobacter species. International Journal of Food Microbiology, 94, 169–174.

Lian, J., Wang, Z. F., Cao, L. X., Tan, H. M., Inderbitzin, P., Jiang, Z. D., et al. (2009). Artificial inoculation of banana tissue culture plantlets with indigenous endophytes originally derived from native banana plants. Biological Control, 51, 427–434.

Mak, C., Mohamed, A. A., Liew, K. W., & Ho, Y. W. (2004). Early screening technique for Fusarium wilt resistance in banana micropropagated plants. Banana Improvement, 18, 219–227.

Mau, J. L., Chen, C. P., & Hsieh, P. C. (2001). Antimicrobial effect of extracts from Chinese chive, cinnamon and corni fructus. Journal of Agricultural and Food Chemistry, 49, 183–188.

Molina, A., Fabregar, E., Sinohin, V. G., Herradura, L., Fourie, G., & Viljoen, A. (2008, July). Confirmation of tropical race 4 of Fusarium oxysporum f. sp. Cubense infecting cavendish bananas in the Philippines. Bioversity International. Retrieved July 1, 2010, from http://bananas.bioversityinternational.org/files/files/pdf/partnerships/aps_poster.pdf

Najjaa, H., Neffati, M., Zouari, S., & Ammar, E. (2007). Essential oil composition and antibacterial activity of different extracts of Allium roseum L., a North African endemic species. Comptes Rendus Chimie, 10, 820–826.

Nel, B., Steinberg, C., Labuschagne, N., & Viljoen, A. (2007). Evaluation of fungicides and sterilants for potential application in the management of Fusarium wilt of banana. Crop Protection, 26, 697–705.

Nguyen, V. N., Nguyen, D. M. C., Seo, D. J., Park, R. D., & Jung, W. J. (2009). Antimycotic activities of Cinnamon-derived compounds against Rhizoctonia solani in vitro. Biocontrol, 54, 697–707.

Paul, J. Y., Becker, D. K., Dickman, M. B., Harding, R. M., Khanna, H. K., & Dale, J. L. (2011). Apoptosis-related genes confer resistance to Fusarium wilt in transgenic 'Lady Finger' bananas. Plant Biotechnology Journal, 9, 1141–1148.

Phay, N., Higashiyama, T., Tsuji, M., Matsuura, H., Fukushi, Y., Yokota, A., et al. (1999). An antifungal compound from roots of Welsh onion. Phytochemisty, 52, 271–274.

Ploetz, R. C. (2000). Panama disease: a classic and destructive disease of banana. Plant Health Progress. doi:10.1094/PHP-2000-1204-01-HM.

Ploetz, R. C. (2006). Panama disease, an old nemesis rears its ugly head: part 2, the cavendish era and beyond. Plant Health Progress. doi:10.1094/PHP-2006-0308-01-RV.

Saravanan, T., Muthusamy, M., & Marimuthu, T. (2003). Development of integrated approach to manage the fusarial wilts of banana. Crop Protection, 22, 1117–1123.

Seyfi, P., Mostafaie, A., Mansouri, K., Arshadi, D., Mohammadi-Motlagh, H. R., & Kiani, A. (2010). In vitro and in vivo anti-angiogenesis effect of shallot (Allium ascalonicum): a heat-stable and flavonoid-rich fraction of shallot extract potently inhibits angiogenesis. Toxicology in Vitro, 24, 1655–1661.

Smith, M. K., Hamill, S. D., Langdon, P. W., Giles, J. E., Doogan, V. J., & Pegg, K. G. (2006). Towards the development of a Cavendish banana resistant to race 4 of fusarium wilt: gamma irradiation of micropropagated Dwarf Parfitt (Musa spp., AAA group, Cavendish subgroup). Australian Journal of Experimental Agriculture, 46, 107–113.

Stover, R. H. (1962). Fusarial wilt (Panama Disease) of bananas and other Musa Species. Kew: Commonwealth Mycological Institute.

Yin, M. C., & Tsao, S. M. (1999). Inhibitory effect of seven Allium plants upon three Aspergillus species. International Journal of Food Microbiology, 49, 49–56.

Yip, M. K., Lee, S. W., Su, K. C., Lin, Y. H., Chen, T. Y., & Feng, T. Y. (2011). An easy and efficient protocol in the production of pflp transgenic banana against Fusarium wilt. Plant Biotechnology Reports, 5, 245–254.
Acknowledgments
The research was supported by a grant from the National "948" Project of P.R. China (2011-G16) and the Common Fund for Commodities project (CFC/FIGB/15). We thank participating farmers for their contributions to this project, and Dr Altus Viljoen from University of Stellenbosch, South Africa and Dr Uri Lavi from ARO-Volcani Center, Israel for suggesting advice for writing the paper.
About this article
Cite this article
Huang, Y.H., Wang, R.C., Li, C.H. et al. Control of Fusarium wilt in banana with Chinese leek. Eur J Plant Pathol 134, 87–95 (2012). https://doi.org/10.1007/s10658-012-0024-3
Accepted:

Published:

Issue Date:
Keywords
Fusarium oxysporum

Panama disease

Banana

Allium tuberosum

Crop rotation

Biocontrol