The obesity paradox in acute coronary syndrome: a meta-analysis
Abstract
In the general population, the lowest mortality risk is considered to be for the body mass index (BMI) range of 20–24.9 kg/m2. In chronic diseases (chronic kidney disease, chronic heart failure or chronic obstructive pulmonary disease) the best survival is observed in overweight or obese patients. Recently above-mentioned phenomenon, called obesity paradox, has been described in patients with coronary artery disease. Our aim was to analyze the relationship between BMI and total mortality in patients after acute coronary syndrome (ACS) in the context of obesity paradox. We searched scientific databases for studies describing relation in body mass index with mortality in patients with ACS. The study selection process was performed according to PRISMA statement. Crude mortality rates, odds ratio or risk ratio for all-cause mortality were extracted from articles and included into meta-analysis. 26 studies and 218,532 patients with ACS were included into meta-analysis. The highest risk of mortality was found in Low BMI patients—RR 1.47 (95 % CI 1.24–1.74). Overweight, obese and severely obese patients had lower mortality compared with those with normal BMI–RR 0.70 (95 % CI 0.64–0.76), RR 0.60, (95 % CI 0.53–0.68) and RR 0.70 (95 % CI 0.58–0.86), respectively. The obesity paradox in patients with ACS has been confirmed. Although it seems to be clear and quite obvious, outcomes should be interpreted with caution. It is remarkable that obese patients had more often diabetes mellitus and/or hypertension, but they were younger and had less bleeding complications, which could have influence on their survival.
Keywords
Acute coronary syndrome 
Obesity 
Obesity paradox 
Body mass index 
Background
The concept of obesity (from the Latin word obdere—to eat all over: ob—over, above; edere—to eat) for the first time was used in the Oxford Dictionary in 1611, as a synonym for words: corpulent, thick [1]. The oldest trace of obesity is believed to be a female Willendorf statuette, dated about 22,000–24,000 years B.C. [2].
The attitude toward obesity has been changing over centuries and cultures. In ancient Greece (Hippocrates) and India (Sushruta), it was considered as a pathology [3]. In the Europe and the Far East, in the Middle Ages and the Renaissance, obesity was attractive and desirable. A corpulent silhouette was identified with wealth. In the twentieth and twenty-first century, obesity again became unpopular and unfashionable. Being slim has been considered as optimal weight status both for aesthetic and health reasons.
There are many parameters describing body weight status. Years of observation revealed that body mass and height were in certain proportions. Epidemiological significance of the same body weight is completely different in tall and short person. The most popular formula describing weight in relation to height is the Quetelet index, also known as Body Mass Index (BMI) [4]. BMI is expressed as the ratio of body weight in kilograms and the square of the height in meters. Based on epidemiological observations linking various aspects of health status with BMI, the World Health Organization (WHO) has established a normal BMI for European and North American populations in the range of 18.5–24.9 kg/m2 [5]. A BMI range of 25–29.9 kg/m2 defines overweight and a BMI of 30 kg/m2 and more is regarded as obesity. BMI below 18.5 kg/m2 indicates underweight.
In some populations, the BMI cut-off values for a diagnosis of obesity are different. For example, in the Japanese, South Korean and Chinese populations obesity is recognized for BMIs above 25 kg/m2 [6], 27.5 kg/m2 [7] and 28 kg/m2 [8], respectively.
BMI can be calculated easily and quickly and thus it is widely used both in research and clinical areas. It is also applied for body weight classification by WHO. It should be noted that BMI is not the only and probably not the most accurate measure of the cardiovascular risk associated with body weight.
The obesity, described as higher BMI, is considered as the risk factor for mortality in the general population. The lowest mortality is observed for the BMI range of 20–24.9 kg/m2 (for non-smokers in the American and European populations) and it increases below and above this range [5, 9]. During the last two decades, reports on the favorable prognosis in chronically ill patients with overweight or obesity have been published. This phenomenon commonly called the obesity paradox or reversed epidemiology was recognized in patients with chronic kidney disease [10], chronic heart failure [11] and chronic obstructive pulmonary disease [12]. Recently, a similar paradox linking higher BMI with better prognosis was described in coronary artery disease [13, 14]. Due to acute metabolic imbalance during AMI and increased catabolism following AMI [15], the occurrence of obesity paradox after AMI could be different than in stable CAD.
Objectives
Our aim was to analyze the relationship between BMI and total mortality in patients after acute coronary syndrome (ACS).
Methods
Study design
The meta-analysis were performed according to the Preferred Reporting Items for Systematic Reviews and Meta-Analyses (PRISMA) statement [16].
Data sources
PubMed, ScienceDirect and Cochrane Library databases were systematically searched for studies which reported total mortality rates in relation to BMI in patients with acute coronary syndrome. Multiple queries using following keywords were performed on August 27, 2014: ('body mass index' OR BMI OR 'body weight' OR obesity OR overweight OR underweight) AND ('acute coronary syndrome' OR 'myocardial infarction' OR 'unstable angina') AND (mortality OR death).
Study eligibility criteria for qualitative and quantitative synthesis
Inclusion and exclusion criteria for qualitative and quantitative analyses were presented in Table 
1
. Studies fulfilling the eligibility criteria were included into analysis.
Table 1
PICOS criteria for inclusion and exclusion of studies into qualitative and quantitative (meta-analysis) analyses
Parameter

Inclusion criteria

Exclusion criteria

Qualitative synthesis criteria

 Patients

Adults with acute coronary syndrome (STEMI and/or NSTEMI and/or UA), regardless of treatment (MT, fibrinolysis, PCI, CABG)

General population—studies with subgroups (i.e. age or sex) were included only if there was possibility to compile subgroups into one cohort

only Korean or Japanese population

Population limited to a subgroup (i.e. age > 65 years old or men only included)

 Intervention

Groups of BMI

Studies without BMI groups

 Comparator

Normal BMI group

–

 Outcomes

All-cause (total) mortality

–

 Study design

Randomized controlled trials

Non-randomized controlled trials

Retrospective, prospective, or concurrent cohort studies

Cross sectional studies

Case reports

Editorials & opinion pieces

Quantitative synthesis criteriaa

 Patients

–

–

 Intervention

Low BMI, overweight, obesity, severe obesity (at least one of them)

No BMI groups

 Comparator

Normal BMI group

No possibility to extract normal BMI group

 Outcomes

All-cause (total) mortality expressed as mortlaity ratio, odds ratio or risk ratio

Lack of mortality defined in BMI groups

 Study design

–

–
Selection process was shown on Fig. 
1
and had been performed according to PRISMA statement [
16
].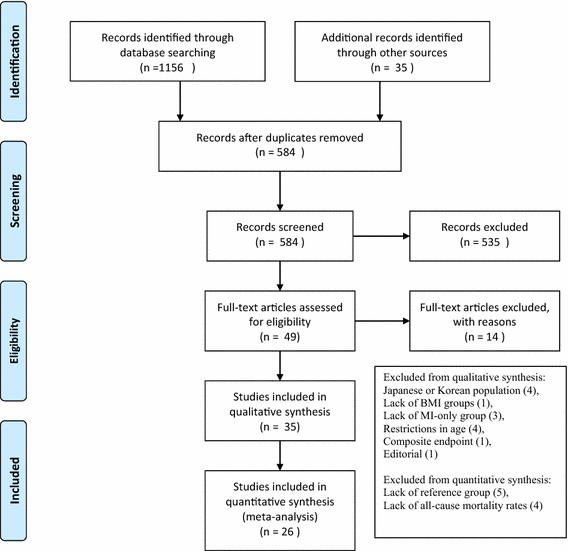 Study appraisal
Studies included in meta-analysis were appraised independently using Newcastle-Ottawa Quality Assessment Scale. Due to restricted inclusion/exclusion criteria, all of the studies had high (at least **) ratings in adequacy of selection and outcomes assessment. Comparability differed between studies, but meta-analysis was conducted on the basis of unadjusted mortality rates (see "Methodology"). Agreement for the quality of the studies was over 90 %.
Data extraction
Two reviewers (J.N. and B.H.) screened independently the titles and abstracts for relevance. Discrepancies between reviewers were discussed until consensus was reached. The articles of selected titles/abstracts were reviewed for inclusion. Using the above-mentioned selection criteria, these 2 reviewers determined independently the articles which were included and excluded. The data from the relevant articles were extracted using predefined extraction forms (Supplemental Appendix Table 1, available online). Any disagreements in data extraction were discussed until consensus was reached.
Methodology
Due to differences in BMI groups between studies in our analysis (see the footnote of Table 
2
), patients were qualified to the closest BMI group. For the purpose of our meta-analysis subjects were divided into 5 groups: Low BMI, Normal BMI, Overweight, Obesity and Severe obesity. Due to heterogeneity of definitions of underweight used in different studies, in our Low BMI category we included subgroups of patients with BMI below 20 kg/m
2
. Again, Normal BMI was defined as a BMI range from 18.5 to 25 kg/m
2
, because in studies various BMI intervals were used i.e. 20–25 or 18.5–24.9 kg/m
2
(Table 
2
). Patients with BMI 25–30 or 30–35 kg/m
2
were categorized as Overweight and Obesity, respectively. Severe obesity category comprised patients with BMI ≥ 35 kg/m
2
. Patients with BMI 35–39.9 kg/m
2
and patients with BMI 40 kg/m
2
or more were pooled as Severe obese (≥35).
Table 2
The summary of studies included into meta-analysis
Author

Year

Location

Enrolment period

ACS type

Number of patients

Treatment

Men  %

BMI category

Follow up (months)

Prevalence (%)

Low BMI

Normal BMI

Overweight

Obesity

Severe obesity

Hoit [17]

1987

USA

1979–1983

AMI

1,760

M

75.4

I

IH + 12

–

37.4

50.2

12.4

–

Lopez-Jimenez [18]

2004

USA

1979–1998

AMI

2,263

M P T

57.7

G

68.4

–

36.0

40.0

24.0

–

Rana [19]

2004

USA

1989–1994

AMI

1,898

NA

69.4

A

45.6

–

32

44

17

7

Eisenstein [20]

2005

International

1997–1999

ACS

15,071

M P T C

72.7

E

12

–

27.0

44.5

20.4

8.1

Kragelund [21]

2005

Denmark

1990–1992

AMI

6,168

M T

67.4

M

96

2.6

42.2

42.3

12.9

–

Diercks [22]

2006

USA

2001–2003

UA/NSTEMI

80,845

M P C

60.4

D

IH

2.9

26.6

35.9

20.8

18.8

Goldberg [23]

2006

USA

1997, 1999, 2001, 2003

AMI

3,513

P C

57.2

F

IH

7.0*

38.5

29.1

15.5

9.9

Iakobishvili [24]

2006

Israel

2002–2003

STEMI

164

P

75.6

J

1.0

–

36.0

42.1

21.9

–

Nikolsky [25]

2006

International

1997–1999

AMI

2,035

P

73.1

G

12

–

27

45

28

–

Wells [26]

2006

USA

2003–2004

AMI

284

M P T C

68.3

L

IH

6.0

22.2

34.2 1

22.9

14.8

Buettner [27]

2007

Germany

1996–1999

UA/NSTEMI

1,676

P

66.0

A

17

0.5*

32.9

49.2

14.6

17.4*

Mehta [28]

2007

International

1990–1997

AMI

2,325

P T

73.9

G

IH

–

30.2

44.7

25.1

–

Lopez-Jimenez [29]

2008

USA

1996–2001

AMI

1,676

M P C

55.9

K

29

3.6

22.8

37.6

30.2

5.8*

Mehta [30]

2008

Germany

1994–2002

STEMI

7,630

P T

70.7

G

IH

–

29.8

49.3

20.8

–

Wienbergen [31]

2008

Germany

1998–2002

STEMI

10,534

M P T C

70.2

D

IH + 14

–

32.3

43.5

20.2

–

Aronson [32]

2010

Israel

2001–2007

AMI

2,157

M P

78.7

B

26

1.2

28.7

44.2

20.1

5.8

Hadi [33]

2010

Middle East

2006–2007

ACS

7,843

P T

75.8

G

IH

–

32.8

40.4

26.7

–

Mahaffey [34]

2010

International

2001–2003

UA/NSTEMI

9,873

M P C

66.2

L

1.0

2.4

23.8

41.5

21.7

10.1

Shechter [35]

2010

Israel

2002, 2004, 2006

ACS

5,751

M P C

77.0

E

12

0.8

29.7

46.9

22.6

–

Das [36]

2011

USA

2007–2009

STEMI

49,329

P T

70.5

D

IH

–

23.5

38.7

22.4

13.8

Timoteo [37]

2011

Portugal

2005–2008

STEMI

539

P

77.0

C

12

–

34.9

46.2

18.9

–

Bucholz [38]

2012

USA

2003–2008

AMI

6,359

M P C

67.4

A

12

–

22.8

36.4

24.1

16.7

Camprubi [39]

2012

Spain

2009–2010

ACS

824

P

73.5

C

IH

–

27.6

50.6

21.8

–

Lazzeri [40]

2012

Italy

2004–2010

STEMI

1,268

P

73.2

O

IH + 12

2.9

31.8

51.7

13.6

–

Herrmann [41]

2014

International

2005–2007

STEMI

3,579

M P C

76.6

H

36

–

29.5

64.3

6.2

–

Witassek [42]

2014

Switzerland

2006–2012

STEMI

6,938

P

77.1

A

IH

1.0

33.1

45.0

15.9

5.0

26 Studies

 
 

1979–2012

 

218,532

 
 
 
 
 
 
 
 
 
Statistical analyses
A random effects model with inverse variance weighting was used to calculate pooled relative risks (RR) and 95 % confidence interval (CI). Total mortality after ACS was analyzed. Unadjusted mortality rates (2 × 2 or risk ratios) in BMI groups were extracted from studies. Normal BMI group was chosen as the reference one. Heterogeneity between studies was assessed using Cochran Q test and I2 statistic, which denotes the percentage of total variation across studies as a result of heterogeneity rather than chance. All heterogeneity results from analyses of each group were compared with those of the Normal-BMI group. Heterogeneity was considered significant if the P value for the heterogeneity test was less than 0.05. Publication bias was tested by using the Begg and Mazumdar rank correlation test and the Egger's regression intercept test. In case of significant bias, Duval and Tweedie's trim and fill method was applied to correct the funnel plot asymmetry. The effect of individual studies was examined by exclusion sensitivity analysis. Each study was removed at a time to assess the degree to which the meta-analysis estimate depends on that particular study.
Results
Study characteristics
Out of the 49 pre-selected articles, 26 met inclusion criteria for meta-analysis [17, 18, 19, 20, 21, 22, 23, 24, 25, 26, 27, 28, 29, 30, 31, 32, 33, 34, 35, 36, 37, 38, 39, 40, 41, 42].
218,532 patients with ACS, enrolled in years 1979–2012 were included in the study. Each study contained more men (range between 55.9 and 78.7 %) than women.
Excluded articles with criterion for exclusion were shown in the frame on Fig. 1. To avoid bias due to the differences in diagnostic criteria of overweight and obesity, data from Japanese and South Korean populations were excluded from the analysis (4 studies).
Main analysis
Obesity was related to 40 % lower risk of death after ACS in comparison with Normal-BMI subjects—RR 0.60 (95 % CI 0.53–0.68)—Fig. 4.
Both tests used for publication bias assessment were not significant for Overweight, Obesity nor Severe obesity groups.
Conclusion
The existence of obesity paradox in patients with ACS is supported by our meta-analysis.
Limitations
Our study has some limitations and weaknesses.
The analyzed articles varied in methodology. Groups of BMI were categorized using 11 different classification (see footnote of Table 2). Thus, in some studies BMI 19 kg/m2 was classified as 'Low BMI', in other—as 'Normal BMI'. In some publications, underweight patients were excluded from the analyses, because of the 'extreme high risk of mortality' [38].
There were lacks of detailed data on race, age, treatment or complications in most of studies, thus those parameters were not shown in the analysis.
The reliability of the data on height and weight is also an important issue. Significant discrepancies between the values measured by physicians and those reported by patients have been shown [54]. Nevertheless, in most ACS cases, weight and height measurements are not possible to conduct, due to life-threatening condition.
Copyright information
© The Author(s) 2014
Open AccessThis article is distributed under the terms of the Creative Commons Attribution License which permits any use, distribution, and reproduction in any medium, provided the original author(s) and the source are credited.