Diagnosing overdiagnosis: conceptual challenges and suggested solutions
Introduction
Overdiagnosis is a fundamental challenge to modern health care [1]. It is claimed to be "the biggest problem posed by modern medicine" [2], leading to unnecessary suffering and significant costs [1]. In the USA it is estimated that it results in more than $200bn wasted on unnecessary treatment every year [3], and that 30 % of the health care spending is on ineffective measures [4, 5].
Many drivers of overdiagnosis have been identified (Fig.
1
). The main challenges with overdiagnosis are: unnecessary diagnosis (including anxiety and reduced quality of life), unnecessary treatment (including harms and adverse side effects), allocation of scarce resources (including opportunity cost), professional integrity, and potential reduced trust in the health care services.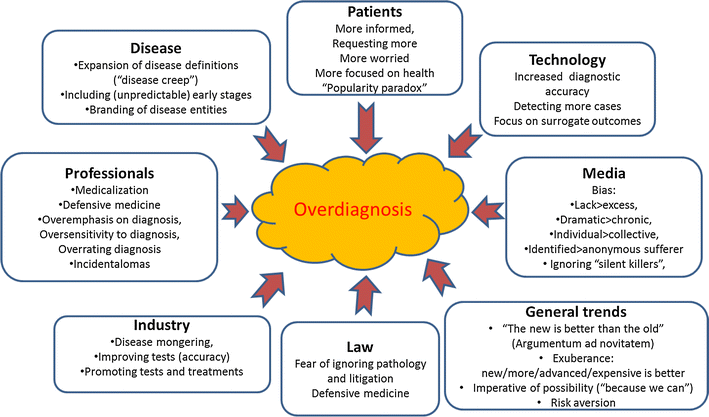 Keywords
Common Definition 
Early Testing 
Health Care Spending 
False Negative Test 
False Positive Test Result 
These keywords were added by machine and not by the authors. This process is experimental and the keywords may be updated as the learning algorithm improves.
Notes
Conflict of interest
I certify that there is no conflict of interest in relation to this manuscript, and there are no financial arrangements or arrangements with respect to the content of this manuscript with any companies or organizations. The manuscript is not published elsewhere.
Copyright information
© Springer Science+Business Media Dordrecht 2014