Abstract
The relationship between parental BMI and that of their adult offspring, when increased adiposity can become a clinical issue, is unknown. We investigated the intergenerational change in body mass index (BMI) distribution, and examined the sex-specific relationship between parental and adult offspring BMI. Intergenerational change in the distribution of adjusted BMI in 1,443 complete families (both parents and at least one offspring) with 2,286 offspring (1,263 daughters and 1,023 sons) from the west of Scotland, UK, was investigated using quantile regression. Familial correlations were estimated from linear mixed effects regression models. The distribution of BMI showed little intergenerational change in the normal range (<25 kg/m2), decreasing overweightness (25–<30 kg/m2) and increasing obesity (≥30 kg/m2). Median BMI was static across generations in males and decreased in females by 0.4 (95% CI: 0.0, 0.7) kg/m2; the 95th percentile increased by 2.2 (1.1, 3.2) kg/m2 in males and 2.7 (1.4, 3.9) kg/m2 in females. Mothers' BMI was more strongly associated with daughters' BMI than was fathers' (correlation coefficient (95% CI): mothers 0.31 (0.27, 0.36), fathers 0.19 (0.14, 0.25); P = 0.001). Mothers' and fathers' BMI were equally correlated with sons' BMI (correlation coefficient: mothers 0.28 (0.22, 0.33), fathers 0.27 (0.22, 0.33). The increase in BMI between generations was concentrated at the upper end of the distribution. This, alongside the strong parent-offspring correlation, suggests that the increase in BMI is disproportionally greater among offspring of heavier parents. Familial influences on BMI among middle-aged women appear significantly stronger from mothers than fathers.
This is a preview of subscription content, log in to check access.
Access options
Buy single article
Instant unlimited access to the full article PDF.
US$ 39.95
Price includes VAT for USA
Subscribe to journal
Immediate online access to all issues from 2019. Subscription will auto renew annually.
US$ 99
This is the net price. Taxes to be calculated in checkout.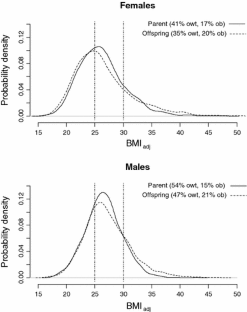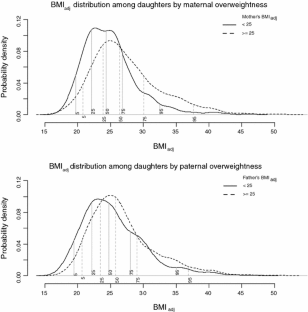 References
1.

Government Office for Science. Foresight. Tackling obesities: future choices. Oct 17 2010.

2.

Ogden CL, Carroll MD, Curtin LR, et al. Prevalence of overweight and obesity in the United States, 1999–2004. JAMA. 2006;295(13):1549–55.

3.

Wang Y, Beydoun MA, Liang L, et al. Will all Americans become overweight or obese? Estimating the progression and cost of the US obesity epidemic. Obesity (Silver Spring). 2008;16(10):2323–30.

4.

Abu-Rmeileh NM, Hart CL, McConnachie A, et al. Contribution of Midparental BMI and other determinants of obesity in adult offspring. Obesity (Silver Spring). 2008;16(6):1388–93.

5.

Perez-Pastor EM, Metcalf BS, Hosking J, et al. Assortative weight gain in mother-daughter and father-son pairs: an emerging source of childhood obesity. Longitudinal study of trios (EarlyBird 43). Int J Obes (Lond). 2009;33(7):727–35.

6.

Leary S, Davey SG, Ness A. No evidence of large differences in mother-daughter and father-son body mass index concordance in a large UK birth cohort. Int J Obes (Lond). 2010;34(7):1191–2.

7.

Hawthorne VM, Watt GC, Hart CL, et al. Cardiorespiratory disease in men and women in urban Scotland: baseline characteristics of the Renfrew/Paisley (midspan) study population. Scott Med J. 1995;40(4):102–7.

8.

Upton MN, McConnachie A, McSharry C, et al. Intergenerational 20 year trends in the prevalence of asthma and hay fever in adults: the Midspan family study surveys of parents and offspring. BMJ. 2000;321(7253):88–92.

9.

Hart C, McConnachie A, Upton M, et al. Risk factors in the Midspan family study by social class in childhood and adulthood. Int J Epidemiol. 2008;37(3):604–14.

10.

General Register Office. Classification of occupations 1966. London: HMSO; 1966. p. 1–148.

11.

General Register Office. Classification of occupations 1990. London: HMSO; 1990.

12.

Silverman BW. Density estimation. London: Chapman and Hall; 1986.

13.

Rasbash J, Brown W, Healy M, et al. MLwiN Version 1.1. Multilevel models project; 2011.

14.

R Development Core Team. R: A language and environment for statistical computing; 2009.

15.

Roger Koenker. quantreg: Quantile regression. R package version 4.50; 2010.

16.

Harrell Jr FE. Hmisc: Harrell miscellaneous. R package version 3.7-0; 2009.

17.

Clemons T. A look at the inheritance of height using regression toward the mean. Hum Biol. 2000;72(3):447–54.

18.

Davey SG, Steer C, Leary S, et al. Is there an intrauterine influence on obesity? Evidence from parent child associations in the Avon Longitudinal Study of Parents and Children (ALSPAC). Arch Dis Child. 2007;92(10):876–80.

19.

Flegal KM, Troiano RP. Changes in the distribution of body mass index of adults and children in the US population. Int J Obes Relat Metab Disord. 2000;24(7):807–18.

20.

Micciolo R, Di FV, Fantin F et al. Prevalence of overweight and obesity in Italy (2001–2008): is there a rising obesity epidemic? Ann Epidemiol. 2010;20(4):258–64.

21.

Rose G, Khaw KT, Marmot M. Rose's strategy of preventative medicine. Revised Edition ed. Oxford: Oxford University Press; 2008.

22.

Barnett AG, van der Pols JC, Dobson AJ. Regression to the mean: what it is and how to deal with it. Int J Epidemiol. 2005;34(1):215–20.

23.

Hotelling H. Review of the triumph of mediocrity in business. J Am Stat Assoc. 1933;28:463–5.

24.

Davey SG, Sterne JA, Fraser A, et al. The association between BMI and mortality using offspring BMI as an indicator of own BMI: large intergenerational mortality study. BMJ 2009;339:b5043.

25.

Herskind AM, McGue M, Sorensen TI, et al. Sex and age specific assessment of genetic and environmental influences on body mass index in twins. Int J Obes Relat Metab Disord. 1996;20(2):106–13.

26.

Stunkard AJ, Harris JR, Pedersen NL, et al. The body-mass index of twins who have been reared apart. N Engl J Med. 1990;322(21):1483–7.

27.

Wardle J, Carnell S, Haworth CM, et al. Evidence for a strong genetic influence on childhood adiposity despite the force of the obesogenic environment. Am J Clin Nutr. 2008;87(2):398–404.

28.

Cecil JE, Tavendale R, Watt P, et al. An obesity-associated FTO gene variant and increased energy intake in children. N Engl J Med. 2008;359(24):2558–66.

29.

Bauer F, Elbers CC, Adan RA, et al. Obesity genes identified in genome-wide association studies are associated with adiposity measures and potentially with nutrient-specific food preference. Am J Clin Nutr. 2009;90(4):951–9.

30.

Power C, Graham H, Due P, et al. The contribution of childhood and adult socioeconomic position to adult obesity and smoking behaviour: an international comparison. Int J Epidemiol. 2005;34(2):335–44.

31.

Shelton NJ. What not to eat: inequalities in healthy eating behaviour, evidence from the 1998 Scottish Health Survey. J Public Health (Oxf). 2005;27(1):36–44.

32.

Macdonald L, Cummins S, Macintyre S. Neighbourhood fast food environment and area deprivation-substitution or concentration? Appetite. 2007;49(1):251–4.
Acknowledgments
Victor Hawthorne carried out the original Midspan studies. Pauline MacKinnon is the Midspan administrator. The Midspan Family Study was funded by the Wellcome Trust and the NHS Cardiovascular Research and Development Programme. Neither the Wellcome Trust nor the NHS Cardiovascular Research and Development Programme were involved in the study design, the collection, analysis, and interpretation of data for this paper; in the writing of the report; nor in the decision to submit the article for publication.
Ethical standard
Not required at the time of the Midspan Renfrew Paisley Study. Approval for the Midspan Family Study was granted from both the Argyll and Clyde, and Greater Glasgow Health Board Local Research Ethics Committees.
Conflicts of interest
The authors declare no conflicts of interest.
Additional information
Paul Christopher Duncan Johnson, Jennifer Logue are joint first authors.
Electronic supplementary material
Below is the link to the electronic supplementary material.
About this article
Cite this article
Johnson, P.C.D., Logue, J., McConnachie, A. et al. Intergenerational change and familial aggregation of body mass index. Eur J Epidemiol 27, 53–61 (2012) doi:10.1007/s10654-011-9639-5
Received:

Accepted:

Published:

Issue Date:
Keywords
Obesity

Body mass index

Sex-specific

Maternal

Paternal