Abstract
Pyrethroid and organophosphate insecticides have been used for more than 20 years worldwide to control a variety of insect pest in different settings. These pesticides have been detected in a variety of environmental samples, including surface waters and sediments and therefore there is significant concern about their potential toxic effects on non-target organisms. Mixtures of compounds from these groups of pesticides have been found to frequently show enhanced toxicity but it has been a challenge to predict whether or not enhanced toxicity will occur for a given combination of compounds. This study therefore studied the effects of binary pyrethroid-organophosphate mixtures using cypermethrin, deltamethrin and dimethoate in an acute toxicity test system with Oreochromis niloticus. The 96 h LC50s for individual insecticides were 9.13 µg/l, 9.42 µg/l and 45.52 mg/l for cypermethrin, deltamethrin and dimethoate respectively. These showed that the pyrethroid insecticides were highly toxic to Oreochromis niloticus and were far more toxic than dimethoate. All mixtures were also more toxic than single insecticides throughout the concentration-response curve with mixtures resulting in mortality at concentrations which the individual pesticides in the mixture were below their respective NOECs. In addition, observed mixture toxicities deviated from the predicted mixture effects based either on the Concentration Addition (CA) or Independent Action (IA) models independent of mixture ratio. However, the extent of observed mixture mortality deviation was dependent on the effect level. Significant deviations (MDR > 2.0) were observed at lower concentrations indicating synergistic effects at lower and possibly environmentally relevant concentrations. This is not unexpected since organophosphate insecticides are known to inhibit acetylcholinesterase as well as inactivate esterase, resulting in reduced detoxification of pyrethroid insecticides and consequently greater toxicity than would be expected. This has important implications for risk assessment of mixtures since the risk of pyrethroid-organophosphate mixtures may be underestimated if either the CA or IA model is employed.
This is a preview of subscription content, log in to check access.
Access options
Buy single article
Instant unlimited access to the full article PDF.
US$ 39.95
Price includes VAT for USA
Subscribe to journal
Immediate online access to all issues from 2019. Subscription will auto renew annually.
US$ 99
This is the net price. Taxes to be calculated in checkout.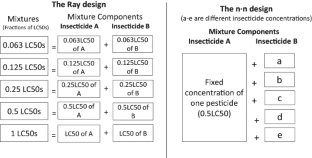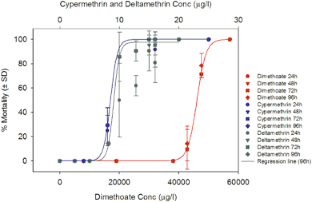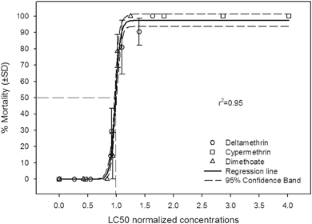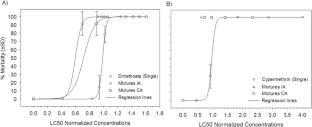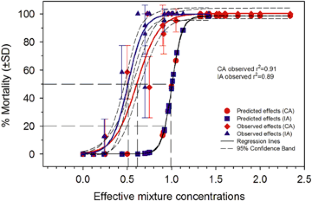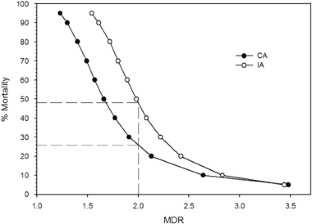 References
Abang AF, Kouame CM, Abang M, Hannah R, Fotso AK (2013) Vegetable growers perception of pesticide use practices, cost, and health effects in the tropical region of Cameroon. Int J Agron Plant Prod 4(5):873–883

Altenburger R, Backhaus T, Boedeker W, Faust M, Scholze M (2013) Simplifying complexity: mixture toxicity assessment in the last 20 years. Environ Tox Chem 32(8):1685–1687

Altenburger R, Backhaus T, Boedeker W, Faust M, Scholze M, Grimme LH (2000) Predictability of the toxicity of multiple chemical mixtures to Vibrio fischeri: mixtures composed of similarly acting chemicals. Environ Tox Chem 19(9):2341–2347

Altenburger R, Nendza M, Schuurmann G (2003) Mixture toxicity and its modeling by quantitative structure- activity relationships. Environ Tox Chem 22(8):1900

Ayoola SO (2008) Toxicity of glyphosate herbicide on Nile tilapia (Oreochromis niloticus) juvenile. African J Agric Res 3(12):825–834

Backhaus T, Faust M (2012) Predictive environmental risk assessment of chemical mixtures: a conceptual framework. Environ Sci Technol 46:2564–2573

Belden JB, Gilliom RJ, Lydy MJ (2007) How well can we predict the toxicity of pesticide mixtures to aquatic life? Integr Environ Assess Managt 3(3):364–372

Boateng JO, Nunoo FKE, Dankwa HR, Ocran MH (2006) Acute toxic effects of Deltamethrin on Tilapia, Oreochromis niloticus (Linnaeus, 1758). West Africa J Appl Ecol 9:1–5

Brown AM (2001) A step-by-step guide to non-linear regression analysis of experimental data using a Microsoft excel spreadsheet. Comp Methods and Prog Biomed 65:191–200

Cedergreen N, Christensen AM, Kamper A, Kudsk P, Mathiassen SK, Streibig JC, Sørensen H (2008) A review of independent action compared to concentration addition as reference models for mixtures of compounds with different molecular target sites. Environ Tox Chem 27(7):1621–1632

De Laender F, Janssen CR, De Schamphelaere KAC (2009) Non-simultaneous ecotoxicity testing of single chemicals and their mixture results in erroneous conclusions about the joint action of the mixture. Chemosphere 76(3):428–432

DeLorenzo ME, Key PB, Chung KW, Sapozhnikova Y, Fulton MH (2014) Comparative toxicity of pyrethroid insecticides to two estuarine crustacean species, Americamysis bahia and Palaemonetes pugio. Environ Tox 29(10):1099–1106

Deneer JW (2000) Toxicity of mixtures of pesticides in aquatic systems. Pest Managt Sci 56(6):516–520

Fai PBA, Fagade SO (2005) Acute toxicity of Euphorbia kamerunica on Oreochromis niloticus. Ecotoxicol and Environ Saf 62(1):128–131

Fai PBA, Mbida M, Demefack JM, Yamssi C (2015) Potential of the microbial assay for risk assessment (MARA) for assessing ecotoxicological effects of herbicides to non-target organisms. Ecotoxicology 24(9):1915–1922

Jepson PC, Guzy M, Blaustein K, Sow M, Sarr M, Mineau P, Kegley S (2014) Measuring pesticide ecological and health risks in West African agriculture to establish an enabling environment for sustainable intensification. Philos Trans R Soc Lond B Biol Sci 369:1639

Jiraungkoorskul W, Upatham ES, Kruatrachue M, Sahaphong S, Vichasri-Grams S, Pokethitiyook P (2002) Histopathological effects of roundup, a glyphosate herbicide, on Nile tilapia (Oreochromis niloticus). Sci Asia 28:121–127

Khalili M, Khaleghi SR, Hedayati A (2012) Acute toxicity test of two pesticides Diazinon and Deltamethrin, on Swordtail fish (Xiphophorus helleri). Global Veterinaria 8(5):541–545

Laetz CA, Baldwin DH, Collier TK, Hebert V, Stark JD, Scholz NL (2009) The synergistic toxicity of pesticide mixtures: implications for risk assessment and the conservation of endangered Pacific salmon. Environ Health Persp 117(3):348–353

Laetz CA, Baldwin DH, Hebert VR, Stark JD, Scholz NL (2014) Elevated temperatures increase the toxicity of pesticide mixtures to juvenile coho salmon. Aquatic Toxicol 146:38–44

Lydy M, Belden J, Wheelock C, Hammock B, Denton D (2004) Challenges in regulating pesticide mixtures. Ecol Soc 9(6):U1–U15

Matthews GA (2008) Attitudes and behaviours regarding use of crop protection products—a survey of more than 8500 small holders in 26 countries. Crop Prot 27(3–5):834–846

Matthews G, Wiles T, Baleguel P (2003) A survey of pesticides application in Cameroon. Crop Prot 22:707–714

Maund SJ, Travis KZ, Hendley P, Giddings JM, Solomon KR (2001) Probabilistic risk assessment of cotton pyrethroids: V. Combining landscape-level exposures and ecotoxicological effects data to characterize risks. Environ Tox Chem 20(3):687–692

MINADER (2013) Liste des Pesticides Homologues au Cameroun au 31 Juillet 2013. National Registration Commission of Phytosanitary Products and Certification of Sprayers. Ministry of Agriculture and Rural Development, Yaounde, Cameroon, p 40

Mumtaz MM, Suk WA, Yang RSH (2010) Introduction to Mixtures Toxicology and Risk Assessment. In: Mumtaz M (ed) Principles and Practice of Mixtures Toxicology, Wiley-VCH Verlag GmbH & Co. KGaA, Weinheim, Germany. doi:10.1002/9783527630196.ch1

Ndiwa TC, Nyingi DW, Agnese J-F (2014) An important natural genetic resource of oreochromis niloticus (Linnaeus, 1758) threatened by aquaculture activities in Loboi Drainage, Kenya. PLoS ONE 9(9):e106972

Nowell LH, Norman JE, Moran PW, Martin JD, Stone W (2014) Pesticide toxicity index—a tool for assessing potential toxicity of pesticide mixtures to freshwater aquatic organisms. Sci Total Environ 476–477:144–157

Ntow WJ (2008) The use and fate of pesticides in vegetable-based agroecosystems in Ghana PhD, Wageningen University and the UNESCO-IHE Institute for Water Education Ghana

OECD (1992) Test No. 203: Fish, Acute Toxicity Test, OECD Publishing. 10 p

Osman AGM (2012) Biomarkers in Nile Tilapia Oreochromis niloticus niloticus (Linnaeus, 1758) to assess the impacts of River Nile pollution: bioaccumulation, biochemical and tissues biomarkers. J Environ Protect 3:966–977

Palmquist K, Salatas J, Fairbrother A (2012) Pyrethroid insecticides: use, environmental fate, and ecotoxicology. In: Perveen F (ed) Insecticides – advances in integrated pest management, InTech, doi:10.5772/29495. Available from: https://www.intechopen.com/books/insecticides-advances-in-integrated-pest-management/pyrethroid-insecticides-use-environmental-fate-and-ecotoxicology

Prusty AK, Meena DK, Mohapatra S, Panikkar P, Das P, Gupta SK, Behera BK (2015) Synthetic pyrethroids (type II) and freshwater fish culture: perils and mitigations. Int Aquat Res 7(3):163–191

Rasmussen JJ, Wiberg-Larsen P, Kristensen EA, Cedergreen N, Friberg N (2013) Pyrethroid effects on freshwater invertebrates: a meta-analysis of pulse exposures. Environ Pol 182:479–485

Schäfer RB, Caquet T, Siimes K, Mueller R, Lagadic L, Liess M (2007) Effects of pesticides on community structure and ecosystem functions in agricultural streams of three biogeographical regions in Europe. Sci Total Environ 382(2–3):272–285

Silva Filho MV, Oliveira MM, Salles JB, Cunha Bastos VLF, Cassano VPF, Cunha Bastos J (2004) Methyl-paroxon comparative inhibition kinetics for acetylcholinesterase from brain of neotropical fishes. Toxicol Lett 153:247–254

Svendsen C, Siang P, Lister LJ, Rice A, Spurgeon DJ (2010) Similarity, independence, or interaction for binary mixture effects of nerve toxicants for the nematode caenorhabditis elegans. Environ Tox Chem 29(5):1182–1191

Tortelli V, Colares EP, Robaldo RB, Nery LEM, Pinho GLL, Bianchini A, Monserrat JM (2006) Importance of cholinesterase kinetic parameters in environmental monitoring using estuarine fish. Chemosphere 65:560–566

Van den Bergh EC, Teugels GG (1998) Description of new small sized Barbus species from the Sanaga Basin in Cameroon: comments on B. jae and on the taxonomic status of B. condei (Ostariophysi; Cyprinidae). J Nat Hist 32:1367–1401

Van Scoy A, Pennell A, Zhang X (2016) Environmental fate and toxicology of Dimethoate. In: de Voogt WP (ed) Reviews of Environmental Contamination and Toxicology, Volume 237, Springer International Publishing, Switzerland, pp 53–70

Yadav SK (2010) Pesticide applications-threat to ecosystems. J Hum Ecol 32(1):37–45
Ethics declarations
Conflict of Interest
The authors declare that they have no competing interests.
Ethical Approval
Institutional guidelines for the care and use of animals have been followed.
Informed Consent
This article does not contain any studies with human participants performed by any of the authors.
About this article
Cite this article
Fai, P.B.A., Tsobgny Kinfack, J.S. & Tala Towa, Y.J. Acute effects of binary mixtures of Type II pyrethroids and organophosphate insecticides on Oreochromis niloticus . Ecotoxicology 26, 889–901 (2017). https://doi.org/10.1007/s10646-017-1819-y
Accepted:

Published:

Issue Date:
Keywords
Mixture toxicity

Pyrethroids

Organophosphate

Insecticides

Oreochromis niloticus

Synergism

Concentration addition