Abstract
In this paper, we examine the long-run cointegration relationship between electricity consumption and GDP per capita in Gibraltar over the period 1996–2012. We examine the short-run and long-run and the causality nexus. The results show electricity consumption has a long run association with the output per capita at levels. Moreover, we note a statistically significant coefficient of electricity consumption the short run (0.53) and in the long-run (1.46). Moreover, a unidirectional causality running form electricity consumption to GDP per capita is noted. Hence, electricity consumption causes income growth in the economy and therefore we recommend efficient use of electricity consumption in key productive sectors of the economy as a way forward to spur growth in the small semi-sovereign economy of Gibraltar.
This is a preview of subscription content, log in to check access.
Access options
Buy single article
Instant access to the full article PDF.
US$ 39.95
Price includes VAT for USA
Subscribe to journal
Immediate online access to all issues from 2019. Subscription will auto renew annually.
US$ 99
This is the net price. Taxes to be calculated in checkout.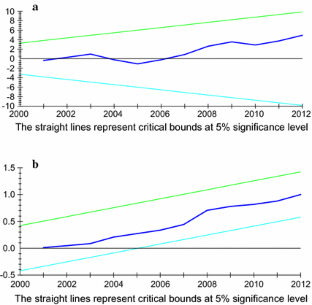 Notes
1.

Koomey (2011) estimates that between 1and 2 % of the world wide electricity in 2010 were used for data centers and that the electricity consumption of data centers world-wide increased by 56 % from 2005 to 2010.

2.

We also thank the reviewers for pointing this out in the second round of the review comments.

3.

In most cases, the results from using either energy consumption or electricity consumption data are qualitatively similar.

4.

It is also worth noting that GDP that data older than 1996 could be distorted by the military activities of the Royal Forces.

5.

Although the sample data for electricity consumption is from 1970 to 2012, the per capita income data is from 1996 to 2012 and hence the analysis is restricted to the latter. Additionally, it also should be taken into account that in 1984 the Royal Forces contributed 60 % to the GDP and the contribution was less than 6 % in 2008.

6.

The danger of using approximated data is that it could result in unreliable conclusions. The authors are thankful to the anonymous reviewers for highlighting this and insisting that only actual available data be used in the analysis in the first round of review.

7.
References
Abosedra S, Baghestani H (1989) New evidence on the causal relationship between United States energy consumption and gross national product. J Energy Dev 14:285–292

Abosedra S, Dah A, Ghosh S (2009) Electricity consumption and economic growth, the case of Lebanon. Appl Energy 86(4):429–432

Akarca AT, Long TV (1980) On the relationship between energy and GNP: a reexamination. J Energy Dev 5:326–331

Akinlo AE (2009) Electricity consumption and economic growth in Nigeria: evidence from cointegration and co-feature analysis. J Policy Model 31(5):681–693

Altinay G, Karagol E (2004) Structural break, unit root, and the causality between energy consumption and GDP in Turkey. Energy Econ 26:985–994

Altinay G, Karagol E (2005) Electricity consumption and economic growth: evidence from Turkey. Energy Econ 27(6):849–856

Asafu-Adjaye J (2000) The relationship between energy consumption, energy prices and economic growth: time series evidence from Asian developing countries. Energy Econ 22:615–625

Bowden N, Payne JE (2009) The causal relationship between US energy consumption and real output: a disaggregated analysis. J Policy Model 31:180–188

Bowden N, Payne JE (2010) Sectoral analysis of the causal relationship between renewable and non-renewable energy consumption and real output in the US. Energy Sources Part B 5:400–408

Cheung YW, Lai KS (1995) Practitioners corner: lag order and critical values of a modified Dickey-Fuller test. Oxf Bull Econ Stat 57:411–419

Erol U, Yu ESH (1987) On the causal relationship between energy and income for industrialized countries. J Energy Dev 13:113–122

Ghali KH, El-Sakka MIT (2004) Energy use and output growth in Canada: a multivariate cointegration analysis. Energy Econ 26:225–238

Ghatak S, Siddiki J (2001) The use of ARDL approach in estimating virtual exchange rates in India. J Appl Stat 28:573–583

Ghosh S (2002) Electricity consumption and economic growth in India. Energy Policy 30(2):125–129

Glasure YU, Lee A-R (1998) Cointegration, error-correction, and the relationship between GDP and energy: the case of South Korea and Singapore. Resour Energy Econ 20:17–25

Government of Gibraltar (2014a) Abstract of Statistics 2012. H.M. Government of Gibraltar. https://www.gibraltar.gov.gi/images/stories/PDF/statistics/2013/Abstract_of_Statistics_2012.pdf. Accessed 1 August 2014

Government of Gibraltar (2014b) Abstract of Statistics 2002. H.M. Government of Gibraltar. https://www.gibraltar.gov.gi/images/stories/PDF/statistics/2002/Abstract_of_Statistics_2002.pdf. Accessed 1 August 2014

Hondroyiannis G, Lolos S, Papapetrou E (2002) Energy consumption and economic growth: assessing the evidence from Greece. Energy Econ 24:319–336

Huang B-N, Hwang MJ, Yang CW (2008) Causal relationship between energy consumption and GDP growth revisited: a dynamic panel data approach. Ecol Econ 67:41–54

Hwang DBK, Gum B (1992) The causal relationship between energy and GNP: the case of Taiwan. J Energy Dev 16:219–226

Koomey J (2011) Growth in data center electricity use 2005 to 2010, Oakland, CA: Analytics Press. http://www.analyticspress.com/datacenters.html. Accessed 10 November 2014

Kraft J, Kraft A (1978) On the relationship between energy and GNP. J Energy Dev 3:401–403

Kumar RR, Kumar R (2013) Effects of energy consumption on per worker output: a study of Kenya and South Africa. Energy Policy 62:1167–1193

Kumar RR, Stauvermann PJ (2014) Exploring the effects if remittances on lithuanian economic growth. Eng Econ 25(3):250–260

Kumar RR, Stauvermann PJ, Patel A, Kumar RD (2014) Exploring the effects of energy consumption on output per worker: a study of Albania, Bulgaria, Hungary and Romania. Energy Policy 69:575–585

Kwiatkowski D, Phillips PCB, Schmidt P, Shin Y (1992) Testing the null hypothesis of stationarity against the alternative of a unit root. J Econom 54:159–178

Lee CC (2005) Energy consumption and GDP in developing countries: a cointegrated panel analysis. Energy Econ 27:415–427

Lee CC (2006) The causality relationship between energy consumption and GDP in G-11 countries revisited. Energy Policy 34:1086–1093

Mackinnon JG (1996) Numerical distribution functions for unit root and cointegration tests. J Appl Econom 11:601–618

Mahadevan R, Asafu-Adjaye J (2007) Energy consumption, economic growth and prices: a reassessment using panel VECM for developed and developing countries. Energy Policy 35:2481–2490

Masih A, Masih R (1996) Energy consumption, real income and temporal causality: results from a multi-country study based on cointegration and error-correction modeling techniques. Energy Econ 18:165–183

Narayan PK (2005) The saving and investment nexus for China: evidence from cointegration tests. Appl Econ 37:1979–1990

Narayan PK, Smyth R (2005) Electricity consumption, employment and real income in Australia: evidence from multivariate granger causality tests. Energy Policy 33:1109–1116

Odhiambo NM (2009) Energy consumption and economic growth nexus in Tanzania: an ARDL bounds testing approach. Energy Policy 37:617–622

Odhiambo NM (2010) Energy consumption, prices and economic growth in three SSA countries: a comparative study. Energy Policy 38:2463–2469

Oh W, Lee K (2004a) Energy consumption and economic growth in Korea: testing the causality relation. J Policy Model 26:973–981

Oh W, Lee K (2004b) Causal relationship between energy consumption and GDP revisited: the case of Korea 1970–1999. Energy Econ 26:51–59

Ouédraogo IM (2010) Electricity consumption and economic growth in Burkina Faso: a cointegration analysis. Energy Econ 32(3):524–531

Payne JE (2010) A survey of the electricity consumption-growth literature. Appl Energy 87:723–731

Payne JE (2011a) On biomass energy consumption and real output in the US. Energy Sources Part B 6:47–52

Payne JE (2011b) US disaggregate fossil fuel consumption and real GDP: an empirical note. Energy Sources Part B 6:63–68

Payne JE, Taylor JP (2010) Nuclear energy consumption and economic growth in the US: an empirical note. Energy Sources Part B 5:301–307

Perron P (1997) Further evidence on breaking trend functions in macroeconomic variables. J Econom 80:355–385

Pesaran B, Pesaran HM (1999) Microfit 4.1 interactive econometric analysis. Oxford University Press, Oxford

Pesaran B, Pesaran HM (2009) Time series econometrics using Microfit 5.01. Oxford University Press, Oxford

Pesaran MH, Shin Y, Smith RJ (2001) Bounds testing approaches to the analysis of level relationships. J Appl Econom 16:289–326

Sephton PS (1995) Response surface estimates of the KPSS stationary test. Econ Lett 47(3–4):255–261

Shahbaz M, Tang CF, Shabbir MS (2011) Electricity consumption and economic growth nexus in Portugal using cointegration and causality approaches. Energy Policy 39:3529–3536

Shiu A, Lam P-L (2004) Electricity consumption and economic growth in China. Energy Policy 31(1):47–54

Soytas U, Sari R (2003) Energy consumption and GDP: causality relationship in G-7 countries and emerging markets. Energy Econ 25:33–37

Soytas U, Sari R (2006) Can China contribute more to the fight against global warming? J Policy Model 28:837–846

Stern DI (1993) Energy and economic growth in the USA, a multivariate approach. Energy Econ 15:137–150

Stern DI (2000) A multivariate cointegration analysis of the role of energy in the US economy. Energy Econ 22:267–283

Tang CF (2008) A re-examination of the relationship between electricity consumption and economic growth in Malaysia. Energy Policy 36(8):3077–3085

Tang CF, Abosedra S (2014) Small sample evidence on the tourism-led growth hypothesis in Lebanon. Curr Issues Tour 17(3):234–246

Toda HY, Yamamoto T (1995) Statistical inferences in vector autoregression with possibly integrated processes. J Econom 66:225–250

Wolde-Rufael Y (2004) Disaggregated energy consumption and GDP, the experience of Shangai 1952–1999. Energy Econ 26:69–75

Wolde-Rufael Y (2006) Electricity consumption and economic growth: a time series experience for 17 African countries. Energy Policy 34:1106–1114

Oxford Bulletin of Business and Economics 57(3): 411–418

Yoo S-H (2005) Electricity consumption and economic growth: evidence from Korea. Energy Policy 33(12):1627–1632

Yoo S-H (2006) The causal relationship between electricity consumption and economic growth in the ASEAN countries. Energy Policy 34(18):3573–3582

Yoo S-H, Kim Y (2006) Electricity generation and economic growth in Indonesia. Energy 31(14):2890–2899

Yoo S-H, Kwak S-Y (2010) Electricity consumption and economic growth in seven South American countries. Energy Policy 38(1):181–188

Yu ESH, Choi JY (1985) The causal relationship between energy and GNP: an international comparison. J Energy Dev 10:249–272

Yu ESH, Hwang BK (1984) The relationship between energy and GNP: further results. Energy Econ 6:186–190

Yuan J, Zhao C, Yu S, Hu Z (2007) Electricity consumption and economic growth in China: cointegration and co-feature analysis. Energy Econ 29(6):1179–1191

Zivot E, Andrews DWK (1992) Further evidence on the great crash, the oil-price shock, and the unit-root hypothesis. J Bus Econ Stat 10:251–270
About this article
Cite this article
Kumar, R.R., Stauvermann, P.J. & Patel, A. Nexus between electricity consumption and economic growth: a study of Gibraltar. Econ Change Restruct 48, 119–135 (2015). https://doi.org/10.1007/s10644-014-9156-0
Received:

Accepted:

Published:

Issue Date:
Keywords
Electricity

ARDL cointegration and causality

Gibraltar