A multicenter, prospective phase II trial of gemcitabine plus axitinib in patients with renal cell carcinoma with a predominant sarcomatoid component
Summary
Introduction We conducted a multicenter, phase 2 trial using gemcitabine plus axitinib (GX) in patients with recurrent or metastatic sarcomatoid renal cell carcinoma (SRCC) to evaluate its efficacy and safety. Methods Patients with advanced RCC and a sarcomatoid component of ≥25% on resected kidney or exclusive sarcomatoid carcinoma on needle biopsy were included. Patients received gemcitabine 1000 mg/m2 intravenously on days 1 and 8 of a 3-week cycle and axitinib 5 mg twice daily. Primary endpoint was objective response rate (ORR) according to the response evaluation criteria in solid tumors version 1.1, and secondary end points were progression-free (PFS) and overall (OS) survivals and adverse events. Results Twenty-five patients were enrolled. Median age was 61 (range: 33–80), and 84% were men. The Eastern Cooperative Oncology Group performance status was one in 23 patients (92%). Clear cell carcinoma was the most common histology of the carcinoma component (60%). ORR was 56%, and 28% patients achieved stable disease with a control rate of 84%. With a median follow-up duration of 24.8 months, the median PFS was 4.2 months (95% CI, 2.3–6.1) and median OS was 8.4 months (95% CI 3.3–13.4 months). The most common grade 3 or higher adverse events were neutropenia (36%), hypertension (12%), and anorexia (12%). Most adverse events were manageable, and no unexpected toxicities were found. Conclusion GX showed promising efficacy in patients with SRCC. GX could be considered as a treatment option for patients with SRCC and should be confirmed in larger clinical trials.
Keywords
Renal cell carcinoma 
Sarcomatoid 
Gemcitabine 
Axitinib 
Chemotherapy 
Introduction
Sarcomatoid renal cell carcinoma (SRCC) is an uncommon type of renal cell carcinoma (RCC) that consists of pleomorphic spindle cells and/or malignant-appearing giant cells that resemble a sarcoma interspersed with a carcinoma component [1]. SRCC accounts for 1–8% of all RCCs, but its incidence depends on the stage of disease at the time of the diagnosis [1, 2, 3]. As SRCC can be observed across all RCC subtypes [4], it is considered a common convergent, a dedifferentiated form of the various types of RCCs. Advanced SRCC has a very aggressive clinical course, with a median overall survival (OS) of three to 10 months from the time of diagnosis [5].
There is currently no standard treatment for SRCC. Cytotoxic chemotherapy regimens containing doxorubicin or gemcitabine have been administrated based on anecdotal reports of complete response (CR) or of a short-term, partial response (PR) [1, 6, 7, 8, 9]. However, two prospective clinical trials investigating gemcitabine and/or doxorubicin chemotherapy did not meet their primary endpoints [10, 11]. Despite the disappointing results of these trials, in consideration of some long–term, complete remission cases [7, 9, 11], further evaluation is needed to elucidate the role of cytotoxic chemotherapy for SRCC in combination with either other cytotoxic agents or other classes of drugs.
There have been no randomized controlled trials to evaluate molecular targeted agents (MTAs) such as the vascular endothelial growth factor receptor (VEGFR) tyrosine kinase inhibitors (TKIs) or the mammalian target of rapamycin (mTOR) inhibitors in SRCC. Some retrospective cohort studies reported that SRCC showed a modest objective response rate to sunitinib, sorafenib or bevacizumab [5, 12, 13, 14, 15, 16]. In a prospective observational trial, nine patients received sorafenib following gemcitabine and doxorubicin chemotherapy failure [17], and one PR and four stable diseases (SD) were observed. Therefore, there is a possibility that MTAs could be effective even for chemotherapy refractory patients.
Considering the occasional remarkable response to cytotoxic chemotherapy, and the modest to moderate response to MTAs, a combination of these agents is an attractive and reasonable approach. A total of 39 patients were enrolled in a prospective phase II trial for the combination of sunitinib and gemcitabine for SRCC or poor-risk RCC [18]. Of the 39 patients, the objective response rate (ORR) was 26% with one CR, nine PRs, and 15 SD (clinical benefit rate 64%). The median time-to-progression (TTP) and median OS were 5 months and 10 months, respectively. The most common ≥ grade 3 adverse events were neutropenia (28%), anemia (14%), and fatigue (10%). Therefore, the favorable efficacy and safety of combination therapy merits further investigation.
Axitinib is a potent, selective, second generation inhibitor of VEGFR-1, VEGFR-2, and VEGFR-3 [19]. Axitinib showed a significantly longer PFS compared with sorafenib in a phase 3 trial for clear cell RCC [20], with better ORR and OS compared to sunitinib for RCC in a multicenter, real-world analysis [21]. Furthermore, axitinib showed promising efficacy in non-clear cell RCC patients, even after failure to temsirolimus [22].
A phase III trial of axitinib plus gemcitabine for advanced pancreatic carcinoma revealed that this combination has mild and manageable toxicities that were not significantly worse than the gemcitabine alone group [23]. Because of its proven efficacy for RCC and favorable toxicity profile, axitinib in combination with gemcitabine can be evaluated for SRCC patients.
Against this background, we investigated the efficacy of a combination regimen consisting of axitinib and gemcitabine for advanced SRCC.
Patients and methods
Study design
GX was a multicenter, open-label, prospective phase II trial evaluating the efficacy and safety of gemcitabine in combination with axitinib in patients with recurrent or metastatic SRCC. The primary end point was ORR, according to the response evaluation criteria in solid tumors (RECIST) v1.1, and the secondary end points were PFS, OS, and the safety profile. This study was approved by the institutional review boards of each participating center (S2014–0615) and by the Ministry of Food and Drug Safety in Korea. It was conducted in accordance with the Declaration of Helsinki and was consistent with the International Conference on Harmonization Good Clinical Practice Guidelines. Written informed consent was obtained from all patients before enrollment.
Patients
Eligibility criteria included age > 19 years, histologically confirmed RCC, a sarcomatoid component of 25% or more in renal cell carcinoma on a resected kidney or exclusive sarcomatoid carcinoma detected on needle biopsy, recurrent or metastatic disease which was deemed not amenable to curative intent local treatment, and measurable disease according to RECIST v1.1 and the Eastern Cooperative Oncology Group (ECOG) PS 0–2. Additional inclusion criteria were adequate bone marrow (absolute neutrophil count ≥1500/mm3, hemoglobin ≥9 g/dL, and platelet ≥100,000/mm3), cardiac (ejection fraction >50% by echocardiography or multigated acquisition scan), renal (creatinine <1.5 mg/dL), and hepatic function. Patients should have a Park's prognostic index less than 4.7 in order to be included [12].
Patients were ineligible if they had previous or current central nervous system metastasis, previous treatment with gemcitabine or axitinib, hypertension that could not be controlled by adequate antihypertensive medications, a thromboembolic event during the past 12 months, other cancer during the last 2 years except for adequately treated in situ carcinoma of the uterine cervix, non-melanomatous skin cancer or early stage, differentiated thyroid cancer, or other serious medical conditions or were pregnant or breastfeeding.
Treatment plan
Patients received gemcitabine (1000 mg/m2 intravenously over 30 min on day-1 and day-8 every 3 weeks) and axitinib (5 mg twice a day). A stepwise dose increase to 7 mg and then to 10 mg twice a day was allowed, as described in the package insert.
Dose delay and reductions were allowed for one drug, both drugs or neither drug, according to the type, severity, and likely attribution of the adverse event based on the pre-defined dose adjustment protocol. Up to 24 cycles of treatment were planned, unless there was disease progression, intolerable toxicity, delay of chemotherapy greater than 3 weeks due to toxicity, or patient refusal.
Assessment of response and toxicity
Baseline evaluation included a complete medical history, a physical examination, assessment of ECOG PS, and laboratory measurements including a complete blood count (CBC), serum chemistry and electrolyte, coagulation batter, urinalysis, urine protein/creatinine ratio, thyroid function test, cardiac function evaluation, a central pathology review in Asan Medical Center, chest radiography, and a urine beta hCG test. Tumor assessments were conducted at screening and then every 6 weeks using RECIST v1.1 by the investigator. Safety assessments consisted of regularly assessing vital signs, physical examinations, ECOG PS, CBC, serum chemistry and electrolyte, thyroid function test, urine protein/creatinine ratio, cardiac function test, adverse events, and recording of all concomitant medications and therapies. Toxicity was evaluated according to National Cancer Institute Common Terminology Criteria for Adverse Events (NCI CTCAE) v4.03.
Statistical analysis
The sample size was determined based on an optimal two-stage design to test the null hypothesis that the ORR was ≤5% versus the alternative that the ORR was ≥20% with α = 0.05 and β = 0.2. After testing the drug on 10 patients in the first stage, the trial would be terminated if no patients responded. If the trial proceeded to the second stage, a total of 29 patients were to be studied. If the total number responding was less than or equal to three, then the drug would be rejected. If we assume that the drop-out rate is 15%, the total number of needed patients would be 35.
Patient characteristics and safety profiles were summarized descriptively. Kaplan-Meier estimates were used to analyze the time-to-event end point. PFS was defined as the time from the initiation of treatment to the date of documentation of disease progression or death from any cause, whichever came first, and the OS was calculated as the time from the initiation of treatment to their death from any cause. In the case that progression and/or death has not occurred, it was censored at the date of the last follow-up. All of the analyses were carried out using SPSS statistics for Windows Version 20.0 (IBM Co., Armonk, NY, USA).
Results
Twenty-five patients were enrolled between October 2014 and August 2018. This trial was terminated early in October 2018 because of a high response rate to the GX regimen and a low accrual rate following widespread acknowledgment of the promising activity of immune checkpoint inhibitors in SRCC. The cut-off date for data analysis was January 7, 2019. At that time, all except for one patient were off the trial.
Patients' characteristics
Baseline characteristics are summarized in Table
1
. The median patient age was 61 (range 33–80), and 84% were males. The ECOG PS were 1 (92%) and 2 (8%), and 52% had prior nephrectomy. Clear cell carcinoma was the most common histology of the epithelial component (15 patients, 60%), and four (16%) had pure sarcomatoid histology. The median percentage of the sarcomatoid component was 90% (25–100%). Patients belonged to the intermediate (28%) or poor (72%) risk group according to the International Metastatic Renal Cell Carcinoma Database Consortium (IMDC) risk stratification. For most patients, gemcitabine plus axitinib was the first-line treatment (22 patients, 88%), while it was a second- or third-line treatment for three patients. Lymph node, lung, bone, and peritoneum were common sites of metastases, and the majority of the patients (19 patients, 83%) had metastasis in three or more organs.
Table 1
Baseline patient characteristics (N = 25)
Characteristics

n (%)

Male sex

21 (84%)

Age, median (years, range)

61 (33–80)

ECOG PS

  1

23 (92%)

  2

2 (8%)

Disease status

  Initially metastatic

21 (84%)

  Recurrent

4 (16%)

Nephrectomy

13 (52%)

Histology of carcinoma component

  Clear cell

15 (60%)

  Unclassified

2 (8%)

  Papillary

2 (8%)

  Chromophobe

1 (4%)

  MiT family translocation

1 (4%)

  No epithelial component

4 (16%)

% sarcomatoid component, median (range)

90 (25–100)

IMDC group

  Favorable

0 (0%)

  Intermediate

7 (28%)

  Poor

18 (72%)

Previous treatment

  Pazopanib

1 (4%)

  Everolimus

1 (4%)

  Temsirolimus

1 (4%)

  Atezolizumab+bevacizumab

1 (4%)

Line of axitinib+gemitabine

  First line

22 (88%)

  Second line

2 (8%)

  Third line

1 (4%)

Number of metastatic organs

  1

4 (16%)

  2

2 (8%)

  3

12 (48%)

  4 or more

7 (35%)

Site of metastasis

  Lymph node

18 (72%)

  Lung

17 (68%)

  Bone

10 (40%)

  Peritoneum

10 (40%)
Efficacy
Among the 25 enrolled patients, 24 had at least one response evaluation, and tumor shrinkage was achieved in 21 patients (88%). There was no CR, but 14 patients (ORR, 56%, 95% CI, 37–75%) achieved PR and seven (28%) patients had SD, therefore, the disease control rate was 84% (Fig. 
1a
). With a median follow-up duration of 24.8 months, the median PFS was 4.2 months [95% confidence interval (CI), 2.3–6.1) and the median OS was 8.4 months (95% CI 3.3–13.4 months) (Fig.
1b
and Fig. 
2
). The median duration of response was 7.3 months (95% CI, 2.8–11.8 months).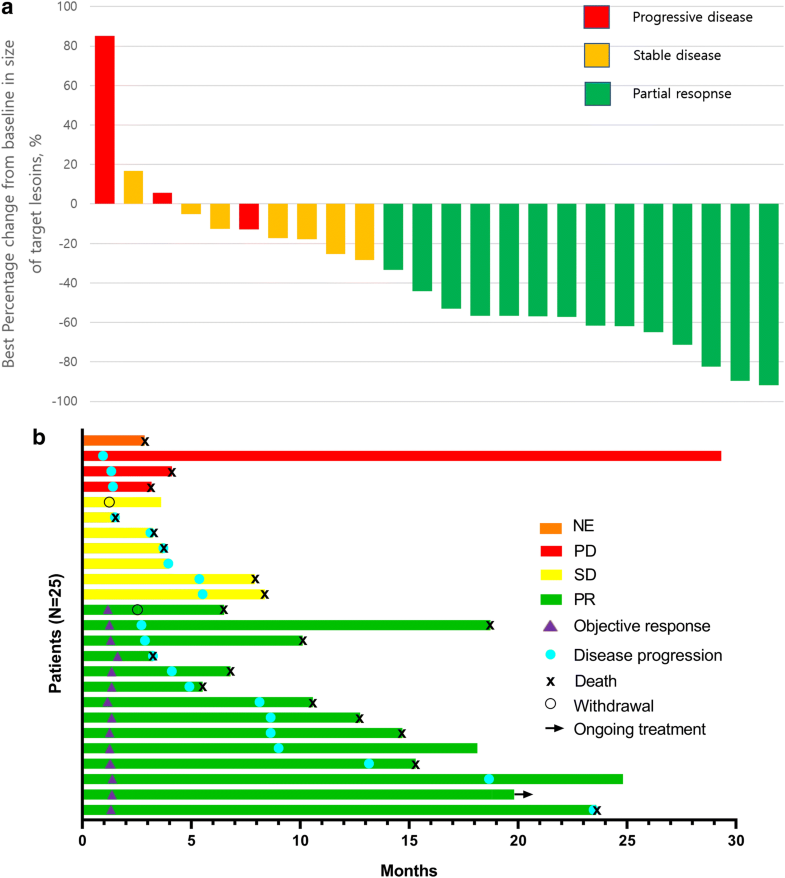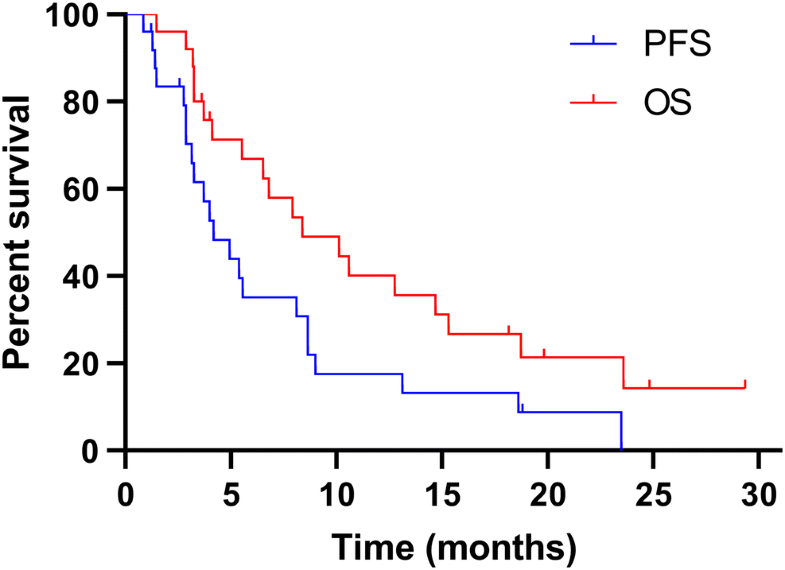 Exposure to the drug and safety profile
A median of six cycles (range 1–28) of GX were administered, and the reasons for study discontinuation were disease progression (20 patients, 80%) and patient refusal (four, 16%). Dose reduction of gemcitabine and axitinib was required in nine (36%) and eight patients (32%), respectively. Table
2
indicates the adverse events that occurred during the study. Most of the adverse events were mild (grade 1–2) and manageable by conventional, supportive care. Grade 3–4 neutropenia occurred in 60% of the patients, although there was no febrile neutropenia event. No unexpected toxicities were found, but one patient died of pneumonia.
Table 2
Common adverse events occurring in at least 10% of the patients during the study
 

All grades (n,%)

G3–4 (n,%)

Nausea

16 (64%)

2 (8%)

Vomiting

13 (52%)

1 (4%)

Constipation

13 (52%)

0

Oral mucositis

12 (48%)

0

Hypertension

12 (48%)

3 (12%)

Anorexia

11 (44%)

3 (12%)

Fatigue

11 (44%)

2 (8%)

Diarrhea

10 (40%)

1 (4%)

Abdominal pain

10 (40%)

1 (4%)

Dyspepsia

10 (40%)

0

Hoarseness

9 (36%)

0

Cough

8 (32%)

0

PPES

7 (28%)

1 (4%)

Alopecia

5 (20%)

0

Back pain

5 (20%)

0

Headache

4 (16%)

0

Pelvic pain

4 (16%)

1 (4%)

Skin rash

4 (16%)

0

Bleeding

4 (16%)

0

Generalized weakness

4 (16%)

1 (4%)

Fever

4 (16%)

0

Urticaria

4 (16%)

1 (4%)

Dizziness

4 (16%)

0

Pruritus

4 (16%)

0

Dysuria

4 (16%)

0

Weight loss

4 (16%)

0

Flank pain

3 (12%)

0

Dyspnea

3 (12%)

0

Pain in an extremity

3 (12%)

0

Insomnia

3 (12%)

0

Lung Infection

3 (12%)

1 (4%)a

Laboratory toxicities

  Anemia

11 (44%)

0

  Leukopenia

6 (24%)

0

  Neutropenia

15 (60%)

9 (36%)

  Febrile neutropenia

0

0

  Thrombocytopenia

4 (16%)

1 (4%)

  Hypoalbuminemia

9 (36%)

2 (8%)

  ALT elevation

4 (16%)

0

  Hyperbilirubinemia

3 (12%)

1 (4%)

  Creatinine elevation

2 (8%)

0

  Proteinuria

4 (16%)

2 (8%)

  Hypothyroidism

9 (36%)

0
Discussion
In this trial, gemcitabine plus axitinib showed promising effectiveness, and a predictable and manageable toxicity profile. The primary endpoint, ORR, was 56% (95% CI, 37~75%), with a median PFS of 4.2 months (95% CI 2.3–6.1) and a median OS of 8.4 months (95% CI 3.3–13.4). Regarding a responder, the duration of response (DOR) was 7.3 months (95% CI, 2.8–11.8 months). Most of the toxicities were mild.
We conducted the combination of an MTA and a cytotoxic chemotherapy trial because treatment with neither MTA nor cytotoxic chemotherapy alone has satisfactory efficacy in SRCC. Michaelson et al. [18] investigated using the same approach with sunitinib plus gemcitabine, and their trial showed comparable efficacy with that of our trial with an ORR of 26% (85% CI, 16–38) and a median TTP and median OS of 5 months and 10 months, respectively. Maiti et al. [24] also reported a phase 2 trial investigating a capecitabine, gemcitabine, and bevacizumab combination. The ORR was 20% (95% CI, 10–37), and the median PFS and OS were 5.5 months and 12 months, respectively. In our trial, the ORR was high, however, the median PFS and OS did not seem outstanding.
The difference in outcome between these trials might be explained by the disparity of the drugs and patient population. In the current study, patients received gemcitabine 1000 mg/m2 given on days-1 and 8, every 3 weeks and axitinib 5 mg twice a day, continuously. Axitinib 5 mg twice a day is a standard dose for patients with clear cell RCC. On the contrary, in the Michaelson et al. trial, the dose of gemcitabine was the same as ours, but the dose of sunitinib used in their study was 37.5 mg orally once a day for 14 consecutive days followed by 7 days off treatment [18], which is lower than the standard dose. The lower dose of sunitinib may lead to lower response rate. Maiti et al. trial evaluated a three drug combination of capecitabine, gemcitabine, and bevacizumab for SRCC, which resulted in a lower response rate than that in our study. Although bevacizumab showed its efficacy in combination with interferon compared to interferon alone in two large phase 3 clinical trials (CALGB90206 [25] and AVOREN trials [26]), response rates of the bevacizumab plus interferon group were 25–30%. Presumably, the response rate of bevacizumab alone might be less than 20%, considering the response rate of interferon in those trials. By contrast, axitinib alone demonstrated a response rate of 32% as a first line treatment for clear cell RCC [27]. Furthermore, the efficacy of capecitabine in clear cell and/or sarcomatoid RCC is not well defined. Regarding patient demographics, our trial included more patients with adverse features than other trials; only a 25% or greater sarcomatoid component can be included, and most of the patients belonged to the IMDC poor prognostic group (72%), in addition, more patients had metastases in three or more sites (83%), and most of the patients had initially metastatic disease (84%). These adverse features are probably related to an unfavorable survival outcome.
Currently, a predictive biomarker for response to therapy is not well-defined. Interestingly, the percentage of the sarcomatoid component has consistently been suggested as a predictive biomarker in several trials. In some retrospective studies, the response to VEGF inhibitors occurs predominantly in patients with a low proportion of sarcomatoid component [5, 13], while in an ECOG 8802 trial, more responses to gemcitabine plus doxorubicin was noted in patients with a higher proportion of sarcomatoid features [11]. Michaelson et al. [18] reported that patients with tumors >10% sarcomatoid histology were more likely to achieve stable disease or better. It seems that cytotoxic chemotherapy has an effect on tumors with an extensive sarcomatoid component, while VEGFR TKIs can be better for SRCCs with a lower sarcomatoid component. However, on the contrary, other studies reported that a response could be achieved even in patients with extensive sarcomatoid change [12, 15, 17] and that the proportion of the sarcomatoid element did not affect the efficacy of the capecitabine, gemcitabine, and bevacizumab trial [24]. For the time being, as the predictive role of the sarcomatoid percentage is controversial, prospective validation is required.
The introduction of immune checkpoint inhibitors (ICIs) has made an epoch improvement in the treatment landscape of RCC. There is some evidence from translational research that SRCC can respond well to ICIs. The PD-1/PD-L1 expression was significantly higher in SRCC compared to that in ccRCC [28], the angiogenesis gene expression was lower, and the T-effector gene signature was higher in SRCC compared to non-SRCC in the IMmotion151 trial [29], and SRCC had a higher tumor mutational burden compared to carcinoma components, according to genomic analyses [30, 31]. Several case reports have indicated the rapid and prolonged response of ICIs in SRCC disregarding carcinoma components [32, 33, 34]. In a phase I study of atezolizumab, the ORR was 33% for the six patients who had a sarcomatoid component compared with 15% for the entire patient cohort [35]. ICIs in combination with MTAs are being evaluated in large, phase III trials which have permitted sarcomatoid features to be enrolled. Some examples are CheckMate 9er (NCT03141177, nivolumab ± ipilimumab + cabozantinib vs. sunitinib), KEYNOTE-426 (NCT02853331, pembrolizumab + axitinib vs. sunitinib), and IMmotion 151 (NCT02420821, atezolizumab + bevacizumab vs. sunitinib). In an interim analysis of IMmotion 151, the outcome of atezolizumab plus bevacizumab was much better than that of sunitinib in a subgroup of patients with SRCC [29].
Rational design of therapeutic trials largely depends on druggable targets revealed by genomic analysis. Based on the genomics data for SRCC, we can confirm that SRCC is not a distinct entity of disease, but a common dedifferentiation phenotype from various carcinoma components in RCC [30, 31, 36]. The most prominent gene alterations related to sarcomatoid histology include TP53, ARID1A, RELN, NF2, and PTEN, and their specific association with sarcomatoid changes within a given carcinoma subtype varied according to the gene [30, 31, 36]. Unfortunately, only a few of these alterations, such as NF2, are druggable, and due to their rarity, the conducting of clinical trials for this population is unlikely.
ccRCCs with sarcomatoid change are reported to be prone not to show loss of heterozygosity at 3p21–25 and notably to retain a copy of the wild-type VHL and PBRM1 genes compared to ccRCC without a sarcomatoid feature [31]. This means that when the SRCC component is predominant, the VEGF inhibitor might be less effective. This inference coincides with the observations in previous studies that VEGFR TKI was less effective in tumors with a higher sarcomatoid proportion [5, 13]. Therefore, ICIs combined with cytotoxic chemotherapy can be an alternative approach in this patient population. There is a phase I trial cytotoxic chemotherapy plus ICI in SRCC (NCT03483883, avelumab + gemcitabine).
There are some limitations in this trial. First of all, the present study is underpowered due to the small number of patients, largely because of the rarity of this disease. Second, calculation of the percentage of the sarcomatoid component and response evaluation were not centralized. However, all participating medical centers were academic institutions with a genitourinary pathology specialist and medical oncologists with extensive clinical experience with renal cell carcinoma investigations.
Conclusions
GX showed promising efficacy in patients with SRCC. It might be considered as one of the treatment options for patients with SRCC, although the efficacy of GX should be confirmed in a larger clinical trial.
Notes
Acknowledgements
We thank Pfizer Korea and the Chong Kun Dang Pharmaceutical Corporation for their kind donation of axitinib and gemcitabine, respectively. This study was presented in part during the Genitourinary Cancers Symposium, 14-16 February 2019, in San Francisco, CA.
Compliance and ethical standards
Conflict of interest
Inkeun Park received honoraria for consulting or advisory roles from Pfizer Korea, Eisai Korea, Bristol-Myers Squibb pharma Korea, Astellas Pharma Korea, Janssen Korea, and iPSEN Korea. Jae Lyun Lee received honoraria for consulting or advisory roles from Pfizer Korea, Eisai Korea, Sanofi-Aventis Korea, Bristol-Myers Squibb Korea, Astellas Pharma, and Amgen Korea, and his institution received research funds from Pfizer, grants from Janssen, grants from Novartis, grants from Bristol-Myers Squibb, grants from Reche/Genentech, grants from AstraZeneca/MedImmune, grants from MSD.
Ethical approval
All procedures performed in studies involving human participants were in accordance with the ethical standards of the institutional and/or national research committee and with the 1964 Helsinki declaration and its later amendments or comparable ethical standards.
Informed consent
This study was approved by the institutional review board of each participating centers and Informed consent was obtained from all individual participants included in the study.
Copyright information
© Springer Science+Business Media, LLC, part of Springer Nature 2019