Peptide aptamer identified by molecular docking targeting translationally controlled tumor protein in leukemia cells
Summary
Bioinformatics screening and molecular docking analyses were utilized to select high affinity peptides targeting translationally controlled tumor protein (TCTP). Selected peptide aptamers were tested towards cancer cell lines with different levels of TCTP expression. One peptide (WGQWPYHC) revealed specific cytotoxicity according to the TCTP expression in tumor cells without affecting normal cells. Western blot analysis showed peptide-induced down-regulation of TCTP as primary target as well as of cell-cycle related downstream proteins (CDK2, CDK6, Cyclin D3) in MOLT-4 leukemia cells. "WGQWPYHC" deserves further analysis for targeted therapy of TCTP-expressing tumor cells.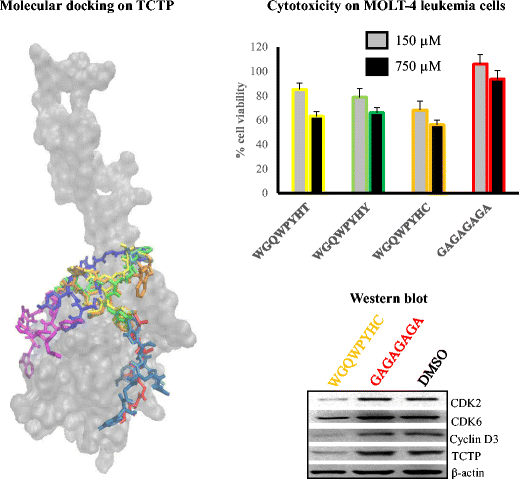 Keywords
Cancer 
Fortilin 
Histamine releasing factor 
Leukemia 
Molecular docking 
Peptide aptamer 
TCTP 
Notes
Compliance with ethical standards
Conflict of interest
We declare that there is no conflict of interest.
Copyright information
© Springer Science+Business Media New York 2016