Aurora kinase inhibitors: Progress towards the clinic
Summary
The Aurora kinases (serine/threonine kinases) were discovered in 1995 during studies of mutant alleles associated with abnormal spindle pole formation in Drosophila melanogaster. They soon became the focus of much attention because of their importance in human biology and association with cancer. Aurora kinases are essential for cell division and are primarily active during mitosis. Following their identification as potential targets for cancer chemotherapy, many Aurora kinase inhibitors have been discovered, and are currently under development. The binding modes of Aurora kinase inhibitors to Aurora kinases share specific hydrogen bonds between the inhibitor core and the back bone of the kinase hinge region, while others parts of the molecules may point to different parts of the active site via noncovalent interactions. Currently there are about 30 Aurora kinase inhibitors in different stages of pre-clinical and clinical development. This review summarizes the characteristics and status of Aurora kinase inhibitors in preclinical, Phase I, and Phase II clinical studies, with particular emphasis on the mechanisms of action and resistance to these promising anticancer agents. We also discuss the validity of Aurora kinases as oncology targets, on/off-target toxicities, and other important aspects of overall clinical performance and future of Aurora kinase inhibitors.
Keywords
Aurora kinases 
Aurora kinase inhibitors 
Cell division 
Resistance 
Mitosis 
Serine/threonine kinases 
Spindle pole 
Introduction
In 1995, David Glover discovered a new family of mitotic kinases while studying mutant alleles associated with defective spindle pole organization in Drosophila melanogaster. This family of kinases, which has been highly conserved during evolution, became known as the Aurora kinases (AKs) [1]. Humans have three homologous AKs, designated A, B and C. AKs are nuclear proteins, but they each have different sub-cellular locations. Aurora A is localized at the centrosome from the time of centrosome duplication through to mitotic exit [2, 3]. Aurora B, which is also known as the chromosomal passenger protein, is localized to the centromeres from the prophase to the metaphase-anaphase transition. Thereafter, it is localized to midzone spindle microtubules during telophase and subsequently to midbody during cytokinesis [2, 3]. Aurora C is also a chromosomal passenger protein considered to have a similar sub-cellular location to Aurora B. Aurora C is localized to centromeres during the prophase to metaphase and is redistributed to midzone microtubules during anaphase [4].
AKs are known to play multiple roles in mitosis, and their distribution correlates strongly with their functions. Aurora A is involved in mitotic entry, separation of centriole pairs, accurate bipolar spindle assembly, alignment of metaphase chromosomes, and completion of cytokinesis [5]. Recently, the role of Aurora A in the promotion of nuclear envelope breakdown has been described [6]. Aurora B is involved in chromosomal bi-orientation, regulating the association between kinetochores and microtubules, and cytokinesis [7]. Aurora B is also involved in the release of abnormal kinetochore microtubule attachments during chromosomal bi-orientation [8]. Aurora B is known to phosphorylate Histone H3 (Ser10), which then aids in chromatin condensation and separation [9]. It has been shown that Aurora C exhibits similar functions to those assigned to Aurora B and share the same substrates [10, 11].
Direct association with inner centromere protein (INCENP) activates Aurora C in vivo, which results in further complexation with Aurora B, suggesting the cooperation of Aurora B and C in the regulation of mitosis [10]. Like Aurora B, Aurora C associates with survivin and may be essential for cytokinesis. Wild-type Aurora C has also been reported to rescue multinucleation induced by enzymatically inactive Aurora B, indicating that Aurora C may complement the functions of Aurora B [11]. In summary, AKs play prominent roles in maintaining the genetic stability of cells. Aberrant expression of AKs leads to genomic instability or aneuploidy, hallmark of cancer cells [12].
Aurora kinases as targets for cancer therapy
The Aurora A gene was originally named BTAK (breast tumor activated kinase) because its mRNA is overexpressed in breast tumors and it plays a critical role in the transformation of breast tumor cells [13]. Similarly, the Aurora A gene has been found to be amplified in human gliomas [14]. Using Northern and Southern blotting, Zhou et al. observed 2.5 to 8-fold amplification of Aurora A in many tumor cell lines [15]. Furthermore, Aurora A has been characterized as a potential low-penetrance tumor susceptibility gene, since the Phe31Ile functional polymorphism is strongly associated with familial breast cancer [16]. Similarly, Katayama et al. reported a correlation between overexpression of Aurora B and tumor progression in surgically resected colon tumor specimens [17]. The malignant progression of thyroid anaplastic carcinoma has also been shown to correlate with the overexpression of Aurora B [18]. The silent functional polymorphism, Ser295Ser (885 A > G) in the C-terminal end of Aurora B has been associated with an elevated risk of familial breast cancer [16], and overexpression of Aurora B has been correlated with decreased survival in glioblastoma patients [19].
In addition, aberrant expression of AKs has been shown to impair the functions of tumor suppressor genes, thereby generating aggressive tumors. Liu et al. reported that when overexpressed, Aurora A specifically phosphorylates p53 at Ser215 and inhibits its DNA binding and transcriptional activities [20]. Thus, inhibition of Aurora A may rescue the function of tumor suppressor genes.
Since AKs are aberrantly expressed in many cancer tissue types, and thereby generate aggressive tumors, they are regarded as important new-generation targets for cancer therapy.
Small molecule Aurora kinase inhibitors (AKIs)
The discoveries of small molecule AKIs have been fuelled by the use of a variety of experimental and theoretical approaches. Examples include also structure-based drug design, especially in a fragment-based setup [21, 22, 23, 24], structure-based virtual screening [25], FRET-based biochemical cell proliferation assay [26], and rational design followed by combinatorial expansion [27, 28].
Currently, more than 30 AKIs are in various stages of preclinical and clinical studies. Their core binds via specific hydrogen bonds to the hinge region of Aurora A [
21
,
29
,
30
]. The other parts of AKIs may span different regions of the active site and interact via various types of noncovalent interactions or stick to the solvent (Fig. 
1
). The interaction modes of two clinical compounds (AT-9283 and VX-680) and one bisanilinopyrimidine based preclinical AKI (Genentech, Aurora A: 3 nM IC50) have determined using PyMol, ver. 0.99 (Fig. 
1
).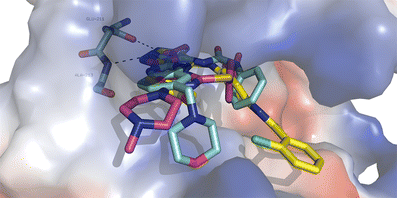 In the following sections we discuss pan-Aurora kinase inhibitors (Table 
1
), the characteristics of specific inhibitors of Aurora A and Aurora B which are in clinical studies (Table 
2
), AKIs in advanced preclinical studies (Table 
3
), and finally AKIs in early preclinical studies and first generation AKIs (Table 
4
).
Pan-Aurora kinase inhibitors in clinical trials
Aurora A inhibitors in clinical trials
MLN8237
MLN8237 (Alisertib) discovered by Millennium pharmaceuticals has been reported to be a highly specific and potent inhibitor of Aurora A (IC50 = 1 nM) [58]. This is a second generation Aurora A inhibitor from this company, as the predecessor to MLN8054. MLN8054 was terminated in Phase I studies due to off-target toxicities observed. This led to the development of new Aurora A specific inhibitor by the company, with a code name, MLN8237. MLN8237 was designed through SAR optimization of lead 5-H-pyrimido[5,4-d][2]benzazepine. It is currently in numerous Phase II clinical studies. It does not appear to have any significant off-target effects towards other kinases included in the panel, but it has been shown to inhibit wild-type BCR-ABL and T315I BCR-ABL effectively in both kinase assays and in vitro cell cultures [59]. It has also been found to inhibit growth in HCT116, PC3, SK-OV-3, and LY-3 cancer cells lines in cell proliferation assays, with GI50 values between 16 and 469 nM [58]. The specificity of MLN8237 has been tested in multiple myeloma (MM) cell lines [60]. In this study, autophosphorylation of Aurora A (Thr 288) was markedly inhibited at 0.5 μM in MM cell lines. MLN8247 induced 2 to 6-fold accumulation of G2/M followed by apoptosis, as evidenced by cleavage of PARP, caspase-9, and caspase-3. In addition, cell death by senescence was predominant after long exposure of MM cell lines. The efficacy of MLN8237 was tested in vivo in a MM xenograft model implanted in SCID (severe combined immune deficiency) mice. Tumor volumes were found to be significantly reduced at 30 mg/kg, and TGI was determined to be 42% and 80% at 15 and 30 mg/kg, respectively. Further, the overall survival rates of animals were significantly prolonged [60]. MLN8237 has also been tested on many pediatric cancer cell lines including rhabdomyosarcoma, Ewing sarcoma, glioblastoma, neuroblastoma, ALL, and AML [61]. In this study, the median IC50 was reported as 61 nM, ALL cell lines displaying the highest sensitivity and rhabdomyosarcoma cell lines were the least sensitive. Disease-free survival was improved in 80% of solid tumor models and 100% in ALL models, even more promising, a sustained complete response was achieved in 3 of 7 neuroblastoma models and the activity was much higher than standard anticancer agents [61]. Phase I dose escalation and dose-limiting toxicity studies involving cohorts of three patients with advanced solid tumors have been completed [62]. Each patient was given an oral dose once per day for seven days in a 21-day cycles, with the dosage increasing from 5 to 150 mg/day until DLTs were observed in more than two patients. DLTs were not reported for doses of 5–80 mg/day. However, in some patients mixed DLTs were reported at 150 mg/day, including G3 and 4 neutropenia, G3 somnolence, G3 mucositis or oral candidiasis, confusion, agitation, and alopecia. Aurora A kinase inhibition was inferred from the accumulation of mitotic cells in skin and tumor biopsies [62]. Plasma levels of MLN8237 were found to be dose-proportional, suggesting MLN8237 has a good pharmacokinetic profile. Currently multiple Phase II MLN8237 studies are recruiting patients with a wide range of solid cancers and blood cancers for optimal dosing regimen, efficacy, and MTD determination.
ENMD-2076
EntreMed's ENMD-2076, currently in Phase II clinical trials, has been shown to selectively inhibit Aurora A with an IC50 of 14 nM measured in biochemical assays [63]. The molecule was designed by SAR optimization of a lead imidazole-vinyl-pyrimidine scaffold. It was also found to inhibit multiple oncogenic kinases, namely FLT3 (3 nM), Src (sarcoma) (20 nM), VEGFR2 (36 nM), and FGFR1 (93 nM), as well as the growth of various cancer cell lines (IC50 = 25 to 700 nM) [63]. It was observed that 5 μM ENMD-2076 induced G2/M arrest in HCT116 cells consistent with Aurora A inhibition, rapidly inducing apoptosis. Recently, ENMD-2076 has also been shown to be highly effective against MM cell lines and primary MM cells derived from patients [64]. In this study, ENMD-2076 was found to cause 50% cell death in MM cell lines at a concentration of 3 μM for 72 h of exposure. It also induced apoptotic cell death after only 6 h of exposure as evidenced by annexin-V staining, PARP cleavage, and activation of caspase-9, 8, and 3. In MM cells it significantly reduced autophosphorylation of Aurora A (Thr288) after 24 h of exposure. However, it also inhibited Aurora B at concentrations that resulted in cell death, as shown by down-regulation of histone H3 phosphorylation (Ser10). The in vivo efficacy was tested in a H929 human plasmocytoma xenograft model at doses of 50, 100, and 200 mg/kg. A dose-dependent efficacy was observed in all animals and maximum affect was achieved at 200 mg/kg with good tolerability. Immunohistochemistry on sacrificed animals revealed reduced Ki67 levels, increased caspase-3 levels, and decreased phospho-histone levels in treated animals compared to an untreated control [64]. When a HT-29 xenograft model was dosed at 100 or 200 mg/kg once per day, the tumor volumes remained static until around 17 days, and moderate regression was subsequently observed for 200 mg/kg. Immunohistochemistry revealed there was a corresponding reduction in Ki67 levels. ENMD-2076 has also been tested in a patient-derived colorectal cancer (CRC) xenograft where it was found to induce TGI in all cases (K-ras mutant) [65]. In the MDA-MB-231 mouse xenograft model, ENMD-2076 has been observed to reduce tumor growth by 51% at a dose of 50 mg/kg per day and to cause tumors to regress by 70% at a dose of 200 mg/kg [63]. Recently, Phase I study results were reported including pharmacokinetic, pharmacodynamic, and antitumor activity profiles. Patients with refractory advanced solid tumors were treated with continuous oral daily dosing. Doses in the range 60 to 200 mg/m2 were tested in a standard 3 + 3 design. Totally 67 patients were enrolled for this study [66]. At 200 mg/m2, two patients displayed grade 3 hypertension and 160 mg was reported as MTD. ENMD-2076 has linear pharmacokinetic profile and displayed significant antitumor activity including decreased VEGFR2 levels in plasma. The highest activity was reported in ovarian cancers, where two patients with platinum refractory disease showed partial responses [66]. Three Phase I studies are currently underway being tested in advanced solid tumors and multiple myeloma.
MK-5108
MK-5108 (VX689), discovered and developed by Vertex Pharmaceuticals, has been studied in a Phase I clinical trial in patients with advanced solid tumors. It has been shown to inhibit Aurora A with an IC50 value of 0.064 nM [67]. It also inhibited Aurora B and Aurora C at higher IC50 values (220 and 190 folds higher than Aurora A). It has been shown to inhibit the proliferation of 17 diverse cancer cell lines with IC50 values ranging from 0.16 to 6.4 μM. MK-5108 significantly enhanced the efficacy of docetaxel in HeLa-S3 and ES-2 cell lines. MK-5018 and docetaxel combination also showed similar efficacy in HeLa-luc and ES-2 xenograft models. In cell lines it predominantly showed Aurora A inhibition phenotype (G2/M arrest), as histone H3 phosphorylation was not inhibited, which is a marker for Aurora B inhibition. MK-5108 inhibited Aurora A, as also evidenced by the inhibition of Aurora A autophosphorylation (Thr288). MK-5108 induced greater accumulation of phospho-histone H3 at much lower concentrations compared to MLN8054, a well known Aurora A specific inhibitor [67]. In vivo efficacy of MK-5108 was tested in HCT116 and SW48 xenograft models. Doses of 15 and 30 mg/kg were administered twice daily for 12 days. MK-5108 treatment resulted in TGI's of 10% and 17% at doses 15 mg/kg and 30 mg/kg, respectively in HCT116 xenograft model. In SW48 xenograft model, intermittent doses (twice daily/2 days/week/3 weeks) of 15 mg/kg and 45 mg/kg resulted in 35% and 58% TGI's, respectively. MK-5108 was well tolerated and adverse toxicities were not reported.
MK-5108 was tested in patients with advanced solid tumors either as a single agent or in combination with docetaxel. Febrile neutropenia and myelotoxicity were reported as DLTs in the combination treatment regimen. However, no significant toxicities were reported in the monotherapy arm. Disease stabilization was reported in 32% patients from both arms and partial responses were reported in 12% of patients only from the combination arm [68].
Aurora B inhibitors in clinical trials
AZD1152
AZD1152 (Barasertib) is an AstraZeneca compound which has been shown to be a highly specific inhibitor of Aurora B (0.37 nM) [69], and is currently in Phase II clinical studies. It was designed and developed from the lead pyrazole-acetanilide-substituted quinazoline by SAR exploitation [70]. It has been found to exhibit varying potency across different types of leukemia cells (ALL, PALL-2, MOLM13, MV4-11) inhibiting their proliferation with IC50s ranging from 3 to 40 nM, and also inhibits the proliferation of freshly isolated patient leukemia cells (IC50 = 3 nM). In this work, exposure of MOLM13 and PALL-2 to AZD1152 resulted in accumulation of 4n/8n DNA cells, which subsequently underwent apoptotic cell death as demonstrated by annexin-V staining [69]. In SW620 colon cancer cells, it has been observed to inhibit the phosphorylation of histone H3 in a dose-dependent manner, which is indicative of Aurora B inhibition [71]. Furthermore, it caused potent dose-dependent growth inhibition of human xenograft models in nude mice, including SW620, HCT116, Colo205, A549, Calu-6, and HL-60. In these experiments, the extent of growth inhibition ranged from 55 to 100%; the HL-60 model was the most responsive (complete regression was observed). Elevated caspase-3 levels were observed in all tumors isolated for histological assessment. The mechanism of AZD1152 action was found to be similar in both in vitro and in vivo conditions. AZD1152 was well-tolerated at doses required for efficacy; myelosuppression is the primary problem associated with high doses [71]. Treatment of the human MOLM13 xenograft immunodeficient murine model with AZD1152 at a dose of 25 mg/kg per day caused significant reductions in tumor weight and growth [69]. However, none of the mice showed any signs of side effects, which suggest that it was well tolerated.
Initial clinical study was conducted on 13 patients having colon cancer, melanoma or some other solid tumors. The compound was administered via intravenous (i.v.) infusion (2 hrs per week) in a dose-escalating manner (100–450 mg) on days 1, 8 and 15 of a 28-day cycle. Doses up to 300 mg were well tolerated, but neutropenia was observed in three patients at 450 mg. Significant disease stabilization was observed in progressive cancers [72]. AZD1152 recently entered Phase I/II clinical trials focusing on its safety, tolerability, pharmacokinetics, and efficacy profiles in AML patients [73]. Treatment of AML patients was performed in two parts; in part A, 32 individuals were treated (continuous 7-day infusion every 21 days) at doses ranging from 50 to 1600 mg. Grade 3/4 stomatitis or mucosal inflammation were reported as DLTs at doses ranging from 800 to 1600 mg. Most of the toxicities resolved following dose delay and no treatment related deaths have been reported. This part of the study established MTD as 1200 mg. Consequently, another 32 patients received 1200 mg in part B of the study. For combined part A and part B, the overall response rate was 25% in both newly diagnosed and relapsed AML patients. The pharmacokinetic profiles were favorable as assessed by the AZD1152 blood levels and distribution to tissues [73]. Recently, barasertib has been tested in patients with advanced solid malignancies using escalating doses from 100 mg to 650 mg per day [74]. In schedule A, 2 h i.v. infusion was given for every 7 days across four escalating doses (100, 200, 300, and 450 mg). In schedule B, the drug was administered every 14 days across five escalating doses (200, 300, 450, 550, and 650 mg). Schedule A included 19 patients and schedule B included 40 patients. Doses 250 mg and 400 mg per day were the MTDs in schedules A and B, respectively. Neutropenia and leukopenia were the most common side effects. Objective antitumor effects were not observed, however, stable disease achieved in 15 patients overall. In this study, the linear pharmacokinetics has also been reported, as the systemic exposure to AZD1152-HPQA (active drug) was observed by 1 h into the infusion [74]. Currently AZD1152 is being tested in a Phase II trial in large B-cell lymphoma patients.
BI 811283
Boehringer-Ingelheim's BI 811283 is a Aurora B inhibitor that is currently in a Phase II clinical study. It has been shown to inhibit Aurora B with IC50 value of 9 nM and also inhibited the proliferation of 24 diverse cancer cell lines with an IC50 value <14 nM [75]. Chemical structure of BI 811283 is not disclosed by the company. Treatment of cancer cell lines with BI 811283 resulted in polyploidy within 48 h due to failed mitosis. It dominantly induced senescence (based on SA-beta-GAL staining) within 96 h and only 7% cells showed apoptotic phenotype (PARP cleavage and nuclear fragmentation) after 96 h. In vivo efficacy of BI 811283 was tested in NSCLC and colorectal cancer cell line xenograft models. The compound was administered once weekly by 24 h s.c. infusion. It inhibited tumor growth of xenografts in dose-dependent manner and at the MTD (20 mg/kg), tumor regression was reported in some animals. Accumulation of lager and multinucleate cells were reported, which is consistent with the Aurora B inhibition phenotype [75].
In Phase I dose escalation study, BI 811283 has been tested in advanced and metastatic solid tumors [76]. Patients were randomized into two schedule treatment groups, q2w and q3w in a bicentric Phase I dose escalation. In 3-week treatment schedule, patients were treated with BI 811283 as 24 h i.v. infusion on day 1 of each 21-day treatment cycle. The MTD was reported to be 230 mg/kg. The main side effects include reversible hematotoxicity, neutropenia, and febrile neutropenia. However, accumulated toxicity was not reported in two patients that are treated for >16 courses. As part of the efficacy, stable disease was reported in 33.3% of patients [76]. In another 4-week treatment schedule, patients received BI 811283 (5–140 mg/kg) as 24 h i.v. infusion on days 1 and 15 of each treatment cycle [77]. The MTD was reported to be 140 mg/kg. The dose limiting toxicities were almost identical to previous schedule. Stable disease was reported in 29% of patients. Pharmacokinetic profiles were near-linear and the half-life was 11.9 to 26 h. Additonal dosing schedules in expanded patient cohorts were also completed. However, the results are not yet published. A Phase II clinical study in combination with cytarabine is currently underway.
AKIs in advanced preclinical studies
AKIs in early preclinical studies
Telik's dual AKIs
Telik's Aurora A and B inhibitors are at early preclinical stage. Telik's Aurora inhibitors were designed by using proprietary drug discovery technology called TRAP (Target-Related Affinity Profiling). They have been reported to inhibit Aurora A, B, and VEGFR2 with IC50s of 1–10 nM [86]. Telik's compounds have also been shown to inhibit proliferation of various colon, leukemia, lung, pancreatic, ovarian, and prostate cancer cell lines, with IC50s in the range 15 to 500 nM. Mechanistic actions consistent with Aurora inhibition were observed, including inhibition of histone H3 phosphorylation and polyploidy. The in vivo activity of TLK60404, one of Telik's specific AKI was tested in human HCT116 and HL-60 mouse xenograft models. No toxicity or drug-related weight loss was observed. In addition, tumor growth was inhibited by 72% in HL-60 human xenograft model [86].
AKI-001
Roche's AKI-001 is an inhibitor of Aurora A and Aurora B that is in initial preclinical studies. AKI-001's core, the pyridinyl pyrimidine amide scaffold, was discovered by high-throughput screening against Aurora-A kinase [87]. Further optimization and inclusion of lactam ring and hydrocarbon constraint to pentacyclic scaffold led to the discovery of the highly potent AKI-001 which is orally bioavailable phthalazine derivative with improved enzyme and cellular activity and a high level of kinase selectivity. AKI-001 has been shown to inhibit recombinant Aurora A and Aurora B at low nanomolar concentrations in ATP-competition assays. The compound also inhibited the proliferation of various cancer cell lines with IC50 values below 100 nM. In cellular assays, both Aurora A and Aurora B inhibition phenotypes were reported. AKI-001 had good oral bioavailability and was well tolerated at 5 mg/kg daily in the HCT116 xenograft model. At this dose AKI-001 induced 92% inhibition of tumor growth [87].
CHR-3520
After screening many small molecule inhibitors, Chroma Therapeutics selected CHR-3520 for entry into preclinical studies. Initial studies have indicated that CHR-3520 is an inhibitor of AKs and other kinases related to cancer. Details of the specificity and cellular potency of CHR-3520 in relation to the AKs have not yet been disclosed [88].
Other AKIs
In addition to these compounds, many biotechnology and pharmaceutical companies are developing novel AKIs. Cetek selected CTK110, an AKI with promising in vitro and in vivo anticancer activity, from a series of potential compounds. Ambit Biosciences have used their KinomeScan technology to select a lead AKI. KinomeScan is a novel and highly promising chemogenomics-based technique that is able to screen and characterize whole libraries of compounds across 400 kinases.
First generation AKIs
Hesperadin
Hesperadin is the first generation AKI discovered by Boehringer Ingelheim. Treatment of cancer cell lines with hesperadin resulted in Aurora B inhibition phenotype. The specificity of hesperadin towards Aurora A and C is unknown. Most of the basic functions of Aurora B in mitosis and its role in cancer cell proliferation were discovered by inhibiting it with Hesperadin [89].
ZM447439
ZM447439, discovered by AstraZeneca, was the first AKI to be thoroughly characterized [90]. ZM447439 has been used extensively to study the biology of AKs and in their validation as targets for anti-cancer drug development.
Natural AKI
Jadomycin-B
Discovery of Jadomycin B (an Aurora B inhibitor) is attributed to structure-based virtual screening. Virtual screening against Aurora B (PDB code 2BFY) resulted in 22 compounds amongst a database of nearly 15,000 microbial natural products among which Jadomycin showed dose-dependent inhibition of Aurora B and several human cancer cell lines [25].
Drug resistance to AKIs
Over the last 15 years, cancer chemotherapy has been greatly improved by the discovery of targeted drugs. In particular, some targeted drugs have achieved complete cures in some patients. However, the primary drug resistance or its development after few courses of chemotherapy is a major obstacle in the clinic. Many drug discovery companies are now focusing on drug resistance after realizing its importance in clinical rials and the clinic. Studies of drug-induced resistance in cell line models in parallel with preclinical development can be expected to yield significant information, and the findings of such studies can be used to circumvent drug resistance in clinical studies by designing combinations of anticancer agents.
Until recently, very little was known about drug-induced resistance mechanisms towards AKIs. One study found that SW620 (colon carcinoma) and MiaPaca (pancreatic carcinoma) cell lines became resistant to 1 μM AZD1152 over the course of three months exposure [91]. The resistant cells were maintained for further three months in the presence or absence of AZD1152. Genome-wide screening studies revealed that the expression of the ABCB1 (ATP-binding cassette, subfamily B, member 1/Multidrug resistance protein 1) gene was 70-fold higher in the SW620 AZD1152-resistant clones than in the SW620 cell line. At the same time, LC-MS (Liquid chromatography-mass spectrometry) analysis showed decreased drug accumulation in cytoplasm of resistant cells. When drug resistant SW620 cell line was treated with either 50 or 100 mg/kg of AZD1152, no decrease in tumor size was observed. By contrast, the MiaPaca pancreatic carcinoma cell line became resistant to AZD1152 following overexpression of the ABCG2 (ATP-binding cassette, subfamily G, member 2/Breast cancer resistance protein) drug transporter. Microarray analysis revealed that the expression of this gene was increased 98-fold relative to controls. [91].
Seamon et al. obtained JNJ-7706621 resistant HeLa cell line by exposing the cells to increasing concentrations over a 12 month period [92]. A LC-MS study on these resistant lines showed a highly significant reduction of intracellular drug accumulation. Quantitative RT-PCR (Real time polymerase chain reaction) studies revealed a 163-fold increase in ABCG2 (BCRP/Breast cancer resistance protein) transporter gene expression, a 37-fold increase in ABCC2 (ATP-binding cassette, subfamily C, member 2), and a 3-fold increase in ABCB1. Treatment of the resistant HeLa cell line with the ABCG2 inhibitor fumitremorgin C restored the sensitivity to JNJ-7706621 and mitoxantrone [92].
Unlike previous studies, in which resistant cell cultures were developed by prolonged exposure to slowly-increasing levels of AKIs, Girdler et al. [93] treated the HCT116 cell line with a supralethal dose of ZM447439 (1 μM) for four weeks. While most of the cells died, 20 drug resistant colonies were appeared and among them seven clones were selected for further characterization. Colony formation and cell proliferation assays demonstrated that the clones R1 and R2 were highly resistant to ZM447439 compared to controls. cDNA sequencing of Aurora B from these resistant clones (designated R1-R7), revealed five point mutations. R3, R4, and R6 harbored two point mutations. H250Y was common to all three of these clones, whereas G160V was specific to R3 and R4, while G160E was specific to R6. The R1, R2, R5, and R7 clones contained the G160E, Y156H and L308P, H250Y, and Y156H mutations, respectively. Ectopic expression of the Y156H, G160V, and H250Y mutants in DLD-1 cells revealed that they retained catalytic activity. The Y156H genotype along with G160V and G160E showed strong cross-resistance to VX-680 and hesperadin, but not H250Y. Advanced crystallographic studies revealed that these Aurora B mutations increase the steric hindrance in the active site of Aurora B, inhibiting the binding of ZM447439, but not that of ATP [93].
Validity of Aurora kinases as oncology targets
Although AKs are widely considered as oncogenes, many questions were raised regarding their role in cancer initiation. Despite their overexpression in many tumors, no clear role for the AKs in tumorigenesis has been established. Probably the overexpression of AKs may not be the main cause of cancer initiation in primary tumors, rather it could be a late event. Bischoff et al. showed that overexpression of wild type Aurora A is sufficient to transform rat1 and NIH3T3 fibroblasts. Authors also speculated that additional oncogenic events may be required for transformation [94]. However, another similar study performed by Tatsuka et al., did not observe transforming potential of Aurora A alone in BALB/c 3T3A31-1 cells. Interestingly in co-transfection study, Aurora A forced expression potentiated G12V H-Ras induced transformation [95]. Ota et al. reported that overexpression of Aurora B induced histone H3 phosphorylation (Ser10) and mitotic phenotype in Chinese hamster embryo cells [96]. Further, when these cells were xenografted into mice, they were able to form aggressive and invasive tumors compared to control cells that express low Aurora B. Nonetheless, another similar study performed by Kanda et al. did not observed transforming potential of Aurora B alone in BALB/c 3T3 A31-1-1 cells. Here also forced expression of Aurora B augmented the frequency of G12V H-Ras induced transformation [97]. Role of Aurora C in transformation has not been yet established. All these studies clearly suggest that AKs may not be directly involved in cancer initiation, but rather cooperate with or complement other oncogenes. Overexpression of AKs and their association with poor prognosis were reported consistently in many cancers, indicating that AKs are required for tumor maintenance, progression, and survival. These important functions of AKs are sufficient to consider them as viable targets in cancer disease, even though their clinical validation is still awaited.
Among the AKs, which Aurora kinase is the best target for effective cancer treatment has become an interesting topic of debate. Some reports suggest Aurora A inhibition has more cytotoxic than cytostatic effects [98], while others suggest targeting Aurora B is more effective [99]. MLN8237 is a highly specific and potent Aurora A inhibitor, which has been shown to induce apoptosis rapidly compared to other AKIs. It has also been shown to have anticancer activity on a wide range of cancer cell lines, such as MM cell lines. In clinical studies, it produced few side effects and had good pharmacokinetics and efficacy. Interestingly, MLN8237 has also displayed higher anticancer activity than standard agents in childhood cancer cell lines and their xenograft models. However, its efficacy under the pediatric clinical setting needs further studies. AZD1152 is a specific and potent Aurora B inhibitor, which is currently at the forefront of clinical studies compared to other Aurora inhibitors. It has been found to induce anticancer activity in both leukemias and solid tumors. It also induces rapid apoptosis in many cancer cell lines, suggesting it has cytotoxic activity. After AZD1152 administration, 15 patients with progressive cancer showed stable disease.
Dose limiting target toxicities of AKIs
Under in vitro conditions AKIs displayed broad anticancer activity in rapidly proliferating cancer cells, but not in resting cells. Hence it is likely that chemotherapy with AKIs may be toxic to rapidly dividing hematological cells. As anticipated, the most common on-target toxicity reported for many AKIs is grade 3/4 neutropenia. The other on-target toxicities reported include wide range of hematological toxicities including leukopenia and myelosuppression. Few cases of septicemia and pneumonia were also reported and they may be the consequences of neutropenia. On the other hand off-target toxicities were also reported for AKIs, which includes hypertension, somnolence, mucositis, stomatitis, proctalgia, grade 3 increase in aspartate aminotransferase, and grade 2 ventricular dysfunction. Importantly most of the side effects were reversible upon drug withdrawal. VX-680 caused cardio-toxicity and was associated with death of one patient, which prompted to suspend the compound from clinical trials recently. Probably the off-target toxicities of AKIs could be due to their cross-reaction with other kinases, since their spectrum varies from among individual AKIs.
AKIs described in this review displayed much high potency in hematological cancers both under in vitro and in vivo conditions compared to solid tumors. This clearly suggests that AKIs are highly active in rapidly cycling cells. This point corresponds to the dose limiting toxicity including bone marrow suppression and associated neutropenia in normal hematological cells. Drug related toxicities of AKIs on hematological cells and associated bone marrow toxicity was reported exceptionally well by Wilkinson et al. [71]. Bone marrow tissue from the AZD1152 treated rats were used to study the effect on rapidly dividing cells. Staining of the tissue revealed signs of atrophy associated with decrease in the total cellular content. However, myelosupression was reversed within a week of AZD1152 withdrawal. Clinicians should consider intermittent dosings at appropriate intervals or metronomic therapy in order to better target tumor cells and allowing bone marrow cells to recover.
Administration of hematopoietic growth factors in conjunction with anticancer drugs may also help to reduce the severity of bone marrow toxicities. Many clinical studies were performed using growth factors in conjunction with anticancer agents and were successful to limit the bone marrow related toxicities [100]. In the context of AKIs, Cohen et al. used G-CSF in conjunction with PHA-739358 [34]. In this study they were able to escalate the PHA-739358 dose until 1000 mg/m2 and did not reported any bone marrow related toxicities, particularly neutropenia. This was the first time they were able to achieve objective responses in patients with advanced solid tumors. On the other hand, grade 3/4 neutropenia and neutropenic infection were reported in the absence of G-CSF at around 500 mg/m2 dose. Conjunctive use of growth factors would be beneficial in significantly reducing drug associated toxicities and also to enhance the efficacy of drugs by dose intensification.
Additional features of AKIs
From our review, one can appreciate many important aspects of AKIs. Firstly, almost all the AKIs cross-reacts with many structurally related oncogenic kinases including VEGFR2, FLT3, Bcr-Abl, JAK, and FGFR1. It has been consistently reported that these kinases are involved in the initiation and its progression of cancer. The main advantage of targeting multiple kinases other than AKs is that majority of cancers have abnormalities at multiple targets, thereby increasing the probability of effective treatment. Targeting multiple kinases may also prevent the emergence of resistance during AKI therapy, because resistance towards AKIs in the clinic is highly probable. To support this, recently Girdler et al. reported emergence of resistance in HCT116 cell line due to Aurora B mutations [93].
Secondly, we noticed that some pan-AKIs are significantly effective in drug resistant cancer lines. They were able to inhibit the cell proliferation equally or more efficiently compared to non-resistant parent cell lines. The authors of these studies were also able to successfully validate the AKIs ability to overcome the (multidrug) resistance in xenograft models at least with few AKIs. Hence AKIs may have a huge potential to overcome the resistance in patients with refractory cancers and some clinical studies are underway. Imatinib targeted towards Bcr-Abl has been highly successful in treating CML patients with Bcr-Abl translocation. In some patients complete hematological and cytological responses were achieved. However, during the course of imatinib chemotherapy, many patients acquired Abl kinase domain mutations resulting in imatinib resistance. Among multiple mutations, the gate keeper mutation, namely T315I is very aggressive, which renders complete resistance to imatinib and related compounds. Many AKIs were able to inhibit T315I Bcr-Abl mutations with high specificity than wild type Bcr-Abl. AKIs have also been proved to be efficient in reversal of resistance in T315I Bcr-Abl CML cell lines both in vitro and in vivo. This sparked the interest of testing the AKIs in refractory CML patients with T315I mutations and many clinical studies are underway. Discovery of AKIs efficiency in inhibiting T315I Bcr-Abl formed a strong rationale in testing the existing second generation kinase inhibitors on drug resistant mutants.
Thirdly, AKIs have a great potential to enhance the efficacy of other anticancer drug and radiation therapies, which can be exemplified by some reports. MK-5108 significantly enhanced the efficacy of docetaxel in HeLa-S3 and ES-2 cell lines both in vitro and in vivo [67]. Low concentrations of VE-465 alone synergized with paclitaxel and induced 4.5 fold greater apoptosis in 1A9 ovarian cancer cell line [81]. On the other hand AZD1152 [101] and PHA-680632 [79] greatly enhanced the effect of radiation treatment. These findings have potential interest for further clinical development. AKIs have broad anticancer activity in most of the cancer cell lines tested. The above described characteristics of AKIs make them very attractive candidates for targeted therapy.
Potential approvable AKIs for routine clinical use
In preliminary clinical studies, AKIs have consistently displayed cytostatic effects, tumor response or stable disease, particularly in solid tumors. However, because of the plethora of synthetic AKIs with diverse chemical structures, target and off-target activities, toxicological profiles, and efficacy, it is difficult to predict which compound(s) will enter clinical use. Certainly, one of the most interesting and advanced inhibitors is PHA-739358. This compound not only inhibits AKs, but it also has an off-target effect on Abl, Ret, and FGFR-1 oncogenic kinases, which are implicated in many types of malignancies. Moreover, it has been shown to have good pharmacokinetic properties combined with high anticancer activity; 28/80 patients with solid tumors showed stable disease, which lasted for 6 months in six patients. As a result of these attributes PHA-739358 is regarded as a highly promising clinical candidate. Metastasis of a malignant tumor is one of the hallmarks of cancer and its progression. Hence, inhibition of metastasis by suppressing angiogenesis is a novel approach for cancer treatment. Interestingly, CYC116 and ENMD-2076 inhibits VEGFR-2, which directly promotes angiogenesis. These drugs have also exhibited significant anticancer effects on a broad range of cancer cell lines. These properties strongly encourage their further clinical development, which could improve overall survival of patients. AT9283 is a promising multikinase inhibitor with activity against, e.g., AKs, JAK2, JAK3, and Abl. In one clinical trial, 30% of patients showed stable disease, and the compound was well tolerated. One of the common mechanism of cancer cell drug resistance is the overexpression of PgP, which actively effluxes the anticancer agent before reaching the target. Overexpression of PgP and associated multidrug resistance was reported in cancer patients that are resistant to many anticancer agents. AMG-900 was able to overcome the resistance particularly in PgP upregulated multidrug resistant cancer cell lines. AMG-900 may have great potential in both enhancing the therapeutic potential of anticancer agents and also in combating drug specific resistance.
Clinical efficacy of Aurora kinase inhibitors
Though AKIs have showed broad range anticancer activity in cell lines and xenograft models, they did not lived up to the expectations in the clinic. Here we speculate some of the reasons; firstly the rationale for targeting AKs is not validated. The main reason for targeting AKs is based on the fact that they are upregulated in many cancer types. It could be possible that tumors cells may not be addicted to AKs for their proliferation and survival as much as to Bcr-Abl, K-ras, or B-Raf oncogenes. Recently many questions were raised regarding the validity of AKs as oncogenes. Probably the role of AKs in inducing malignant phenotype is transient. This is probably one of the reasons that AKIs were not specifically efficient in any cancer type, compared to other routinely used anticancer agents in the clinic. For example platinum drugs are well known agents to treat ovarian and breast cancers, paclitaxel for ovarian and breast cancers, gemcitabine for pancreatic and lung cancers, and bortezomib and thalidomide for multiple myeloma. Secondly, polo-like kinases (PLK) share similar functions that are assigned to AKs [101]. This is strongly supported by the fact that cellular phenotypes overlap with the inhibition of PLKs and AKs. Thus it is likely that PLKs may complement the functions of AKs and may compromise the AKIs induced effects. Hence outcome of combined inhibition of AKs and PLKs might be desirable compared to single target inhibition. Thirdly, mitotic inhibitors are well validated to treat cancer cells in vitro and in xenograft models, where tumors doubling times are relatively short. However, in real life situation human tumor cells have very long doubling times that may range from months to years. AKIs execute their mode of actions only when the cells are actively proliferating, as AKs are predominantly expressed in mitotic phase. In clinical trials, AKIs mostly induced only stable diseases (only in few patients), but rarely the partial or complete responses and this could be due to high doubling time of tumors cells. Most of the AKIs doses employed in the Phase I studies are relatively low, ranging from 3 to 200 mg/kg, due to DLTs, mainly neutropenia. These doses are well below the therapuetic window for activity. Thus further dose enhacements in Phase II studies in conjunction with growth factors would be beneficial. Cohen et al. succesfully escalated the doses upto 1000 mg/m2 in the presence of G-CSF and reported objective responses with reduced toxicities [34]. One of the solutions could be intermittent dosings at appropraite intervals or metronomic therapy to recover bone marrow cells should be considered.
Conclusions
The AKs have been the focus of considerable attention since their discovery in Drosophila mutants, and many independent studies have contributed to our understanding of their biology. AKs have multiple important functions in mitosis, and their overexpression in some cancers prompted the discovery and development of novel AKIs as therapeutic drugs using a variety of experimental and computational techniques. Less than ten years after AKs were discovered in humans, more than ten Aurora inhibitors had entered clinical trial, and the number of new AKIs entering preclinical development or clinical trials is continuing to increase. No general mechanisms of tumor cell resistance to AKIs have yet been identified, although some preliminary studies suggest that mutations of the targeted Aurora kinase and overexpression of drug-resistance genes may be involved.
Further in-depth clinical studies are now required to evaluate the effectiveness of AKIs. Hence, it is too early to draw any conclusions regarding which compounds are likely to enter the market for routine use. Furthermore, identification of biomarkers based on gene expression studies, that are predictive of anticancer activity for a specific drug in individual patients is important. Some AKIs have been shown to be very effective in single agent or combination studies in some patients. Widely accepted functional pharmacological/surrogate biomarkers are available for both Aurora A and B inhibition, which makes them attractive targets. In the absence of tumor associated biomarkers, neutropenia per se is a biomarker of Aurora kinase inhibition in the bone marrow cells. Thus, biomarkers that allow the efficacy of given AKI to be assessed offer the promise of individualized therapy, which academic clinicians are keen to pursue. Since AKIs are emerging as targeted cancer therapeutics with interesting off-target effects, one might reasonably hope that they could also be used to tackle the problem of resistance, and thus enhance the treatment of cancer.
Notes
Acknowledgements
This study was supported by grants awarded by the Grant Agency of the Czech Republic (301/08/1649 and 303/09/H048), Internal Grant Agency of Palacky University (IGA UP LF 2011 018) and by a grant from Iceland, Liechtenstein and Norway through the EEA Financial Mechanism (CZ0099). The infrastructural part of this project (Institute of Molecular and Translational Medicine) was supported by the Operational Programme Research and Development for Innovations (project CZ.1.05/2.1.00/01.0030). We are thankful to Martin Mistrik, Ph.D. for confocal microscopy.
Conflict of interest
The authors declare no conflict of interest.
Open Access
This article is distributed under the terms of the Creative Commons Attribution License which permits any use, distribution, and reproduction in any medium, provided the original author(s) and the source are credited.
Copyright information
© The Author(s) 2012
Open AccessThis article is distributed under the terms of the Creative Commons Attribution 2.0 International License (https://creativecommons.org/licenses/by/2.0), which permits unrestricted use, distribution, and reproduction in any medium, provided the original work is properly cited.