Abstract
Purpose
To determine if the RETeval system can be used for the screening of diabetic retinopathy (DR) to provide early diagnosis.
Methods
The subjects were 42 diabetic patients selectively recruited by examination of their medical records to have varying severities of DR. The severity of DR was classified into four groups according to the International Clinical Diabetic Retinopathy Disease Severity Scale. Full-field electroretinograms (ERG) without mydriasis were obtained by the DR assessment protocol of the RETeval system. Macular retinal nerve fiber layer (RNFL) thickness was measured by optical coherence tomography. We compared the DR assessment protocol results and the macular RNFL thickness among four groups. Moreover, an analysis was conducted on whether there was any correlation among the DR assessment protocol results, duration of diabetes mellitus, and RNFL thickness individually for each group of patients.
Results
The mean ages and mean duration of diabetes mellitus of the four groups were similar. The DR assessment protocol results in the moderate–severe nonproliferative DR, and proliferative DR groups were significantly higher than those in the other groups (p < 0.001). The mean macular RNFL thickness was similar in all groups. No significant correlation was found between the DR assessment protocol results and duration of DM and the RNFL thickness.
Conclusions
Our results suggest that the RETeval full-field ERG system can be used as an adjunctive tool for the mass screening of DR, while macular RNFL thickness would not be useful.
This is a preview of subscription content, log in to check access.
Access options
Buy single article
Instant unlimited access to the full article PDF.
US$ 39.95
Price includes VAT for USA
Subscribe to journal
Immediate online access to all issues from 2019. Subscription will auto renew annually.
US$ 99
This is the net price. Taxes to be calculated in checkout.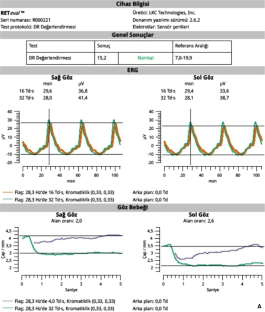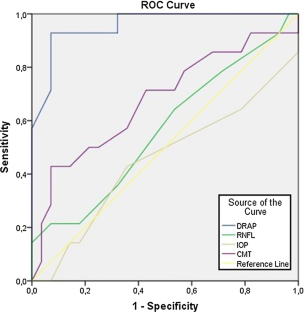 References
1.

Keenan TD, Johnston RL, Donachie PH et al (2013) United Kingdom National Ophthalmology Database Study: diabetic retinopathy; report 1: prevalence of centre-involving diabetic macular oedema and other grades of maculopathy and retinopathy in hospital eye services. Eye (Lond) 27:1397–1404

2.

Early Treatment Diabetic Retinopathy Study Research Group (1991) Grading diabetic retinopathy from stereoscopic color fundus photographs—an extension of the modified Airlie House classification. ETDRS report number 10. Ophthalmology 98:786–806

3.

Ku JJ, Landers J, Henderson T et al (2013) The reliability of single-field fundus photography in screening for diabetic retinopathy: the Central Australian Ocular Health Study. Med J Aust 198:93–96

4.

Lawrance MG (2004) The accuracy of digital-video retinal imaging to screen for diabetic retinopathy: an analysis of two digital-video retinal imaging systems using standard stereoscopic seven-field photography and dilated clinical examination as reference standards. Trans Am Ophthalmol Soc 102:321–340

5.

Williams GA, Scott IU, Haller JA et al (2004) Single field fundus photography for diabetic retinopathy screening: a report by the American Academy of Ophthalmology. Ophthalmology 111:1055–1062

6.

McCulloch DL, Marmor MF, Brigell MG et al (2015) ISCEV standard for full-field clinical electroretinography (2015 update). Doc Ophthalmol 130:1–12

7.

Bush RA, Sieving PA (1996) Inner retinal contributions to the primate photopic fast flicker electroretinogram. J Opt Am A Opt Image Sci Vis 13:557–565

8.

Bresnick GH, Palta M (1987) Temporal aspects of the electroretinogram in diabetic retinopathy. Arch Ophthalmol 105:660–664

9.

Tahara K, Matsuura T, Otori T (1993) Diagnostic evaluation of diabetic retinopathy by 30-Hz flicker electroretinography. Jpn J Ophthalmol 37:204–210

10.

Holopigian K, Seiple W, Lorenzo M et al (1992) A comparison of photopic and scotopic electroretinographic changes in early diabetic retinopathy. Invest Ophthalmol Vis Sci 33:2773–2780

11.

Satoh S, Iijima H, Imai M et al (1994) Photopic electroretinogram implicit time in diabetic retinopathy. Jpn J Ophthalmol 38:178–184

12.

Kim SH, Lee SH, Bae JY et al (1997) Electroretinographic evaluation in adult diabetics. Doc Ophthalmol 94:201–213

13.

Han YK, Ohn YH (2000) Changes of ERG parameters in diabetic retinopathy. J Korean Ophthalmol Soc 41:149–155

14.

Park SE, Sun HJ, Lee HJ et al (2010) The role of electroretinography in assessing the progression of diabetic retinopathy. J Korean Ophthalmol Soc 51:693–699

15.

Tyrberg M, Lindblad U, Melander A et al (2011) Electrophysiological studies in newly onset type 2 diabetes without visible vascular retinopathy. Doc Ophthalmol 123:193–198

16.

Maa AY, Feuer WJ, Davis CQ et al (2016) A novel device for accurate and efficient testing for vision-threatening diabetic retinopathy. J Diabetes Complic 30:524–532

17.

Formaz F, Riva CE, Geiser M (1997) Diffuse luminance flicker increases retinal vessel diameter in humans. Curr Eye Res 16:1252–1257

18.

Lecleire-Collet A, Audo I, Aout M et al (2011) Evaluation of retinal function and flicker light-induced retinal vascular response in normotensive patients with diabetes without retinopathy. Invest Ophthalmol Vis Sci 52:2861–2867

19.

Garhöfer G, Zawinka C, Resch H et al (2004) Reduced response of retinal vessel diameters to flicker stimulation in patients with diabetes. Br J Ophthalmol 88:887–891

20.

Kato K, Kondo M, Sugimoto M et al (2015) Effect of pupil size on flicker ERGs recorded with RETeval system: new mydriasis-free full-field ERG system. Invest Ophthalmol Vis Sci 56:3684–3690

21.

Smith SA, Smith SE (1983) Reduced pupillary light reflexes in diabetic autonomic neuropathy. Diabetologica 24:330–332

22.

Straub RH, Jeron A, Kerp L (1992) The pupillary light reflex. 2. Prevalence of pupillary autonomic neuropathy in diabetics using age-dependent and age-independent pupillary parameters. Ophthalmologica 204:143–148

23.

Straub RH, Thies U, Jeron A et al (1994) Valid parameters for investigation of the pupillary light reflex in normal and diabetic subjects shown by factor analysis and partial correlation. Diabetologica 37:414–419

24.

Nakayama M, Nakamura J, Hamada Y et al (2001) Aldose reductase inhibition ameliorates pupillary light reflex and F-wave latency in patients with mild diabetic neuropathy. Diabetes Care 24:1093–1098

25.

Ortube MC, Kiderman A, Eydelman Y et al (2013) Comparative regional pupillography as a noninvasive biosensor screening method for diabetic retinopathy. Invest Ophthalmol Vis Sci 54:9–18

26.

Miura G, Nakamura Y, Sato E et al (2016) Effects of cataracts on flicker electroretinograms recorded with RETeval system: new mydriasis-free ERG device. BMC Ophthalmol 16:22

27.

Wilkinson CP, Ferris FL 3rd, Klein RE et al (2003) Proposed international clinical diabetic retinopathy and diabetic macular edema disease severity scales. Ophthalmology 110:1677–1682

28.

Bagust A, Hopkinson PK, Maslove L et al (2002) The projected health care burden of type 2 diabetes in the UK from 2000 to 2060. Diabet Med 4:1–5

29.

Engelgau MM, Geiss LS, Saaddine JB et al (2004) The evolving diabetes burden in the United States. Ann Intern Med 140:945–950

30.

Woodcock A, Bradley C, Plowright R et al (2004) The influence of diabetic retinopathy on quality of life: interviews to guide the design of a condition-specific, individualised questionnaire: the RetDQoL. Patient Educ Couns 53:365–383

31.

Tapp RJ, Shaw JE, Harper CA et al (2003) The prevalence of and factors associated with diabetic retinopathy in the Australian population. Diabetes Care 26:1731–1737

32.

Kashim RM, Newton P, Ojo O (2018) Diabetic retinopathy screening: a systematic review on patients' non-attendance. Int J Environ Res Public Health 15:157

33.

Hipwell AE, Sturt J, Lindenmeyer A et al (2014) Attitudes, access and anguish: a qualitative interview study of staff and patients' experiences of diabetic retinopathy screening. BMJ Open 4:e005498

34.

Al-Otaibi H, Al-Otaibi MD, Khandekar R et al (2017) Validity, usefulness and cost of RETeval system for diabetic retinopathy screening. Transl Vis Sci Technol 6:3

35.

Fukuo M, Kondo M, Hirose A et al (2016) Screening for diabetic retinopathy using new mydriasis-free, full-field flicker ERG recording device. Sci Rep 6:36591. https://doi.org/10.1038/srep36591

36.

Gungor A, Ates O, Bilen H et al (2015) Retinal nerve fiber layer thickness in early-stage diabetic retinopathy with vitamin D deficiency. Invest Ophthalmol Vis Sci 56:6433–6437

37.

Biallosterski C, van Velthoven ME, Michels RP et al (2007) Decreased optical coherence tomography-measured pericentral retinal thickness in patients with diabetes mellitus type 1 with minimal diabetic retinopathy. Br J Ophthalmol 91:1135–1138

38.

Nilsson M, von Wendt G, Wanger P et al (2007) Early detection of macular changes in patients with diabetes using rarebit fovea test and optical coherence tomography. Br J Ophthalmol 91:1596–1598

39.

Picconi F, Parravano M, Ylli D et al (2017) Retinal neurodegeneration in patients with type 1 diabetes mellitus: the role of glycemic variability. Acta Diabetol 54:489–497

40.

Yasuda S, Kachi S, Ueno S et al (2015) Flicker electroretinograms before and after intravitreal ranibizumab injection in eyes with central retinal vein occlusion. Acta Ophthalmol 93:e465–e468
Ethics declarations
Conflict of interest
All authors certify that they have no affiliations with or involvement in any organization or entity with any financial interest or nonfinancial interest in the subject matter or materials discussed in this manuscript.
Statement of human rights
All procedures performed in studies involving human participants were in accordance with the ethical standards of the institutional research committee and with the 1964 Helsinki Declaration and its later amendments or comparable ethical standards.
Statement on the welfare of animals
No animals were used in this research.
Informed consent
For this type of study, formal consent is not required.
About this article
Cite this article
Değirmenci, M.F.K., Demirel, S., Batıoğlu, F. et al. Role of a mydriasis-free, full-field flicker ERG device in the detection of diabetic retinopathy. Doc Ophthalmol 137, 131–141 (2018) doi:10.1007/s10633-018-9656-8
Received:

Accepted:

Published:

Issue Date:
Keywords
Diabetic retinopathy

Screening

Electroretinogram (ERG)

Flicker ERG

RETeval