Abstract
Background/Aims
We examined the quality of palliative care received by patients with decompensated cirrhosis using an explicit set of palliative care quality indicators (QIs) for patients with end-stage liver disease (PC-ESLD).
Methods
We identified patients newly diagnosed with decompensated cirrhosis at a single veterans health center and followed up them for 2 years or until death. We piloted measurement of PC-ESLD QIs in all patients confirmed to have ESLD using a chart abstraction tool.
Results
Out of 167 patients identified using at least one sampling strategy, 62 were confirmed to meet ESLD criteria with chart abstraction. Ninety-eight percent of veterans in the cohort were male, mean age at diagnosis was 61 years, and 74% were White. The overall QI pass rate was 68% (64% for information care planning QIs and 76% for supportive care QIs). Patients receiving specialty palliative care consultation were more likely to receive information care planning QIs (67% vs. 37%, p = 0.02). The best performing sampling strategy had a sensitivity of 62% and specificity of 60%.
Conclusion
Measuring the quality of palliative care for patients with ESLD is feasible in the veteran population. Our single-center data suggest that the quality of palliative care is inadequate in the veteran population with ESLD, though patients offered specialty palliative care consultation and those affected by homelessness, drug, and alcohol abuse may receive better care. Our combination of ICD-9 codes can be used to identify a cohort of patients with ESLD, though better sensitivity and specificity may be needed.
This is a preview of subscription content, log in to check access.
Access options
Buy single article
Instant unlimited access to the full article PDF.
US$ 39.95
Price includes VAT for USA
Subscribe to journal
Immediate online access to all issues from 2019. Subscription will auto renew annually.
US$ 199
This is the net price. Taxes to be calculated in checkout.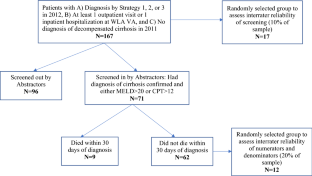 Abbreviations
ICD-9 CM:

International Classification of Diseases, 9th Revision, Clinical Management

CDW:

Corporate data warehouse
References
1.

Kamath PS, Wiesner RH, Malinchoc M, et al. A model to predict survival in patients with end-stage liver disease. Hepatology. 2001;33:464–470.

2.

D'Amico G, Morabito A, Pagliaro L, et al. Survival and prognostic indicators in compensated and decompensated cirrhosis. Dig Dis Sci. 1986;31:468–475. https://doi.org/10.1007/BF01320309.

3.

Kim WR, Lake JR, Smith JM, et al. OPTN/SRTR 2015 Annual Data Report: Liver. Am J Transplant. 2017;17:174–251.

4.

Murphy SL, X., Kochanek KD. Deaths: final data for 2010. Updated May 8, 2013. Centers for Disease Control and Prevention website.

5.

Rakoski MO, McCammon RJ, Piette JD, et al. Burden of cirrhosis on older Americans and their families: analysis of the health and retirement study. Hepatology. 2012;55:184–191.

6.

Roth K, Lynn J, Zhong Z, et al. Dying with end stage liver disease with cirrhosis: insights from SUPPORT. Study to Understand Prognoses and Preferences for Outcomes and Risks of Treatment. J Am Geriatr Soc. 2000;48:S122-30.

7.

Brown CL, Hammill BG, Qualls LG, et al. Significant morbidity and mortality among hospitalized end-stage liver disease patients in medicare. J Pain Symptom Manage. 2016;52:412–419.

8.

Patel AA, Walling AM, Ricks-Oddie J, et al. Palliative care and health care utilization for patients with end-stage liver disease at the end of life. Clin Gastroenterol Hepatol. 2017;15:1612–1619.

9.

Smith TJ, Temin S, Alesi ER, et al. American Society of Clinical Oncology provisional clinical opinion: the integration of palliative care into standard oncology care. J Clin Oncol. 2012;30:880–887.

10.

Hunt SA. ACC/AHA 2005 Guideline Update for the Diagnosis and Management of Chronic Heart Failure in the Adult: a report of the American College of Cardiology/American Heart Association Task Force on Practice Guidelines (Writing Committee to Update the 2001 Guidelines for the Evaluation and Management of Heart Failure): developed in collaboration with the American College of Chest Physicians and the International Society for Heart and Lung Transplantation: endorsed by the Heart Rhythm Society. Circulation. 2005;112:e154–e235.

11.

Lanken PN, Terry PB, DeLisser HM, et al. An official American Thoracic Society clinical policy statement: palliative care for patients with respiratory diseases and critical illnesses. Am J Respir Crit Care Med. 2008;177:912–927.

12.

Galla JH. Clinical practice guideline on shared decision-making in the appropriate initiation of and withdrawal from dialysis: The Renal Physicians Association and the American Society of Nephrology. J Am Soc Nephrol. 2000;11:1340–1342.

13.

Walling AM, Ahluwalia SC, Wenger NS, et al. Palliative care quality indicators for patients with end-stage liver disease due to cirrhosis. Dig Dis Sci. 2017;62:84–92. https://doi.org/10.1007/s10620-016-4339-3.

14.

Yee HS, Chang MF, Pocha C, et al. Update on the management and treatment of hepatitis C virus infection: recommendations from the Department of Veterans Affairs Hepatitis C Resource Center Program and the National Hepatitis C Program Office. Am J Gastroenterol. 2012;107:669–689.

15.

Kanwal F, Hoang T, Kramer JR, et al. Increasing prevalence of HCC and cirrhosis in patients with chronic hepatitis C virus infection. Gastroenterology. 2011;140:1182–1188.

16.

Julapalli VR, Kramer JR, El‐Serag HB, et al. Evaluation for liver transplantation: adherence to AASLD referral guidelines in a large Veterans Affairs center. Liver Transpl. 2005;11:1370–1378.

17.

Goldberg D, Lewis D, Halpern SD, et al. Validation of three coding algorithms to identify patients with end-stage liver disease in an administrative database. Pharmacoepidemiol Drug Saf. 2012;21:765–769.

18.

Lo Re V III, Lim JK, Goetz MB, et al. Validity of diagnostic codes and liver-related laboratory abnormalities to identify hepatic decompensation events in the Veterans Aging Cohort Study. Pharmacoepidemiol Drug Saf. 2011;20:689–699.

19.

Clopper CJ, Pearson ES. The use of confidence or fiducial limits illustrated in the case of the binomial. Biometrika. 1934;26:404–413.

20.

Cholongitas E, Papatheodoridis GV, Vangeli M, et al. Systematic review: The model for end-stage liver disease–should it replace Child-Pugh's classification for assessing prognosis in cirrhosis? Aliment Pharmacol Ther. 2005;22:1079–1089.

21.

Walling AM, Asch SM, Lorenz KA, et al. The quality of care provided to hospitalized patients at the end of life. Arch Intern Med. 2010;170:1057–1063.

22.

Brisebois A, Ismond KP, Carbonneau M, et al. Advance care planning (ACP) for specialists managing cirrhosis: a focus on patient-centered care. Hepatology. 2018;67:2025–2040.

23.

D'Ambruoso SF, Coscarelli A, Hurvitz S, et al. Use of a shared mental model by a team composed of oncology, palliative care, and supportive care clinicians to facilitate shared decision making in a patient with advanced cancer. J Oncol Pract. 2016;12:1039–1045.

24.

Baumann AJ, Wheeler DS, James M, et al. Benefit of early palliative care intervention in end-stage liver disease patients awaiting liver transplantation. J Pain Symptom Manage. 2015;50:882–886.

25.

Walling AM, Tisnado D, Asch SM, et al. The quality of supportive cancer care in the veterans affairs health system and targets for improvement. JAMA Intern Med. 2013;173:2071–2079.

26.

Thomson MJ, Tapper EB, Lok ASF. Dos and don'ts in the management of cirrhosis: a view from the 21st century. Am J Gastroenterol. 2018;113:927.

27.

Chandok N, Watt KD. Pain management in the cirrhotic patient: the clinical challenge. Mayo Clin Proc. 2010;85:451–458.

28.

Ahmed N, Bestall JE, Ahmedzai SH, et al. Systematic review of the problems and issues of accessing specialist palliative care by patients, carers and health and social care professionals. Palliat Med. 2004;18:525–542.

29.

Woods A, Willison K, Kington C, et al. Palliative care for people with severe persistent mental illness: a review of the literature. Can J Psychiatry. 2008;53:725–736.

30.

O'Hanlon C, Huang C, Sloss E, et al. Comparing VA and non-VA quality of care: a systematic review. J Gen Intern Med. 2017;32:105–121.
Ethics declarations
Conflict of interest
The authors declare that they have no conflict of interests.
Additional information
Publisher's Note
Springer Nature remains neutral with regard to jurisdictional claims in published maps and institutional affiliations.
About this article
Cite this article
Patel, A., Asch, S., Antonio, A.L. et al. Measuring the Quality of Palliative Care for Patients with End-Stage Liver Disease. Dig Dis Sci (2020) doi:10.1007/s10620-019-05983-y
Received:

Accepted:

Published:
Keywords
Palliative care

Cirrhosis

Healthcare quality

Veterans

End of life