Abstract
Introduction
Previous narrow-band imaging (NBI) was dark and reported not to be useful for polyp detection. In this study, we analyzed the efficacy of an additional 30-s observation of the right-sided colon with the recent bright high-resolution NBI.
Methods
We enrolled patients undergoing colonoscopy from February 2015 to May 2017 in two institutions. All procedures were performed with the latest system (EVIS LUCERA ELITE, Olympus). The cecum and ascending colon were first observed with white light imaging (WLI) in both the NBI and WLI group. Then, the colonoscope was re-inserted, and the cecum and ascending colon were observed for an additional 30 s. In this second observation, NBI was performed for the first 130 patients in the NBI group and WLI for the next 130 in the WLI group. The number of adenoma and sessile serrated polyps (ASPs) in the second observation were examined in both groups. According to our initial pilot study, the sample size was estimated at 126.
Results
In the first observation, the number of ASPs was 72 in the NBI group and 72 in the WLI group (p = 1.0). In the second observation, the number of ASPs was 23 in the NBI group and 10 in the WLI group (p = 0.02). The polyp and adenoma detection rates in the second observation were 16.2% and 12.3% in the NBI group and 7.7% (p = 0.03) and 6.2% (p = 0.09) in the WLI group.
Conclusions
The additional 30-s observation with recent NBI decreased missed polyps in the right-sided colon.
This is a preview of subscription content, log in to check access.
Access options
Buy single article
Instant unlimited access to the full article PDF.
US$ 39.95
Price includes VAT for USA
Subscribe to journal
Immediate online access to all issues from 2019. Subscription will auto renew annually.
US$ 199
This is the net price. Taxes to be calculated in checkout.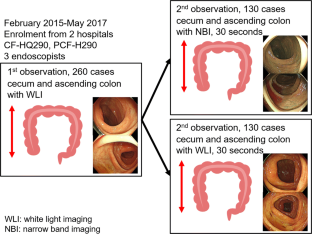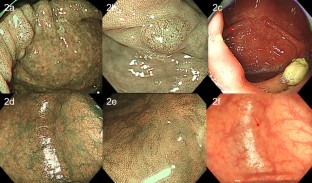 References
1.

Nishihara R, Wu K, Lochhead P, et al. Long-term colorectal-cancer incidence and mortality after lower endoscopy. N Engl J Med. 2013;369:1095–1105.

2.

Winawer SJ, Zauber AG, Ho MN, et al. Prevention of colorectal cancer by colonoscopic polypectomy. N Engl J Med. 1993;329:1977–1981.

3.

Zauber AG, Winawer SJ, O'Brien MJ, et al. Colonoscopic polypectomy and long-term prevention of colorectal-cancer deaths. N Engl J Med. 2012;366:687–696.

4.

Heresbach D, Barrioz T, Lapalus MG, et al. Miss rate for colorectal neoplastic polyps: a prospective multicenter study of back-to-back video colonoscopies. Endoscopy. 2008;40:284–290.

5.

Rex DK, Cutler CS, Lemmel GT, et al. Colonoscopic miss rates of adenomas determined by back-to-back colonoscopies. Gastroenterology. 1997;112:24–28.

6.

Kim NH, Jung YS, Jeong WS, et al. Miss rate of colorectal neoplastic polyps and risk factors for missed polyps in consecutive colonoscopies. Intest Res. 2017;15:411–418.

7.

Lee J, Park SW, Kim YS, et al. Risk factors of missed colorectal lesions after colonoscopy. Medicine (Baltimore). 2017;96:e7468.

8.

Sano Y, Muto M, Tajiri H, et al. Optical/digital chromoendoscopy during colonoscopy using narrow-band image system. Dig Endosc. 2005;17:S43–S48.

9.

Ogiso K, Yoshida N, Siah KTH, et al. New generation narrow band imaging improves visibility of polyps: a colonoscopy video evaluation study. J Gastroenterol. 2016;51:883–890.

10.

Adler A, Aschenbeck J, Yenerim T, et al. Narrow-band versus white-light high definition television endoscopic imaging for screening colonoscopy: a prospective randomized trial. Gastroenterology. 2009;136:410–416.

11.

Rastogi A, Early DS, Gupta N, et al. Randomized, controlled trial of standard-definition white-light, high-definition white-light, and narrow-band imaging colonoscopy for the detection of colon polyps and prediction of polyp histology. Gastrointest Endosc. 2011;74:593–602.

12.

Ikematsu H, Saito Y, Tanaka S, et al. The impact of narrow band imaging for colon polyp detection: a multicenter randomized controlled trial by tandem colonoscopy. J Gastroenterol. 2012;47:1099–1107.

13.

Rex DK, Helbig C. High yields of small and flat adenomas with high-definition colonoscopes using either white light or narrow band imaging. Gastroenterology. 2007;133:42–47.

14.

Ikematsu H, Matsuda T, Osera S, et al. Usefulness of narrow-band imaging with dual-focus magnification for differential diagnosis of small colorectal polyps. Surg Endosc. 2015;29:844–850.

15.

Horimatsu T, Sano Y, Tanaka S, et al. Next-generation narrow band imaging system for colonic polyp detection: a prospective multicenter randomized trial. Int J Colorectal Dis. 2015;30:947–954.

16.

Ishaq S, Siau K, Harrison E, et al. Technological advances for improving adenoma detection rates: the changing face of colonoscopy. Dig Liver Dis. 2017;49:721–727.

17.

Sano Y, Tanaka S, Kudo SE, et al. Narrow-band imaging (NBI) magnifying endoscopic classification of colorectal tumors proposed by the Japan NBI Expert Team. Dig Endosc. 2016;28:526–533.

18.

Yamashina T, Takeuchi Y, Uedo N, et al. Diagnostic features of sessile serrated adenoma/polyps on magnifying narrow band imaging: a prospective study of diagnostic accuracy. J Gastroenterol Hepatol. 2015;30:117–123.

19.

Participants in the Paris workshop. The Paris endoscopic classification of superficial neoplastic lesions: esophagus, stomach, and colon-November 30 to December 1, 2002. Gastrointest Endosc. 2003;58:S3–S43.

20.

Hamilton SR, Aaltonen LA, eds. World Health Organization classification of tumors. Pathology and genetics of tumours of the digestive system. Lyon: IARC Press; 2010:104–109.

21.

Shida Y, Ichikawa K, Fujimori T, et al. Differentiation between sessile serrated adenoma/polyp and non-sessile serrated adenoma/polyp in large hyperplastic polyp: a Japanese collaborative study. Mol Clin Oncol. 2013;1:53–59.

22.

Yoshida N, Naito Y, Murakami T, et al. Safety and efficacy of a same-day low-volume 1 L PEG bowel preparation in colonoscopy for the elderly people and people with renal dysfunction. Dig Dis Sci. 2016;61:3229–3235. https://doi.org/10.1007/s10620-016-4262-7.

23.

Froehlich F, Wietlisbach V, Gonvers JJ, et al. Impact of colonic cleansing on quality and diagnostic yield of colonoscopy: the European Panel of Appropriateness of Gastrointestinal Endoscopy European multicenter study. Gastrointest Endosc. 2005;6:378–384.

24.

Harewood GC, Sharma VK, de Garmo P. Impact of colonoscopy preparation quality on detection of suspected colonic neoplasia. Gastrointest Endosc. 2003;58:76–79.

25.

Pasha SF, Leighton JA, Das A, et al. Comparison of the yield and miss rate of narrow band imaging and white light endoscopy in patients undergoing screening or surveillance colonoscopy: a meta-analysis. Am J Gastroenterol. 2012;107:363–370.

26.

Matsuda T, Ono A, Sekiguchi M, et al. Advances in image enhancement in colonoscopy for detection of adenomas. Nat Rev Gastroenterol Hepatol. 2017;14:305–314.

27.

Mir FA, Boumitri C, Ashraf I, et al. Cap-assisted colonoscopy versus standard colonoscopy: is the cap beneficial? A meta-analysis of randomized controlled trials. Ann Gastroenterol. 2017;30:640–648.

28.

He Q, Li JD, An SL, et al. Cap-assisted colonoscopy versus conventional colonoscopy: systematic review and meta-analysis. Int J Colorectal Dis. 2013;28:279–281.

29.

Rzouq F, Gupta N, Wani S, et al. Cap assisted colonoscopy for the detection of serrated polyps: a post hoc analysis. BMC Gastroenterol. 2015;15:11.

30.

Floer M, Biecker E, Fitzlaff R, et al. Higher adenoma detection rates with endocuff-assisted colonoscopy—a randomized controlled multicenter trial. PLoS ONE. 2014;9:e114267.

31.

van Doorn SC, van der Vlugt M, Depla ACTM, et al. Adenoma detection with endocuff colonoscopy versus conventional colonoscopy: a multicentre randomised controlled trial. Gut. 2017;66:438–445.

32.

Halpern Z, Gross SA, Gralnek IM, et al. Comparison of adenoma detection and miss rates between a novel balloon colonoscope and standard colonoscopy: a randomized tandem study. Endoscopy. 2015;47:238–244.

33.

Papanikolaou IS, Apostolopoulos P, Tziatzios G, et al. Lower adenoma miss rate with FUSE vs. conventional colonoscopy with proximal retroflexion: a randomized back-to-back trial. Endoscopy. 2017;49:468–475.

34.

Waye JD, Heigh RI, Fleischer DE, et al. A retrograde-viewing device improves detection of adenomas in the colon: a prospective efficacy evaluation (with videos). Gastrointest Endosc. 2010;71:551–556.

35.

Chung SJ, Kim D, Song JH, et al. Efficacy of computed virtual chromoendoscopy on colorectal cancer screening: a prospective, randomized, back-to-back trial of Fuji intelligent color enhancement versus conventional colonoscopy to com-pare adenoma miss rates. Gastrointest Endosc. 2010;72:136–142.

36.

Hong SN, Choe WH, Lee JH, et al. Prospective, randomized, back-to-back trial evaluating the usefulness of i-SCAN in screening colonoscopy. Gastrointest Endosc. 2012;75:e2.

37.

Ikematsu H, Sakamoto T, Togashi K, et al. Detectability of colorectal neoplastic lesions using a novel endoscopic system with blue laser imaging: a multicenter randomized controlled trial. Gastointest Endosc. 2017;86:386–394.

38.

Yoshida N, Naito Y, Murakami T, et al. Linked color imaging improves the visibility of colorectal polyps: a video study. Endosc Int Open. 2017;5:E518–E525.

39.

Paggi S, Mogavero G, Amato A, et al. Linked color imaging reduces the miss rate of neoplastic lesions in the right colon: a randomized tandem colonoscopy study. Endoscopy. 2018;50:396–402.

40.

Parikh ND, Chaptini L, Njei B, et al. Diagnosis of sessile serrated adenomas/polyps with image-enhanced endoscopy: a systematic review and meta-analysis. Endoscopy. 2016;48:731–739.
Acknowledgments
We thank all the members of the Department of Molecular Gastroenterology and Hepatology, Kyoto Prefectural University of Medicine, for their assistance with this study.
Ethics declarations
Conflict of interest
The authors declare no conflict of interest.
Electronic supplementary material
Below is the link to the electronic supplementary material.
First WLI observation could not detect any polyps. Additional 30-s observation of the right-sided colon with NBI could detect a polyp 3 mm in size in the ascending colon. Histology showed SSP. (MP4 24169 kb)
First WLI observation could not detect any polyps. Additional 30-s observation of the right-sided colon with NBI could detect a polyp 3 mm in size in the ascending colon. Histology showed SSP. (MP4 24169 kb)
About this article
Cite this article
Yoshida, N., Inoue, K., Yasuda, R. et al. An Additional 30-s Observation of the Right-Sided Colon with Narrow Band Imaging Decreases Missed Polyps: A Pilot Study. Dig Dis Sci 63, 3457–3464 (2018). https://doi.org/10.1007/s10620-018-5275-1
Received:

Accepted:

Published:

Issue Date:
Keywords
Narrow-band imaging

Colorectal polyp

Polyp detection

Colonoscopy

Polyp miss