Abstract
Background and Aim
Self-expandable metal stents (SEMSs) have been a good treatment option for malignant intestinal obstruction. However, stent placement with a gastroscope can be technically difficult for the distal duodenum obstruction. A side-viewing duodenoscope may be helpful for these patients. We report our experiences in the insertion of SEMSs to distal duodenum with a side-viewing endoscope.
Methods
We retrospectively analyzed our database of SEMS placement for malignant distal duodenum obstruction between April 2006 and April 2013. All patients underwent SEMS placement using the side-viewing endoscope (duodenoscope). Main outcomes are technical success, clinical success, complication rates, stent patency, and overall survival. In addition, database from other tertiary center was analyzed, where SEMS insertion was performed with forward-viewing endoscopes (gastroscope or colonoscope). Success and complication rates were compared with ours.
Results
A total of 31 patients were reviewed. Pancreatic cancer was the most common cause (87.1 %). Technical and clinical success was achieved in all cases. Procedure-related complication occurred in one patient, who experienced micro-perforation of the duodenum. The patient improved with conservative treatment. Median duration of stent patency was 125 days (95 % CI 75–175), and median overall survival was 134 days (95 % CI 77–191). Biliary obstruction was present in 12.9 % of patients, who underwent biliary stent placement at the same time without changing endoscopes. In forward-viewing endoscopes group, 15 cases were included. Technical and clinical success was achieved in all cases, and no procedure-related complication occurred.
Conclusions
The insertion of SEMSs to distal duodenum with a duodenoscope could be performed effectively and safely in patients with malignant obstruction.
This is a preview of subscription content, log in to check access.
Access options
Buy single article
Instant unlimited access to the full article PDF.
US$ 39.95
Price includes VAT for USA
Subscribe to journal
Immediate online access to all issues from 2019. Subscription will auto renew annually.
US$ 199
This is the net price. Taxes to be calculated in checkout.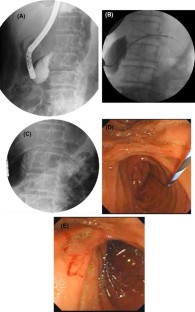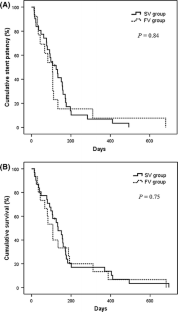 References
1.

Telford JJ, Carr-Locke DL, Baron TH, et al. Palliation of patients with malignant gastric outlet obstruction with the enteral Wallstent: outcomes from a multicenter study. Gastrointest Endosc. 2004;60:916–920.

2.

Keranen I, Udd M, Lepisto A, Halttunen J, Kylanpaa L. Outcome for self-expandable metal stents in malignant gastroduodenal obstruction: single-center experience with 104 patients. Surg Endosc. 2010;24:891–896.

3.

Espinel J, Vivas S, Munoz F, Jorquera F, Olcoz JL. Palliative treatment of malignant obstruction of gastric outlet using an endoscopically placed enteral Wallstent. Dig Dis Sci. 2001;46:2322–2324.

4.

Adler DG, Baron TH. Endoscopic palliation of malignant gastric outlet obstruction using self-expanding metal stents: experience in 36 patients. Am J gastroenterol. 2002;97:72–78.

5.

Im JP, Kang JM, Kim SG, Kim JS, Jung HC, Song IS. Clinical outcomes and patency of self-expanding metal stents in patients with malignant upper gastrointestinal obstruction. Dig Dis Sci. 2008;53:938–945.

6.

Jeurnink SM, Repici A, Luigiano C, Pagano N, Kuipers EJ, Siersema PD. Use of a colonoscope for distal duodenal stent placement in patients with malignant obstruction. Surg Endosc. 2009;23:562–567.

7.

Woo SM, Kim DH, Lee WJ, et al. Comparison of uncovered and covered stents for the treatment of malignant duodenal obstruction caused by pancreaticobiliary cancer. Surg Endosc. 2013;27:2031–2039.

8.

Baron TH, Harewood GC. Enteral self-expandable stents. Gastrointest Endosc. 2003;58:421–433.

9.

van den Berg MW, Haijtink S, Fockens P, et al. First data on the Evolution duodenal stent for palliation of malignant gastric outlet obstruction (DUOLUTION study): a prospective multicenter study. Endoscopy. 2013;45:174–181.

10.

Tringali A, Didden P, Repici A, et al. Endoscopic treatment of malignant gastric and duodenal strictures: a prospective, multicenter study. Gastrointest Endosc. 2014;79:66–75.

11.

Dormann A, Meisner S, Verin N. Wenk Lang A. Self-expanding metal stents for gastroduodenal malignancies: systematic review of their clinical effectiveness. Endoscopy. 2004;36:543–550.

12.

Gaidos JK, Draganov PV. Treatment of malignant gastric outlet obstruction with endoscopically placed self-expandable metal stents. World J Gastroenterol. 2009;15:4365–4371.

13.

Kim GH, Kang DH, Lee DH, et al. Which types of stent, uncovered or covered, should be used in gastric outlet obstructions? Scand J Gastroenterol. 2004;39:1010–1014.

14.

Cho YK, Kim SW, Hur WH, et al. Clinical outcomes of self-expandable metal stent and prognostic factors for stent patency in gastric outlet obstruction caused by gastric cancer. Dig Dis Sci. 2010;55:668–674.
Additional information
Jin Myung Park and Byung-Hoon Min contributed equally as first authors to this study.
Electronic supplementary material
Below is the link to the electronic supplementary material.
Supplementary material 1 (MPG 28670 kb)
About this article
Cite this article
Park, J.M., Min, B., Lee, S.H. et al. Feasibility of Self-Expandable Metal Stent Placement with Side-Viewing Endoscope for Malignant Distal Duodenal Obstruction. Dig Dis Sci 60, 524–530 (2015) doi:10.1007/s10620-014-3343-8
Received:

Accepted:

Published:

Issue Date:
Keywords
Duodenal obstruction

Duodenoscopes

Gastrointestinal neoplasms

Stents