Abstract
Background
Little is known about the role of muscularis mucosa at the gastroesophageal junction (GEJ).
Aim
To evaluate the movement of the mucosa/muscularis-mucosa/submucosa (MMS) at the GEJ in normal subjects and in patients with gastroesophageal reflux disease (GERD).
Methods
Gastroesophageal junctions of 20 non-GERD subjects and 10 patients with GERD were evaluated during 5 mL swallows using two methods: in high-resolution endoluminal ultrasound and manometry, the change in the GEJ luminal pressures and cross-sectional area of esophageal wall layers were measured; in abdominal ultrasound, the MMS movement at the GEJ was analyzed.
Results
Endoluminal ultrasound: In the non-GERD subjects, the gastric MMS moved rostrally into the distal esophagus at 2.17 s after the bolus first reached the GEJ. In GERD patients, the gastric MMS did not move rostrally into the distal esophagus. The maximum change in cross-sectional area of gastroesophageal MMS in non-GERD subjects and in GERD patients was 289 % and 183 %, respectively. Abdominal ultrasound: In non-GERD subjects, the gastric MMS starts to move rostrally significantly earlier and to a greater distance than muscularis propria (MP) after the initiation of the swallow (1.75 vs. 3.00 s) and (13.97 vs. 8.91 mm). In GERD patients, there is no significant difference in the movement of gastric MMS compared to MP (6.74 vs. 6.09 mm). The independent movement of the gastric MMS in GERD subjects was significantly less than in non-GERD subjects.
Conclusion
In non-GERD subjects, the gastric MMS moves rostrally into the distal esophagus during deglutitive inhibition and forms a barrier. This movement of the MMS is defective in patients with GERD.
This is a preview of subscription content, log in to check access.
Access options
Buy single article
Instant unlimited access to the full article PDF.
US$ 39.95
Price includes VAT for USA
Subscribe to journal
Immediate online access to all issues from 2019. Subscription will auto renew annually.
US$ 199
This is the net price. Taxes to be calculated in checkout.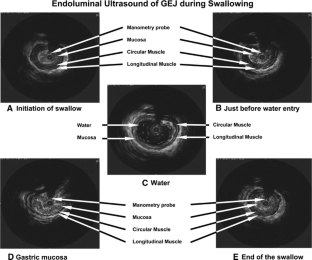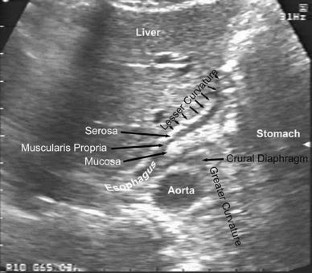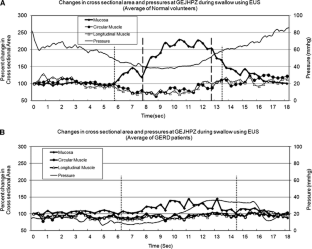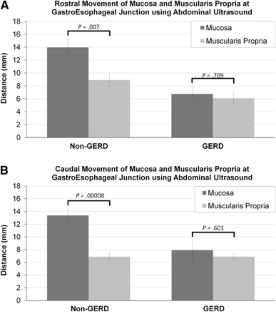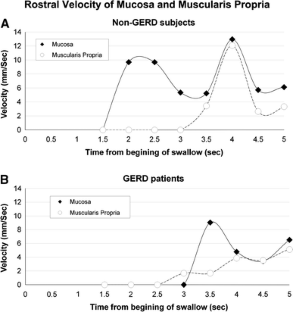 References
1.

Freeman WH. An atlas of histology [by] w. H. Freeman and brian bracegirdle. New York, Dover Publications; 1966.

2.

Brasseur JG, Nicosia MA, Pal A, Miller LS. Function of longitudinal vs circular muscle fibers in esophageal peristalsis, deduced with mathematical modeling. World J Gastroenterol. 2007;13:1335–1346.

3.

Dodds WJ, Stewart ET, Hodges D, Zboralske FF. Movement of the feline esophagus associated with respiration and peristalsis. An evaluation using tantalum markers. J Clin Invest. 1973;52:1–13.

4.

Edmundowicz SA, Clouse RE. Shortening of the esophagus in response to swallowing. Am J Physiol. 1991;260:G512–G516.

5.

Ghosh SK, Kahrilas PJ, Zaki T, Pandolfino JE, Joehl RJ, Brasseur JG. The mechanical basis of impaired esophageal emptying post-fundoplication. Am J Physiol Gastrointest Liver Physiol. 2005;289:G21–G35.

6.

Kahrilas PJ, Wu S, Lin S, Pouderoux P. Attenuation of esophageal shortening during peristalsis with hiatus hernia. Gastroenterology. 1995;109:1818–1825.

7.

Nicosia MA, Brasseur JG, Liu JB, Miller LS. Local longitudinal muscle shortening of the human esophagus from high-frequency ultrasonography. Am J Physiol Gastrointest Liver Physiol. 2001;281:G1022–G1033.

8.

Pal A, Brasseur JG. The mechanical advantage of local longitudinal shortening on peristaltic transport. J Biomech Eng. 2002;124:94–100.

9.

Pouderoux P, Lin S, Kahrilas PJ. Timing, propagation, coordination, and effect of esophageal shortening during peristalsis. Gastroenterology. 1997;112:1147–1154.

10.

Miller L, Dai Q, Korimilli A, Levitt B, Ramzan Z, Brasseur J. Use of endoluminal ultrasound to evaluate gastrointestinal motility. Dig Dis. 2006;24:319–341.

11.

Adrain AL, Ter HC, Cassidy MJ, Schiano TD, Liu JB, Miller LS. High-resolution endoluminal sonography is a sensitive modality for the identification of Barrett's metaplasia. Gastrointest Endosc. 1997;46:147–151.

12.

Chen MH, Kikuchi Y, Chu BC, Kishimoto R, Choji K, Miyasaka K. Demonstration of the distal end of the oesophagus by transabdominal ultrasound. Br J Radiol. 1997;70:1215–1221.

13.

DeMeester TR, Peters JH, Bremner CG, Chandrasoma P. Biology of gastroesophageal reflux disease: pathophysiology relating to medical and surgical treatment. Annu Rev Med. 1999;50:469–506.

14.

Schiffner BJ. Opening stiffness of the esophago-gastric segment in health, with GERD, and after endoscopic surgery. Mechanical and Nuclear Engineering, Pennsylvania State University, 2004, Mechanical Engineering, pp 123.

15.

Sifrim D, Janssens J, Vantrappen G. A wave of inhibition precedes primary peristaltic contractions in the human esophagus. Gastroenterology. 1992;103:876–882.

16.

Meneghetti AT, Tedesco P, Damani T, Patti MG. Esophageal mucosal damage may promote dysmotility and worsen esophageal acid exposure. J Gastrointest Surg. 2005;9:1313–1317.

17.

Rieder F, Biancani P, Harnett K, Yerian L, Falk GW. Inflammatory mediators in gastroesophageal reflux disease: impact on esophageal motility, fibrosis, and carcinogenesis. Am J Physiol Gastrointest Liver Physiol. 2010;298:G571–G581.
Acknowledgments
This study was supported by a National Institutes of Health grant award # R01 DK079954 from the National Institute of Diabetes and Digestive and Kidney Diseases to Michael R Ruggieri and Larry Miller.
Conflict of interest
None.
Electronic supplementary material
Below is the link to the electronic supplementary material.
Supplementary material 2 (WMV 1923 kb)
Supplementary material 3 (WMV 2622 kb)
Supplementary material 4 (WMV 7814 kb)
Supplementary material 5 (WMV 3744 kb)
About this article
Cite this article
Vegesna, A.K., Patel, H., Weissman, S. et al. Defective Mucosal Movement at the Gastroesophageal Junction in Patients with Gastroesophageal Reflux Disease. Dig Dis Sci 59, 1870–1877 (2014). https://doi.org/10.1007/s10620-014-3091-9
Received:

Accepted:

Published:

Issue Date:
Keywords
Gastroesophageal reflux disease

Muscularis mucosa

Gastroesophageal junction

Endoluminal ultrasound

Endoscopic ultrasound

Abdominal ultrasound