Abstract
Alzheimer's disease (AD) is the most common type of senile dementia. A number of factors have been proposed regarding pathology of AD, such as presence of β-amyloid, and cholinergic and oxidative stress. SAK3 (ethyl 8′-methyl-2′,5-dioxo-2-piperidin-1-ylspiro[cyclopentene-3,3′-imidazo[1,2-a]pyridine]-1-carboxylate) reduces β-amyloid deposition and improves cognitive functions in amyloid precursor protein knock-in mice. Scopolamine is used to induce in cell lines a cholinergic deficit that mimics AD. In order to evaluate the possible neuroprotective properties of SAK3, human neuroblastoma SH-SY5Y cells were pretreated with the compound (25–100 nM) and further incubated in the presence of scopolamine (2 mM). SAK3 inhibited scopolamine-induced cellular apoptosis (morphologically and by determination of pro- and anti-apoptotic factor levels), increase in ROS levels, decrease in choline acetyltransferase level, phosphorylation of NF-κB, activation of Akt, JNK and p38 intracellular signaling pathways, and elevation of proinflammatory cytokines IL-1β and IL-6, but not enhanced level of β-site amyloid precursor protein cleaving enzyme 1 (BACE1). These results indicate SAK3 possessed protective properties against cholinergic deficit associated with anti-oxidant, anti-apoptotic and anti-inflammatory activities, suggesting that SAK3 might be a potential agent in the development of AD drug therapeutics.
This is a preview of subscription content, log in to check access.
We're sorry, something doesn't seem to be working properly.
Please try refreshing the page. If that doesn't work, please contact support so we can address the problem.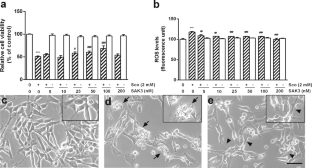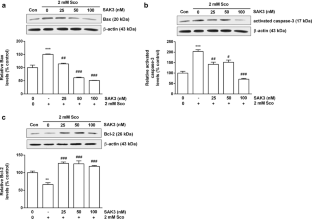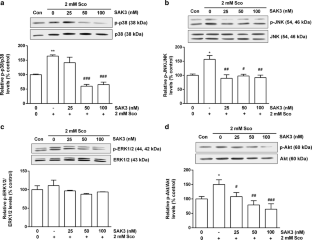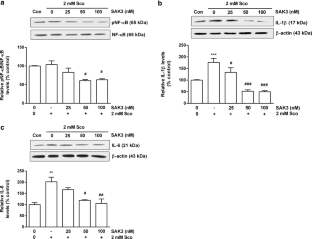 References
Alvarez-Jimenez R, Groeneveld GJ, van Gerven JM, Goulooze SC, Baakman AC, Hay JL, Stevens J (2016) Model-based exposure-response analysis to quantify age related differences in the response to scopolamine in healthy subjects. Br J Clin Pharmacol 82:1011–1021

Baban B, Liu JY, Mozaffari MS (2014) SGK-1 regulates inflammation and cell death in the ischemic-reperfused heart: pressure-related effects. Am J Hypertens 27:846–856

Budzynska B, Boguszewska-Czubara A, Kruk-Slomka M, Skalicka-Wozniak K, Michalak A, Musik I, Biala G (2014) Effects of imperatorin on scopolamine-induced cognitive impairment and oxidative stress in mice. Psychopharmacology 232:931–942

Chatila ZK, Kim E, Berle C, Bylykbashi E, Rompala A, Oram MK, Gupta D, Kwak SS, Kim YH, Kim DY, Choi SH, Tanzi RE (2018) BACE1 regulates proliferation and neuronal differentiation of newborn cells in the adult hippocampus in mice. eNeuro. https://doi.org/10.1523/ENEURO.0067-18.2018

Dokumaci AH, Yerer Aycan MB (2019) Vildagliptine Protects SH-SY5Y human neuron-like cells from Aβ 1-42 induced toxicity, in vitro. Cytotechnology 71:635–646

Du X, Wang X, Geng M (2018) Alzheimer's disease hypothesis and related therapies. Transl Neurodegener 7:1–7

Izumi H, Shinoda Y, Saito T, Saido TC, Sato K, Yabuki Y, Matsumoto Y, Kanemitsu Y, Tomioka Y, Abolhassani N, Nakabeppu Y, Fukunaga K (2018) The Disease-modifying drug candidate, SAK3 improves cognitive impairment and inhibits amyloid β deposition in APP knock-in mice. Neuroscience 377:87–97

Kovalevich J, Langford D (2013) Considerations for the use of SH-SY5Y neuroblastoma cells in neurobiology. Methods Mol Biol 1078:9–21

Lim H, Kim B, Kim Y, Jeong S (2018) Phytochemical allylguaiacol exerts a neuroprotective effect on hippocampal cells and ameliorates scopolamine-induced memory impairment in mice. Behav Brain Res 339:261–268

Liu Q, Qiu J, Liang M, Golinski J, van Leyen K, Jung JE, You Z, Lo EH, Degterev A, Whalen MJ (2014) Akt and mTOR mediate programmed necrosis in neurons. Cell Death Dis 5:e1084

Liu T, Zhang L, Joo D, Sun SC (2017) NF-κB signaling in inflammation. Signal Transduct Target Ther 2:1–9

Mamelak M, Delaney S, Yang K, O'Brien P (2010) Ketone bodies, sodium oxybate and Alzheimer's disease: oxidative stress and neuroprotection. Alzheimer's Dementia 6:S389

Moriguchi S, Shioda N, Yamamoto Y, Tagashira H, Fukunaga K (2012) The T-type voltage-gated calcium channel as a molecular target of the novel cognitive enhancer ST101: enhancement of long-term potentiation and CaMKII autophosphorylation in rat cortical slices. J Neurochem 121:44–53

Nunes-Tavares N, Santos LE, Stutz B, Brito-Moreira J, Klein WL, Ferreira ST, de Mello FG (2012) Inhibition of choline acetyltransferase as a mechanism for cholinergic dysfunction induced by amyloid-β peptide oligomers. J Biol Chem 287:19377–19385

Puangmalai N, Thangnipon W, Soi-ampornkul R, Suwanna N, Tuchinda P, Nobsathian S (2017) Neuroprotection of N-benzylcinnamide on scopolamine-induced cholinergic dysfunction in human SH-SY5Y neuroblastoma cells. Neural Regen Res 12:1492–1498

Pudlo M, Luzet V, Ismaïli L, Tomassoli I, Iutzeler A, Refouvelet B (2014) Quinolone–benzylpiperidine derivatives as novel acetylcholinesterase inhibitor and antioxidant hybrids for Alzheimer Disease. Bioorg Med Chem 22:2496–2507

Rinne J, Kaasinen V, Jarvenpaa T, Nagren K, Roivanen A, Yu M (2003) Brain acetylcholinesterase activity in mild cognitive impairment and early Alzheimer's disease. Neurol Neurosurg Psychiatry 74:113–115

Rojsanga P, Boonyarat C, Utsintong M, Nemecz Á, Yamauchi J, Talley T, Olson AJ, Matsumoto K, Vajragupta O (2012) The effect of crebanine on memory and cognition impairment via the α-7 nicotinic acetylcholine receptor. Life Sci 91:107–114

Selkoe D, Hardy J (2016) The amyloid hypothesis of Alzheimer's disease at 25 years. EMBO Mol Med 8:595–608

Suthprasertporn N, Suwanna N, Thangnipon W (2019) Protective effects of diarylpropionitrile against hydrogen peroxide-induced damage in human neuroblastoma SH-SY5Y cells. Drug Chem Toxicol. https://doi.org/10.1080/01480545.2019.1658768

Tao L, Xie J, Wang Y, Wang S, Wu S, Wang Q, Ding H (2014) Protective effects of aloe-emodin on scopolamine-induced memory impairment in mice and H2O2-induced cytotoxicity in PC12 cells. Bioorg Med Chem Lett 24:5385–5389

Thangnipon W, Suwanna N, Kitiyanant N, Soi-ampornkul R, Tuchinda P, Munyoo B, Nobsathian S (2012) Protective role of N-trans-feruloyltyramine against β-amyloid peptide-induced neurotoxicity in rat cultured cortical neurons. Neurosci Lett 513:229–232

Thangnipon W, Puangmalai N, Chinchalongporn V, Jantrachotechatchawan C, Kitiyanant N, Soi-Ampornkul R, Tuchinda P, Nobsathian S (2013) N-benzylcinnamide protects rat cultured cortical neurons from β-amyloid peptide-induced neurotoxicity. Neurosci Lett 556:20–25

Tiong CX, Lu M, Bian JS (2010) Protective effect of hydrogen sulphide against 6-OHDA-induced cell injury in SH-SY5Y cells involves PKC/PI3K/Akt pathway. Br J Pharmacol 161:467–480

Venkatesan R, Subedi L, Yeo EJ, Kim SY (2016) Lactucopicrin ameliorates oxidative stress mediated by scopolamine-induced neurotoxicity through activation of the NRF2 pathway. Neurochem Int 99:133–146

Voleti B, Navarria A, Liu RJ, Banasr M, Li N, Terwilliger R, Sanacora G, Eid T, Aghajanian G, Duman RS (2013) Scopolamine rapidly increases mammalian target of rapamycin complex 1 signaling, synaptogenesis, and antidepressant behavioral responses. Biol Psychiatry 74:742–749

Wang H, Xu Y, Yan J, Zhao X, Sun X, Zhang Y, Guo J, Zhu C (2009) Acteoside protects human neuroblastoma SH-SY5Y cells against β-amyloid-induced cell injury. Brain Res 1283:139–147

Wang X, Wang W, Li L, Perry G, Lee H, Zhu X (2014) Oxidative stress and mitochondrial dysfunction in Alzheimer's disease. Biochim Biophys Acta 1842:1240–1247

Yabuki Y, Jing X, Fukunaga K (2017a) The T-type calcium channel enhancer SAK3 inhibits neuronal death following transient brain ischemia via nicotinic acetylcholine receptor stimulation. Neurochem Int 108:272–281

Yabuki Y, Matsuo K, Izumi H, Haga H, Yoshida T, Wakamori M, Kakei A, Sakimura K, Fukuda T, Fukunaga K (2017b) Pharmacological properties of SAK3, a novel T-type voltage-gated Ca2+ channel enhancer. Neuropharmacology 117:1–13

Zhang H, Wu L, Pchitskaya E, Zakharova O, Saito T, Saido T, Bezprozvanny I (2015) Neuronal store-operated calcium entry and mushroom spine loss in amyloid precursor protein knock-in mouse model of Alzheimer's disease. J Neurosci 35:13275–13286

Zhou H, Gao S, Duan X, Liang S, Scott DA, Lamont RJ, Wang H (2015) Inhibition of serum- and glucocorticoid-inducible kinase 1 enhances TLR-mediated inflammation and promotes endotoxin-driven organ failure. FASEB J. 29:3737–3749
Acknowledgements
This research was partially supported by a joint Mahidol University and the Thailand Research Fund (TRF) Grant (IRG5780009). The authors are grateful to Prof. Prapon Wilairat, Mahidol University for critical reading of the manuscript.
Ethics declarations
conflict of interest
The authors declare no conflicts of interest.
Additional information
Publisher's Note
Springer Nature remains neutral with regard to jurisdictional claims in published maps and institutional affiliations.
About this article
Cite this article
Suthprasertporn, N., Mingchinda, N., Fukunaga, K. et al. Neuroprotection of SAK3 on scopolamine-induced cholinergic dysfunction in human neuroblastoma SH-SY5Y cells. Cytotechnology (2020). https://doi.org/10.1007/s10616-019-00366-7
Received:

Accepted:

Published:
Keywords
Alzheimer's disease

Acetylcholine

Apoptosis

Neuroblastoma SH-SY5Y cell line

Oxidative stress

SAK3

Scopolamine